Everything is digital in this day and age and having a website is essential for any business. It is your digital storefront. Home professionals, such as handymen, electricians, plumbers, and other service providers, must have a website. An effective, professional website is, arguably, the most effective tool to showcase your services, build credibility, and attract new clients.
However, creating an effective website for a home professional business can be challenging, especially if you are unfamiliar with website design or online marketing. It can be overwhelming to know where to start. Whether you are just starting or looking to revamp your existing website, this best practices expert guide will provide you with the knowledge and tools you need to create a successful online presence.
Main reasons why a home professional should have a website for their business
Why does developing a website for your home professional company benefit your branding? Why?
Developing a website for your home professional company can benefit your branding in many ways. Not only does it increase visibility and accessibility, but your website also offers a way to build trust and credibility with potential customers. A well-designed website shows that you're a true professional and an expert in your field and encourages customers to reach out to do business with you. It's crucial to offer easy ways for your customers to connect with you or even provide ways for them to purchase or pay for your products & services directly online. Your website is also where people will look to learn more about everything from your brand values to your signature services – even any special deals you're offering! In short, developing a site for your home professional brand is a valuable investment with an almost immeasurable ROI.
Kristine Neil, Squarespace eCommerce Expert.
How can a home professional business website help get leads?
One of the easiest and most effective ways to generate leads for a home professional business is to claim and optimize your Google Profile listing.  A Google Profile listing (previously known as a Google My Business listing) is a free listing that is displayed in searches in both Google Maps and within Google's regular search results (when they display local businesses within the map pack). This is an effective way at reaching potential customers as they often search for local suppliers for these types of services, so Google will display the local results (map pack) before the rest of the organic search results, or increasingly, users will search right within Google Maps.  These listings are effective, easy to set up, and are usually not overly difficult to achieve good rankings (getting your listing displayed instead of your competitors' listings).  And don't forget to link your profile back to your website!
Cameron Prockiw, Founder at Vovia
Why is it essential for home professionals to have a website for customer service?
Having a website as a home professional customer service is essential if one wants to be taken seriously in this day and age. The website helps cement your authority on your choosing business, niche, or services. Also, from research, most companies only transact with businesses that have a reachable and trackable website, as that makes them develop a bit of trust before eventually doing business with you.
Once you have a website for your home professional customer service, ensure you use your custom emails too, as prospective customers prefer branded company emails to third-party emails like @gmail.com, @yahoo.com, etc.
Olufisayo Sanyaolu, The Secrets of Entrepreneurship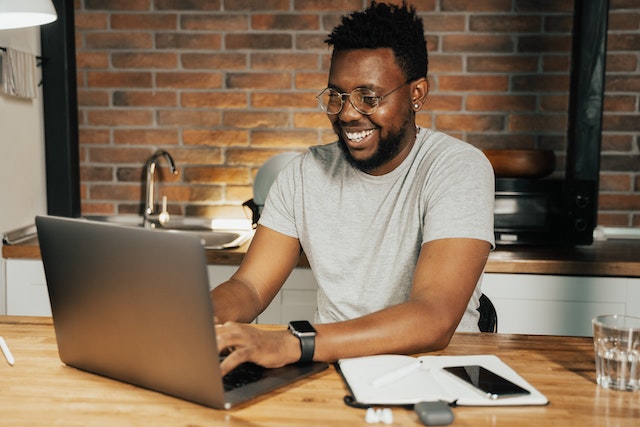 Basics to keep in mind when creating your website
Would you recommend a home professional to create a business website in WordPress? Why?
Are you thinking about creating a WordPress site for your home professional business? Well, the answer is not that simple – it depends on what you're looking for! If you're a tech-savvy person who wants full control over your site's customization, then WordPress is definitely the way to go. With a self-hosted WordPress site, you own your data and have the flexibility to move, customize, and brand your site however you want. While there may be a bit of a learning curve, it's worth it. I've found most people end up wanting to add more customization to their site, so starting with WordPress is a smart move.
On the other hand, if you just need a simple site and don't need much complex functionality, a service like Squarespace can give you a straightforward site quickly. However, if you have big plans for your business and want to establish a strong online presence, then I'd recommend using a self-hosted WordPress site.
Andy Feliciotti, SmartWP.com
What is a domain, and why is it essential for a home professional to have when building a website?
A domain name is your actual website address. Your domain name is like your GPS coordinates on the internet. Every website must have a domain name, and there a few things to consider when locking your down…
A short and memorable domain name is essential for home professionals who want to build a successful online presence. A shorter domain name is easier to remember, type, and share with others, which can lead to increased traffic and better search engine rankings. A memorable domain name also makes it easier for clients or customers to find the website when they search for related keywords.
In addition to being short and memorable, having an exact name match is equally important. An "exact name match domain" name is one that matches the name of the business or brand. This makes it easier for clients or customers to find the website when they search for the business or brand name, and it also strengthens the brand's identity — If you have a long name – it is worth getting two domains, the "short version", and the "exact match version".
In summary, having a domain is crucial for home professionals who want to build a website, as it provides a professional appearance, establishes an online presence, and offers flexibility in branding and customization. A short and memorable domain name, as well as an exact name match, are crucial factors to consider when choosing a domain name, as they can significantly impact the website's success.
Phantom Eye Design, Wix Web Design Company
What are some of the basic pages a home professional business site should have?
3 Essential Web Pages Every Business Should Have
Your website is one of your company's best sales tools. Be sure it includes quality content on these three key web pages:
Home Page:

This is likely to be your most frequently viewed page. Use engaging copy that highlights your compelling benefits and eye-catching visuals to capture the visitor's attention.

About Us:

On this page, you can explain who owns this website and business, your company's history, and what makes your business unique.

Products and Services:

Develop a focused website copy about each of your products and services (plus pictures!) so visitors can make an informed decision on whether they're the solution to their problem.
Susan Greene, Professional Copywriter.
What should a home page for a home professional business website include or showcase?
In addition to conveying your message through imagery and content, your homepage isn't complete without call-to-action buttons. Unlike other pages within your website, a homepage often has multiple CTAs. Your homepage acts as the central hub of your business. It's where most first-time visitors will land, so you need to include CTAs that lead them to the right page. Think about the user journey each visitor will take. Consider what each visitor hopes to find, and use your homepage to provide recommendations and point them in the right direction. Then you'll decrease your website's bounce rate while increasing your conversion rate.
Kayla Hollatz, Copywriter and Brand Strategist
What must be taken into account when creating the about page for a home professional company website?
When crafting an About page for a company, it's essential to focus on the company's story. If your business relies on local customers for revenue, consider including familiar landmark, locations, or people interacting with your products or services.
Photos or videos of people interacting with your business, products, or services will add another layer of credibility.
Weave together your purpose for being in business, your recipe for success, and the satisfaction of your customers over the years.
Additionally, you can include your vision for the future, detailing how you plan to improve and how this will benefit your customers.
Summarize your products and services while highlighting your brand mission and values. Customer testimonials, whether in writing or video format, can also be valuable.
Finally, make sure to use your About Us page as a lead generator by providing a clear call-to-action that motivates your website visitors to contact you.
Melih Oztalay, SmartFinds Marketing
Why are templates necessary when designing your website? What are some options?
Templates are the most vital and essential components when designing a website. There are various reasons for it. Website templates are the pre-designed web pages important for designing a website. The website templates include basic and advanced design elements such as Headers, Footers, Page Sections, Widgets, etc. The templates can be customizable for the specific needs of a website to modify the design elements and add more content to the website, such as images, text, and videos. Templates can be used with various CMS or Web development platforms such as WordPress, Wix, Shopify, Weebly, Joomla, etc. There are many options for Website Templates
Content Management Systems (CMS) Templates- Popular CMS platforms like WordPress, Joomla, and Drupal offer a variety of large templates that can be easily customizable to meet specific website needs.
Custom Templates- For businesses or organizations looking for unique branding and designing of the website, they use custom templates created from scratch by the designers and developers to meet specific website needs.
Website Builder Templates- Various website builders like Wix, Weebly, Squarespace, and Jimdo offer pre-designed website templates that can be installed with one click demo import. These templates are customizable with drag-and-drop editors.
Aman Dubey, ThemeHunk
Why is it essential to have a blog section for a home professional business website?
Blog sections are one of the best ways to gain inbound leads. Similar to video, once it is published, it keeps on paying dividends. By providing useful and actionable content related to your profession, you can quickly solve a problem for your ideal customers and turn them into a warm lead with a properly crafted call-to-action.
While it's great to leverage ai writing technology, ensure you still infuse the personal touch of your brand in all of the content that you produce. Your readers can spot generic content from a mile away. You want them to remember you're still paying attention.
A good balance of content isn't just about SEO but also includes writing about what your customers care about (talk to your customers!) and covering as much topical authority as possible.
David Lin, Hello Dave Lin 
Why should you consider making your website for computers and mobiles?
Professionals can significantly benefit from creating a personalized website in today's market. This allows them to expand their professional presence and credibility and also offers an opportunity to establish an online presence. Through the development of this digital portfolio, individuals can showcase all of their skills, accomplishments, and work experience in one centralized platform or site. This is particularly advantageous because it can be tailored to cater to each individual's needs, highlighting all unique selling points. Furthermore, a well-developed website proves incredibly useful when attempting to stand out amongst the competition.
In addition to helping create a lasting impression, having a personalized website also allows professionals to craft their brand image. Through careful curation of the content and design, professionals can make sure that the website accurately expresses who they are and what professional values they hold in high regard. This personalized approach offers a more authentic representation of themselves than solely relying on social media or third-party platforms.
In conclusion, a well-designed and developed website is an astute step, as it opens avenues for networking, collaboration, and new business opportunities. Furthermore, embracing current digital technology, including having a mobile-responsive website, puts one ahead of the competition and could lead to increased success.
Lavin Ong, Aii Develop Digital Solutions
Why is integrating a customer journey strategy into Tendenci design essential?
Integrating a customer journey strategy into Tendenci design is essential for several spectacular reasons, like it enhances user experience.
By integrating a customer journey strategy into Tendenci design, associations and nonprofit organizations can better understand their users' needs and preferences and create a more personalized and engaging experience for them. This can help improve user satisfaction and loyalty and lead to increased engagement and conversion rates. Some of the key features of the Tendenci open-source software user experience include:
1. Customizable dashboard: Tendenci users can customize their dashboard to show the information and metrics that are most relevant to them, such as upcoming events, recent donations, or new member sign-ups.
2. Intuitive navigation: Tendenci has a straightforward and intuitive navigation system, with clear menu items and submenus that make it easy to find what you're looking for.
3. Personalized user profiles: Tendenci allows users to create personalized profiles with their own avatar, bio, and other information. Users can also customize their email preferences and notification settings.
4. Event management: Tendenci's event management system is designed to be user-friendly and streamlined, with features like easy event registration, ticketing, and attendee management.
5. Membership management: Tendenci's membership management tools enable organizations to easily manage and track their members, including member levels, dues, payments, and member engagement.
6. Responsive design: Tendenci is built with a responsive design, which means that the platform adapts to the device being used to access it, providing a seamless user experience across devices.
Shirley Rodríguez, Team Tendenci
How can website personalization help home professionals enhance their online presence and increase customer engagement?
Website personalization can greatly benefit home professionals in several ways. By tailoring website content and design to the specific needs and preferences of their target audience, home professionals can provide a more engaging and personalized experience for their visitors. This can increase customer engagement, improve customer satisfaction, and ultimately lead to more business opportunities.
Some ways to implement website personalization for home professionals include using dynamic content that changes based on visitor behavior or location, providing personalized recommendations or product suggestions, and using targeted messaging to address specific customer needs and pain points. It is also important to make sure the website is mobile-friendly, as many customers are accessing websites from their mobile devices.
Overall, website personalization is a powerful tool for home professionals to stand out in a crowded online marketplace and attract and retain customers.
Barbara Bartucz,  OptiMonk
Why is adding call-to-action buttons essential when making a website for home professionals?
Your CTA is an integral part of any website — it shows your potential client what to do next. A well-designed call-to-action button is like a signpost, grabbing the site user's attention and directing them to take a specific action. If you want to decrease bounce rates and increase leads, CTA buttons are a must. Your call-to-action button should be short, sweet, and instructive, like these examples:
Call us today to get started.

Read more about [insert topic].

Get your free [relevant e-book, article, quote, etc.].

Get 10% off when you schedule today.
And you don't need to limit yourself to one button. Most sites integrate multiple CTA buttons, especially if there are different actions that potential customers might take to move further down the sales funnel. Offering site users several options makes it more likely that you'll hit on one they're interested in, turning that on-the-fence viewer into an engaged client.
Elina Zenkevich, Get A Copywriter
What are some tips you could give to promote your business website?
Promoting a website is the process of attracting, engaging, and retaining visitors with the goal of turning them into customers. To promote your business website effectively, start by optimizing it for search engines (SEO) to improve its organic search rankings and attract first-time visitors. Also, make sure to claim and optimize your Google My Business listing to get in front of more potential customers. For returning visits and engagement, you can offer helpful content: How-tos, checklists, mistakes, etc. Use popups to grow your newsletter list or to invite visitors to "Like you" on Facebook. This keeps visitors engaged and informed while encouraging them to return. Combining this with compelling calls-to-action (CTAs) can guide them toward desired actions, such as requesting a quote or contacting you.
To convert visitors into customers, build trust through professional design, testimonials, and transparent information about your services. Streamline your site's navigation and user experience to facilitate smooth conversions. Advertise emergency services to convert first-time visitors. Make sure to follow up with existing customers and your newsletter subscribers at least twice a month to strengthen your brand awareness and foster loyalty.
Philipp from divimode.com
Which website-building platform would you suggest for a home professional to use?
I would suggest using WordPress as a website-building platform for a home professional. WordPress is a versatile and user-friendly platform that offers a wide range of features and customization options.
With WordPress, you can choose from a vast library of themes and templates that cater to various industries, making it easy to create a professional and visually appealing website. Additionally, WordPress offers a wide selection of plugins that provide additional functionality, such as contact forms, scheduling tools, social media integration, and e-commerce capabilities.
Furthermore, WordPress has a large and supportive community, offering numerous resources and forums for troubleshooting and learning. It also has a user-friendly interface, making it accessible for those without technical expertise.
Overall, WordPress provides flexibility, customization options, and user-friendliness, making it an ideal choice for home professionals looking to create a professional and functional website.
Sanjay from World Web Technology
Remember, your website is a tool for marketing your services and a way to build credibility and trust with potential clients. You can establish yourself as a reputable and trustworthy home professional by providing useful information, showcasing your work, and making it easy for visitors to contact you. By identifying your target audience and their needs, choosing the right website builder, selecting a user-friendly and visually appealing design, creating quality content, optimizing for search engines, and including a call-to-action, you can create a website that effectively communicates your expertise and helps grow your business and your conversion rate.
By implementing the tips outlined in this blog, you can create a website that effectively promotes your business. So, don't hesitate to get started on building your website today and take your home professional business to the next level!