Do you find yourself sitting at a desk full of clutter with stacks of paper and piles of books, or pencils, pens, and little desk accessories thrown about? While you're busy at work, you shouldn't have to worry about digging through your disorganized desk to find that one sticky note with the phone number you need or where you last put your planner.
Because your desk is your second home, it's important to fill it with things you actually want to be looking at. We've pulled together some of our favorite home offices and desks to bring you some tips on how to spruce up your space into the chicest desk ever. Get some home decorating inspiration and a little help on your organization with these 12 tips on how to decorate your desk!
1. Mix & Match Your Favorite Colors
Whether it's soft neutrals, black and gold, or pretty pinks, the color scheme of your decor can define your home office's style. Try mixing and matching your favorite colors to represent your personality while creating a bright and colorful desk space.
Photo courtesy of Ryan Ray via Gal Meets Glam
2. Personalize & Customize Your Space
How can there be no stickers to design a flexible home office space? Stickers are easily available to any of your desk accessories, laptop, or drawer. Go with custom stickers for creating yourself a personalized workstation, no matter if it's your favorite characters and patterns, or your loved motivational quotes, this inexpensive investment will no doubt keep you fresh and inspired when working at home. Furthermore, if you have any series of sticker theme ideas in mind, you can go for custom sticker sheets on the site, which combine multiple designs on one piece of paper.
Photo courtesy of CustomSticker.com
3. Put Up A Mirror
Your desk at home is different than your desk at work – you can take an unconventional approach to your decor. Add a large mirror as a decoration, for your desk to double as a workspace and vanity table.
Photo courtesy of Devon Rachel
4. Let In Natural Light
Keep your working days bright and happy by lighting your space with natural light. Decorating with white drapes and arranging your desk near a window is an easy way to boost your mood. Not to mention, white on white decor is simplistically beautiful.
Photo courtesy of The Ruche Blog
5. Layer Your Decor
If you're decorating a smaller desk, layer your decor and office accessories to save space while keeping it stylish.
Photo courtesy of Heather Telford via Pink Peonies
6. Add A Bit Of Greenery
Decorating with plants or greenery is not only trendy, but plants in your office space have proven to reduce stress and sickness, and increase productivity and creativity. It's a win-win!
Photo courtesy of In Honor Of Design
7. A Cup For Everything
Give a place for every pen and pencil to live by decorating with cups, jars, or bins for a chic and organized look.
Photo courtesy of Living In Color Print
8. The Right Accessories
A chic desk would not be complete without gold accessories to glam it up! Get these little luxuries, here.
Photo courtesy of Bright and Beautiful
9. Desk Organizer
A desk organizer will keep all of your papers, cards, paperclips (and washi tape of course!) all in one stylish storage piece.
Photo courtesy of The Everygirl
10. Pick The Perfect Planner
For those of you who would be lost in this world without your planner, you know that choosing the right one that suits your needs can be tough. Stick with a stylish day planner for your desk that will make you look and feel fabulous like this Design Love Planner.
Photo courtesy of The Design Love Co. via Monika Hibbs
11. Burn Your Favorite Scents
Stay inspired and productive in your work space by setting a few candles on your desk for an extra pop of pretty.
Photo courtesy of Lauren Conrad
12. Incorporate Your Quirky Trinkets
Spice up your desk with fun decor that you love (like these DIY animal memo holders) to keep your work station professional and entertaining.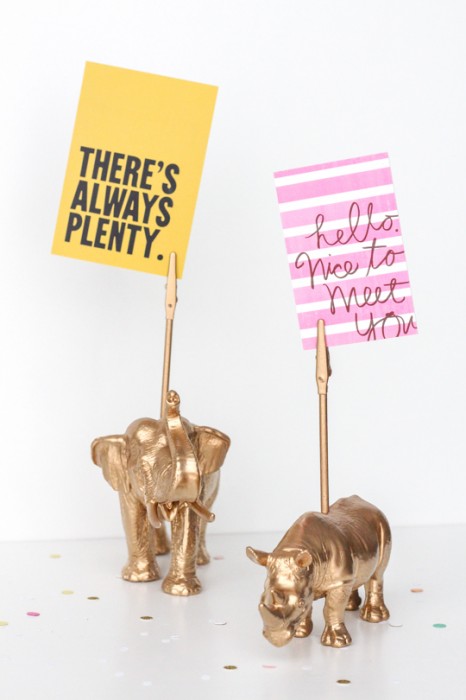 Photo courtesy of Sugar & Cloth
13. Create A Vision Board
Pull your whole desk together by creating a centerpiece for your creativity. A vision board can de-clutter your desk while displaying your dreams, ideas, and inspirations.
Photo courtesy of Stoffer Photography for The Everygirl via Live Creating Yourself
What is your favorite decoration in your home office or on your desk? Let us know in the comments below!
More ideas to decor your desk with illustrations and cards to spruce up your desk while working from home.
Top Image Credit: Stoffer Photography for The Everygirl via Live Creating Yourself
When you make a purchase using affiliate links on our site, we may earn a commission.