Ordering out for takeout is convenient but overall more expensive than home cooking. If you find yourself reaching for the phone to order takeout more often than you reach for the frying pan, it might be time to figure out why. And it's probably not entirely just laziness; your kitchen design may be to blame — and time-saving cooking tips can help.
You'll want to remedy this soon, as there are so many benefits to cooking at home in your kitchen, including:
Common kitchen problems and how to fix them
You might not realize there are common problems in your kitchen organization that might keep you from wanting to cook as often as you should. Below are a few suggestions about setting up your kitchen design for culinary success, from meal prep to more.
Lack of space
No wonder you don't like cooking if you've got pots and pans shoved in the oven and a spice rack full of all kinds of pantry ingredients. It probably takes you an hour just to find the basic ingredients you'd need for even the simplest of dishes. One of the reasons those TV cooking shows always seem so glamorous is that everything has a place. 
If your ingredients and kitchen tools don't have their own place to belong, you'll probably have everything spill out onto the countertop. That takes up your home cooking workspace — not a great plan. Instead, consider the following: 
Inefficient layout
If you're tripping over open drawers and struggling to find the right cooking utensil, there's a good chance your layout is killing your cooking style. The ideal kitchen organization combines maximum efficiency with style, so your cooking time is reduced, but your meal prep morale is high. Try the following time-saving cooking tips to correct this issue: 
Remember that every kitchen is unique, so the best way to solve an inefficient kitchen organization layout will depend on your specific needs and preferences. Consider consulting with a professional kitchen designer or contractor to help create a layout that works for you.
Poor lighting
Shedding some light on the situation might help you find your cooking mojo again. Did you know that the recommended light for a kitchen is about 4,000-8,000 lumens? If your kitchen has less or more than that, it could hurt the functionality of your space (and your mood). You want to be able to see what you're cooking, regardless of the time of day, both for safety and ease of use. Try these time-saving cooking tips to fix poor lighting: 
Poor ventilation
Unless you like your favorite meals served with a side of mold or mildew, proper ventilation is a crucial component of any functional kitchen for home cooking. Unpleasant smells and health concerns can arise when steam and smoke aren't directed out of your home. To keep your space smelling fresh and full of delectable eats, try these ventilation ideas: 
Difficulty cleaning
Spills, stains, and food particles make the kitchen seem like a never-ending mess, making it tempting to throw in the towel. Instead, tackle messes as you go so you're not stuck with a massive disaster later when you're already tired from making the world's best lasagna. Investing in an easy cleaning routine that works for you can be a game changer. Below are some ideas to help keep your kitchen clean and organized:
Outdated tools
For many busy people, cooking feels like a chore at the end of an already-too-long day. That means that cooking can feel like the opposite of self-care, even if it's one of the most important ways to support your health and wellbeing. An outdated kitchen with old tools can be both off-putting and inefficient.
Newer appliances can offer a range of benefits to make cooking faster, more efficient, and more enjoyable. For example, a high-quality oven with precise temperature control can make it easier to bake consistently perfect dishes, while a powerful range hood can remove smoke and odors quickly and effectively. Overall, investing in high-quality appliances can make your kitchen a more functional and enjoyable space to cook in. Keep these tips in mind when updating your kitchen tools: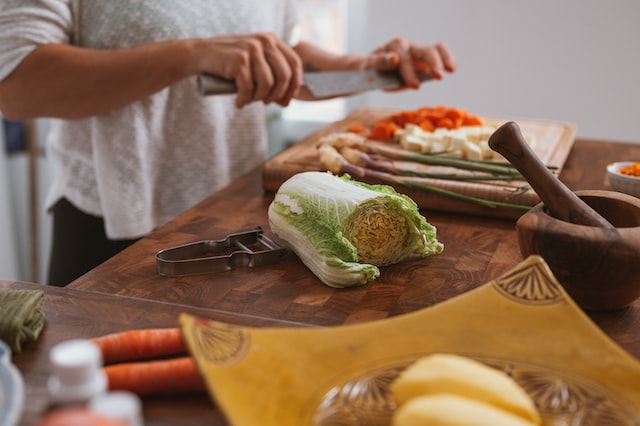 No matter what state your kitchen is currently in, you have many time-saving cooking tips available to quickly improve it. Not only will it work better for your family and home cooking habits, but you'll save money long term both in efficiency and by cooking your own meals instead of ordering out. Plus, added sunshine and seating options will make your home the go-to place for brunch, dinner, and everything in between. With the above recommendations for sprucing up your cooking space, you'll be well on your way to a better kitchen, healthier food, and an overall more rewarding lifestyle.