Roofs and gutters get inundated with leaves, needles and other debris that quickly clog downspouts and cause damage to roofs. You might think it's easy to hop up on the roof and deal with the problem yourself but be aware: falls from ladders and roofs are a regular occurrence, especially this time of year when roofs are slippery with ice and moisture.
We spoke with Richard Jones, President of Jones Boys Maintenance Company, about proper roof and gutter maintenance and basic ladder safety. "Falling from ladders and roofs is a huge factor. I have heard all the stories you can imagine," especially in inclement weather.  Homeowners can alleviate their own bodily risk by hiring an experienced crew. Additionally, a professional can perform the job quickly and has more experience with these particular tasks without causing further damage to your roof.
If you do choose to do the work yourself, Mr. Jones recommends cleaning the gutters and downspouts within a week or two of the leaves starting to fall. This way the gutters and downspouts will still function while leaves are continuing to fall. Removing those leaves well is important, says, Mr. Jones, because "packing downspouts with debris instead of removing it can cause gutters to overflow, creating other issues." Jones Boys Maintenance Company says that their busiest time of year is mid Spring, when rain is heavy,  and late Fall, when homeowners winterize their home.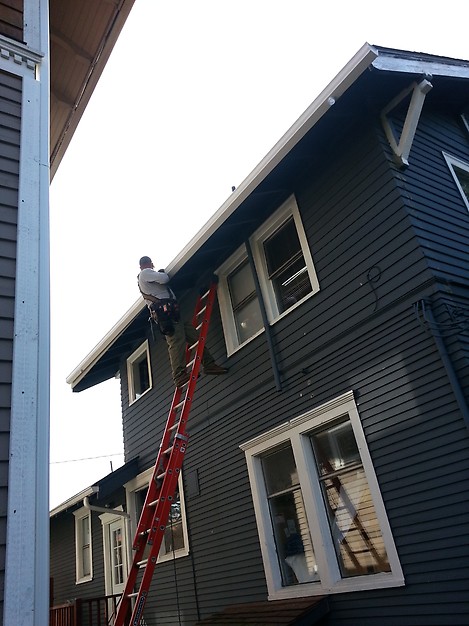 Image credit: Seattle Gutter Cleaning
Informed Homeowner Tip: If you are going to climb up on your roof, here are some important tips from the National Safety Council regarding the safe use of ladders.
Always keep at least three points of contact with the ladder (i.e. two hands and one foot or two feet and one hand)
Place the base on a firm, solid surface
A straight or extension ladder should be placed 1 foot away from the surface it rests against for every 4 feet of ladder height
When you climb, always face the ladder and grip the rungs, not the side rails
Climb down a ladder one rung at a time
Do not climb with tools in hand – use a tool belt
Keep your body between the ladder side rails when climbing
Do not lean or overreach – reposition the ladder closer to the work instead
Tie down a ladder when using it outdoors and do not use it in windy or inclement weather
Top image credit: Gelotte Hommas