You can transform your bathroom from old and weary to hot and stylish without breaking the bank. Small and affordable bath changes can add character and give a fresh outlook for your washroom. Given the fact that bathrooms are generally small, even small changes, like painting the walls or adding a ladder bookshelf, can have a huge impact. Think about doing these updates when you are needing a bathroom refresh:
1. Fresh fixtures
Bathroom fixtures (hooks, handles, faucets, soap dispensers, etc) can be quickly and easily replaced to bring your bathroom into the 21st Century. Most bathrooms look their best when all the metals match in color and finish however, you don't have to stick to a singular style. Bathroom door knobs should generally match the door knobs in the rest of the surrounding rooms. The sink faucet generally coordinates with the bathtub and shower faucets. Cabinet pulls, hooks, shelving brackets and towel racks look best when they have a similar style. When updating your bathroom make sure you have enough fixtures to actually make this room functional. For example, utilize vertical space by hanging shallow shelving or towel racks or towel bars. Pro tip: most fixtures are sold in "families" meaning that they are all designed to coordinate. If you don't have time to shop around and play interior designer, simply purchase your items from the same family.
2. Pick a pattern
Hanging wallpaper can be an expensive undertaking. Not only is the paper expensive, sometimes the walls need to be professionally prepped prior to application. But if pattern is what you want, you can still get the look for less by shopping smart and rolling up your sleeves. First, decide how many walls you want to cover. Sometimes all you really need is to pattern a singular wall, which will help you save cash. Next, shop around for the best price within your budget. Keep in mind that wallpaper is sold in standard widths and by the roll. Many suppliers can help you calculate how many rolls you need just by plugging in your dimensions. Look for self-adhesive paper that is designed for high-moisture areas like the bathroom for best, and easiest, application. Pro tip: Really on a budget? Spread out the pattern and use a painted stencil or vinyl stickers that mimic a repeated pattern. You'll add the look of patterned walls without the hassle.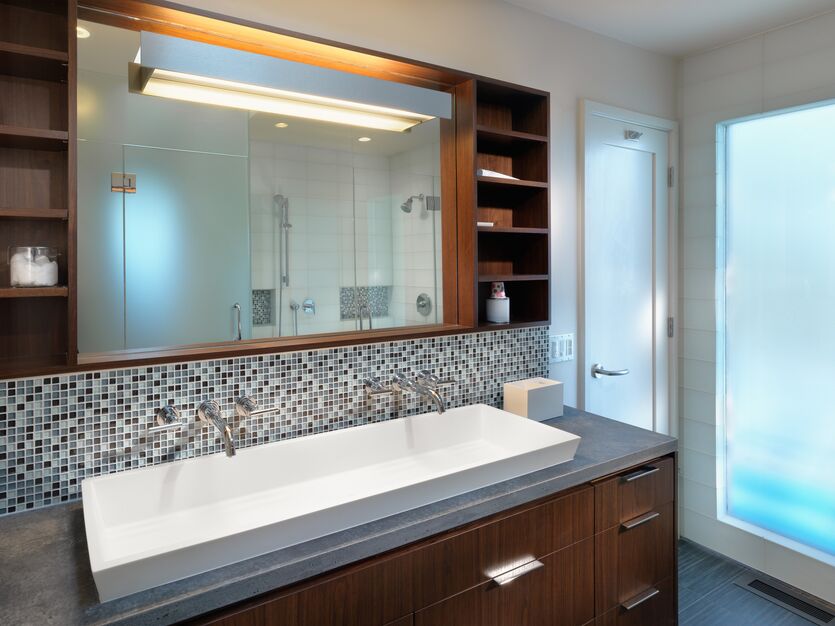 3. Brighten your surfaces
Time and limescale damage the glow of your sink, shower, toilet or tub. You can bring the brightness of these items back by using an over-the-counter product to remove accumulated calcium or rust deposits from ceramic surfaces. Cleaning solutions, like this one, work wonders on a variety of surfaces. If you are looking to replace the tile in your bathroom and  you consider yourself fairly handy at DIY, try adding a glass mosaic tile on a backsplash to create an accent. Pro tip: If elbow grease isn't brightening your toilet, consider replacing it with a newer model. If your toilet is older that 1990, you could save a lot of money on your water bill by simply installing a new, low-water use toilet.
4. Frame your mirror
Every bathroom deserves a beautiful mirror. Not only does a mirror create a larger sense of space, it reflects light into the room, making it appear brighter. Very often we see builder's-grade mirrors, meaning plain mirrors that lack a frame. It's easy to create a frame around your existing mirror to give it a custom look. Or take your existing frame and spray paint it for a pop of color. Pro tip: If your bathroom lacks space, consider replacing your existing mirror with a wall-mounted medicine cabinet. Shop around for a cabinet that fits your budget and measure twice to make sure you'll have enough room for the door to swing open.
5. Add more lighting
In order for a bathroom to function well you need quality lighting. You'll want to make sure that your light fixtures are in the right place and that your fixtures are using the correct bulbs. If you feel that your current light fixtures are plain or outdated, you can find many bathroom-approved fixtures at competitive prices. Chandeliers and pendants can add elegance to a bathroom, particularly if your ceiling is tall. Just make sure that your lighting fixtures are properly installed by an electrician who understands the correct UL listing for lights being installed in a wet zone. Pro tip: the best light for the bathroom is a cool, bright white or daylight bulb with a high color rendering index (CRI). This type of bulb will most accurately reflect natural daylight.
Top Image Credit: Jenni Leasia
When you make a purchase using affiliate links on our site, we may earn a commission.