Whether you love to travel or have a passion for renovations that go beyond the simple DIY project, these creative camper makeovers are just for you. From painting the exterior to entirely gutting the interior, these five travel trailer makeovers transformed beat up trailers into beautiful traveling homes. Get inspired to take on the task of remodeling your own old RV or decorating your new camper, by checking out the hard work that went into these amazing trailer before and afters.
See how each of these bloggers turned their old, vintage camper into a hot home-on-wheels!
1. 1970 "Gus" Trailer
The cutest Arizona themed trailer you'll find on the open road, this 1970s travel trailer received a whole new look. On the exterior, Gus sports cactus decals, a banner, twinkle lights, and propane tanks painted like barrel cacti. Stepping inside, the interior was brightened up from a dull, neutral color scheme, to colorful quarters bursting with personality. With a few coats of paint and quirky accessories, this tired trailer was brought to life.
Before
After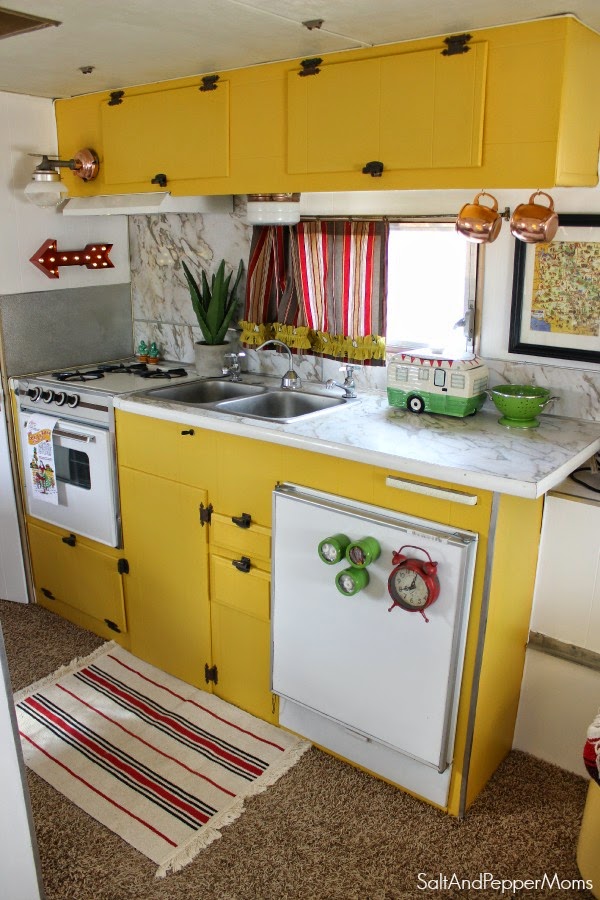 Image Credit: Salt And Pepper Moms
2. Travel Trailer
This typical travel trailer turned into a permanent home after renovations. All 28 feet were transformed into a simplified living space for the new trailer-living blogger. This decked out trailer includes a bedroom, single bathroom, desk area, lounge seating, and a kitchen to meet daily life needs. The kitchen received the biggest upgrade by transforming into a functional space fully equipped with a 25-inch basin sink, stove, magnetic knife rack, adhesive backsplash, under-mount lighting, and clever use of storage space.
Before
After
Image Credit: Anchored Home
3. The Nugget
A little camper trailer got a brand new look from head to toe in this vintage trailer makeover. Starting on the outside, the original exterior paint was entirely stripped and given a new coat full of red and pink diamonds with gold pinstripes. The old, rusty door was replaced with a new, mid-century door built from scratch. On the inside, light pastel tones bounce from the walls to the seat cushions for an overall cheerful vibe. In the kitchen and eating area, clever storage space was built in, along with handmade wood planter shelves, and custom cabinets paired with white ceramic penny tile that add a simple vintage charm to the trailer.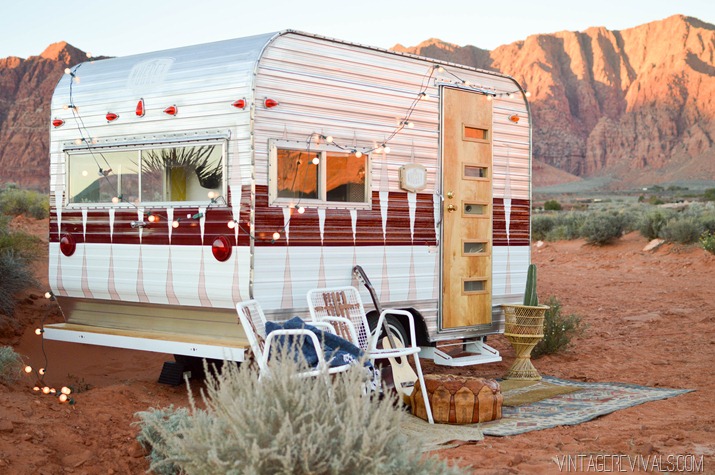 Before
After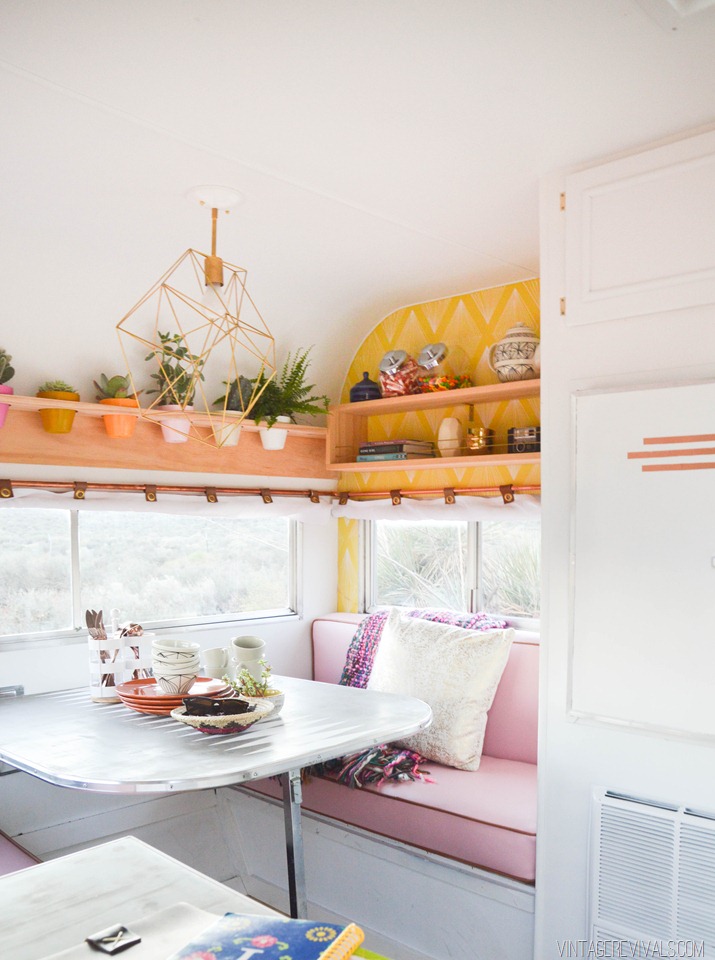 Image Credit: Vintage Revivals
4. RV House
This old RV was transformed into a playful house with all of the home necessities one would need. House furniture was brought inside to create a homey feel for the blogger's family. In the living room and dining room area, tablecloths were used as curtains, a large antique hutch was brought in to hold crafts and sewing materials, and a chalkboard painted banner was built to display daily quotes or messages. The kitchen was remodeled with a fresh wood counter top, white painted cabinets, and a bright blue painted fridge. In the next room of this large RV, a bathroom area comes complete with a shower, washer and dryer, and closet. The bedroom gets cozy with a full bed, nursery area, and storage stairs that lead up to a reading nook and bunk bed space. With colorful patterns and personal touches, this RV makeover allowed the owners to have a home away from home.
Before
After
Image Credit: Lines Of Grace
5. Vintage Camping Trailer
A worn down 14-foot camping trailer was brought back to life in this trailer makeover. A deteriorating exterior was freshened up with a new paint job and an entirely new interior was created. After replacing the destroyed floor with new vinyl flooring, removing the wood rot from the walls, and brightening up the space with a few coats of white paint on the cabinets and walls, this old camper looks brand new. A queen sized fold-out bed was added for comfort, along with newly cushioned seating for the dining area and a built-in fridge in replace of the stove. With new functional features, this clean, simple vintage camping trailer is ready for any adventure ahead!
Before
After
Image Credit: Fresh Crush
Which of these unbelievable trailer makeovers would you want to take glamping? Tell us your favorite in the comments below!