If you've ever eaten lunch inside a blanket fort you built as a kid or enjoyed a night-time snack while snuggling up to your sweetie; you've probably already got some good indoor picnic ideas. Having a picnic at home — whether on your living room floor, out on your balcony, or in your backyard — is a great way to spend time with your loved ones while doing something inexpensive and different from the norm. The best part is it doesn't matter what the weather is like outside—the temperature can be as warm or cool as you want it to be.
Table of Contents
Why have a stay-at-home picnic?
Extra ideas for your at-home picnic
Why have a stay-at-home picnic?
Arranging activities that everyone will enjoy can get a little expensive, and if you don't have a lot of money or a way of getting around easily, options can be limited. Home activities, like picnics, give us a way to bond with our loved ones without breaking the bank.
Spend more time with your family
In today's busy world, it's more important than ever to set aside time to spend with your family. Not only does this strengthen your family bond, but it also:
Helps build self-esteem

Encourages positive behavior

Relieves stress

Instills a healthy lifestyle

Creates lifelong memories
Spend more time with your partner
Sometimes, couples will avoid spending quality time together because they think doing so has to involve going out to dinner, seeing a movie, or any activity that can be costly. The beautiful thing about planning an at-home picnic is that it can be as expensive or inexpensive as you want — the type of food you choose to include doesn't matter nearly as much as you and your partner spending time together.
Spend some time with yourself
Self-care is essential, too. Having a mini staycation is ideal for scoring some time for yourself. Although you don't need an excuse to treat yourself to something nice, planning an indoor picnic allows you to buy or make some tasty treats. You can make a personal picnic even better by watching one or two of your favorite movies.
Indoor picnic set up
If you want to get technical, having sandwiches while sitting on a blanket on the floor qualifies as a picnic. While that quick-and-easy meal fits the definition of a picnic, it lacks the unique quality that a proper picnic has.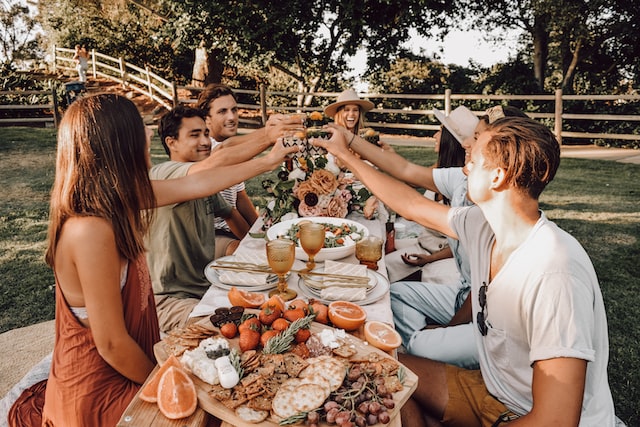 Picnic essentials
Every good picnic has a few common elements. When putting together a list of picnic ideas, you should consider adding the following:
A blanket.

Think of the blanket as the table you eat at.

Some snacks.

The beauty of indoor picnics is that there are no rules about what makes a meal.

Dessert.

The proper dessert can make any meal special.

Finger food.

Food that doesn't require utensils makes picnicking fun.

Kitchen items.

Even the most well-thought-out picnic will need plates and cups.
Set the scene
Part of the fun of an indoor picnic is how you set the stage and spice up your indoor decor. Why not get silly if you're planning a picnic for your family? Or, if you're hoping to spend quality time with your partner, why not make it romantic? 
There are a few ways to set the scene for your mini staycation:
Be creative.

Use your imagination to dream up something fun or relaxing.

Pick a theme.

A beach theme is an excellent idea for your at-home date.

Use blankets and pillows.

Setting out blankets and pillows to sit on will make your picnic more comfortable.

Music.

The right music can set the mood, whether it's soft jazz or something cheerful.

Use plants and flowers.

Adding flowers and

indoor plants

to your picnic can bring a little summer inside when it's dreary and grey outside.

Put together a picnic basket.

Fill up a basket with tasty treats to share with your loved ones.

Put up string lights.

A string or two of lights can be both fun and romantic.

Break out the games.

Since you're already spending time together, why not make it a family game night?
Outdoor picnic set up
When the days get warmer, many like to spend as much time as possible outside. The great outdoors and a great picnic area are a natural partnership—they belong together. Some of the same ideas you might use to make an indoor picnic memorable are great outside, too.
Set up a tent
If you have a tent, you can have a picnic — even if you don't intend to spend the night there. A tent will provide a convenient little "room" where you can set up blankets and pillows to make it cozy and even have a fun theme. As a bonus, a tent will shield you against the weather if it gets a little chilly.
DIY to save money 
If you don't have a tent, don't worry — you can build your tent. Follow these simple steps:
To make a triangle, drape a large tarp or bed sheet over a clothesline.

If using a tarp, tie a piece of cotton string or thin rope (about 4 feet long) through the grommets on each corner.

If using a bedsheet, tie the string or rope around the corners tightly.

Stretch the four corners so the bedsheet or tarpaulin is tight, and secure the ropes to the ground using four tend pegs or heavy rocks.

Once you set up the tent, bring in your blankets and food.
DIY picnic table
If you are lucky enough to have a backyard, building a picnic table is a fun activity you can do with your partner or kids. At the end of the project, you'll have something to be proud of. Naturally, take some caution when building something out of wood, but an ounce of caution goes a long way. Use the proper safety equipment when dealing with a project involving tools and splinters.
Backyard Ideas
What's the good of having a backyard if it doesn't inspire you to get outside? If all you see when you look outside is a dismal patch of grass, it's time to rethink your outdoor space. By investing a little time and money into creating a beautiful backyard you enjoy, your drab patch of grass can be a beautiful setting for all kinds of backyard activities.
Outdoor picnic ideas
Backyard picnics don't need to only be about eating a nice meal outside with your partner or family. Why not make it memorable by raising the fun factor a notch or two? Here are a few ideas for your next backyard picnic:
Stargazing
Turn off the lights and get cozy with some good food, the people you love, and millions of stars.
Watch movies
You can set your laptop up on some patio furniture to have dinner and a movie, or you can take it a step further and invest in a movie projector with a white sheet as a backdrop.
Backyard game day
The next time you whip up a backyard picnic, break out the outdoor games for a fun family game day.
Extra ideas for your at-home picnic
Aside from the fun ideas we listed above, there are some other things you can do to make the picnic memorable and get some lasting inspiration out of it, to boot:
Take pictures
Don't just take pictures of your food and how you've set the picnic up — take photographs of you and your loved ones enjoying the picnic. If you've gone to all that trouble to make a memorable occasion, then be sure to document it in pictures so that you'll always have something to look at and smile about for years to come.
Do the setup together to bond
Think of the setup process as one of many DIY activities you can do together. Although enjoying the picnic together is excellent, time spent setting it up can be valuable bonding time. Just as if you were building a piece of furniture together, you will have something you can all be proud of.
Gain inspiration for decor and food ideas
If you're someone who reads through home and garden magazines or browses through sites like Pinterest, chances are you've already come across hundreds of images that could work as ideas for food and décor. While browsing the net, save the images and recipes that interest you. You may be able to use them for your next picnic.
Picnic budget hacks
At-home picnics are already a far cheaper alternative to going out to eat, especially if there are more than two of you. Nowadays, even a light meal at a mid-range restaurant can cost the average family of 4 close to $100. Still, even though you're already saving money by enjoying a fun meal at home, there are other ways to save:
DIY Picnic blankets.

You can undoubtedly make a blanket just for picnicking, but any blanket from your closet will do.

Go for low-cost ingredients.

Indulgence can be wonderful, but you don't need to buy expensive food for your picnic.

Why buy a veggie tray when you can make your own and even have leftovers? Don't buy the ready-made dip when homemade is half the cost and all the taste. Buy store-brand crackers as they taste the same as an expensive brand.
Keep the leftovers.

If you're clever, you can save the leftover food from the picnic to make another meal, making your picnic budget stretch even further.
The beautiful thing about at-home picnics is how wonderfully flexible they are. You aren't stuck with having sandwiches on the floor of your living room — the only limitations of these mini staycations are what you put on them. So, why not plan a picnic and a movie for your family, or opt to stay up late and gaze at the stars with your other half and picnic basket full of goodies?