When it comes to home remodeling, the laundry room is often a neglected space. However, a functional and beautiful laundry room can be the perfect multipurpose area for doing laundry, storing home supplies, and adding extra storage space to your home. As you plan your laundry room remodel, think about what changes will have the most significant impact on your laundry room experience. Do you want to add a larger space for a new washer and dryer? Are you looking to add a sink or built-in shelves? Knowing the type of laundry room design you are looking for will help you decide when to DIY or hire a professional. Consider and compare the following laundry room ideas to understand what projects are DIY-friendly and what may require a professional's expertise.

Paint or wallpaper
Adding decorative features such as paint or wallpaper to your laundry room design can be an easy DIY project. If you are unaware of the products and supplies you may need for painting or adding wallpaper, consult a specialist at your local retail home improvement store for help. Need some expert painting tips? Be sure to check out our painting and color section for DIY videos and helpful hints.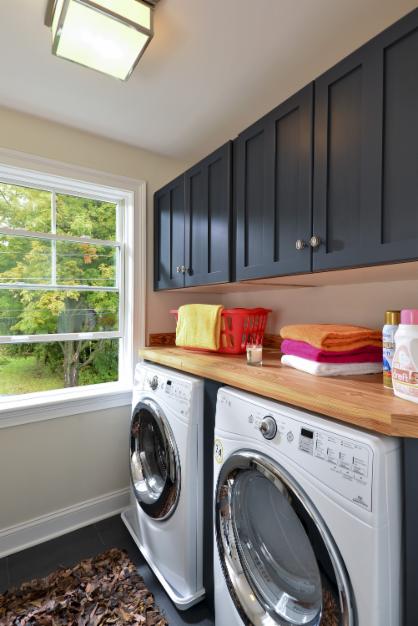 Structural changes
Removal of walls, adding a recessed area with a bench, or installing windows and doors to your room will require a builder or contractor to ensure quality and safety of construction. When changing the overall structure of your laundry room, you may come across mold, water leakage, and drywall damage or insulation problems. Working with a specialist and having a laundry room contract in place will benefit both you as the homeowner and your project.
Ironing center
Sectioning off an area for a stand up ironing board, mounting an iron board within a built-in shelf, or building an ironing station into a countertop can be done by either the DIY method or by hiring a professional. You can insert shelving yourself by buying shelving kits with all the materials inside the package or hire a contractor to build an ironing center inside of a cabinet or shelf so it is hidden and saves space in the room.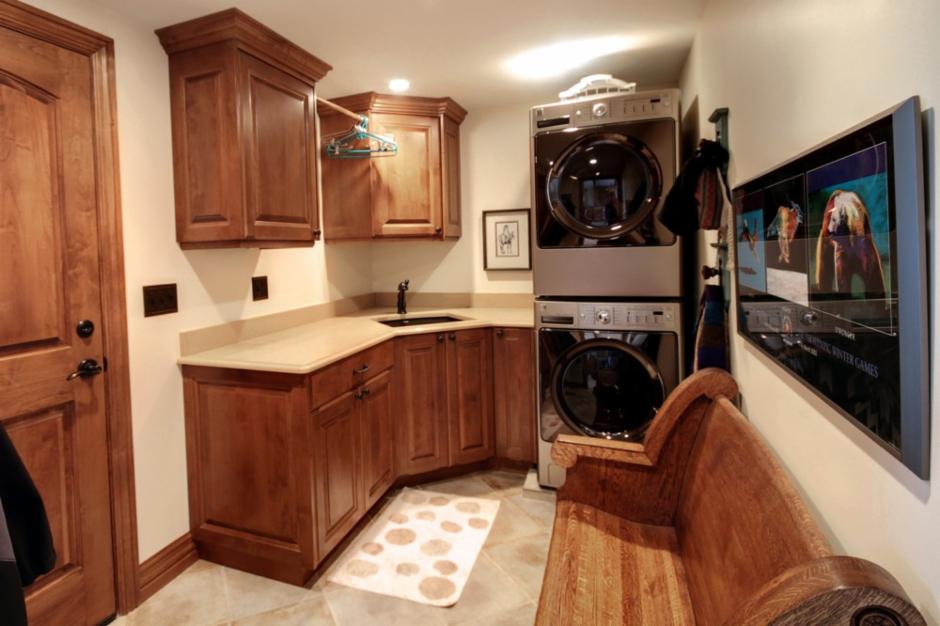 Drying rack
A place to hang and dry more delicate items in your laundry room can be created by placing a metal rod between two walls, cabinets, or shelves. This is a simple project that is easy to DIY. Check out your local organizing stores for off-the-shelf solutions and make sure you add absorbent material to catch any drips.
Craft or hobby area
For a larger laundry room remodel, consider sectioning off a corner for crafts. Some laundry rooms also hold sewing machines and art supplies. Add a table and a couple chairs on your own to create an area just for crafts.
Laundry chute
If your home has multiple floors, a laundry chute is a creative way to get your dirty clothes straight to the wash, eliminating the use of laundry bins in bedrooms. A laundry chute will require the help of a contractor to build the chute inside of the walls connecting from room to room. This renovation is easier to insert and complete when remodeling entire rooms at a time.

Sink
Adding a sink to wash your hands or delicate clothing can serve as a great laundry room function. If you are replacing an existing sink this project may be an easy DIY fix, but when adding a new sink this may require multiple professionals such as a contractor, electrician, and plumber to make sure all functions work properly.
Built-in shelves
Building shelves into your laundry room can be challenging. Hiring a contractor or architect to draw out a design and plan for the type of shelving you are looking for will help you understand size, pricing and the timeline of your project. Some shelving in laundry rooms can vary from stacked shelves to store items, built-in cabinetry, recessed shelves, and even full-on closets to store and hang clothing.
Washer and dryer
A washer and dryer are the main necessities of a laundry room. Adding a washer and dryer to your home can be done on your own by purchasing the type you are looking for and having them delivered to your home. But if you are unsure what type to buy or how to install and setup your washer or dryer, consulting a professional's help will guarantee satisfaction.
DIY vs. hiring a pro
Depending on the scope of your laundry room remodel, you may be able to complete most, or all, of the project on your own. In general, labor constitutes nearly 60% of a contractor's total service charge, so completing a DIY remodel can save you major cash. You'll feel accomplished as you remodel your home, and after the project is complete, you'll be able to enjoy your own work. You may even learn something new about your home, your laundry room, or your remodeling skills. Be honest with yourself and your abilities as you decide which parts of your remodel are DIY projects and which require the help of a professional. However, before you jump into a DIY laundry room remodel, be sure to think it through. If you take on more than you can handle, you may lose time and money. Hiring someone to fix mistakes or mishaps can be costly, and it significantly increases the timeline for your remodel.
If you're planning an extensive laundry room remodel, it may be best to hire a contractor. Contracted work is generally more expensive than DIY remodeling projects, however your contractor will be highly skilled, provide a safe and dependable product, and may be able to complete the project more quickly than you could on your own. Additionally, some projects likely require permits to keep your remodel up to code. A pro will know how and when to get specific permits. If you plan on selling your home, having the appropriate documentation of your remodel will be important. Undocumented remodeling projects can lower your home's value, while properly licensed remodels ensure homebuyers that your home is safe. If you're considering hiring a pro to complete some aspects of your remodel and completing others on your own, be sure to speak with your pro about your plans.
Top Image Credit: Witt Construction