Painting the exterior of your home is a great way to boost curb appeal without replacing your entire siding. Whether you choose to DIY or hire a professional, here's how to choose the best paint for your home.
Tips
Cleaning: Make sure you thoroughly clean your siding before applying any primer or paint. Depending on the material and condition of your siding, this may involve hiring a pressure washer.
Prime time: Primer is extremely important for exterior painting. Without primer, your paint job can appear uneven and won't last as long. In the case of wood siding, skipping primer may cause the paint to bleed into the wood, causing unsightly patches. Make sure you choose a primer that is compatible with the material of your siding AND the type of paint you're applying afterward.
Weather: There's a reason the price for an exterior painter goes up in summer, some paints require the weather to be consistently above a certain temperature to be applied, therefore the labor is in high demand. Plan ahead and
Vinyl Siding
Latex/Acrylic
Vinyl tends to expand and contract when the weather changes so it's crucial to choose a paint that can adapt to this change. Many paints will stick to the vinyl and look good but latex dense paint will be more durable to weather changes.
Color
Choosing a lighter color paint will reflect heat better than darker colors, preventing overheating your home. If you have your heart set on a darker color, then make sure that it contains reflective pigments in the paint (this may produce a shinier result). If you're not sure on paint color you should contact a siding installation professional who can help you choose a color.
Wood Siding
Oil/Alkyd
Choosing a paint and primer that is oil based or acrylic will prevent the wood from bleeding and creating moisture stains. The downside is that, the sealant paint prevents moisture from escaping the wood once applied.
Latex/Acrylic
Latex is a popular choice for all siding types, including wood, because it is weather resistant but still porous enough to prevent trapping moisture.
Stains
If you would like more of the wood texture to be visible, then staining is a good option.
Stucco
Elastomeric
Elastomeric wall covering is a version of latex paint designed to be applied to masonry materials like stucco. It is a lot thicker, allowing it to hide imperfections in the wall better than regular latex paint, while still being breathable. It is a good option for stucco, but more time consuming to apply and therefore more expensive. If you're repainting your entire exterior and do not have any noticeable damages to the stucco, latex paint is a good, cheaper option.
Brick/Stone
Stain or porous paint
A stain or a porous paint is needed so water does not get trapped in the brick. Although oil based paint is easily cleaned and durable, it does not allow the brick to breathe.
Color
If you choose a stain or a porous paint, then choosing a color will be up to personal preference. If you opt for more of a sealant paint then choosing a lighter color will reflect sunlight and prevent overheating.
Trim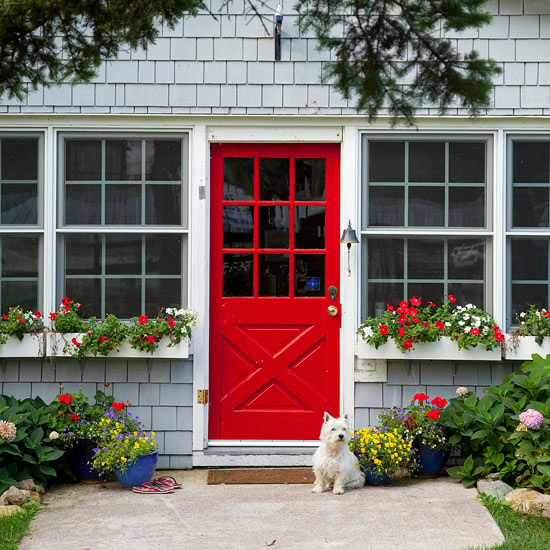 Oil based or latex gloss paint
Both oil based and latex paints work well on your trim, window casings and doors. Opt for a gloss finish because it's durable than an eggshell or flat finish and it's easy to clean. The gloss gives a shiny appearance, that may reveal imperfections more than a flat finish, this is why gloss is rarely used for the entire exterior.