Homemade candles can be enjoyed all year long in your home, from your living room to your back deck. Grab a jar, a teacup, or whatever quirky container you prefer, and get to melting. In less than 30 minutes, the relaxing aroma of your new candles will have you running to the store for more supplies.
Give these easy 9 DIY candle-making recipes a try!
1. Citronella Candles
When it comes to making candles for the outdoors, this citronella candle recipe will not only make your backyard smell amazing, it will also help keep those pesky mosquitos away. Make a large batch of these DIY citronella candles for those evenings when you want to enjoy a glass of wine on the patio or have friends over for a barbecue.
Image Credit: BLDG 25 Blog
2. Pressed Herb Candles
If relaxation is what you're after, these pressed herb candles are just what you need. Fill your home with the sweet scent of lavender or give them as a gift by topping these cute candles off with twine or ribbon.
Image Credit: Adventures In Making
3. Color Block Crayon Candles
Who doesn't love a fun pop of color?  These bold crayon candles are great decorative pieces you can customize for holidays, parties, or for your home. Stick to the simple three color combo, or take the project in your own direction to create a design that you'll love.
Image Credit: Brit + Co
4. Tea Infused Candles
The next time you're craving a peaceful atmosphere, try filling your home with the soothing aroma of essential oils infused with tea. These all natural, DIY tea infused scented candles will offer you the calm environment you've been dreaming about all week long.
Image Credit: Fall For DIY
5. Natural Beeswax Candles
Natural beeswax has a sweet, unique smell that does not need the enhancement of essential oils or fresh herbs. For a chic, vintage look, use an old mason jar as a container for a beautiful, golden homemade beeswax candle.
Image Credit: A Beautiful Mess
6. Seashell Candles
For all of you beach lovers out there, gather up some of those shells you've collected over the years and fill them up with a simple wax mixture to DIY these beachy candles. Choose essential oils that bring back memories of the ocean breeze, and set sail for an afternoon filled with nautical daydreams.
Image credit: Sincerely, Kinsey
7. French Vanilla Candles
Imagine coming home to the smell of freshly brewed coffee and French vanilla. These nearly-edible DIY candles create an irresistibly delicious fragrance to make your home extra cozy on those cooler summer nights.
Image Credit: Hello Glow
8. Vintage Teacup Candles
Old teacups can be both classy and quirky. Head to your local thrift store to find your favorite teacups and fill them up with the homemade candle recipe of your choice. Use these DIY vintage teacup candles to dress up your coffee table or as a finishing touch to a wedding centerpiece.
Image Credit: Hey Gorgeous, The Blog
9. Funfetti Candles
If you have a sweet tooth, give these colorful cupcake scented candles a try! These festive DIY funfetti candles are a great gift for a friend, favor for a baby shower, or decoration for a birthday party.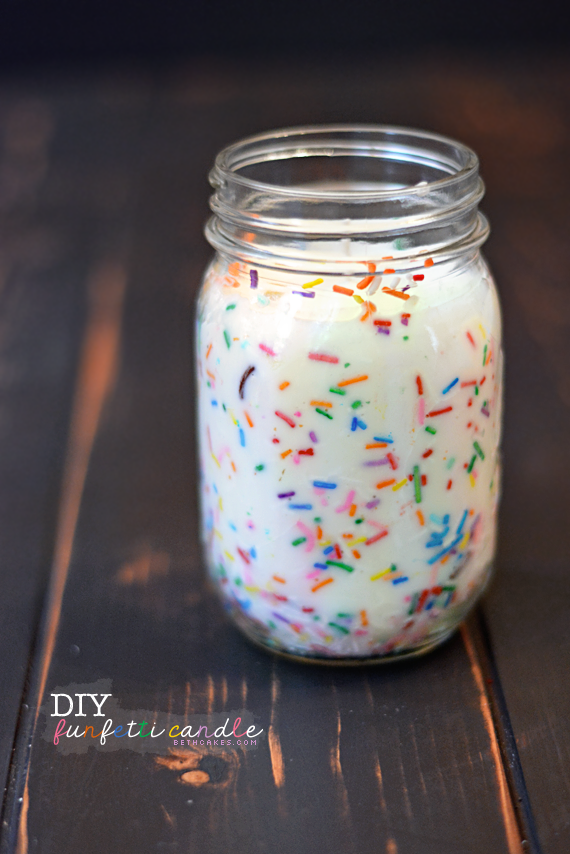 Image Credit: Beth Cakes
Have you tried DIY-ing scented candles? Tell us your favorite scent in the comments below!