The coffee table is the center of your living room, and that makes it key to whether your décor feels polished and pretty, or unfinished and bare. It's tempting to leave the coffee table blank. But if a remote control and a couple of coasters are the only things on yours, then you're missing a major decorating opportunity.
These seven great ideas are all you need to make your coffee table look swank and chic. Take a look, then go find your coffee table style!
1. Make it Personal
The coffee table is the perfect place to express your style where everyone will see. Choose a few of your favorite objects to create a beautiful vignette that says something about what you love.
Project completed by HOUSEplay Interiors
2. Go for the Green
Flowers and plants are a must for a coffee table that feels fresh. Touches of green life bring warmth and life to your table arrangement, so pick out a blooming bouquet to adorn yours. If you've got a black thumb, go for faux, or for a bowl of fruit that serves double-duty as a snack.
Project completed by Susan Marinello Interiors
3. Simple is Chic
You don't have to cover your coffee table to make it feel thoughtful. Just a few decorative objects in a unified color scheme can create the same finished effect as a collection of items.
Project completed by Bossy Color
4. Perfect your Proportions
A pair of ottomans can expand a too-small coffee table's footprint, as well as provide lively pops of color. Bonus: Adding ottomans keeps feet off of the table, and frees up surface space for drinks and decorations.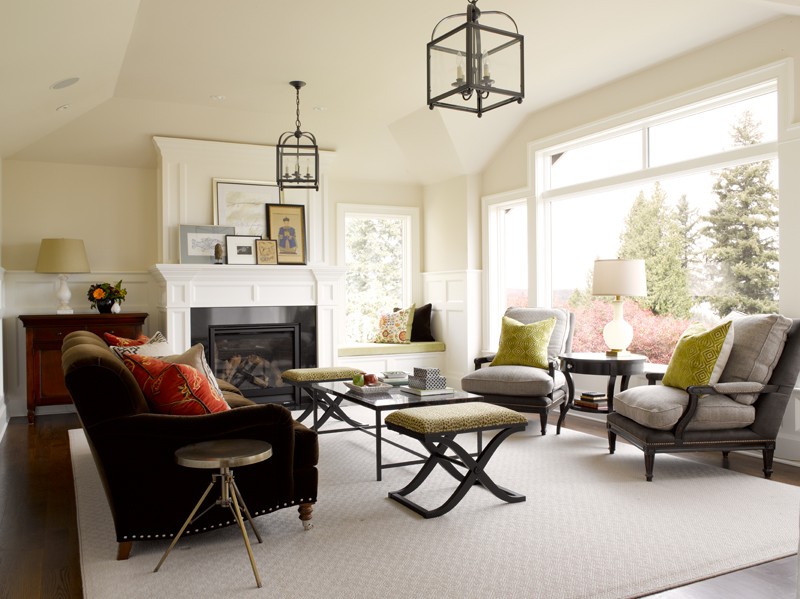 Project completed by Graciela Rutkowski Interiors
5. Try a Tray
A tray can make unrelated objects look like part of an intentional arrangement. If you have an upholstered coffee table, a tray or two will also provide a sturdy spot for setting snacks and drinks. Choose one in a color and material that coordinates with something else in the room to make it look like it belongs there.
Project completed by Frances Herrera Interior Design
6. Follow the Rule of Three
A tried-and-true design mandate, the rule of three refers to the design secret that odd numbers of anything will always be more visually pleasing than even numbers. With that in mind, choose objects for your coffee table in threes: a stack of books, a bowl of fruit, and a vase with a bit of green in it is one great example to copy.
Project completed by Frances Herrera Interior Design
7. Create a Vignette
When choosing objects for your coffee table, think about how they'll look together, as well as how they look on their own. You don't need to know about color theory to do this: just place objects next to each other, and if it feels good, go for it! You'll end up with a grouping that's harmonious, even if you're not sure why it works.
Project completed by Foley & Cox Interiors
Top Image Credit: Foley & Cox Interiors
Did you use any of these style tricks in your living room? Show us what you did in the comments!