Creating, designing, and decorating a nursery that is perfect for your baby on the way can involve a lot of decisions, from color schemes to an overall theme and style. Whether you want your little girl to have a room fit for a princess or you prefer bright and colorful nursery decor for a cheerful vibe, grab some inspiration from these 7 baby girl nursery ideas!
1. Gorgeous Glam
Be unique with your baby girl's space by choosing custom furnishings, like this glamorous chandelier. Or try combining decorations with different patterns, colors, and texture to add depth and interest.
Photo courtesy of Rachelle Wood via Apartment Therapy
2. Peach & Poms
This baby girl nursery is a peachy paradise with pretty pom poms and a soft color palette.
Photo courtesy of Sarah Shreves via Kelly Murray
3. Vintage Glam
For a sweet and feminine baby girl nursery, take a twist on vintage traditional decor with modern accents and prints. Try adding wallpaper to only one wall for a charming accent that isn't overwhelming.
Photo courtesy of Charming In Charlotte
4. Mostly Neutral
Staying neutral with your nursery colors and design creates a calming space that is anything but dull.
Photo courtesy of Maison De Pax
5. Bright & Happy
Make a statement that speaks in sweetness and color by using a rainbow palette as your central color scheme.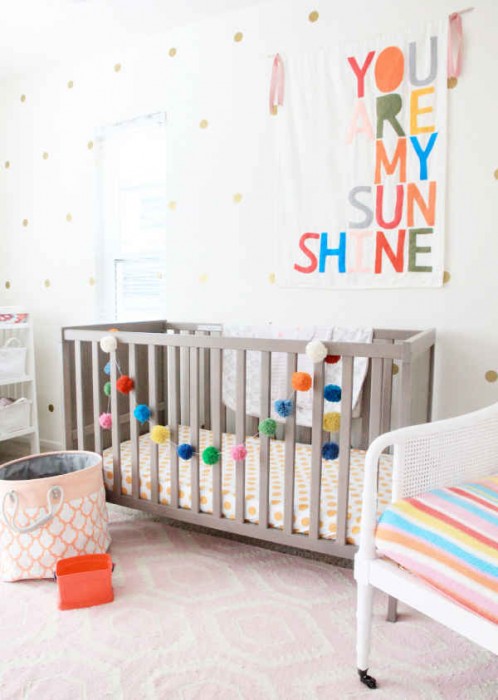 Photo courtesy of Lay Baby Lay
6. Beachy Chic
This extra cute beach-inspired nursery combines coastal decor with pretty pinks and vintage furniture.
Photo courtesy of Cute and Company
7. Dreamy Orange
Be bold with your baby girl's nursery design by mixing multiple bright colors, like this modern vintage coral nursery.
Photo courtesy of Deidre Lynn Photography via House of Rose
Did you love these 7 baby girl nursery ideas? Tell us your favorite in the comments below!
Top Image Credit: Charming In Charlotte