To bring in the new year, we challenged 4 of our favorite bloggers to take a trip to the thrift shop, find a piece of furniture, and give it a chic makeover! Check out their blogs for the full tutorials, and see how you can turn that old piece of furniture into a new work of art.
Heather is the Chief Editor and Founder of SettingforFour.com, a DIY, Decor and Lifestyle Blog founded in 2011. Setting for Four focuses on interior decor, home renovations and family friendly DIY projects that won't break the bank or sacrifice style!
"I found this brown wooden pedestal end table at my local thriftstore. The stained finish on the top was watermarked and scratched but with the beautiful lines of the pedestal legs, it's gorgeous shape and $5.00 price tag– I knew it had great potential!"

Check out Setting for Four for the full tutorial!
Christy's blog, Our Southern Home, focuses on vintage french country farmhouse style with a wealth of decorating and DIY projects!
"I'm drawn to furniture with French Country lines. This piece immediately caught my eye. It is from the manufacturer, Lane and solid. Being in excellent condition along with a  price of $20 made it a score!"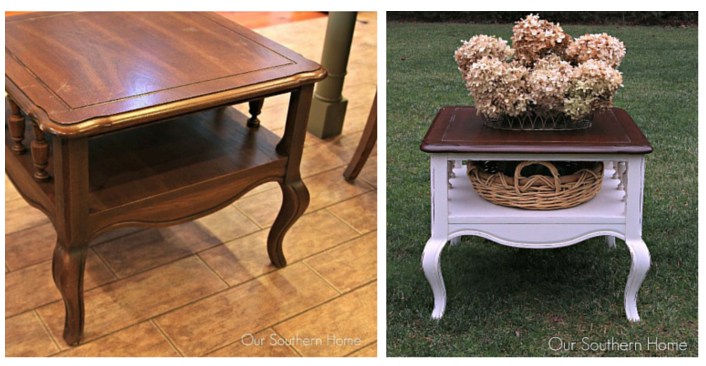 Check out Our Southern Home for the full tutorial!
Gail Wilson is the hammer and drill behind My Repurposed Life. When she's not doing things around the house and yard, she's busy in the shop building, and repurposing old unwanted furniture. You can always count on Gail for some great tips on how to DIY on a budget!
"If you've been around for awhile, you know I love to stack furniture—it gives great storage but a smaller footprint for tight spaces. I picked up these nightstands for $8.50 each!"
Check out My Repurposed Life for the full tutorial!
Kelli and Kristi are the twin sisters behind Lolly Jane, an eclectic DIY + craft blog where they do it all! From furniture revamps to home decor knock-off, holiday crafts and even recipes, their site is filled with projects you can complete in a day or less!
"As soon I spied this heavy stool that was needing a facelift, I carried it right to checkout! Bam. For just $10 dolla. Holla!"
Check out Lolly Jane for the full tutorial!
Do you want to participate in Cheers for Change, or have any bloggers you'd love to see featured? Drop us a line in the comments section below, or email Taylor at taylorh@porch.com