Home organization and cleanliness is something we all wish we could achieve, but let's be real- it's not easy. Finding yourself with a mess under your sink, a clutter of toiletries and makeup in your bathroom, or a closet full of chaos can put you in a tangled tizzy. Toss out unwanted items and get your things in order to keep your head on straight.
The following are 10 hacks for your home that require minimum effort and money!
1. Wrapping Paper Storage
Now that the holidays are over, it's time to store your wrapping paper and decor. Grab a garment bag, place your paper inside, and hang it in your closet!
Photo courtesy of The Chic Home
2. Gold & Acrylic Clipboards
If you're living in a small space with little room to store or decorate, try hanging your to-do lists, calendars, notes and more on your walls with these DIY clipboards.
Photo courtesy of Fabric Paper Glue via Design Sponge
3. Lost Sock Organizer
How many times have you misplaced a single sock or you've been convinced your dryer ate it? This DIY lost sock organizer is a simple and cute way to make sure your sock doesn't lose it's mate!
Photo courtesy of day2day SuperMom
4. Color Coding Keys
From your apartment key to your car key, keeping track of which is which can be mind boggling. Color code your keys by painting them with nail polish, glitter, or in any other eye-catching way to keep your keys straight.
Photo courtesy of A Bubbly Life
5. Magnetic Dish
Miscellaneous items like paper clips, bobby pins, and push pins can get lost in a drawer or desk. These magnetic dish DIYs will solve your jumbled mess of objects problem.
Photo courtesy of A Girl And A Glue Gun
6. Ball Storage
If you don't have room for a storage bin or closet in your garage, a quick ball storage hack that only requires studs, slats, and bungee cords is a quick fix.
Photo courtesy of Designed to Dwell
7. Magnetic Makeup Board
Instead of stuffing your mascara and blush into your bathroom drawers, organize your makeup on a magnetic board for less mess and more pretty.
Photo courtesy of Liz Marie Blog
8. Yarn Coffee Can Cubbies
For those of you who hoard a lot of yarn or have a vast collection, this yarn holder DIY repurposes old cans and turns them into wall storage.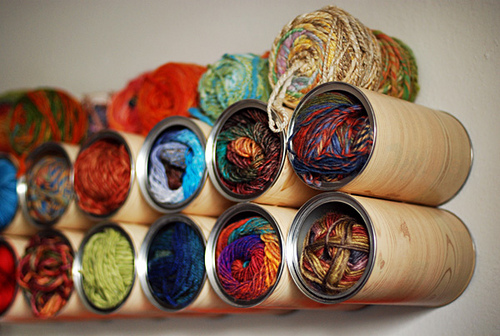 Photo courtesy of Leethal Blog
9. Under The Sink Spray Bottle Hanger
When you're running out of room under your kitchen sink for cleaning supplies and spray bottles, install a tension rod to hang your bottles and clear space.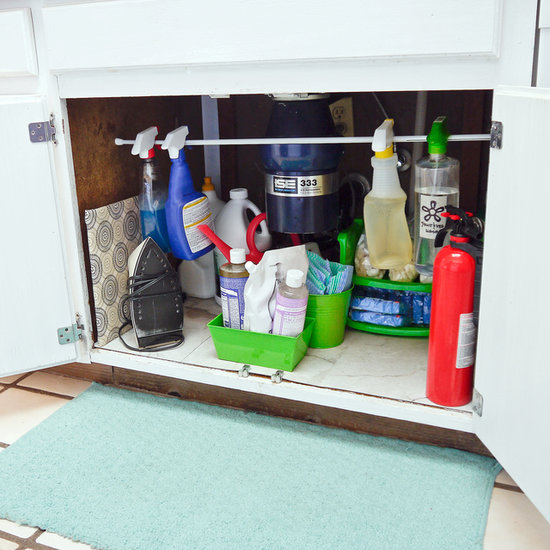 Photo courtesy of PopSugar
10. Hanging Laundry Hamper
Instead of storing a laundry bin in your closet or room, this laundry hamper DIY takes your dirty clothes off the floor and hides them by hanging on the inside of your closet door.
Photo courtesy of Making Nice in the Midwest
Top Image Credit: PopSugar