When it comes to the
best
states in the U.S. to live, what criteria would you use? The weather? Job market? Maybe even schools or hospitals? Most
comprehensive guides
attempt to rank various regions by some combination of benchmarks, including overall economy, crime rates, health care, infrastructure, and environment. But while Washington and New Hampshire might be considered the best places to put down roots—the draw might not be enough to convince you to pack up your bags and relocate. In fact, fewer people are moving for work
than ever before
, and there are some states where people wouldn't consider living even if you paid them. For a closer look at which states may have earned a bad reputation (and why),
we surveyed over 550 people about the least and most desirable locations
. Read on to see where in the U.S. $10,000 wouldn't be enough for people to call it home and what makes people love their hometowns.
Thanks, but no thanks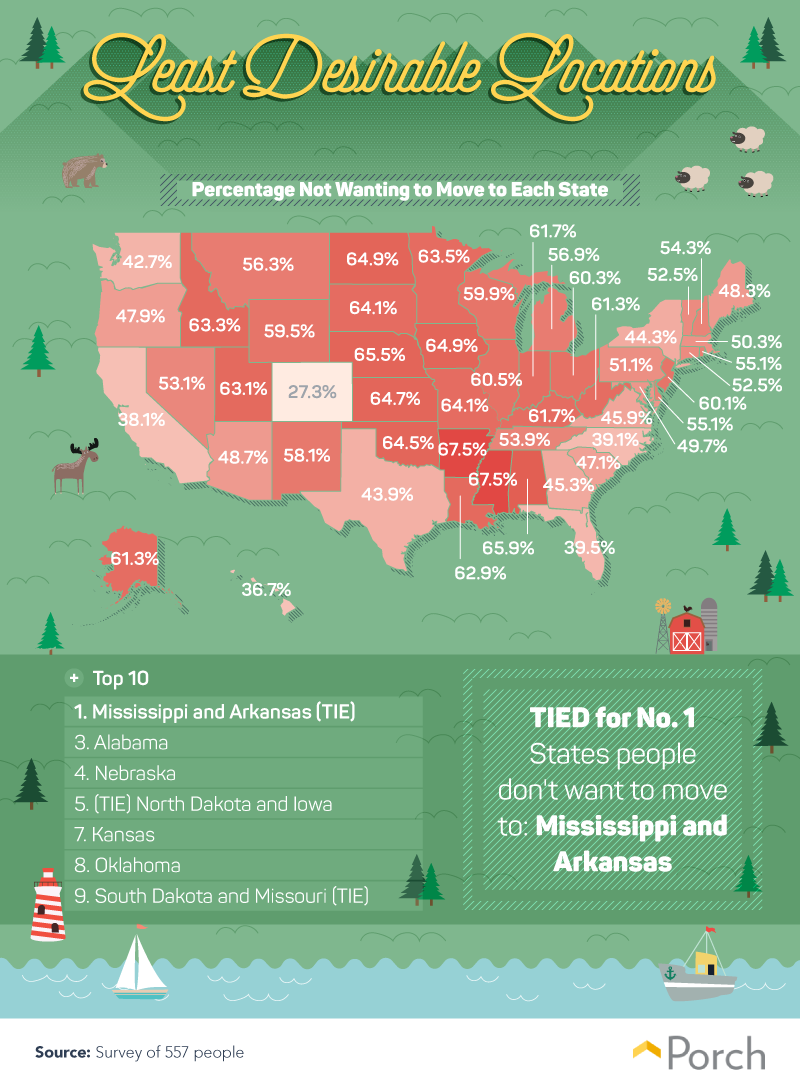 Americans might love Southern food—the rich, decadent flavors are often described as "comfort food"—but respondents didn't have the same love for living in Southern states.

In fact, three Southern states were the least popular locations to call home: Mississippi, Arkansas, and Alabama. If Southern hospitality and fried food isn't your cup of tea, you might not appreciate what makes the South so delicious for some people. Instead, critics point to questionable driving skills and proliferation of golf as barriers for loving states like Arkansas and Alabama. Other more serious concerns deal with racism and bigotry that may be more prevalent in Southern states than other parts of the country. Beyond the South, Midwestern states also were among the least popular places to live. If visions of cornfields and open plains don't spark a little joy in your heart, you might be among the people who said they didn't want to move to Nebraska, North Dakota, Iowa, or Kansas.
Packing our bags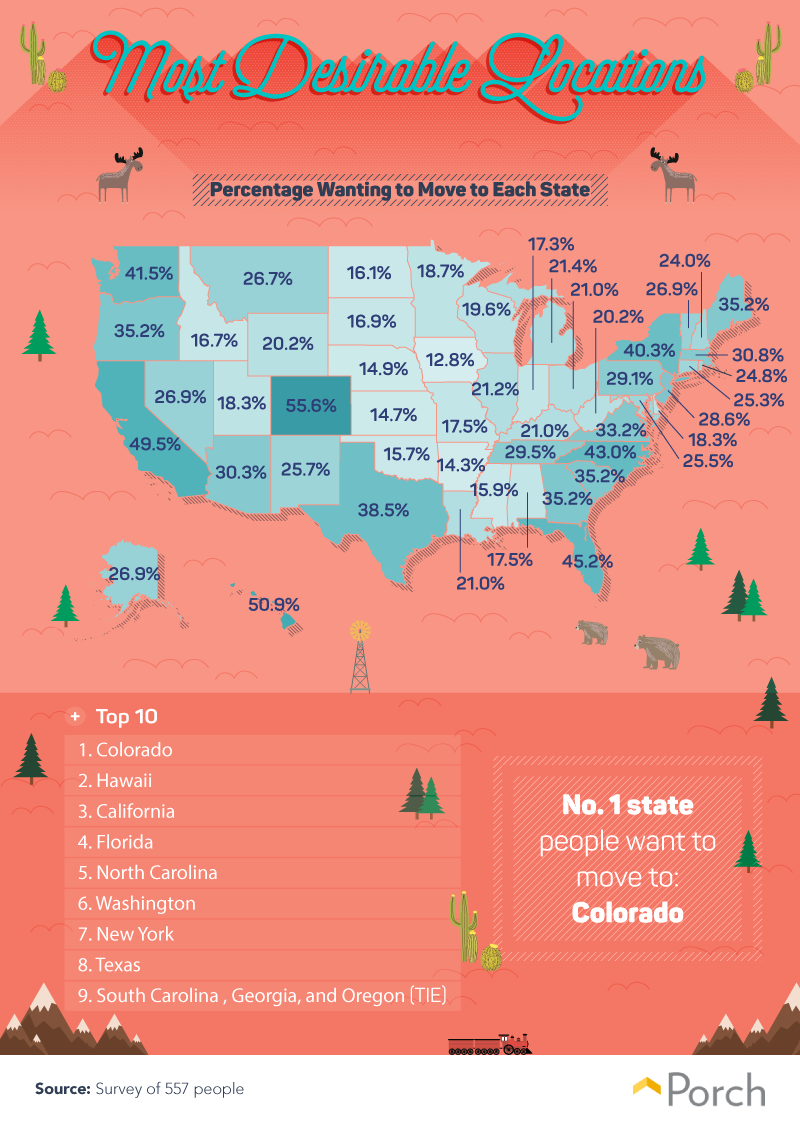 Besides being located in the Western region of the U.S., the three most popular states to move to include a key similarity: outdoor activities. Colorado (almost 56 percent), Hawaii (51 percent), and California (50 percent) ranked as the states most worthy of relocation. With a variety of climates (including snow in Colorado or tropical weather in Hawaii), you could plan to go hiking at Mesa Verde, surf in the Pacific Ocean, or climb an active volcano in these leading locations. Of course, just because you'd like to live somewhere doesn't mean you'd rush to pack your bags. Three of the 10 most popular states are also the most expensive places to call home. Hawaii, California, and New York may have no shortage of activities and sights to see, but the exorbitant costs of living might make them better vacation destinations.
No amount of money
Without the allure of the ocean or picture-perfect climate to draw people to certain cities or states, some regions have resorted to more extreme measures to attract new residents. Vermont offers new residents $10,000 to move there if they work remotely. Similarly, Alaska, Baltimore, Maryland, and New Haven, Connecticut, offer monetary incentives (as high as $80,000) to bring new people to the area. Of course, for some people, no amount of money would be worth living in certain areas. Even when presented with $10,000 to hypothetically relocate, Wyoming, Oklahoma, South Dakota, and Wisconsin were the least popular states. Additionally, fewer than 1 in 10 people surveyed would consider living in Alaska or Vermont for $10,000—two states that will pay new residents.
Making the move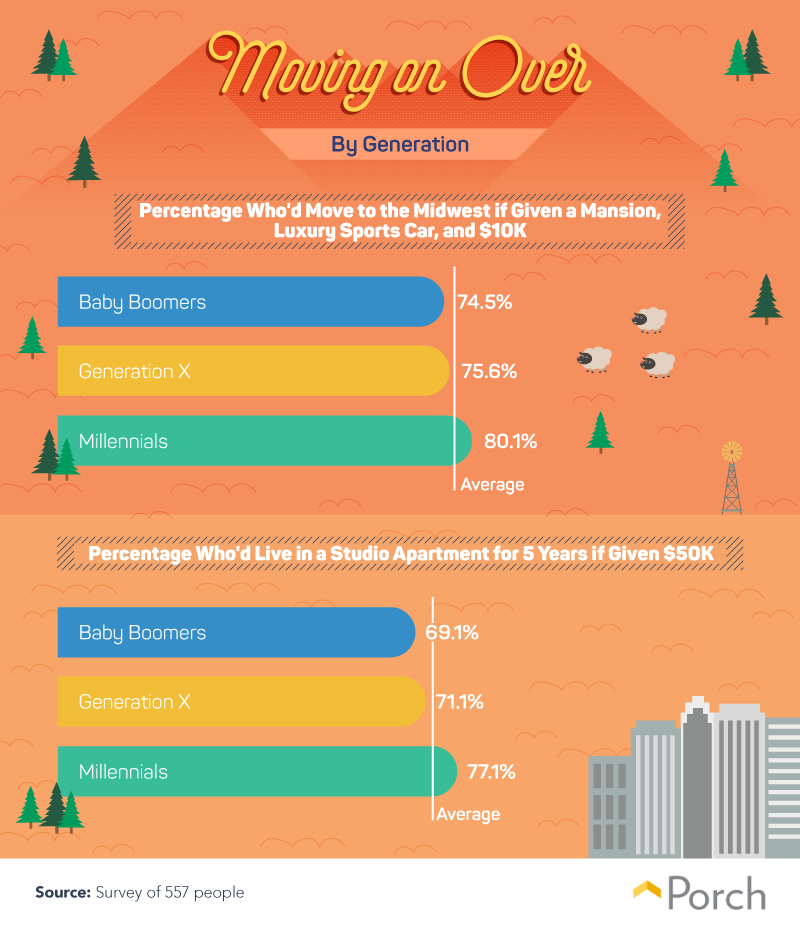 While "the grass is always greener on the other side," perceptions of living in the Midwest may be less "green" and more about farming and cornfields. Whether because people didn't think Midwesterners were educated or diverse enough or because there didn't seem much to do, many respondents did not want to move to the Midwest. But opinions seemed to shift when there was a major cash incentive. When asked if they'd be willing to move to the Midwest for $10,000, a mansion, and a luxury sports car, 80 percent of millennials, almost 76 percent of Gen Xers, and nearly 75 percent of baby boomers said yes. In contrast, people were much less comfortable taking a higher sum of money ($50,000) if it meant living in much smaller conditions. Making a studio space livable takes a certain level of creativity, and the experience might not be for everyone. Compared to 77 percent of millennials who were willing to take the $50,000 for five years in a studio apartment, just 71 percent of Gen Xers and 69 percent of baby boomers said the same.
A different kind of climate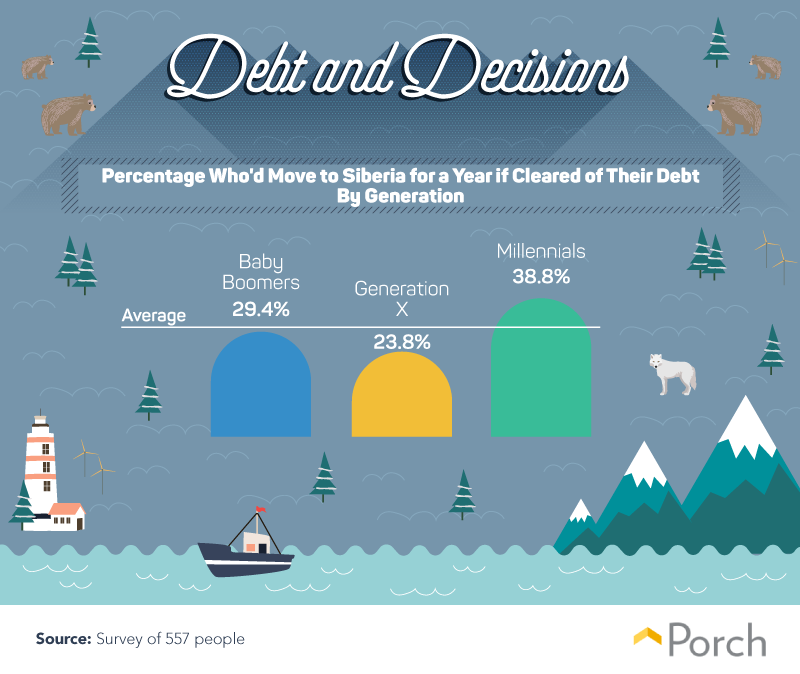 Sure, Siberia is cold, but it might not be as completely frigid as you'd expect. It's possible that many misconceptions about this remote part of Russia are largely unfounded—including the suggestion that the area is desolate or uninhabitable—but that doesn't mean people are lining up to live there. When asked if they'd consider relocating to Siberia for a year if it meant eliminating their debt ($135,065 on average), there were very few excited parties. At most, less than 39 percent of millennials were willing to relocate to Siberia, followed by over 29 percent of baby boomers and 24 percent of Gen Xers.
Home is where the heart is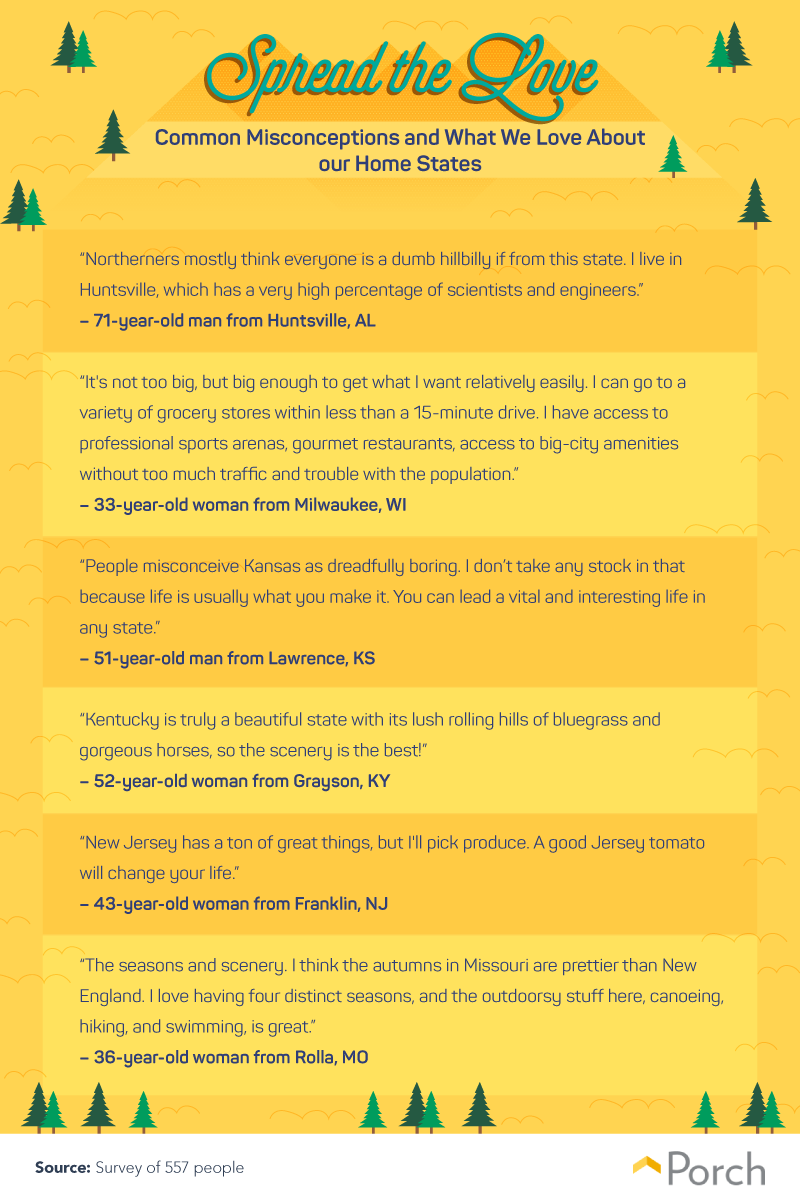 On the surface, moving to a new city or state may seem exciting. If you don't take the cost of relocating into account, there's the hope of meeting new people, experiencing a different culture, and completely breaking out of your comfort zone. As enticing as moving to a new state may sound, it's possible that there really is no place quite like home. We asked respondents to tell us what they loved about their hometowns. As you can see from their responses, the elements that make a city or state special to most people run deeper than housing costs or job markets.
Putting Down Roots
Deciding to leave your hometown isn't easy, but it can be straightforward if the destination in question is in the South or Midwest. According to people polled, states including Mississippi, Alabama, Iowa, and Nebraska were the least desirable places to call home. Still, some people were willing to change their tune if there was money involved. A majority of people (including 80 percent of millennials) said they'd be happy to call the Midwest home for $10,000, a mansion, and a fancy car. At Porch, we know there's more to the place you call home than job statistics or weather. For all the little tasks around your house, we have a professional waiting to get it done. Whether you need help with landscaping, painting, furniture installation, or general repairs, our dedicated network of Porch Services pros is available when you need them most. Visit us online to learn more about our home improvement resources today.
Sources
Methodology and Limitations
To gain the data for the study shown above, a survey was run using Amazon's Mechanical Turk Service. We surveyed 515 people, 256 of who were female, 258 of who were male, and one who identified as neither. Fifty-six of the respondents were baby boomers, 137 were from Generation X, 313 were millennials, and nine were from generations outside those. All data in the study shown above rely on self-reporting, which can be host to issues like telescoping and exaggeration. An attention check was used in the survey to ensure that respondents were not answering randomly.
Fair Use Statement
Moving to a new state should be an exciting opportunity—but some locations may fill us with dread instead! Share these relatable results with your readers for any noncommercial purposes by including a link back to this page in your story. We encourage the use of both our survey results and graphics this way.