Have you ever planned for a holiday, pored over your travel itinerary, packed all your bags, and then gotten to your destination and realized you needed a vacation from your vacation? Even though getting away from the stress of a typical workweek is supposed to be good for you, traveling can still be stressful. Whether it's keeping up with the activities you planned for yourself or your family or the nagging feeling a boatload of work will be waiting for you at home, thousands of people each year don't take their fully allotted vacation time from work. But does getting away from it all have to be such a drag? To help you plan your next getaway with ease, we polled over 1,000 people about their vacation regrets. We asked them about the most stressful parts of preparing for a trip, the travel elements they ended up regretting the most, and whether a staycation was more relaxing in the end. Want to know the most common vacation regrets so you can plan accordingly? Read on to find out.
Decompressing to the max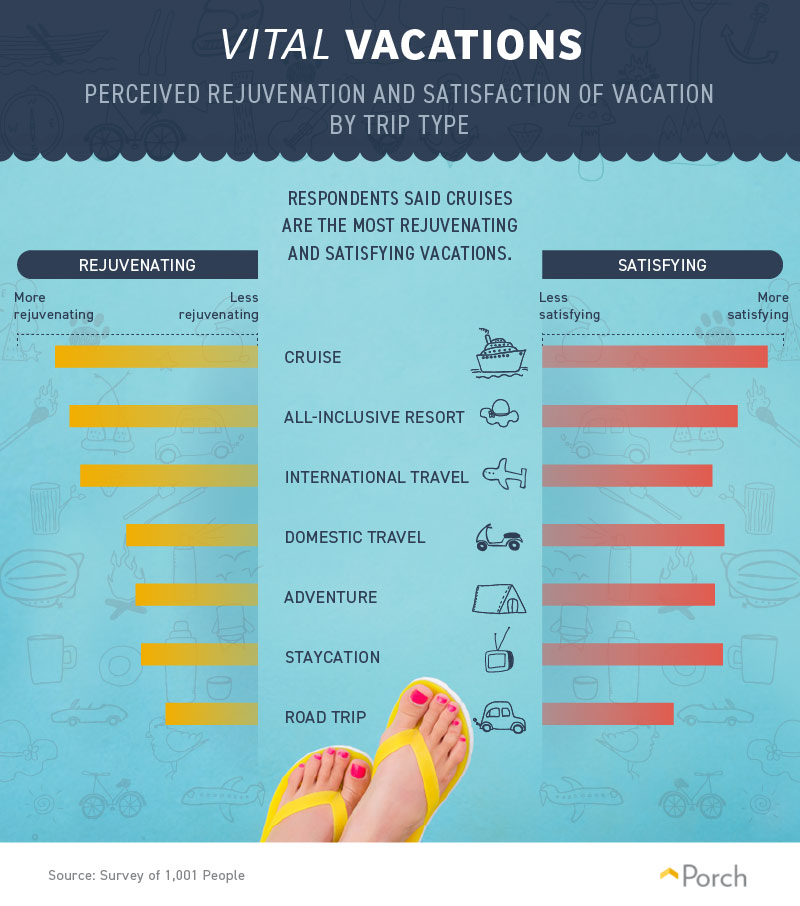 Planning an exciting vacation and researching all of the incredible places you'll see or eat at may sound fun, but what if most of the hard work could be done without much thought or effort on your part? If you're lamenting the logistics of your next trip, you might want to consider travel where the planning is out of your hands. Perhaps that's why respondents said a cruise was both the most rejuvenating and satisfying trip they could take—beating out all-inclusive resorts and international travel. Cruises aren't just about kicking back, either. Beyond the excitement of seeing different ports, the various excursions at each new location, and separate activities for adults and children, cruises can even be a good monetary value. Since most ships include at least the basic costs of food in your ticket price, not to mention onboard entertainment, you won't have to think about dishing out cash every time someone gets hungry. Road trips might be romantic and exciting, but participants said setting off on the open road was typically the least rejuvenating and satisfying travel option. Staycations (the act of staying home during your next vacation), adventures, and domestic trips were more enjoyable experiences compared to roughing it on the road, according to people polled.
Should have stayed home instead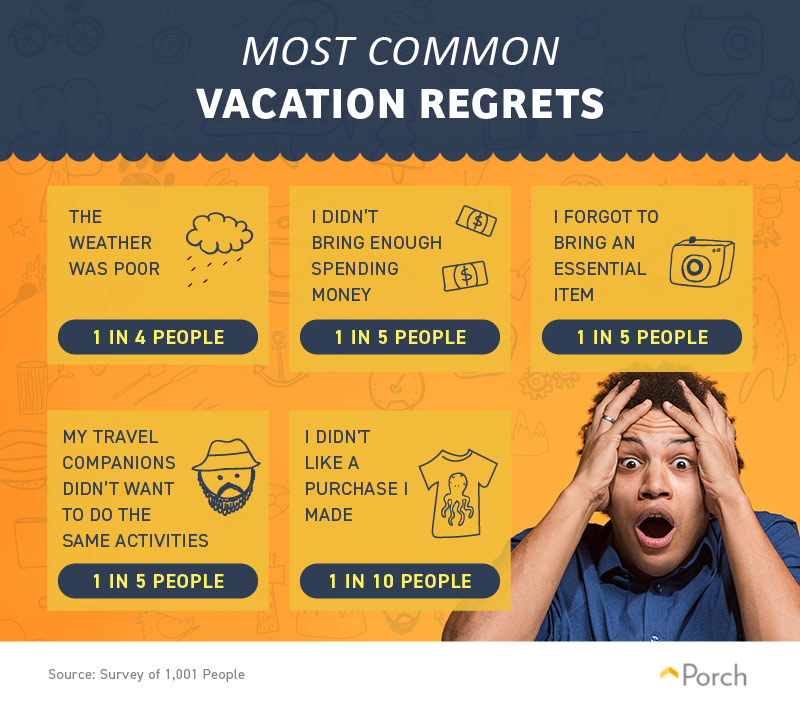 Once you invest the time, make an effort to get where you're going, and finally pay off the cost of your trip, you might have some vacation regrets when it's all said and done. While some of the things making people sorry are sometimes out of their control, others could be avoided with the right planning. More than anything else, 1 in 4 people regretted the bad weather they experienced while on vacation. It's hard to predict the day-to-day forecast, but it's always a good idea to research typical weather patterns before booking a trip to make sure you know what to expect (and can plan for the worst). Another 1 in 5 people said they forgot to pack an essential item, their travel companions didn't want to do the same activities, or they didn't bring enough spending money. Budgeting for a vacation may not sound exciting, but having a daily cash allowance will help make sure you don't overspend or come up shorthanded before the trip is over.
Bad vacation vibes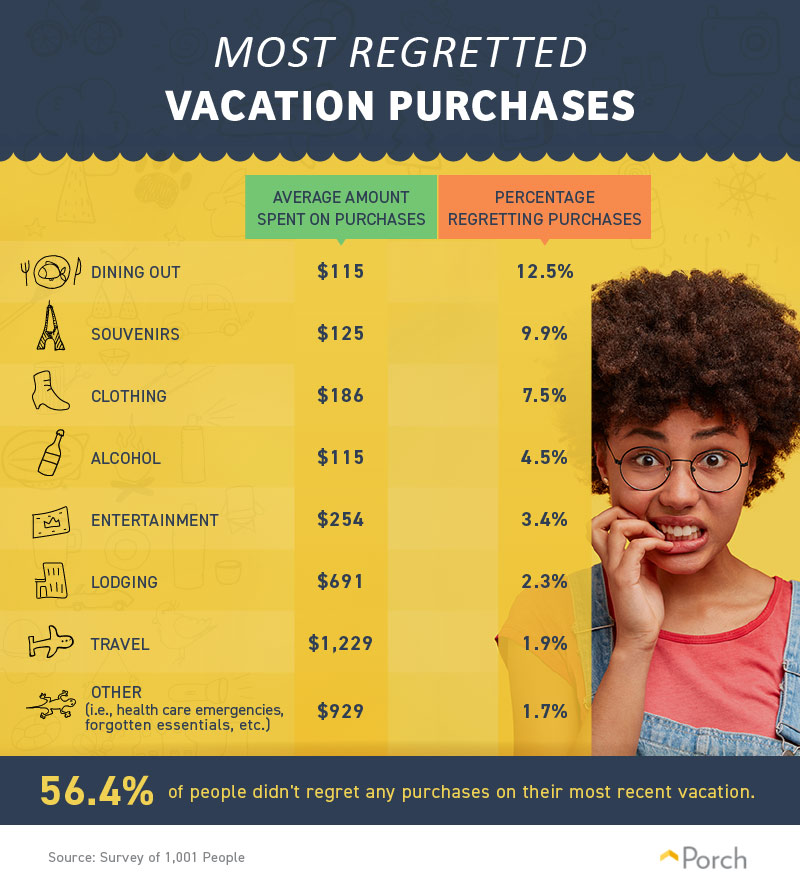 No matter where you're traveling or how you plan to get there, vacations can be expensive. One study found nearly 3 in 4 people go into debt to finance their travels, averaging over $1,100 in expenses they can't afford. In general, people spend 10 percent of their total income funding their getaways, and 1 in 4 people said they spend 15 percent or more. Still, not every dollar always feels well-spent as the vacation comes to a close. According to our survey, over 12 percent of people regretted the amount of money they spent dining out while on holiday, averaging $115. You probably can't cut out the cost of food entirely, but there are ways to spend smart and reduce the overall expense of your meals. Planning ahead and taking advantage of any food offered by your hotel or resort are just two ways you can scale back the money you spend eating out. Nearly 10 percent said they regretted the money they spent on souvenirs (averaging even more than what they spent on food: $125), and close to 8 percent of people regretted how much money they spent on clothing ($186 on average), either in preparation for their trip or while away.
Holiday hazards
Preparing your home for travel can be one of the most stressful parts of a vacation—from trying to make sure you have everything you need to leave your home (and everything in it) as protected as possible while away. Peak travel season also happens to be the same time of year home break-ins are at their highest. According to respondents, taking care of pets (including arranging boarding or hiring a sitter) and locking the house (such as all the doors and windows) were the most stressful elements of a vacation. Paying to board pets can seem as expensive as your own hotel, and there's the added uneasiness of wanting to make sure they're being cared for while you're away. Depending on how active your animals are, consider hiring a house sitter or a friend to look in on them instead. You can save some cash and have peace of mind knowing they're safe at home while you're on vacation. Setting a home alarm system was also a somewhat stressful part of planning a getaway, and closing the garage door and shutting off appliances was more stressful than remembering to pack essential items.
Lingering doubts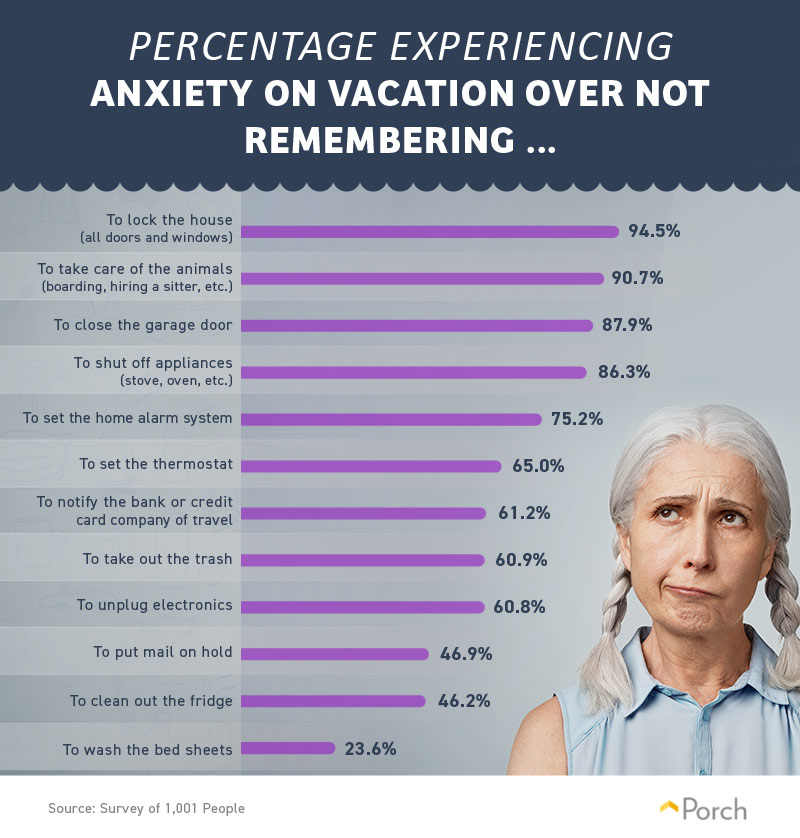 The travel-related trauma a person feels isn't exclusive to the planning phases of a trip. Even after going through the process of making sure your home is in order, you may still experience anxiety while away. Nearly 95 percent of people experienced anxiety while on vacation over not remembering to properly lock their homes. Your home isn't the only thing that might kill your vacation vibe, either. Nearly 91 percent also experienced anxiety thinking about their pets. Forgetting to close the garage door, remembering to set the house alarm system, and setting the thermostat were all common anxiety-inducing scenarios people experienced while on vacation. Thankfully, smart home technology can ease those worries by keeping us connected no matter where we are.
Why leave at all?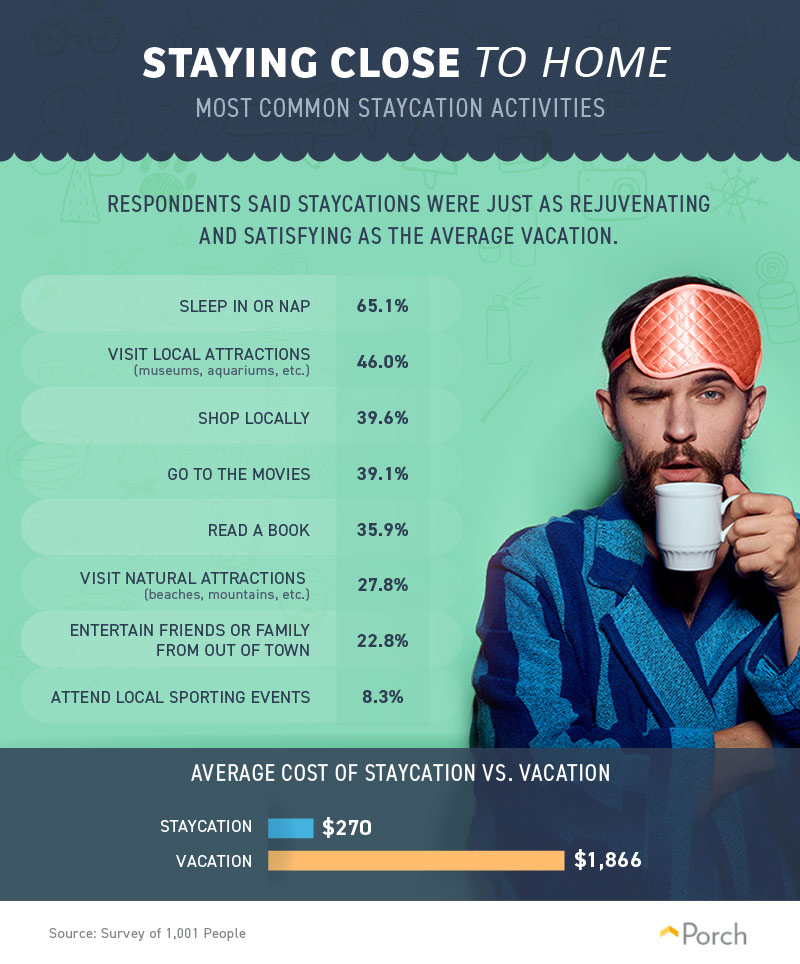 If your vacation plans are to relax and decompress, going to new or faraway places might not be your best bet. Thankfully, there's another option for people looking to "get away" without really getting away: staycations. Taking a vacation from the comfort of your own home has plenty of perks. Not only will a staycation likely save money, but also you won't be missing out on the exhaustion that comes with traveling. You won't have to pack or find a sitter for your pets, and you definitely won't have to worry about leaving your home unattended. In fact, people who took staycations only spent $270 on average compared to nearly $1,900 for a traditional vacation. Playing tourist in your city can be fun, and it's certainly bound to be relaxing. Roughly 65 percent of people who opted for a staycation said they chose to sleep in or nap, and 46 percent decided to visit local attractions like museums or aquariums. Other things to consider? Shopping locally, going to the movies, and reading a book were all popular activities among people who decided to stay home rather than travel.
Ready to get away
Most people love the idea of traveling, but when it comes to packing up and going, the logistics can be a bit more complicated. You might expect to enter ultimate relaxation mode the minute your internal clock chimes "vacation," but that isn't always the case. Prepping your home (and pets) for vacation can be stressful enough, but then you also have to make sure you've packed the essentials and budgeted enough money to get you through the trip. Let Porch help you get your to do list done in time for vacation. If all of that sounds like too much, you might want to consider a staycation instead.Exploring your city in new and exciting ways doesn't have to be an expensive endeavor, and you might encounter more adventure than you've anticipated. You also won't feel guilty about sleeping in (or taking an afternoon nap) on your holiday.
Methodology
We surveyed 1,001 people using Amazon's Mechanical Turk. Forty-nine percent of respondents were men, and 51 percent were women. The ages of respondents ranged from 18 to 76, with an average age of 37 and a standard deviation of 11.6. No statistical testing was performed, and so results are based on means alone.
Sources
Fair Use Statement
Know someone who's planning his or her next getaway? Feel free to share the results of our vacation study with your readers for any noncommercial use. Just ensure a link back to this page so that our contributors get credit for their work too.