When it comes to using hard-earned vacation days, more Americans are heading for distant shores than ever before. Recent years have seen massive numbers of U.S. citizens traveling abroad, including a record 87.7 million in 2017. Experts credit this overseas exploration to the strong economy: A sunny fiscal outlook makes people more willing to spend big. But for many hard-working professionals, real relaxation happens on a much more local scale. We're talking about staycations: time-off activities that one can enjoy without crossing state lines—or even leaving home, in some cases. How many people are skipping the stress and expense of long journeys to enjoy experiences nearby? What exactly do they get up to? We decided to study these questions using social media data, analyzing thousands of Instagram posts that included the #staycation hashtag. Our findings revealed how people in each state enjoy their leisure time locally, and which cities offer attractions that keep residents close to home. To learn more about the state of #staycations across America, keep reading.
Staycation nation?
Fair enough, Hawaii residents: The Aloha State boasted the most #staycation posts per capita. The wonderfully varied topography of the Hawaiian Islands may help account for this trend—get tired of breathtaking beaches and you can head for the tropical rainforests instead. Perhaps second-ranked Nevada also owes its #staycation posts to the state's diverse mix of attractions: Residents can pick between the opulence of the Vegas Strip and the aridness of Death Valley. Warm temperatures represented another common element among popular #staycation states: California and Florida also claimed top-five spots. At the other end of the spectrum, relatively rural states had fewer posts per capita. Despite boasting sprawling vistas like those of Badlands National Park, both Dakotas had remarkably few staycation posts. Likewise, West Virginia had fewer than 12 #staycation posts per 100,000 residents, despite plenty of opportunities for rustic fun in the Appalachian Mountains. Overall, Midwestern and Southern states tended to have relatively few posts per capita, though places like Illinois and South Carolina represented proud outliers.
Staying home, by city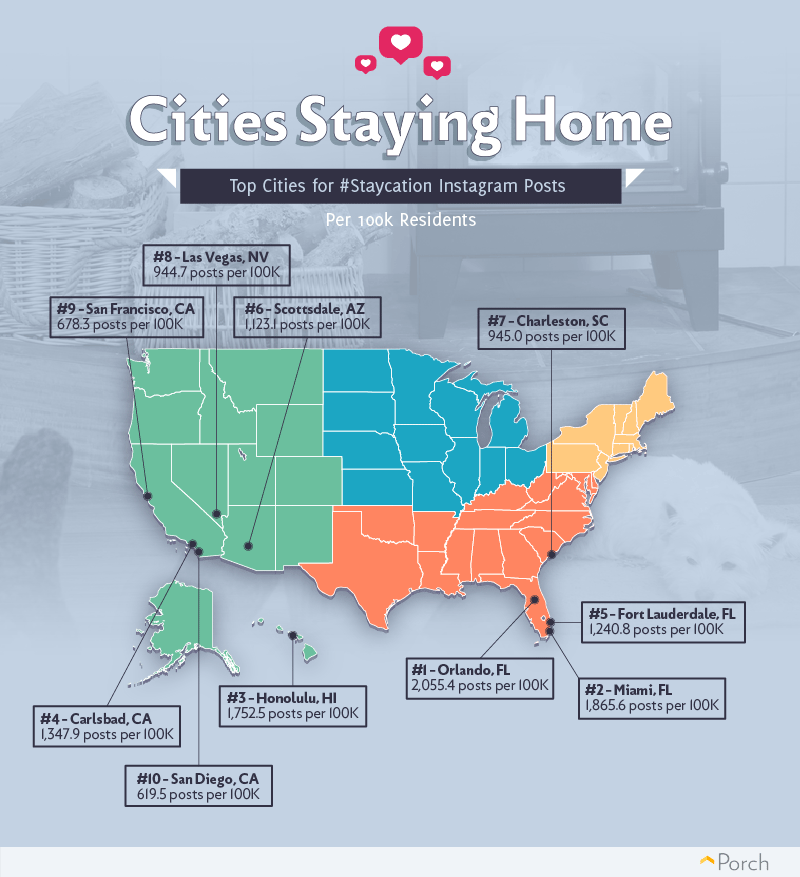 In the United States, cities in Florida captured three of the top 10 spots for #staycation posts per capita. While they all boast balmy weather, Orlando likely earned the top spot overall because of its world-renowned amusement parks, many of which offer perks to Florida residents. Several cities along the California coast were also #staycation hotbeds, including Carlsbad, home to some major theme parks of its own. For fun in the sun that doesn't require a ticket, however, it's tough to beat Honolulu, Hawaii. The country's third-ranked city for #staycation posts is home to plenty of beaches, but locals know which touristy ones to skip.
In-state activities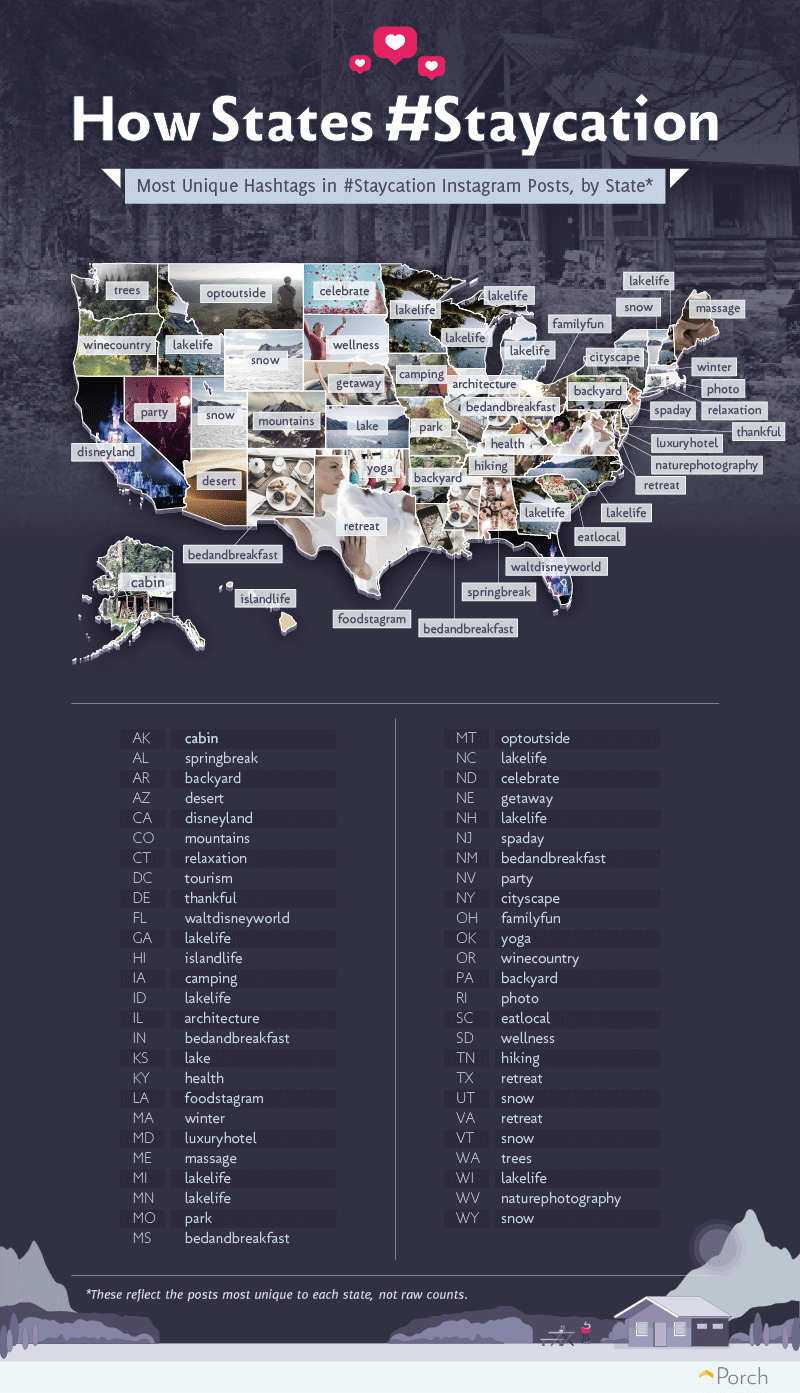 How did staycations differ across the country? Though each state presumably possesses its own distinct pleasures, a couple of key terms recurred in #staycation posts nationwide. One such hashtag was #lakelife, which was appropriately popular in the Great Lakes states of Michigan, Wisconsin, and Minnesota. Another term associated with several states was #bedandbreakfast, which was the top term in locations as diverse as Indiana, Mississippi, and New Mexico. The age of Airbnb may be breathing new life into traditional bed and breakfast establishments, revered for their unique ability to add a quaint touch to a getaway weekend. In some cases, however, states were associated with distinctive hashtags that revealed local treasures. Oregon's top term was #winecountry: Though America's most famous grapes may reside in California, there's a charming set of vineyards just south of Portland. West Virginia had a particular affinity for nature photography, with subjects as varied as bears, bats, and bobcats roaming the state's protected lands. Other findings were harder to explain: Apparently, Oklahomans' staycations are particularly likely to entail yoga.
Urban attractions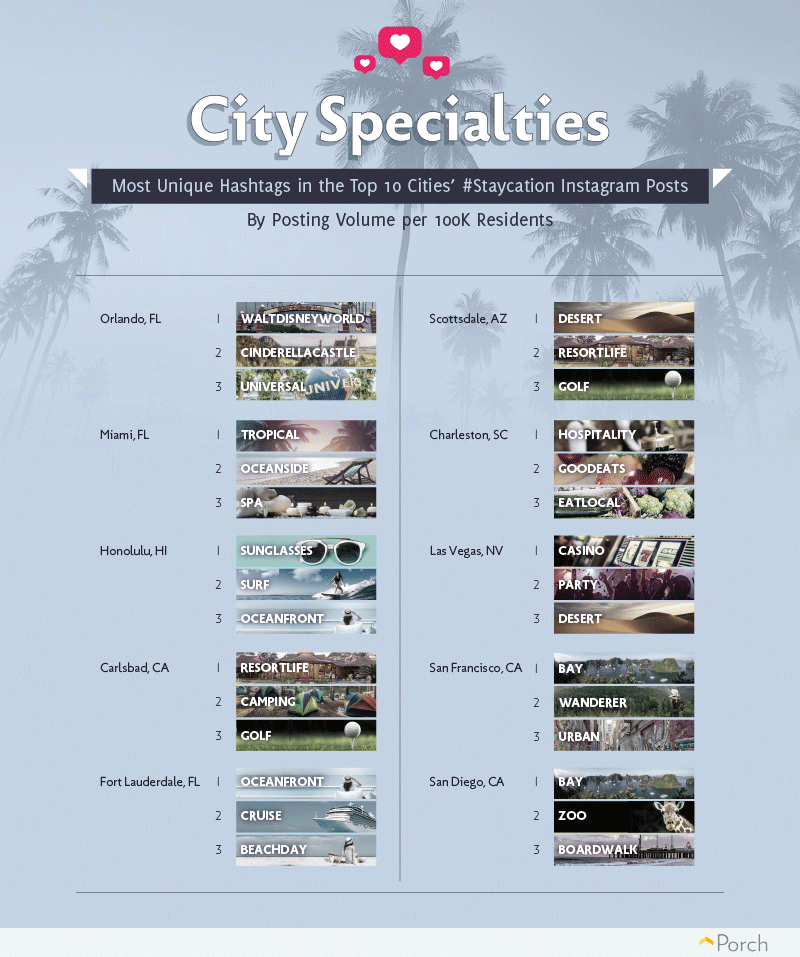 Which attractions drummed up the most enthusiasm in our top #staycation cities? In Orlando, posts revealed the battle between Disney and Universal for visitors' dollars. The two other Florida cities in the top 10, Miami and Fort Lauderdale, were associated with terms emphasizing their oceanside locations. Honolulu boasted similar tropical staycation appeal, but with one major addition: The city's surfing opportunities are envied around the world. Charleston, South Carolina's #staycation bragging rights seemed to relate mostly to its culinary scene, which encompasses both traditional Southern fare and impressively exotic offerings. Carlsbad, California, and Scottsdale, Arizona, had other elements of hospitality covered: Residents in both places enjoyed local resorts and golf. Meanwhile, San Francisco and San Diego staycationers celebrated the cities' respective bays, and Las Vegas residents used the terms that describe their city best: casino, party, and desert.
America's staycation schedule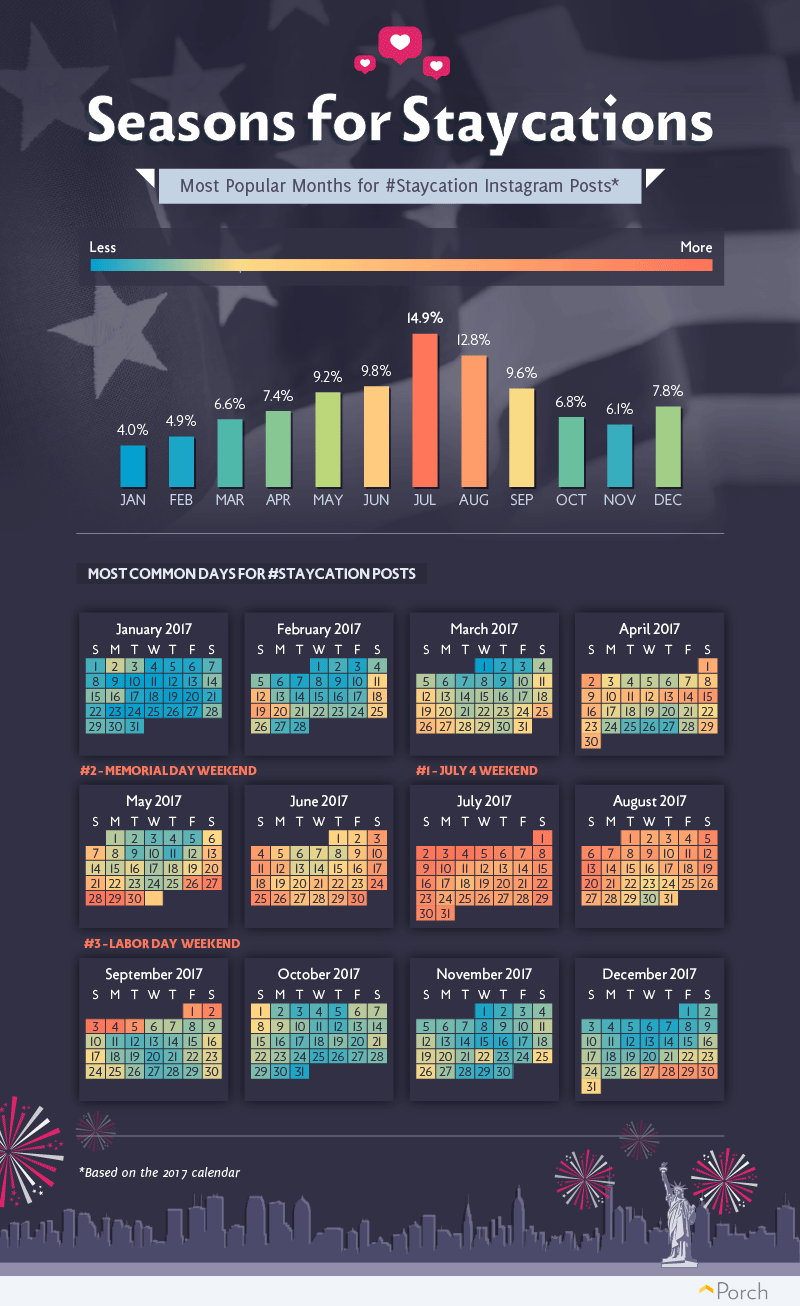 When do most people take staycations across the country? Our data indicated that summer months are the season for enjoying time off near home, with particularly high post rates in July and August. A number of factors likely contributed to this trend, but the most obvious explanation may be the activities made possible by warm weather: In many states, hiking, camping, or heading to a beach aren't very enjoyable in winter. School schedules may also influence the concentration of summertime posts: Once classes end, families can enjoy additional time together, even if they don't lea to do so. The week between Christmas and New Year's was also a hot time for #staycation posts. According to some analysts, as many as 1 in 3 professionals take that entire week off from work. If you plan to spend both holidays at home, however, a staycation might make more logistical sense that journeying elsewhere in the intervening days. The other holidays most associated with a #staycation fell in warmer times: The weekends around Independence Day, Memorial Day, and Labor Day were top staycation dates.
Your own home oasis
The results of this project revealed distinct staycation trends in several states and cities, particularly as the summer months heated up. But our findings also suggested possibilities for rest or adventure in virtually every region of the country, so long as residents are willing to explore the sights available in their own communities. In some ways, this data reaffirmed why vacations are so vital: Geography matters less than simply getting a break. Whether you're taking in Washington's trees or the wonders of Walt Disney World, the most important part of any vacation is shaking up your routine—and showing yourself some love in the process. Should you choose to spend your time off at home, however, it had better deliver relaxation rather than frustration. Unfinished home improvement needs can be vexing on a daily basis, let alone when you spend a week around the house. Thankfully, small projects don't have to consume your precious time off. At Porch, we specialize in connecting you to trusted home improvement professionals in your area whether you want to finally mount that TV or replace a window. To get free quotes from experts near you in seconds, visit our site today.
Methodology
To compile the data shown above, we analyzed Instagram posts with the hashtag #staycation. We reviewed over 320,000 geocoded posts from the U.S. only and reviewed their associated hashtags, posting frequencies, and cities and states of origin. All calendar year data in the project was compiled using data from the most recent full year (2017). We also excluded tags and posts from our hashtag analysis that were unique to cities that could not apply elsewhere, like #nyc.
Fair Use
If you'd like to celebrate staycations by sharing our content, you're welcome to do so for noncommerical purposes. We simply ask that you link back to this page to attribute our team for our efforts.