In May 2018, Lennar, the largest homebuilder in the country, said it would be incorporating Amazon's
smart assistant Alexa into all of its new construction
moving forward. As smart home technology flourishes, voice commands for everything from turning on the lights to setting the temperature have gone from a Jetsons-esque vision of the future to
easy-to-install upgrades
for people's homes. When it comes down to the dollars and sense, though, how much are people really willing to pay for standard household amenities? Walk-in closets and swimming pools are nice, but are they considered essential?
We asked over 1,000 people about the amenities that were non-negotiable
and how much they would pay to have easy access to things like stainless steel appliances and centralized air conditioning. Continue reading to see what we learned about turning a house into a home.
Sticking to the basics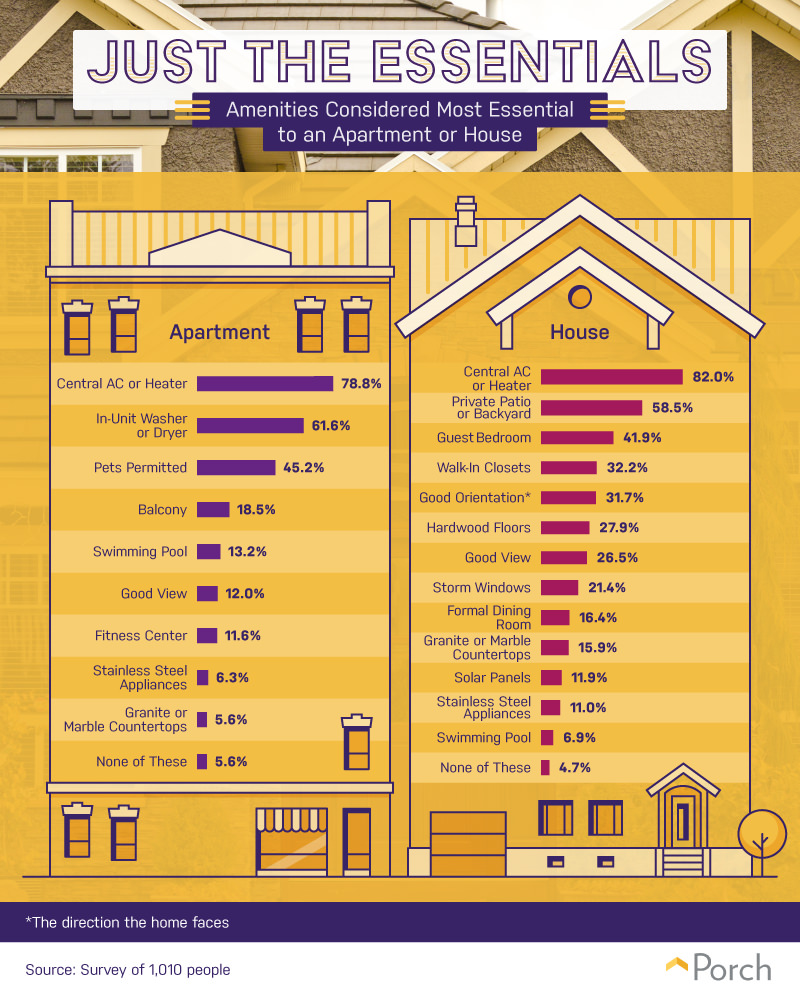 Centralized air conditioning or heaters were at the top of respondents' lists when it came to the most essential home amenities. Roughly 3 in 4 households have central AC and heat, and nearly 79 percent of apartment renters and 82 percent of homeowners said being able to conveniently cool and heat their homes was their number one priority. Beyond keeping their homes temperate year-round, renters and homeowners had relatively different perspectives on what mattered most. For people living in apartments, in-unit washers and dryers (62 percent) and permitted pets (45 percent) were the most crucial elements of where they lived. In contrast, about 59 percent of homeowners preferred having a private patio or backyard, and 42 percent voted for a guest bedroom. Renters and homeowners were also less interested in cosmetic upgrades compared to practical necessities. Only around 6 percent of renters identified stainless steel appliances as crucial, and less than 7 percent of homeowners said the same about having a swimming pool. Stepping outside to take a dip in the pool might sound appealing, but the average in-ground swimming pool can cost nearly $30,000 to have installed and thousands every year in upkeep and maintenance.
Worth the splurge?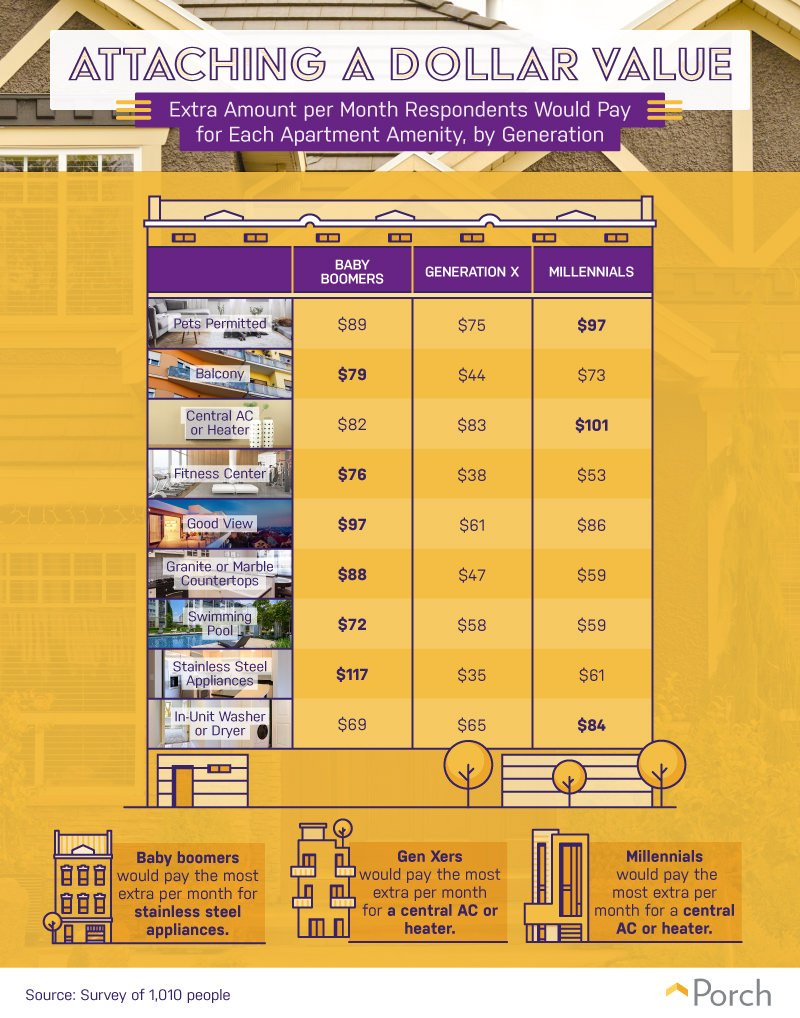 What you'd like to see in your apartment and what you're willing to pay each month can sometimes be two separate things. Millennials, often said to treat their pets as well as their children, were willing to pay more than any other generation to make sure they could bring pets in their apartments (almost $97 additionally per month). It's not uncommon for apartment complexes to charge tenants an additional monthly fee (in addition to deposits) to house pets. That's just one more expense to add to the monthly and yearly costs of having a pet in the first place. Millennials were also willing to shell out the most cash each month for two other modern living conveniences: centralized air conditioning (over $101) and in-unit washers and dryers ($83.50). While Gen Xers were in the middle of the pack price-wise (they were the most willing to pay for their pets at $74.50), baby boomers had a few high-dollar upgrades of their own. Baby boomers would give over $117 each month to ensure their appliances are stainless steel. They also valued granite or marble countertops, offering over $88 to make sure their kitchen counters were top-notch. They were also passionate enough about having a good view ($97), balcony ($78), and a fitness center ($76).
Valuable house upgrades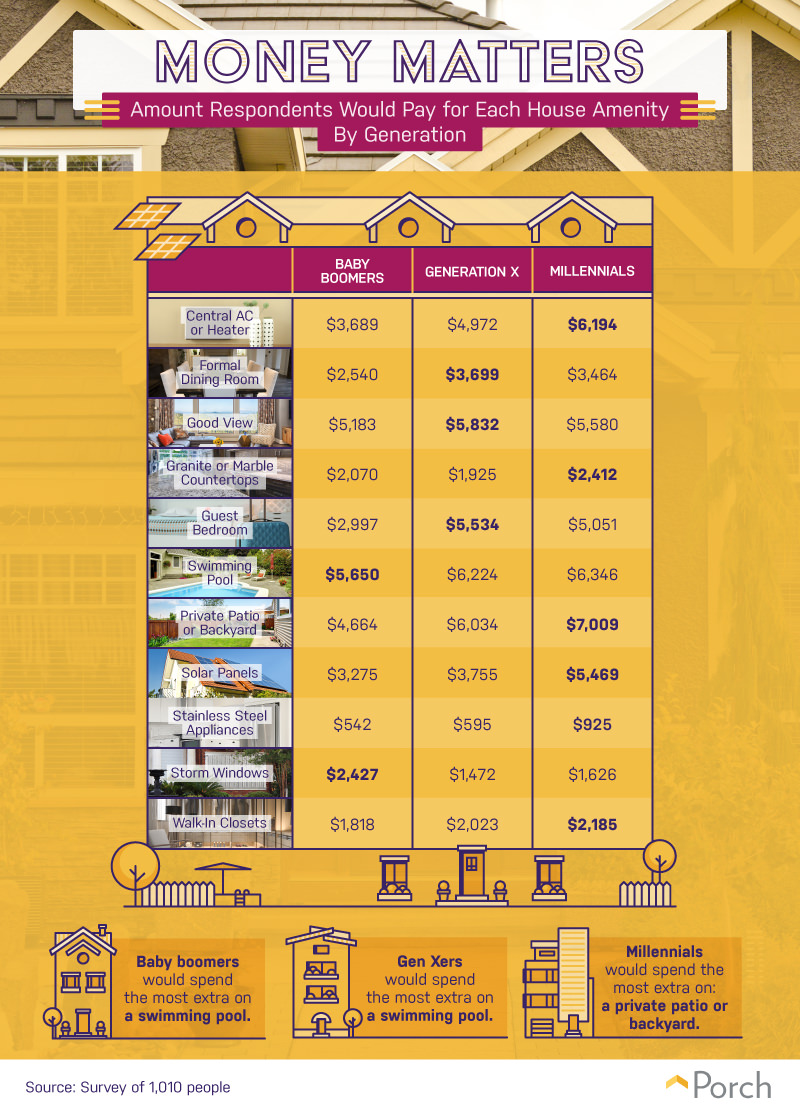 When it comes to buying a home, there are a few considerations to keep in mind while looking at the price tag. Deciding how much house you can afford is always a good place to start, but it's important to note the annual costs of maintenance and upgrades along the way. When asked about the most essential house amenities, baby boomers, Gen Xers, and millennials had very different perspectives on putting their money where their upgrades were. Millennial homeowners put the highest overall value on centralized AC and heat: They were willing to pay nearly $6,200 extra for the amenity. They also offered to pay over $7,000 for a private patio or backyard—roughly $1,000 more than Gen Xers and over $2,000 more than baby boomers. Solar panels are the fastest-growing renewable form of technology worldwide. When it came to respondents upgrading their properties to be more environmentally friendly, millennials were willing to pay the most for solar panels (nearly $5,500). Installation typically costs much more (between $15,000 to $25,000) but may amount to hundreds of dollars in savings each year depending on the energy consumption and location.
Managing your mortgage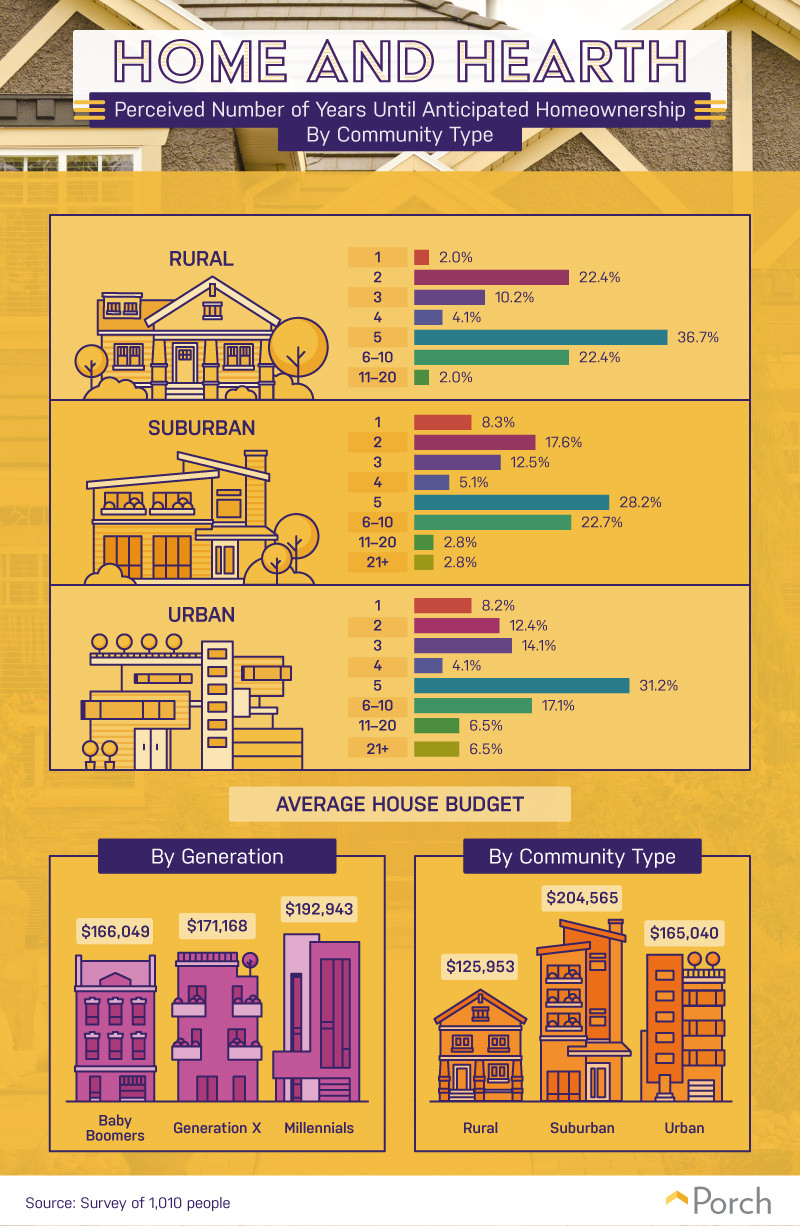 In recent years, more Americans have decided to rent (both homes and apartments), but that doesn't mean they aren't at least considering homeownership in the future. While 2016 marked a 50-year low for homebuyers, the big backyard and white picket fence may still be a part of the American dream. People living in suburban areas were closer to owning homes than anyone else. More than 1 in 4 estimated it would take two years or less before they were ready to purchase a home, and more than 1 in 10 had plans within the next three years to do the same. People living in rural areas weren't far behind, either. Roughly 1 in 4 had planned to be homeowners within two years, while more than 1 in 3 anticipated it would take at least five years to reach that goal. Buying a home in the city is no small feat, and in some cases, it takes an annual salary of $400,000 (or more). Still, over 8 percent of people living in urban America hoped to be homeowners with a year, and more than 12 percent had similar plans over the next two years. While millennials are often charged with being the least likely generation to consider owning homes, they had the highest estimation of what buying one would cost them: nearly $193,000.
Prioritizing upgrades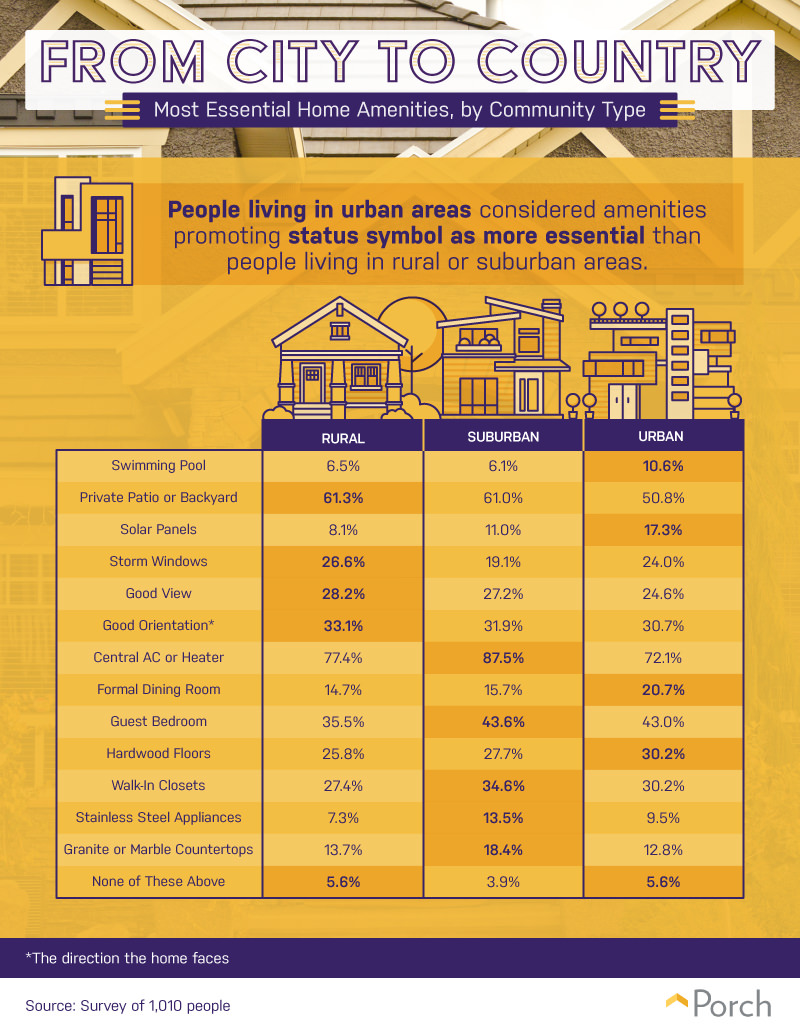 Having a pool was generally underappreciated by most homeowners, but 1 in 10 people living in urban areas said it was an essential upgrade. They also had the strongest opinion of solar panels, a formal dining room, and hardwood flooring. While most homeowners wanted to make sure they had a private backyard (and were willing to pay for it), it was people living in rural parts of the country who had the strongest attachment to yard space. For suburban respondents, more cosmetic upgrades (including stainless steel appliances and granite countertops) were deemed important compared to people living in rural and urban parts of the U.S.
Where the heart is
The things that make your house a home are the memories and experiences you have there. In fact, the amenities people most valued seemed to be centered on these memories: a backyard, space for their pets, and room for guests. While renters and homeowners sometimes had different perspectives on which amenities mattered the most (or how much they were willing to spend), centralized air and heat seemed to be a must-have for all. No matter which in-home upgrades your passionate about, Porch can help make installations and renovations as easy as possible. The Porch Home Assistant is here to help you tackle your to-do list today. By connecting you with a Porch Services pro in your area, you'll get the support you need when you need it whether it's mounting a TV or replacing a window. Home improvement doesn't have to be complicated. See for yourself by visiting us today.
Methodology and Limitations
We collected 1,010 people's responses from Amazon's Mechanical Turk on their feelings toward home and apartment amenities and how much extra they were willing to pay for them. Of those surveyed, 125 were baby boomers, 253 were Gen Xers, 601 were millennials, and 25 people were outside the parameters of those generations. 528 of our respondents were female, 474 were male, and two identified as neither of the given genders. 256 respondents were living in an apartment, 624 lived in a house, and 124 lived in another type of residence. For the images titled "Attaching a Dollar Value" and "Money Matters," the values respondents assigned to amenities could be a reflection of the values when they first looked at the market or initially purchased their home or apartment and could potentially account for older generations valuing items lower than younger generations. The data we are presenting rely on self-report. There are many issues with self-reported data. These issues include, but are not limited to, the following: selective memory, telescoping, attribution, and exaggeration.
Sources
Fair Use Statement
Have your own essential amenities checklist? We'd love to see the results of this survey shared on your site for any noncommercial use. We only ask that you ensure a link back to this site so that our contributors get credit for their work too.