There are plenty of things you should do on a first date if you want to make a solid first impression: refrain from talking about yourself too much, make good eye contact, and put your phone down and focus on the person sitting across from you.
Of course, there's one glaring element most people probably don't think about until it's too late: their home. If you're planning on asking a date back to your place for the first time, there's nothing quite like making it to the front door and realizing you might have dirty laundry on full display or unclean and unkempt sheets on your bed.
We polled 993 people to get their take on first-date home impressions to help you make a more positive one. We uncovered the biggest turn-ons when men and women finally made it inside to the turnoffs that left them looking for the quickest way out. From video games to evidence of political preferences or family photos, we'll help you decide what to leave out or strategically hide. Read on to learn more.
What the Heart Wants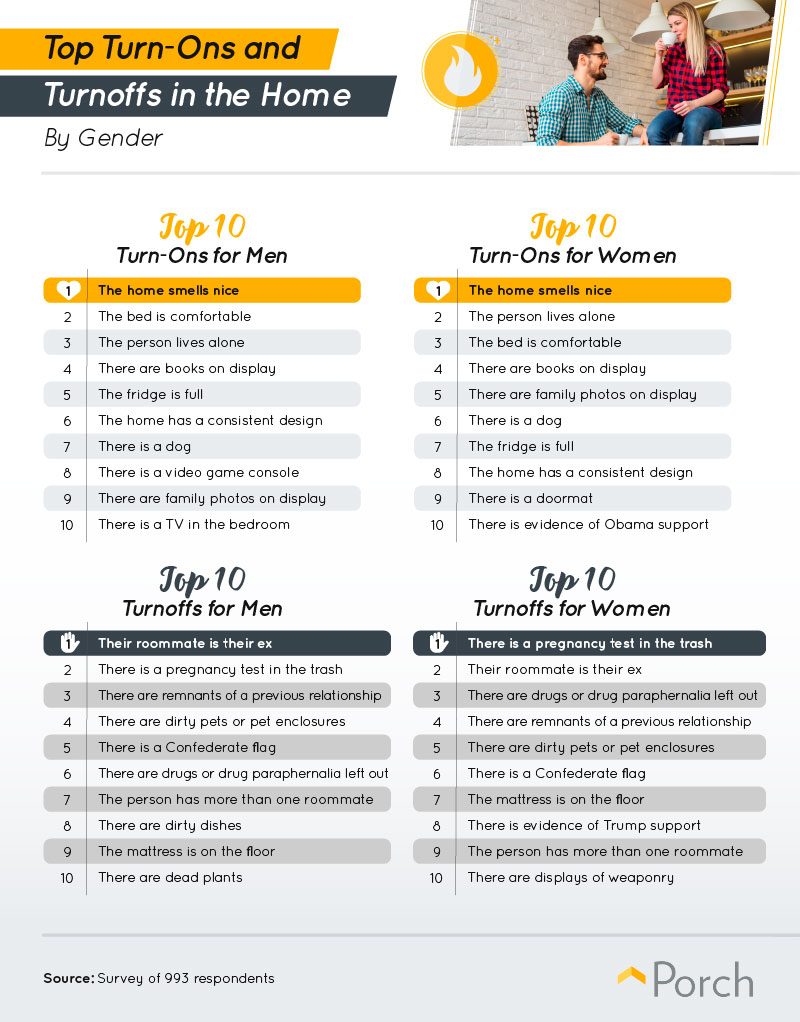 For men and women, smells made it to the top of their turn-ons list. Your signature scent may be one of the first things a new date notices, and fragrance is bound to follow you all the way home. Research shows smells trigger our memories and emotions, which means if you don't get this one right the first time, it could haunt you forever.
Men and women agreed on their next two biggest turn-ons even if they weren't in the same order. For men, a comfortable bed was more important than nearly anything else, and women were more impressed when their date lived alone.
While respondents had a lot of familiar turn-ons, some things were more likely to leave a lasting impression depending on their gender. Women were turned on when their date had a doormat in place and evidence of Obama support, while men liked video game consoles and a TV in the bedroom.
Key things to avoid? Both men and women were especially turned off when their date's roommate also happened to be their ex, if there was a pregnancy test in the trash, and if there were remnants of a previous relationship. Dirty dishes and dead plants turned off men. Women, on the other hand, were turned off by evidence of Trump support or weapons on display. For a list of all turn-ons and turnoffs by gender, we have compiled a spreadsheet for your convenience.
Leveling Up on Love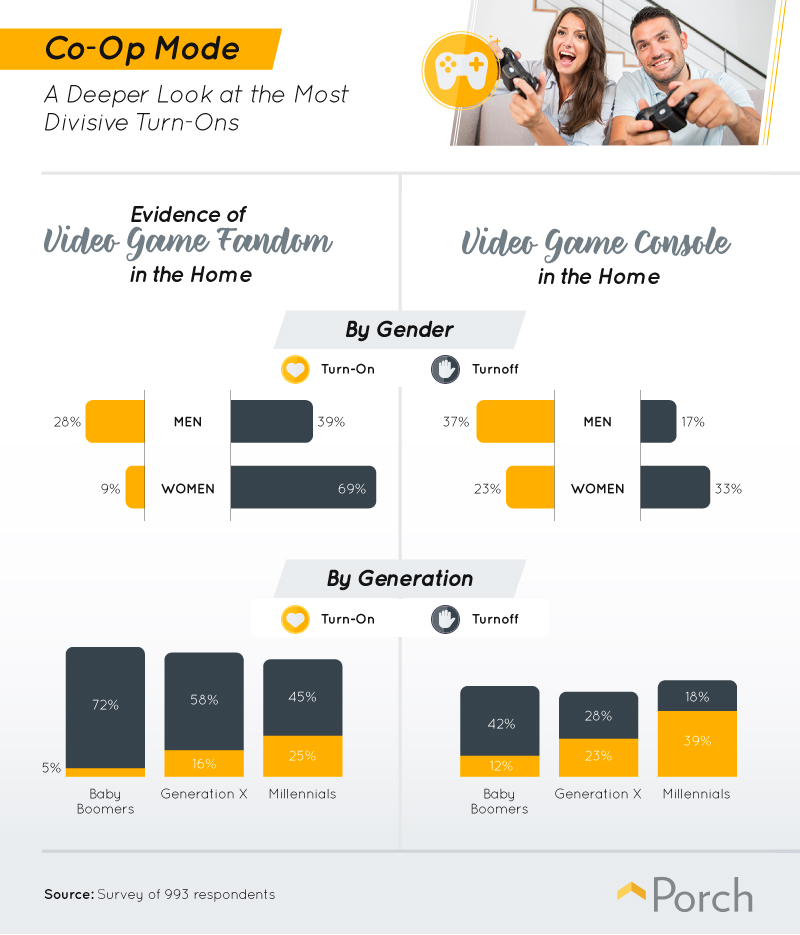 No playing around here. Video games were one of the most divisive turn-ons for men and women regarding first-date home impressions.
Casual gamers might get off easier, as 37 percent of men and 23 percent of women were turned on when their date had a video game console in their home. While 17 percent of men and 33 percent of women considered it a turnoff, this was at least better than evidence of video game fandom in the home.
Whether it's a "Zelda" poster or a collection of full-size replica "Mario" figurines, 39 percent of men and 69 percent of women suddenly lost their appetite for the evening if video game love was laid out at a date's home. Of course, these reactions could vary by generation as well. Baby boomers were the most put off by video game fandom and consoles compared to Gen Xers and millennials, who might be more willing to power and play. Twenty-five percent of millennials were turned on by evidence of video game fandoms, and 39 percent liked finding gaming consoles in their date's home.
If you're willing to get down with a video game date night, there are a few selections that might help you set the mood or get to know your new love interest better—from competitive co-ops like "Mario Kart" to slightly spooky (but cuddle-worthy) horror games like "The Walking Dead."
Where the Magic Happens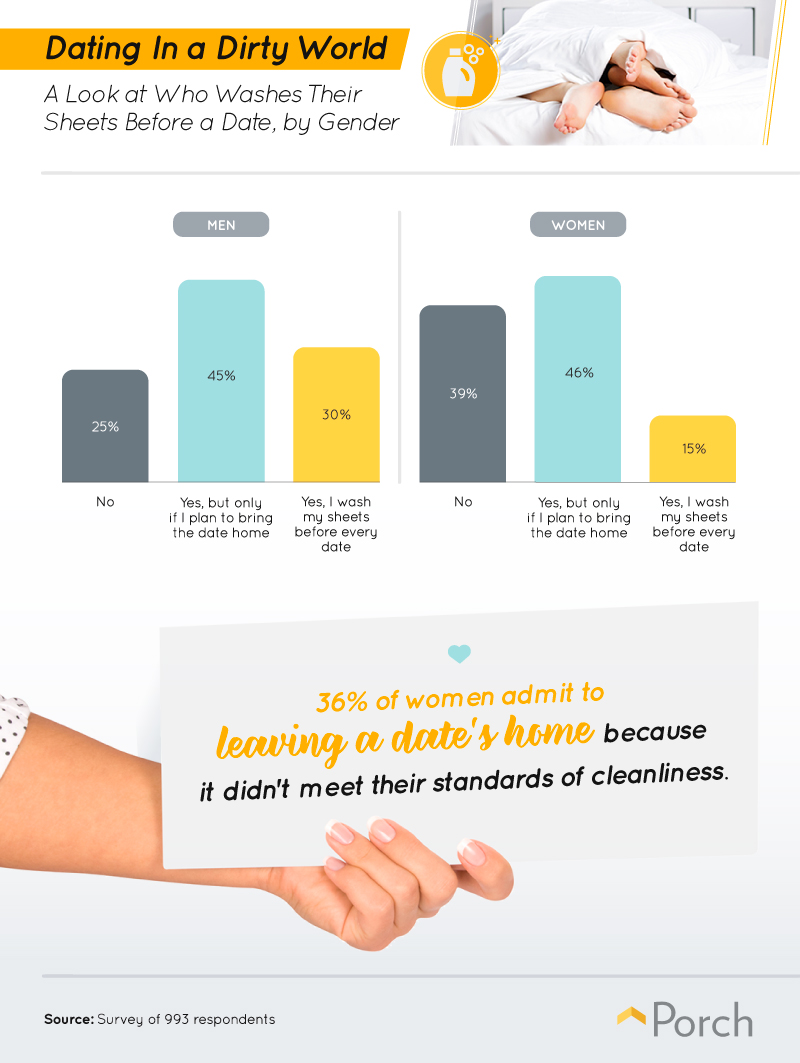 Making it back to the bedroom might not be the first thing on your mind when asking a first date back home, but it could at least be a consideration.
As our survey revealed, men were more prepared for that potential scenario than women, at least where their bedding was concerned. Men were twice as likely (30 percent) to wash their sheets before every date regardless of whether they were planning to bring someone home.
Another 45 percent of men and 46 percent of women made sure to wash their sheets only if they prepared for a cuddle session at the end of the evening. Thirty-nine percent of women and 25 percent of men didn't bother washing their sheets regardless of post-date plans.
While men and women averaged three dates each month, men were far more likely to invite their dates back home. Those avoiding cleaning up before bringing a date home might want to reconsider, as 36 percent of women left their date's home because it was too dirty.
The Impression Spectrum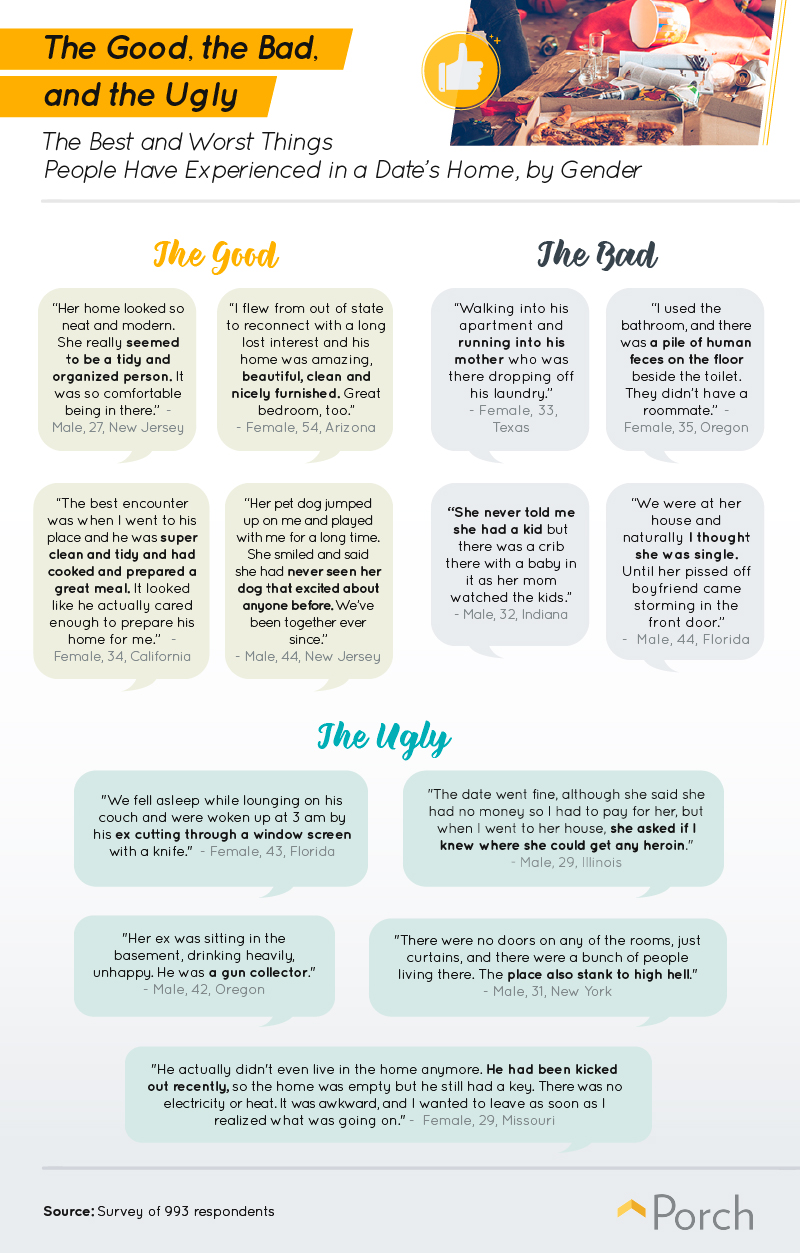 When it comes to making a memorable first impression, not every experience is a winner. While some of the stories people recalled during the first time visiting a date's home were impressive, others were nearly terrifying.
Discovering your date has a perfectly clean and well-furnished home certainly ranked as one of the best first impressions they could make—but it doesn't always happen that way. Between walking in on their mother dropping off laundry to finding human feces on the floor, not every first date home impression is a good one. Still, these aren't the worst thing sthat could happen as those surveyed pointed out.
One woman from Florida recounted falling asleep on her date's couch only to wake up to his ex cutting through the window with a knife. Another man from Oregon had a somewhat similar experience when he got to his date's home to discover her ex drunk and living in the basement who was also an avid gun collector. And the next time you walk through your date's front door only to be faced with an awkward family encounter or dirty pets—remember, it might not be as bad as being stuck with the bill at the end of the night and later asked about scoring drugs.
Make the Right First Impression
There are a lot of things you should consider before a first date—and not a lot of time to get them right if you really want to make the best first impression. Remembering to brush your teeth and put on clean clothes might be easy, but making sure your home is in an equally impressive state is just as important. While some respondents were split on issues like video games and clean sheets, nice-smelling homes, comfortable beds, and displayed books were all easy turn-ons, according to the men and women polled.
Need a helping hand to transform your home into the kind of place you'll never be embarrassed to show off? Whether it's a first date, your parents, or even just weekly game nights, Porch is here to simplify your home improvement needs. Our free Porch Home Assistant offers 24/7 professional support to help match you with a network of service experts to tackle every item on your to-do list. From mounting your TV to hanging art and assembling new furniture—you'll never have to worry about bringing someone home again. Ready to make a change? Visit us at Porch to get started.
Methodology
We surveyed 993 people using Amazon's Mechanical Turk. 51 percent of respondents were men, and 49 percent were women. The ages of respondents ranged from 18 to 73, with an average age of 34 and a standard deviation of 10.9. Additionally, 9 percent of respondents were "Baby boomers," 22 percent of respondents were from "Generation X," and 69 percent of respondents were "Millennials."
No statistical testing has been performed, so results are based on means alone.
Sources
Fair Use Statement
Want to help others avoid some of these major first-date home impression turnoffs? Feel free to share the results of our study with your readers for any noncommercial use. Just make sure to include a link back to this page so that our contributors get credit for their work too.