From our favorite TV megastar cooking personalities to social media videos about tiny hamburgers that get millions of views, Americans love watching videos about food. There's only one catch: Most people might not like cooking food as much as they like watching other people cook it.
In fact, the popularity of the home-cooked meal isn't just dwindling, it's costing the average family thousands of dollars every year. Eating out has become a habit that accounts for roughly 43 percent of most American food expenses, and one couple even found their annual tab for dining out rather than cooking in cost them over $30,000.
But with the advent of meal kit subscriptions and grocery home delivery services, could the tide be changing again? To understand the evolving landscape of meal prep and how much time people are really spending in the kitchen, we surveyed 750 people of all ages to get their take. From how each generation rates their cooking skills to how well they scored when we put their basic kitchen knowledge to the test, read on as we explore the truth behind the generational cooking gap.
What's for Dinner?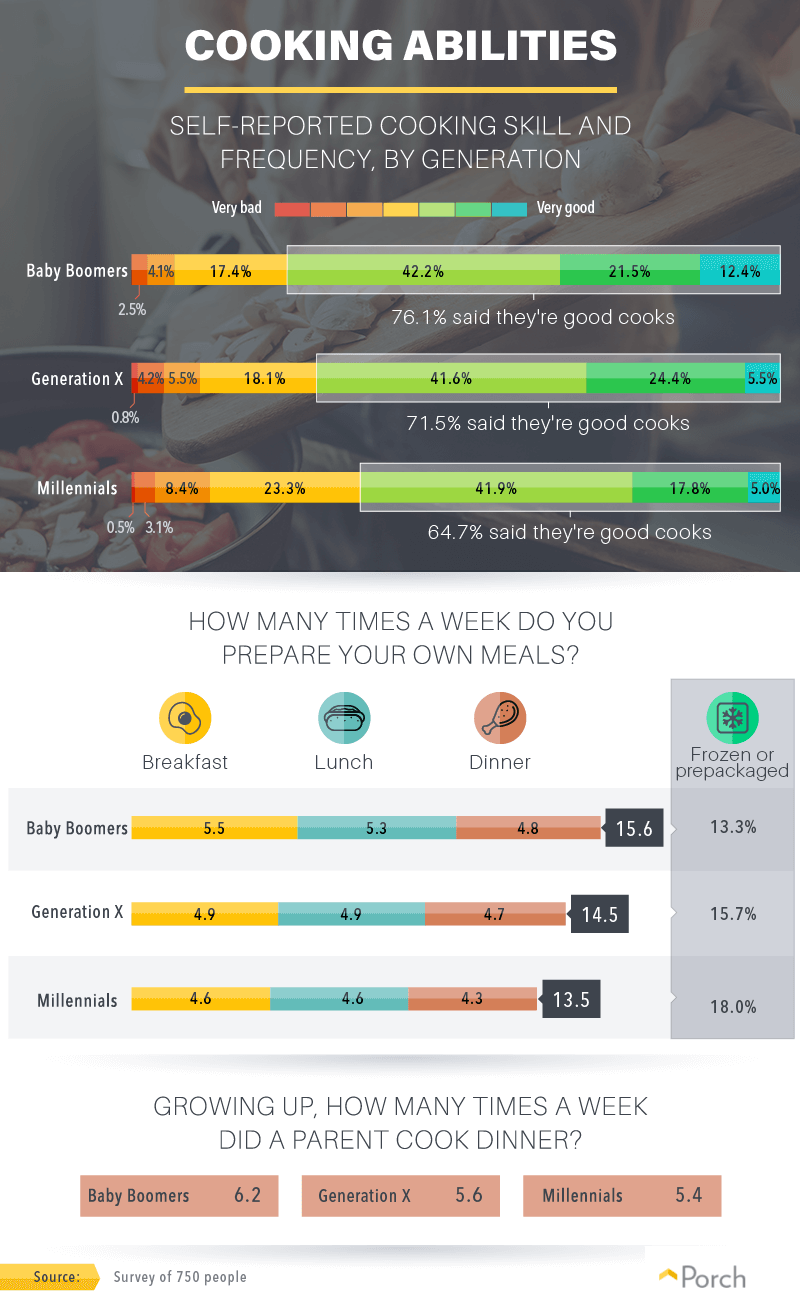 When asked how they rated the quality of their own cooking, most Americans didn't hesitate to give themselves a hearty thumbs-up.
At a minimum, nearly 65 percent of millennials considered themselves good cooks, followed by roughly 72 percent of Gen Xers and 76 percent of baby boomers. More than any other age group, over 1 in 10 baby boomers went so far as to qualify themselves as "very good" in the kitchen, a title shared with only 5 percent of millennial and Generation X respondents.
Still, the definition of "good" might be slightly lost in translation. Despite seeing themselves as quality cooks, millennials prepared their own meals at home less than any other generation. Averaging roughly 13 homemade meals each week, millennials also confessed that 18 percent of those came from frozen or prepackaged foods. While younger Americans are less likely to eat in for breakfast, lunch, and dinner, we found the biggest gap between prepared meals at dinnertime. Only cooking for themselves 4.3 nights a week, on average, it seems millennials are dining out (or ordering in) for supper nearly three times a week.
These trends might also represent learned behaviors. While older generations were more likely to cook their meals at home rather than dine out, we found their parents also prepared homemade dinners more often too. With each passing generation, the popularity of eating a home-cooked supper as kids has decreased, leading to even fewer homemade dinners as adults.
Tech Taught?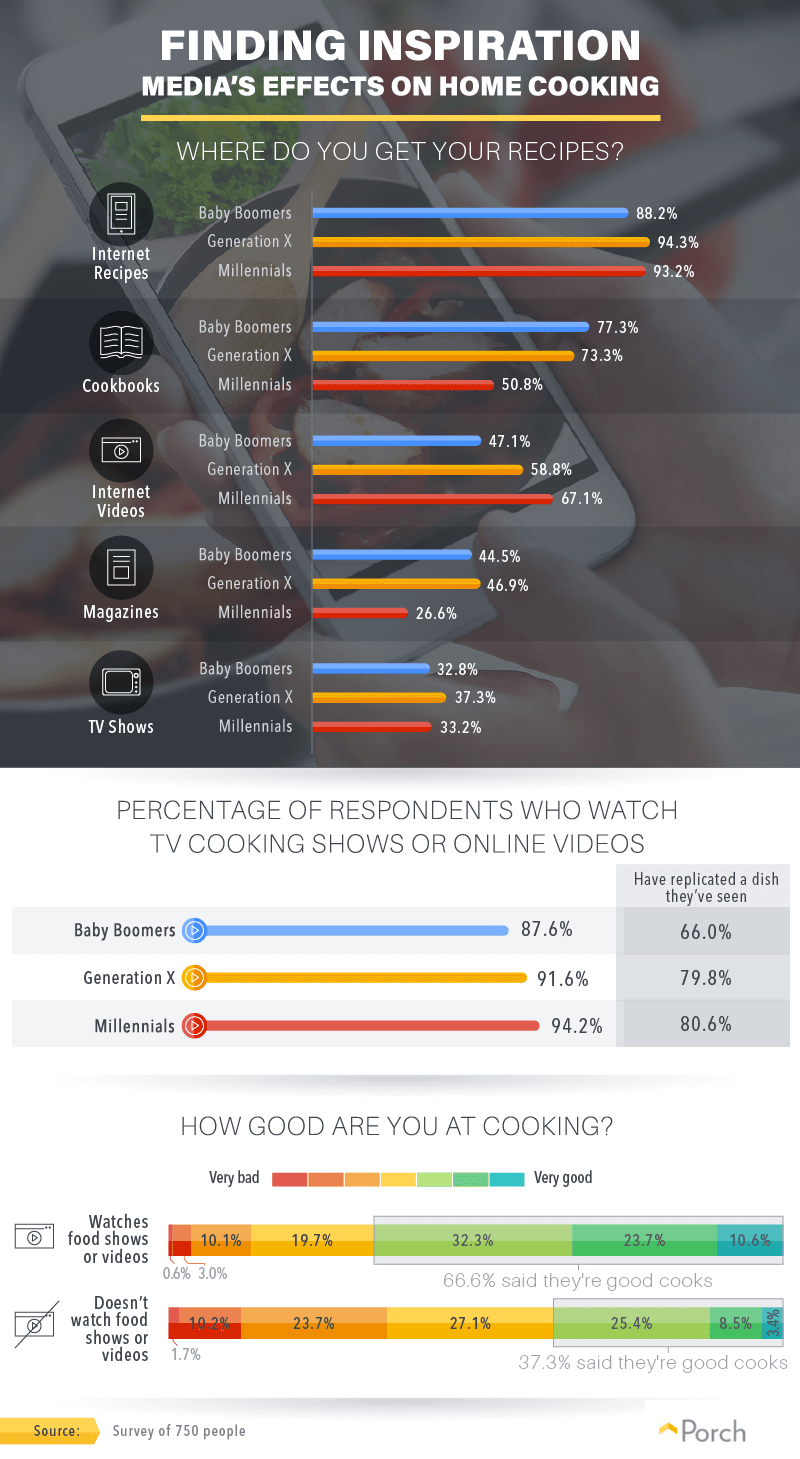 If you were going to plan a home-cooked dinner for yourself or your family, where would you turn for inspiration? While there are multiple resources for whatever you might be in the mood for, the answer could come down to your age.
For a majority of Americans of every age, the first place to look for a new recipe was simple: the internet. From food blogs to social media accounts dedicated to specific categories of food (including plant-based meals or low-budget options), some mega-influencers are earning millions of likes (and dollars) by putting their handmade meals front and center on the web.
Of course, traditional recipes aren't the only place to find foodspiration online. More than 2 in 3 millennials (followed by roughly 59 percent of Gen Xers and 47 percent of baby boomers) get their home-cooking kicks from internet videos. Typically produced as bite-sized content, recipe videos are all the rage on social media platforms like Facebook, and even big-name brands like BuzzFeed are getting in on the action.
These alternative media solutions for finding your next Insta-worthy avocado toast recipe or easy family dinner could be taking over the mainstream titles. While a vast majority of people watch cooking shows and online food videos, roughly 1 in 3 Americans (led by Gen Xers with more than 37 percent) found their cooking inspiration from TV shows specifically. As we found, millennials actually watch these videos the most and were more likely to replicate the dishes they've seen in real life.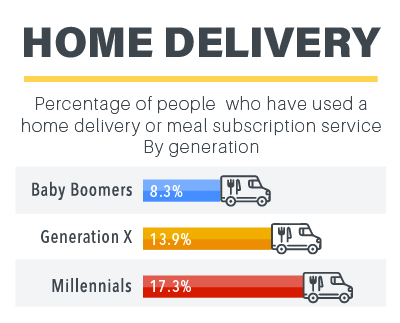 Our survey revealed one other food trend millennials were more fond of than any other generation: home delivery and meal subscription services. More than 17 percent of millennials had at least tested the waters of this trendy $4.65 billion market—a number that's expected to double by 2022.
Skills in Action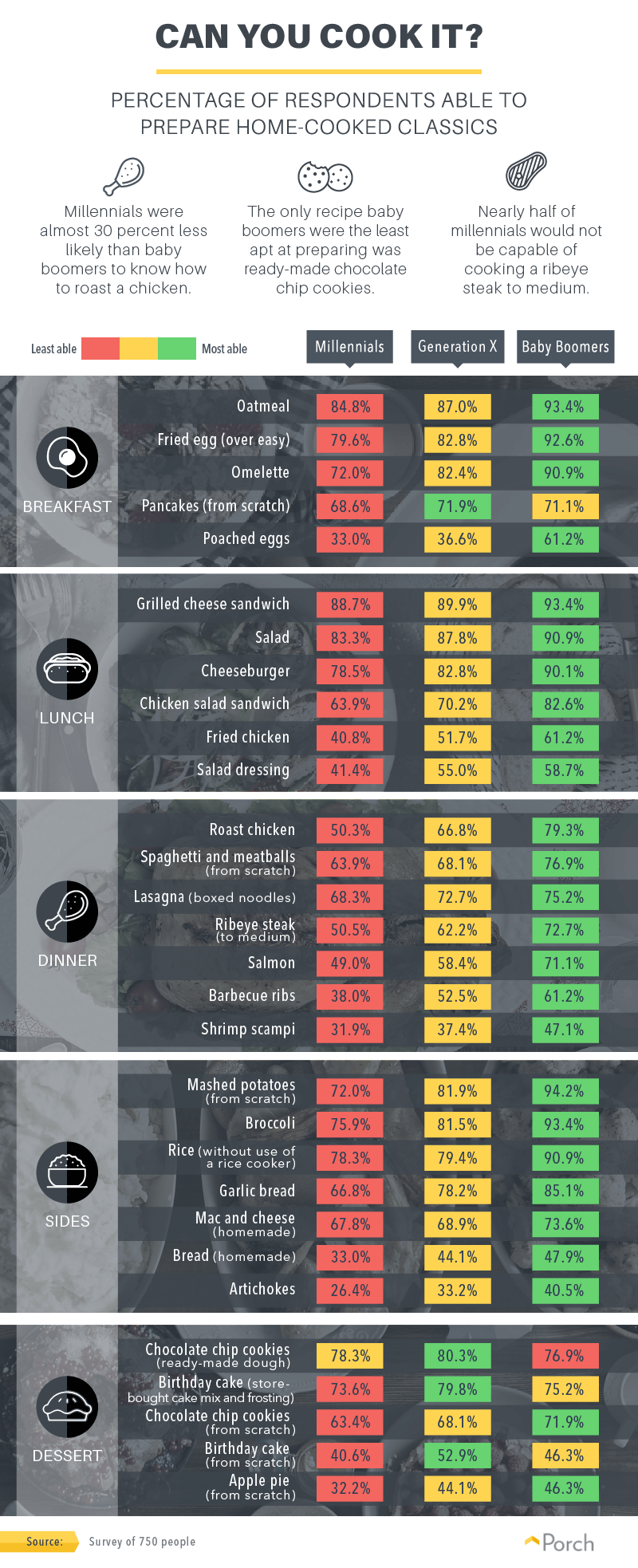 To put their skills to the test, we asked millennials, Gen Xers, and baby boomers to weigh in on how capable they felt about cooking a series of standard breakfast, lunch, dinner, and dessert dishes.
On the surface, we found millennials were typically the least apt at cooking, regardless of the category or food type. Eggs posed some of the biggest challenges, and young people we polled found cooking an over-easy egg, an omelet, or poached eggs much more difficult than older Americans. Of course, if whipping up a classic omelet was easy, it probably wouldn't have made its way on to "Top Chef" as a contestant challenge promoted by Wolfgang Puck (which he recalled no one could pass).
Other dinner options (with the exception of boxed noodles and spaghetti) also proved particularly challenging for younger Americans. Less than half were confident cooking salmon, barbecue ribs, or shrimp scampi. While just over 50 percent responded positively when asked about roasting a chicken, we found millennials were nearly 30 percent less likely than baby boomers to have this particular cooking skill.
In only one category did baby boomers actually rank at the bottom of our list: ready-made chocolate chip cookies. Of course, they were especially confident in their ability to produce homemade chocolate chip cookies from scratch—arguably the better of the two options.
Proficient Prepping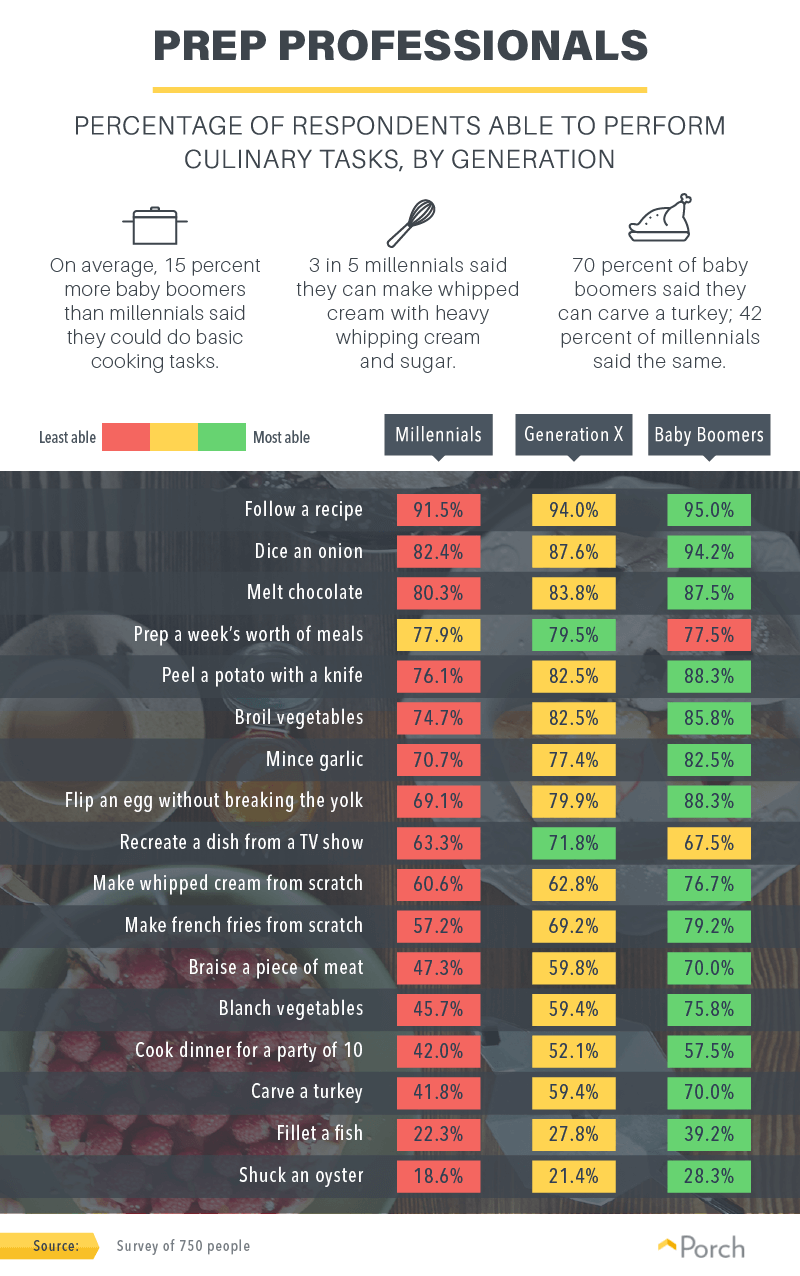 Like putting together staple recipes for some of the most classic homemade dishes, we asked Americans to rank their culinary skills, ranging from dicing an onion to filleting a fish. While some of these assignments were more challenging for certain generations of cooks, others posed difficulties across the board regardless of age.
When asked if they could follow a recipe, more than 90 percent of people polled across all three generations responded positively. Unfortunately, that was perhaps the easiest exercise on the list. Less were comfortable meal prepping for an entire week, melting chocolate, or even dicing an onion. While most people don't enjoy working with onions, there are video tutorials, blogs, and tools to help you accomplish this feat.
Thinking ahead to the holidays? Cooking a Thanksgiving meal is one thing, but carving the turkey is something else. While 70 percent of baby boomers were comfortable slicing a cooked turkey, less than 42 percent of millennials said the same. Thankfully, there are tutorials for that too, so anyone can approach turkey carving with confidence.
Expertise by the Numbers
With millennials clearly falling short in our cooking and technique tests, we wanted to find out more about general cooking knowledge. We created a "Cooking IQ" test, asking questions about specific foods, techniques, measurements, and more to find out how knowledge differed among different groups of people.
On average, baby boomers scored 10 percent higher on our cooking quiz than millennials, who came in with the lowest score of 51.7 percent. Women also scored higher than men—roughly 58 percent to 51 percent. Women are notoriously absent form lead roles in many restaurants and kitchens across the country, though experts suggest female chefs may have better attention to detail than their male counterparts.
While most respondents admitted to watching cooking videos, regardless of their age, our results show that viewership might actually be producing better cooks. We found people who didn't watch these shows or videos scored significantly lower (44 percent) on our quiz than those who did (57 percent).
Food-Spotting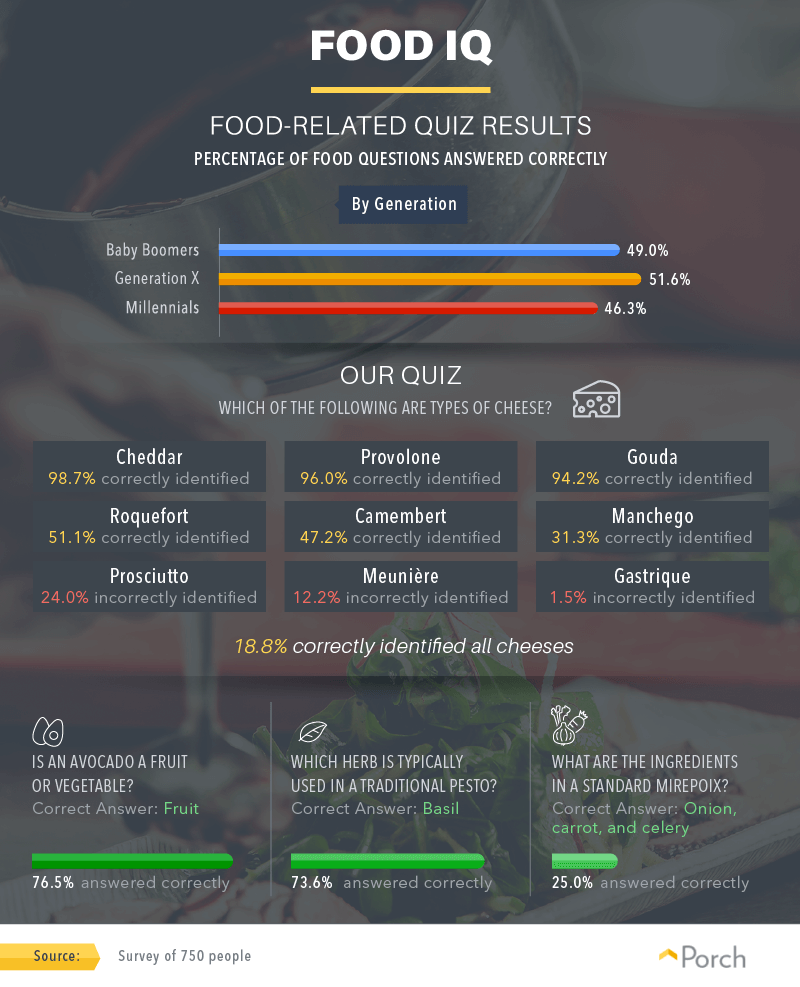 You don't have to be a professional chef to put together a good meal, but you might at least want to know a few food basics to get you started. As part of our culinary IQ test, we asked participants to answer a few food-related questions to gauge their knowledge (like which herb is used in a traditional pesto).
Unlike our cooking questionnaire, Gen Xers managed to outpace baby boomers in our food quiz. Gen Xers answered more than half of the questions correctly on average, boomers scored 49 percent, and millennials followed at roughly 46 percent. Questions included correctly picking cheeses out of a lineup of other products. While a majority knew that cheddar, provolone, and gouda were a part of this solidified dairy family, significantly fewer were able to identify prosciutto (an Italian ham) or meunière and gastrique (two types of sauces) as cheese imposters.
Name That Cooking Tool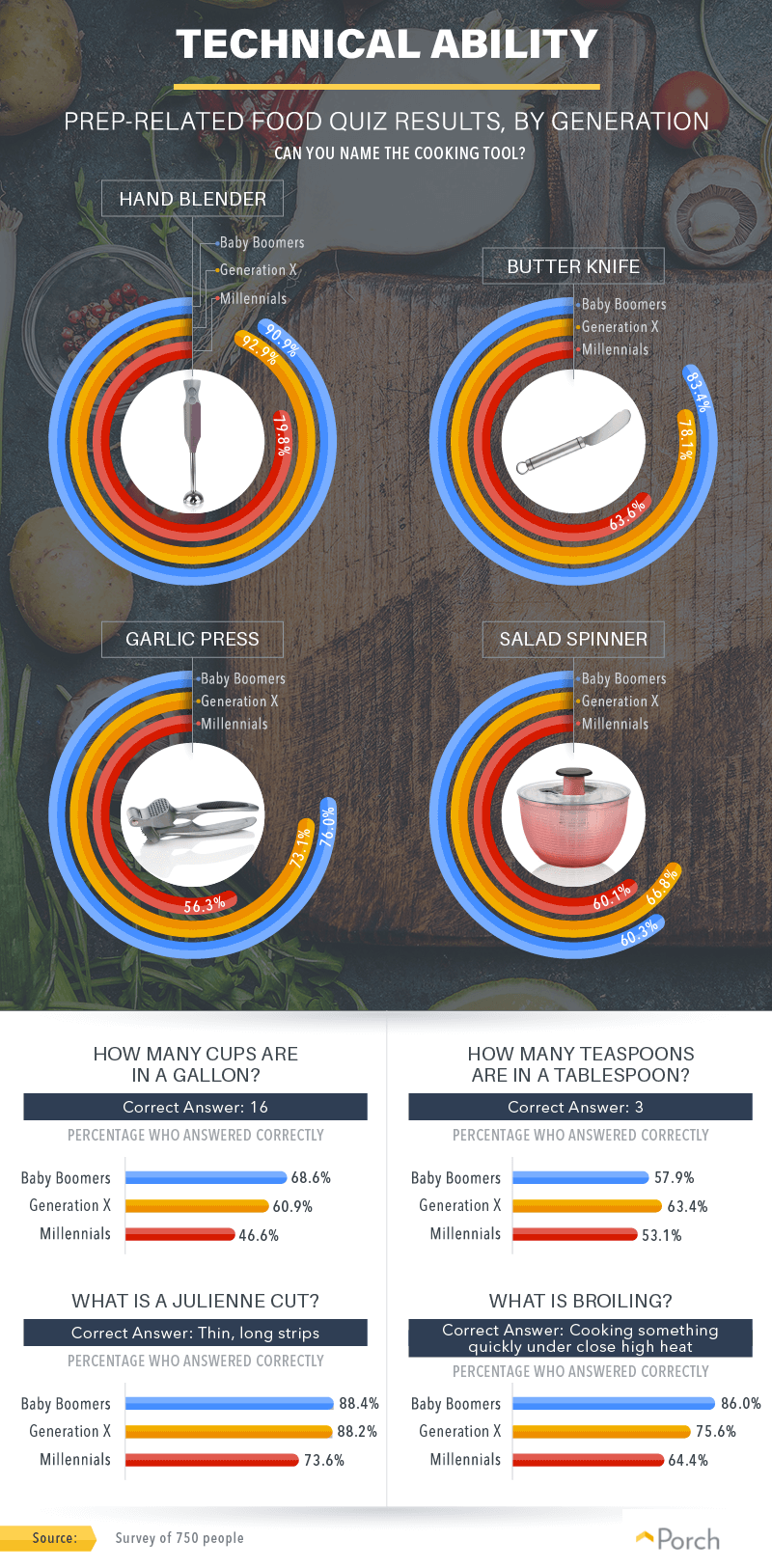 Finally, we asked survey respondents to participate in a food prep quiz. You might be able to ask your digital voice assistant to help convert measurements in the kitchen today, but we wanted to know how many people could recall the answers for each question from memory.
When asked how many cups make up a gallon (16), to describe a julienne cut (a French cut of thin long strips), or to give the definition of broiling (cooking something under close high heat), baby boomers proved once again that their cooking knowledge was unparalleled. Only one question—the number of teaspoons in a tablespoon—did Gen Xers outshine boomers (the answer is three).
Identifying some lesser known prep tools was slightly more difficult. While baby boomers were able to point out the garlic press and butter knife best, Generation X respondents were more comfortable with hand blenders and salad spinners. Millennials had the hardest time classifying all four products.
Reignite Your Passion
If the trends are to be believed, the joy of preparing home-cooked meals in America could be on its way out (at least in the traditional sense). Celebrity chef Tyler Florence has said that recipes are "dead" and is giving up producing traditional cookbooks in favor of apps and cooking demonstration videos. He might not be wrong. Americans we polled were more inclined to get inspiration by watching digital food presentations rather than any other means, and while millennials are leading the charge for delivery meal kits, they were also the most likely generation to actually put a video tutorial recipe to the test. As we found, each passing generation eats fewer home-cooked meals as children and cooks even fewer meals for themselves as adults. Still, there are plenty of advantages to teaching kids how to cook, and it may help prepare them for food prep in the future.
Want to cook more but don't feel like you have the space or appliances you need to get the job done? Porch is your home improvement assistant to start upgrading your kitchen today. From handyman help to popular projects like appliance installation and furniture assembly, our network of trusted professionals will help you tackle your to-do list sooner rather than later. Visit us online today at Porch to learn more.
Methodology
To compile the data used in this study, we surveyed 750 people on their abilities and knowledge around the kitchen. 52 percent of respondents were millennials, 32 percent were Gen Xers, and 16 percent were baby boomers. The data are intended to be used solely for entertainment purposes. Because the data are based on self-reported answers, respondents may have had biases or discrepancies between their own reported ability and their actual abilities. While we did our best to "quiz" respondents on their knowledge, we acknowledge that our IQ quiz was only a sampling of possible questions.
As seen on The View
Sources
Fair Use Statement
Hungry to share? We encourage you to share the data and graphics in this article for noncommercial purposes. We ask only that when doing so, you cite Porch and link back to this page.