Thinking about the American dream, most people focus on a successful career and money in the bank. However, behind the career climbing are aspirations for a family home with a white picket fence. Finding the right place to settle down isn't all that difficult, right? Maybe for older generations. Millennials, on the other hand, aren't
tying the knot
, are
having fewer kids
, and are
remaining in the city longer
. The younger generation has even remodeled the home of the American dream—the white picket fence has been replaced with an
ocean view
. The way Americans are settling down continues to change, so where are the best places to meet these new wants?
We pulled data from the U.S. Census Bureau's American FactFinder, Yelp, and Zillow to find out which cities are the best for young, growing families.
Considering the number of millennials, availability of child care services, and the price of housing, we were able to score and rank American cities and find the most family-friendly. Keep reading to see which city took the top spot.
Perfect mix
New York City used to be the first stop on the road to success for young professionals, but the Big Apple may have lost its mojo. Ranking at No. 28, New York City has lost the attention of millennials, becoming a hot spot for millionaires instead. On the opposite coast, however, Seattle's cheapening housing market, along with an influx of millennials, earned it the No. 1 spot for the overall best U.S. city to raise a family. Portland, Oregon, closely followed Seattle, with the city having slightly fewer millennials but greater access to child care. On the other end of the spectrum, Detroit ranked as the worst city for young families. The low population of millennials, scarce availability of child care, considerably high price of housing, and the continued decline of the city make it a difficult place to plant roots. Major events leading to the city's economic and population crashes may have occurred over four decades ago, but the damage has resulted in long-lasting effects, with Detroit in a faster decline than ever before.
Metro of millennials
While housing and child care options are important factors in determining the best places to raise a family, millennials aren't settling down as quickly as baby boomers or Gen Xers did. Instead of searching for quiet places to start a family, millennials seem to be flocking to cities where jobs are available and salaries are relatively high. In fact, Austin, Salt Lake City, and San Diego were the three cities with the highest population of millennials. Despite four cities in California ranking in the top 10 for the greatest percentage of millennial residents, the numbers are likely to change in the coming years—and quickly. While the state offers a plethora of jobs and high salaries for millennials entering or navigating the workforce, California's housing market and increasing taxes can make it unsustainable for long-term living…if you're not a millionaire, that is. However, the cities with the fewest millennials were spread across the East. Cleveland had the lowest percentage (12.3 percent) of millennial residents, followed by Hartford, Connecticut, and Detroit with 12.4 and 12.5 percent, respectively. While Cleveland and Detroit lack millennials, the metropolitan areas have higher populations than the outlying suburban areas, especially when looking at millennials with at least a bachelor's degree.
Affordable living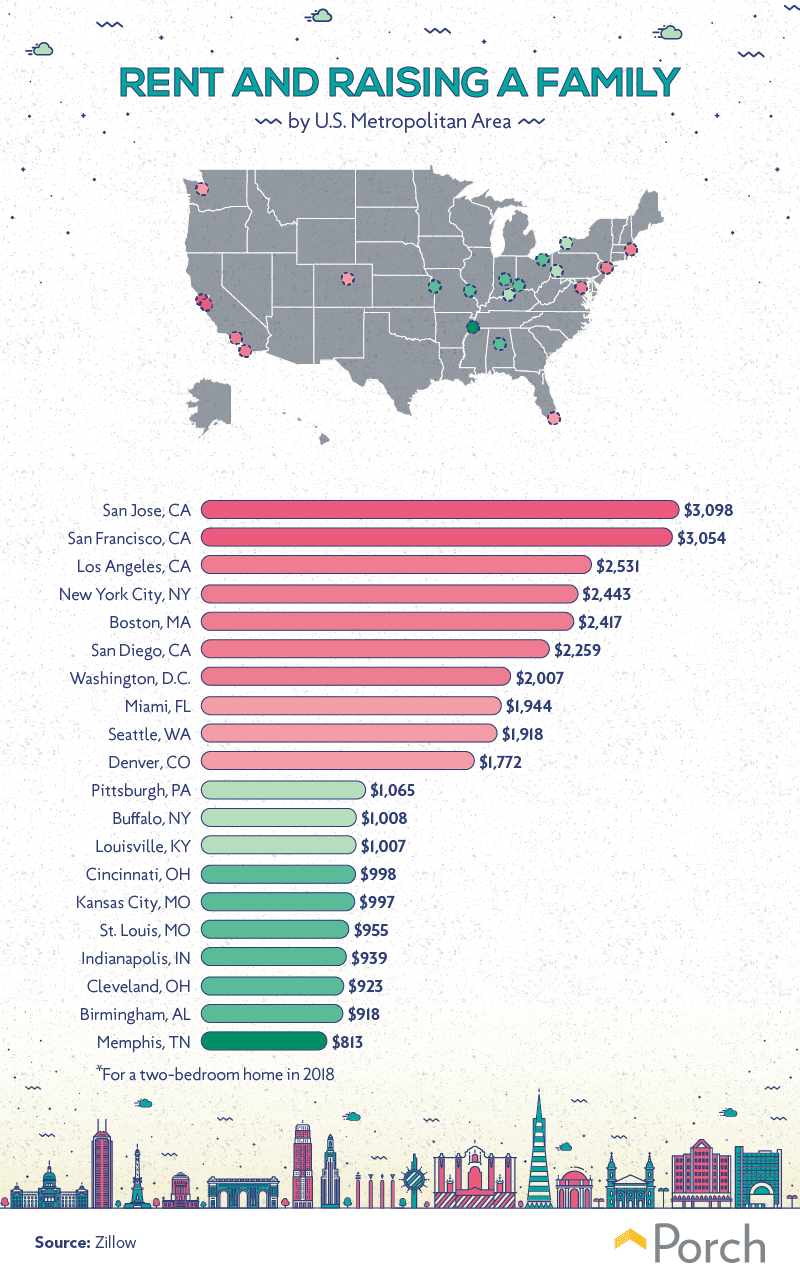 A high population density of millennials may help young families feel more comfortable and give their children friends to play with, but finances are also a major driver of settling down. Ironically, some of the cities with the largest population of millennials also happened to be the most expensive cities in which to reside. San Francisco, Los Angeles, and San Jose, California, were the three cities with the highest median rent for two-bedroom homes. San Diego and Seattle also made the top 10 most expensive metropolitan areas, with each city's rent nearing $2,000 or more per month. Each of these most expensive cities also had some of the largest millennial populations, which may not be surprising considering how much millennials pay in rent. If young adults chose cities like Memphis, Tennessee; Birmingham, Alabama; and Cleveland, Ohio, their rent prices would drop drastically. Finding a two-bedroom rental for under $1,000 in each of these cities isn't too difficult—Memphis had the lowest rent of all, costing families an average of $813 monthly. Considering millennials choose to rent more often than buy, living in cheaper cities could help them save money for a down payment when they're eventually ready to buy a home.
Price of upsizing
Keeping rent under $1,000 is fine and dandy when your family is small enough to fit in a two-bedroom apartment or home. But when the babies continue to come and more room is needed, upsizing your home to accommodate your growing family shouldn't drastically increase the cost of living. In Memphis, Tennessee, upgrading to a larger, two-bedroom rental is actually $33 less than staying in a one-bedroom apartment. In Birmingham, Alabama, Indianapolis, Baltimore, and Kansas City, Missouri, moving from a one- to two-bedroom home increased the monthly rent by less than $100, on average. The most drastic jump in price was found in four California cities: San Diego, San Francisco, San Jose, and Los Angeles. The City of Angels had the highest jump in price, with a two-bedroom running $498 more per month than a one-bedroom, on average. San Jose came extremely close, though, with rent increasing by an average of $496 a month. Housing in California is so expensive that purchasing a single home in San Francisco is equivalent to purchasing six homes in San Antonio, Texas.
Child care options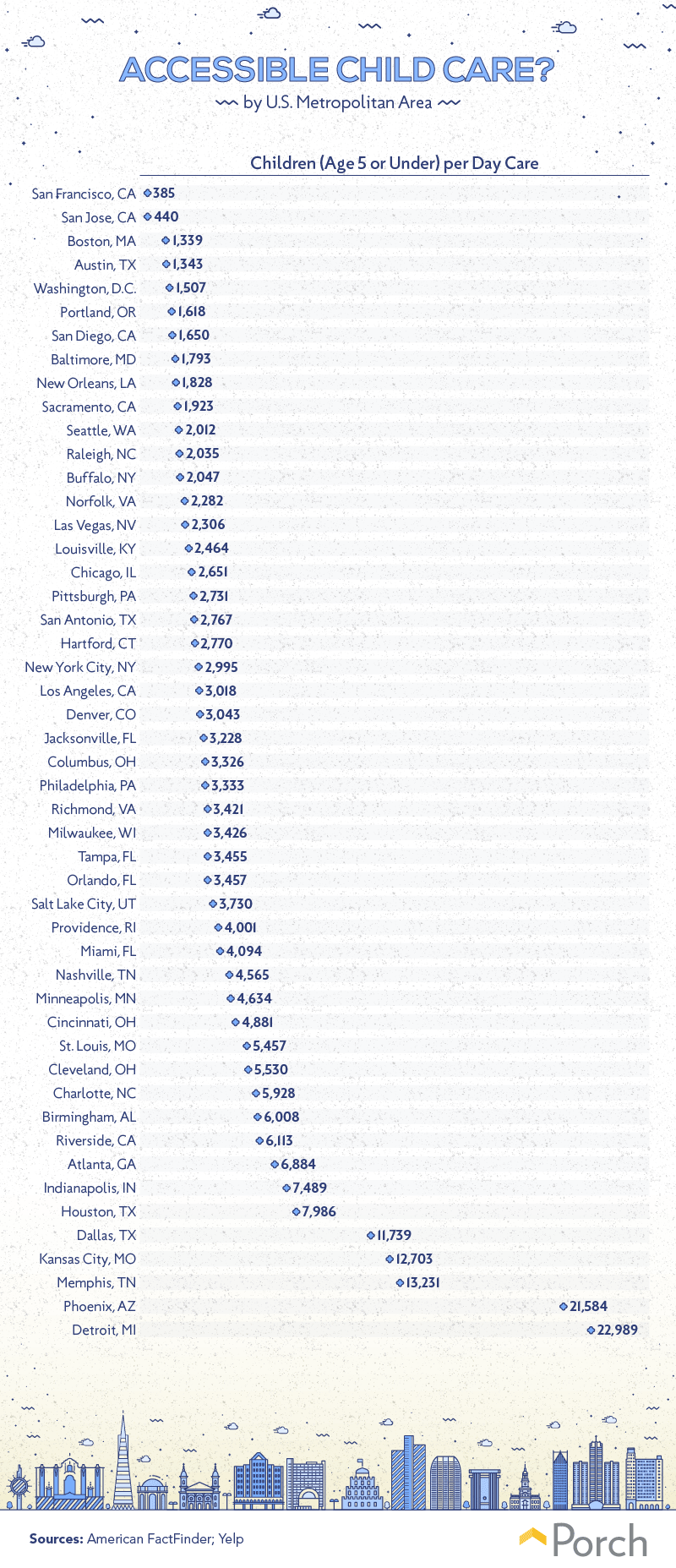 San Francisco may have a very expensive price tag, but when it comes to accommodating families with children, it has plenty of room. For each day care in the city, there were 385 children under 5—the lowest ratio across all major cities in America. San Jose, California, closely followed with 440 children younger than 5 for every day care. Phoenix and Detroit, on the other hand, had the largest child-to-day care ratio, with 21,584 and 22,989 children under 5 for each day care in operation, respectively. While a growing number of millennial women are becoming stay-at-home moms, day care availability gives growing families flexibility. But finding a day care with room is only the first obstacle. Even in cities where child care is readily available, it is often unaffordable. Child care costs have been on the increase for five years, with parents often spending more than it costs to rent a one-bedroom home.
Making a house a home
Finding the right home takes time. Taking price, location, size, demographics, and child care into consideration is vital for growing families. While most people tend to settle down in the suburbs, Seattle has the perfect mix of people, price, and parenting help, making it the best city for young families. Regardless of which city you call home, though, the house you live in should fit your needs and wants perfectly. From minor changes to major renovations, Porch is here to help you find a qualified and trusted professional to turn your house into your ideal home. To learn more, visit us online today.
Sources
Methodology
Data were pulled from American FactFinder (percentage of millennials), Yelp (day cares), and Zillow (housing). The data wrangling was done in Python with Pandas, and plotting was done with matplotlib and RStudio (ggplot). Choices of cities were determined by using the U.S. Census Bureau's tables for the largest metropolitan statistical areas. For individual ranking plots of different datasets, outlier cities were included (meaning cities that were not in every dataset explored were kept in their individual plots). Outlier cities included Oklahoma City, Norfolk, and Milwaukee. For the aggregated metric scoring, only cities present in all three datasets explored were included, totaling 47 cities. Scoring: For the aggregated metric, three metrics were included: percentage of millennials (more is better); two-bedroom rental cost (cheaper is better); and children per day care (lower is better). For each metric, the value for the city (where it falls in the ranking when ordered by the given metric: one is first, two is second, etc.) is the score for that given metric. These values were added to a rolling total for each city. Thus, a lower score is desirable. The summed scores were sorted, and the cities with the lowest scores were ranked as better for younger families. The rankings for the outlier cities were omitted, meaning not all rankings are present. In general, the best cities fell below 60 aggregate points while the lowest-performers had aggregate scores over 100.
Fair use statement
Finding the perfect place to live and the perfect home to raise a family can be a challenge. However, being informed about demographics, prices, and child care options could help people make the right decision. If you'd like to share our findings with someone you know, you're free to use this project's graphics and content for noncommercial purposes. We just ask that you link back to this page to give the authors proper credit.