It's time to put away the snow shovel and start getting excited about spring and summer projects. One of the most popular projects on Porch.com, around this time of year, is shed assembly. Whether you just need a shelter for your lawn mower or something a little fancier, find out which shed material is right for you!
Metal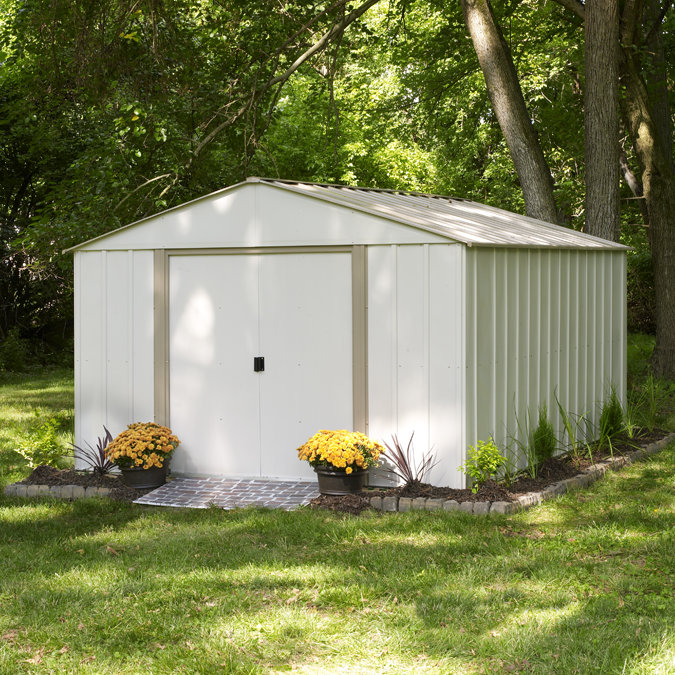 When you picture a metal shed, an industrial, drab image may come to mind, when in fact, metal sheds come in many more appealing colors these days. They can be purchased at a reasonable price (between $300-$3,000, depending on the size) in a variety of sizes and colors. Whether you hire a professional or DIY, a metal shed can be assembled with basic tools. Although the material will withstand rain and wind very well, it can be prone to rusting. Unfortunately, there's not a lot you can do to prevent rust but that does make metal a low maintenance material choice. The low cost does have some down sides. Metal sheds can be broken into easier than wooden sheds and can also be damaged easily upon impact. If you plan on installing a metal shed around flying baseballs and soccer balls, expect some dints.
Tip: Check if your metal shed comes with a floor kit, if it doesn't then you or the professional will have to source flooring elsewhere.
Wood

If you would prefer a custom built shed, a wooden shed might be your best option. They can be purchased in kits or custom made to include windows or even a second story! Although wooden sheds are the most expensive option, they are much more durable and last longer. If you're building a small shed to house your lawn mower and your kid's baseball bats then a wooden shed may not be worth the investment. It's been rumored that wooden sheds can rot and attract termites but with the proper treatment this shouldn't be a problem.
Tip: Make sure your wooden shed is properly treated to prevent rotting and termites.
Vinyl/Resin
If your top priorities are a low price and low maintenance then a plastic shed may be for you. Plastic is the cheapest material for a shed, with prices ranging from $150-$2,500, depending on the size. Unlike metal and wood sheds, most plastic sheds come with a floor kit, this will save you money upon installation. Even though you can purchase plastic sheds in a variety of colors, they can still look cheap. Unlike wood and metal, you don't have to worry about water damage to the material. What you do need to be concerned about is wind and extreme heat. The lightweight material is the reason that many homeowners choose plastic for their shed but if your area is prone to strong winds, you may want to choose a sturdier material.
Tip: Because most plastic shed kits come with built in flooring, make sure you assemble your shed on a flat surface to ensure that it is as sturdy as possible.
What professional will I need to hire to assemble my shed?
For metal and plastic sheds, a handyman or a general contractor, that takes smaller projects, will be able to help with this. Be aware that if you choose a handyman whose company consists of himself only, they will have to hire some help. If this is the case, make sure that they're bonded. This prevents you from being liable if the professional fails to pay their hired help.
For wood sheds, a handyman will be able to help you assemble a shed kit. However, a carpenter or a general contractor will be the best professional to hire if you need a custom wood shed built.
Related Articles:
What a Handyman Can and Can't Do
What a General Contractor Can and Can't Do
When you make a purchase using affiliate links on our site, we may earn a commission.