If you plan to host visitors and entertain this holiday season, you'll definitely want to make sure that your TV and electronics are ready for a crowd. We've compiled some easy ways to ensure your TV is in the right place and that your TV room is all set to go. And if you plan to get a new TV, Porch is now offering TV mounting services for the limited-time price of just $90.* 
Get your TV at the right height
When you're at the movies, the best theaters situate their seating so that most of the viewers are looking at the middle of the screen, and even slightly down at the screen. Unless you actually enjoy getting a stiff neck, you'll want to not place your TV too high at home either. Use your eye level (when seated) as a guide: measure the distance from the floor to the average eye height, this should be the approximate height of the middle of your TV screen. You don't have to be exact, but it's a good idea to select a TV console that isn't too high. Need help hiding your cords? Read our tips here.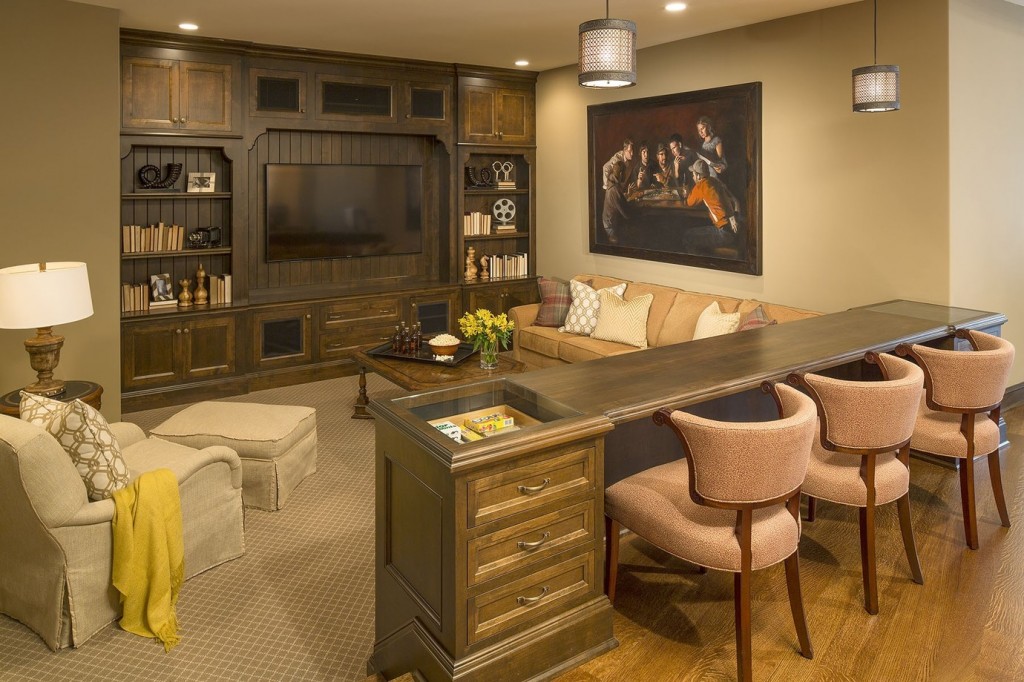 TVs above the fireplace
Home theater experts may cringe at the thought of installing a TV above a fireplace, and for good reason too. It's too high to be comfortable (unless you like sitting in the front row of a movie theater), soot from the fireplace can easily damage sensitive screens, and the heat may interfere with the electronics or wiring. In short, don't do it. Try placing it to the side or adjacent to the fireplace. If you need some tips for hiding your TV in your room, click here.
How to determine the right size TV
There are several different formulas for figuring out the right size TV for your TV room and this will depend on the number of pixels as well as the type of TV (LED or plasma). But if you're looking for a quick, easy-to-follow method, here it is: measure your viewing distance from your sofa to the TV console in inches. Divide that number by 3 to get the minimum size TV, divide by 1.5 to get the maximum size. For example, if you have 8 feet viewing distance (or 96"), consider a 32" to 64" TV.
How to clean your electronics
Your delicate TV screens should be wiped with a dry microfiber cloth. Use this same cloth to dust off components as well. To remove fingerprints, use a pre-moistened electronic screen wipe. Clean your remote controls as well – simply spray an all-purpose cleaner onto a cloth and wipe all sides.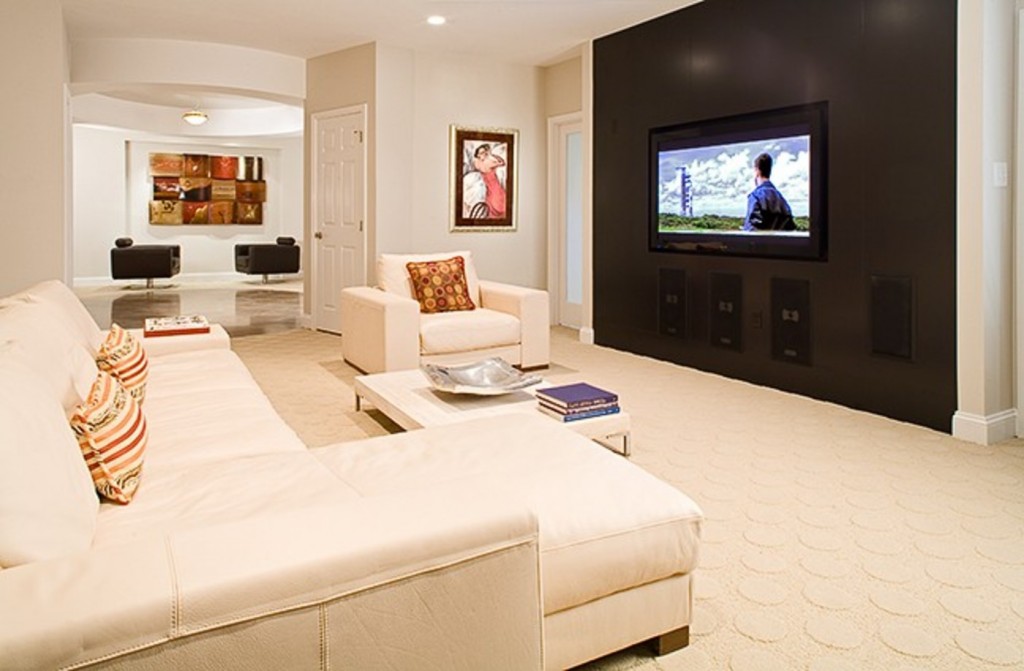 Create a dark space
You don't want all the lights out when watching TV however, if you have windows and sunlight interferes with the screen, consider installing black-out shades or heavy drapery. Hanging soft cloth on the walls will not only create a darker room, the fabric will help absorb sound and create a better movie-theater-like environment.
Seating and tables
You probably have enough seating for you and your family, but do you have extra seating for guests? You can always drag in a few extra chairs or side tables for a party, but think about multi-tasking furniture that works for small or large crowds. Ottomans and upholstered benches work really well in TV rooms. They are great for resting your feet but can also work as extra seating. Throw a sturdy tray on top of it and you have an instant coffee table. Nesting tables are another great piece for TV rooms and are perfect for holding extra food and drinks.
Looking for a new TV?
Start your search by looking for the EnergyStar label. According to EnergyStar, if every TV, DVD player and home theater system had an EnergyStar rating, 2.2 billion pounds of greenhouse gas emissions could be prevented each year (the equivalent of more than 200,000 cars)! LED TVs use ½ to ¼ of the power of a comparably sized plasma.
And now's the perfect time to get that new TV because Porch is currently offering TV mounting services for the special price of just $90.* But hurry, this limited-time offer ends soon!
Top image credit: Witt Construction
* No promo code required. Offer ends December 20, 2018 (11:59pm PT). Offer is good for up to 1.5 hours of work to mount one TV (up to 55") onto drywall. Homeowner to provide TV, wall mount and all necessary cords for installation. The following are sold separately and can be requested at booking: fixed wall mount ($45), cord cover ($30), mount to concrete or brick ($35) or in-wall power bridge ($85). Cannot be redeemed for cash or combined with select offers or credits. Not valid for resale. We reserve the right to modify or replace any part of these terms and conditions without notice.