The glass backsplash trend is spreading like wildfire across kitchen remodels in America, and for good reason. In addition to being sleek, modern, and endlessly customizable, glass backsplashes are low maintenance, inexpensive, easily cleaned, and very versatile.
Whether your style is classic or bold, neutral or loud, a glass backsplash's endless options for texture, hue, design, and size make it a beautiful addition to any kitchen. But is it right for you?
Ask and you shall receive: Below, we've tackled your questions, and have the scoop on the appearance, cost, and maintenance of glass backsplashes. Take a look, and let us know if you would try this trend!
Appearance
Photo courtesy of Ferrarini
When choosing the color and texture of your glass backsplash, it's important to find an option that is going to withstand the ebb and flow of fashion. Many homeowners make the mistake of choosing a backsplash that looks great at the time of installation, but becomes an eyesore when it's time to put the home up for sale. If you're looking for a pop of color or a beautiful pastel focal point above your cooking range or sink, be sure it is something you're still going to love for years to come. Coordinate colors with furniture, or choose a cool neutral.
A glass backsplash is typically constructed in one single sheet of glass that has been custom cut to fit into a specific area, If a backsplash covers more than one wall or an especially large area, it can be constructed of several smaller sheets that are laid flush. Color can be backpainted onto clear glass so that your backsplash is customized to match your current kitchen color scheme. Frosted glass, patterned glass, opaque glass, or clear glass layered over patterned wallpaper are alternative looks.
 Cost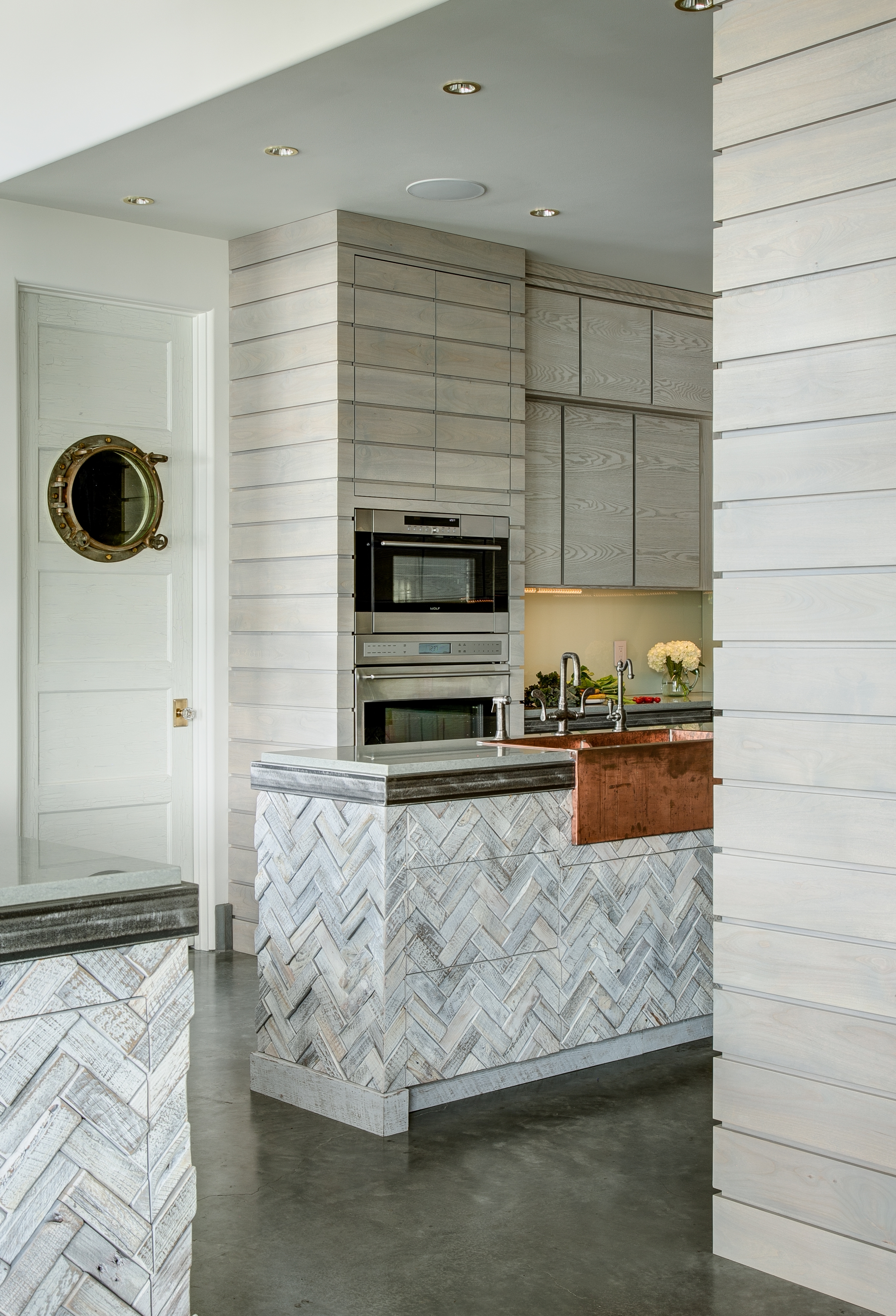 Photo courtesy of Selle Valley Construction, Inc.
Believe it or not, it's possible to DIY a glass backsplash. If you choose to go this route, you'll need to consider sourcing glass plates, cost of the glass, glass color or texture, and how to best affix the glass to your walls. You'll also need to clean and smooth your walls thoroughly before the installation. If you'll be painting the glass yourself, there are a number of paint options that will adhere to glass, such as Martha Stewart's craft paint line, or spray paint.  Companies such as GlassKote and Backpaintedglass.com will custom color and size your glass backsplash, and pricing for materials will range from $19-$35 per square foot, depending on quality. Be careful not to crack the glass against screws when installing, and seal screw holes and the glass plate's edges with clear silicone. If holes end edges are left unsealed, dirt and debris could gather behind your glass.
Hiring a professional to install your glass backsplash might come with more up-front costs, but keep in mind that contractors will likely be able to get you a better wholesale price on materials (a plate of glass that is 18 inches wide, 4 feet in length, and 1/4 inch thick will cost roughly $300 to consumers).  Hiring a pro will also buy your project the priceless experience that will ensure that the installation goes well and looks good over the long haul.  
Maintenance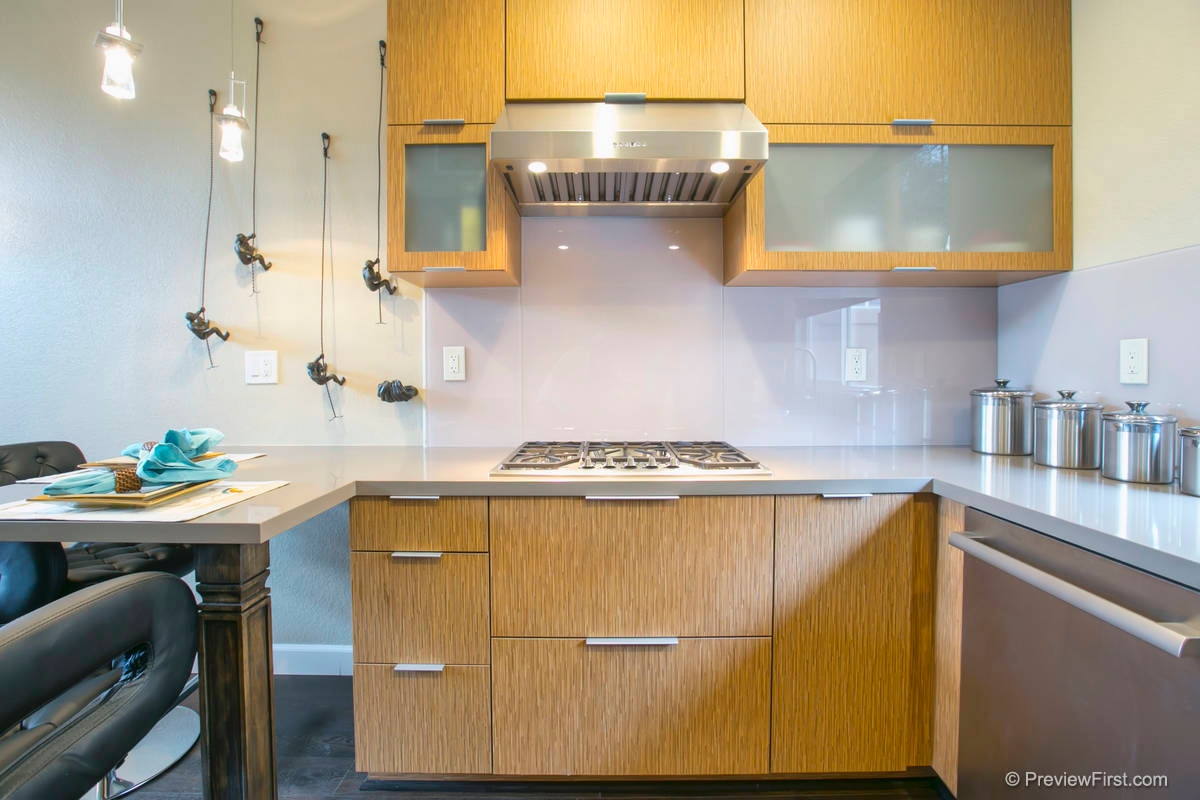 Photo courtesy of Coastal Home Design Studio
If you're looking for an aesthetic backsplash that is easy to clean, and low maintenance, a glass backsplash might be the perfect upgrade for your kitchen. Glass is very easy to wipe clean, and does not stain or mold, an important feature to have near the splash zone of your hood range or above your sink. Glass can accumulate dirt and dust over time, but can be easily cleaned with any general tile kitchen cleaner. Be sure to use a soft bristle brush to clean the surface to avoid scratching, and to avoid damaging grout, or silicone areas. Glass's light-reflecting qualities reflect will also naturally brighten your kitchen!
A glass backsplash is durable, sanitary, inexpensive, and so versatile that it can suit any style. This rising trend may have major staying power.
What do you think? Would you try this trend in your kitchen?
Top Image Credit: Griffin Enright Architects