When it comes to keeping your current home up-to-date, and knowing what features you should be adding to your home, it's a good idea to look at newly constructed homes in your neighborhood. New neighborhood developments or homes built on spec offer great insight as to the layouts, colors and features homebuyers want to see. In general, homes built by development companies do a tremendous amount of research in current trends and homeowner surveys – they want to build what people want to buy.
The National Association of Home Builders (NAHB)  recently surveyed builders to find out what specifically is being adding (or not added) to homes. Not surprisingly, the laundry room and master bedroom walk-in closet ranked top for most likely features to be included in a new home. Also ranking as "most likely" was the addition of energy conserving features like low-E windows, Energy-Star rated appliances, Energy-Star rated windows and a programmable thermostat. All of these features help conserve energy and lead to lower energy costs, a big benefit for homeowners and their wallet.
Other interesting home features on the "most likely" top 10 list was the addition of 9-foot high ceilings on the first floor (standard ceiling heights are usually around 8-feet), and granite countertops in the kitchen, proving that granite is still a winner when it comes to countertop materials.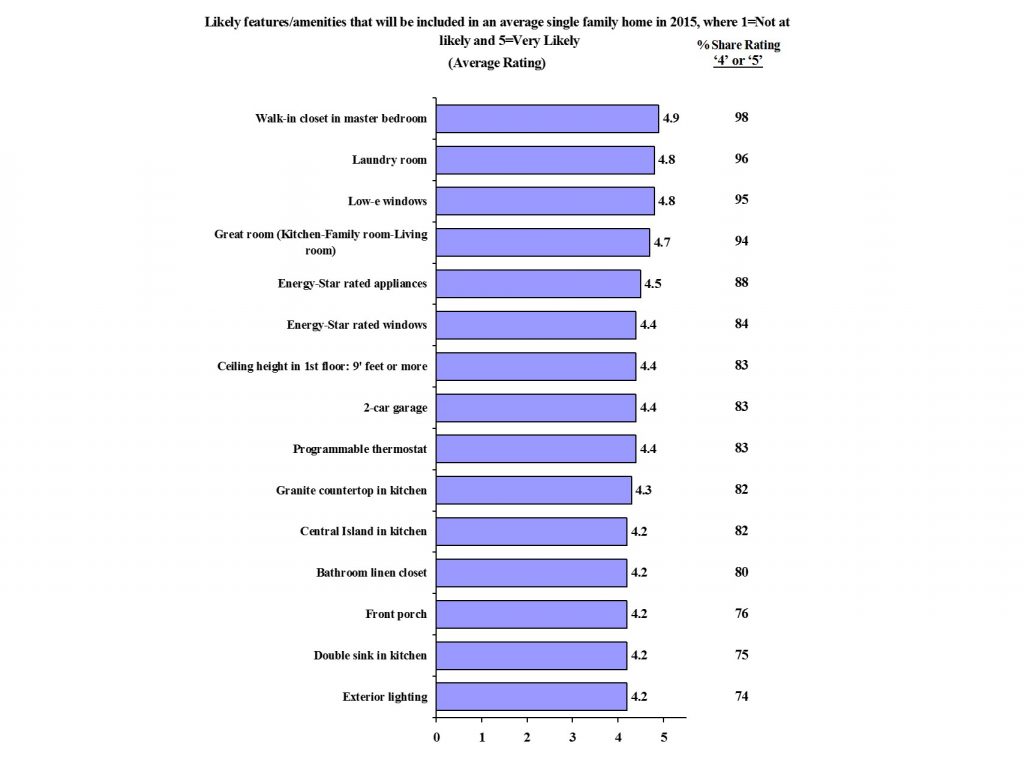 When it comes to the "least likely" features being added to new homes, builders responded that outdoor kitchens were number one. Another outdoor feature not likely to be added was an outdoor fireplace. Laminate countertops in the kitchen were in the number two position for "least likely" features, possibly showing that prospective buyers don't see value in that material (or at least not in the kitchen).
Click here to read the full report published by NAHB and see the other home features most likely or least likely to be found in a new home.
Top image credit: Vineyard Creek Construction