Whether a home is actively listed or not, a well-informed homeowner will want to keep track of home improvement updates over the years and be aware of the typical return on investment these improvements can have. Establishing goals for your home, making the improvements you want as well as keeping up with your neighbors will be important when it comes to selling your home. In 2012, Home Gain surveyed 500 real estate agents to find out the top low-cost (under $5,000), do-it-yourself home improvement projects. The average cost per DIY project is listed as "Cost" with the return on investment (the average dollar amount over the asking price) as "Benefit." The "% Recommended" is based on how many real estate agents recommend a homeowner doing these DIY improvements prior to sale. Here are the results: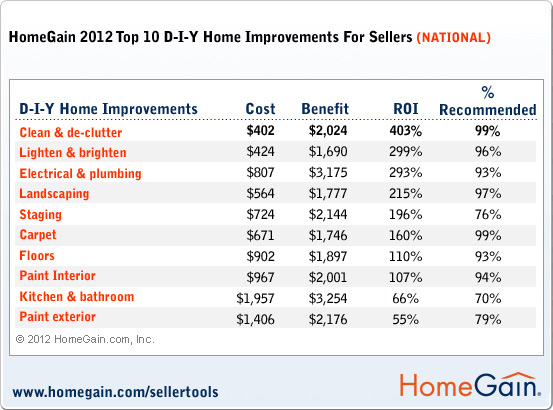 What should be at the top of your to-do list?
HomeGain asked 500 real estate experts about the following 12 DIY home improvement tasks. Here is what each category entails.
1. Cleaning and de-cluttering
Remove personal items; wash and clean all areas of inside and outside of house; freshen air; remove clutter from furniture, counters and all areas of the home; organize closets; polish woodwork and mirrors. Don't have time to do this on your own? Find a home cleaning service in your neighborhood or hire a home organizer to get your home ready to sell.

2. Home staging
Add fresh flowers; removing personal items; reduce clutter; rearrange furniture; add new props or furniture to enhance rooms; play soft music; hang artwork in walls. Although DIY home staging can be inexpensive and easy, a professional stager can lend expert advice regarding making improvement to sell your home. Find a home stager on Porch.

3. Lightening and brightening
Open windows; clean windows and skylights inside and outside; replace old curtains or removing curtains; remove other obstacles from windows blocking light; repair lighting fixtures; make sure window open easily. If you can't get these tasks done on your own, hire a handyman, window cleaner or electrician to get it done quickly.

4. Landscaping
Front and back yards; add bark mulch; rake and remove leaves, branches and debris; plant bushes and flowers; add planters and hanging plants; mow grass; water lawn and plants; remove weeds and dead plants; manicure existing plants; any yard work that improves the curb appeal of a home. Consider hiring a landscaping company or greenhouse specialist for a short-term yard clean-up or to deliver bark dust or gravel to cover bare areas.

5. Repair Plumbing
Update leaky or old faucet spouts and handles; repair leaks under bathroom or kitchen sinks; laundry room pipes; toilets should be in good working condition; remove mildew stains. Sometimes plumbing tasks should be left to the pros, especially if you suspect damage or rot. Call a plumber near you. 

6. Update electrical
Update electrical with new wiring for modern appliances and/or Internet and other audio/visual equipment requested in homes today; door bell should work; service sprinkler systems; fix lights and outlets that do not turn on; replace old plug points with new safety fixtures. Some of these tasks (like fixing your door bell) can be done in a day. Other tasks can be outsourced to an electrician, AV specialist or a qualified handyman with an electrical license. 

7. Replacing or shampooing carpets
Steam carpet thoroughly; replace worn carpet; securing carpets to floor; eliminate creaks in floors under carpets by driving nails into creaky area (through carpet). Schedule a carpet cleaner or consider replacing worn carpeting.
8. Painting interior walls
Fresh coat of paint in rooms throughout the house; remove dated wallpaper; whitewash dark paneling; paint front door; have leaks repaired and watermarks covered. Some painting tasks are easy to do yourself but remember to properly prep the area to avoid spills and messes. If you have many rooms to paint, or if your rooms need drywall repair prior to painting, call a painter and get a quote. Pro painters can get large painting tasks done quickly so you can focus on other tasks.

9. Repair damaged floors
Patch, repair or replace hard wood floors; clean and wax linoleum; replace missing tiles; re-grout tile floors; eliminate creaks in floors. Read how to silence squeaky floors and schedule a floor cleaning and waxing service if you have multiple rooms with flooring issues. 

10. Update kitchen
Updating moderately priced appliances like microwaves, dishwashers, stoves; repair damaged counter tops; fixing cupboard doors; repairing broken shelving or pantry; fix hardware like doorknobs and cabinet handles; repair any water damaged surfaces or areas; garbage disposal should work properly; retouching with paint if needed. Because kitchen updates can get expensive very quickly, look at the competition before diving into any costly project. Download neighborhood Porch Home Reports on realtor.com to see how competing homes have upgraded their kitchens. Simple fixes can be easy DIY projects or consider hiring a handyman by the hour to quickly make updates while you work on other tasks.

11. Paint outside of home
Fresh coat of paint around exterior of home and garage; paint shutters; paint window ledges; repairing damages to chimney; paint or re-stain fence. Use caution when climbing up a ladder or on to your roof! Consider hiring an exterior expert who has the tools to repair and fix common issues. 

12. Update bathrooms
Update moderately priced bathroom fixtures; sink; toilets should function properly; fix leaky faucets; repair shelving and towel racks; add new towels and mats; repair vanities and mirrors; clean sliding glass shower doors; replace shower curtains; re-grouting tiling. Giving your bathroom a few updates and removing clutter is an easy DIY project to complete over the weekend. Your cleaning company should pay special attention to cleaning the bathrooms during the staging process.

Top image credit: Tiek Built Homes