There's no denying it: this year's way to make the holidays merry and bright is gold, gold, and more gold.
Luckily, we've got tricks to make your shindig sparkle without spending too much of your own precious metal. These sixteen beautiful gold DIY projects look like they took forever and cost a million, but they can all be done in less than a day–and for under $25!
Deck the halls with these gleaming golden decorations to make your party sparkle and your guests shine!
1. Golden Invitations
Start the party before guests even arrive by sending out gorgeous golden invitations. Guests will feel special, and you'll save a bundle. Cheers all around!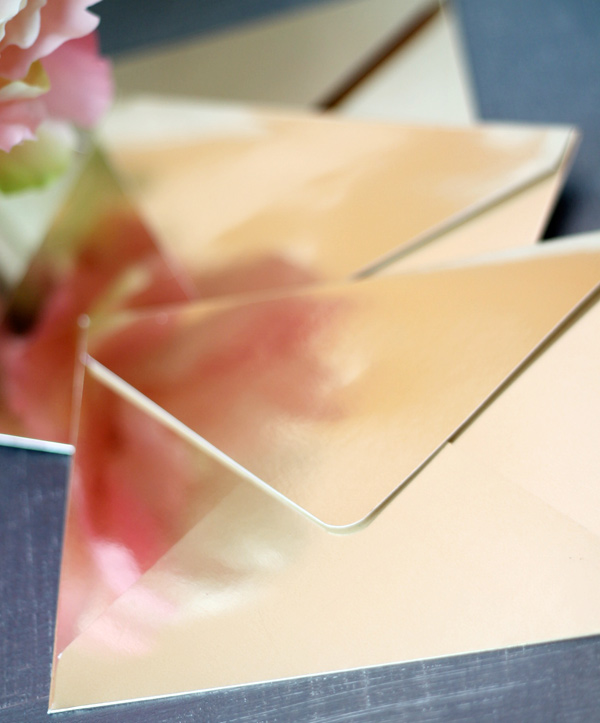 Photo courtesy of Damask Love
2. Gleaming Wreath
Set the tone for merrymaking by decorating your doorway with a glimmering wreath. The party will start before you even open the door!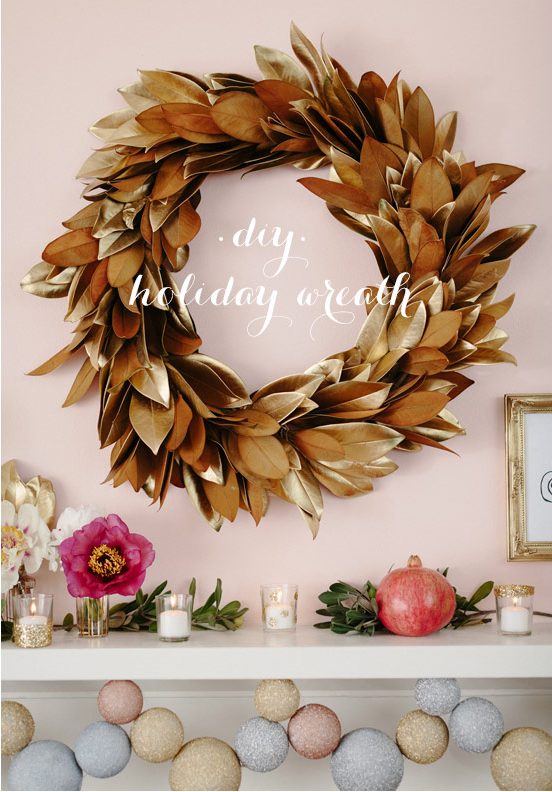 Photo courtesy of 100 Layer Cake
3. Gold-Dipped Wine Glasses
Transform ordinary, inexpensive wine glasses into gorgeous golden vessels with this easy DIY. You get to decide whether to tell guests how easy it was to make them!
Photo courtesy of Momtastic
4. Glamorous Gold Coasters
Protect your surfaces in style with these glitzy geometric coasters. They're so cute, you'll want to keep them out well after the holiday season is over.
Photo courtesy of Homey Oh My!
5. Shiny Chevron Napkins
Ordinary white napkins become stylish when patterned with gold chevrons. Layer them with other metallic settings for a truly glamorous tablescape.
Photo courtesy of Pepper Design Blog
6. Luxe Napkin Rings
You'll never believe what these elegant gold napkin rings are made of–and neither will your guests!
Photo courtesy of Almost Makes Perfect
7. Fourteen Karat Flatware
Elevate your flatware and warm up your holiday decorations with this simple project. The whole thing takes less than an hour–including the trip to the store!
Photo courtesy of Runway Chef
8. Brilliant Table Runner
Complete your table with a glitzy gold runner as shiny and bubbly as champagne. Layer on glassware and finger food for an instant party spot.
Photo courtesy of Oh Joy!
9. Shining String Lights
An ordinary strand of holiday lights gets the star treatment with this twenty-minute DIY. Go the extra mile with a spritz of glitz, and you'll have a truly sparkling occasion.
Photo courtesy of Bright & Bold
10. Sparkly Streamer
These beautiful garlands take holiday sparkle into the darkest corners. Grab some ribbon and some glue, and you're already halfway done!
Photo courtesy of Anastasia Marie
11. Merry Marquee
Make no mistake: the party is here! Deck your mantel with bright marquee letters for a shining statement that makes the whole room merry.
Photo courtesy of Homey Oh My!
12. Gilt Nutcrackers
Set these gilded nutcrackers on side tables, mantels, and bar carts for a light-reflecting touch of holiday cheer wherever you need a bit of decoration.
Photo courtesy of The Sweetest Occasion
13. Golden Glittered Pears
These luxe glittered pears look like something from a fairytale, and would look equally fab scattered across a table or in a bowl on the mantel.
Photo courtesy of A Night Owl
14. Gold-Dipped Coffee Cups
Serve your after-dinner coffee or cocoa in these magical gold-dipped cups to keep the mood festive late into the night.
Photo courtesy of Poppytalk
15. Pretty Party Favor Bags
Send your guests home in style with these easy gold-adorned party favor bags. Fill them with confetti, chocolates, mints, or whatever your heart desires.
Photo courtesy of Martha Stewart Living
Top Image Credit: Homey Oh My!
Which glam gold DIY are you bringing to your party?