Maybe your deck has seen better days.
It's been a faithful foundation for hundreds of barbeques and lazy Sunday afternoons. Through it all, your deck has taken a drubbing from the kids, a pounding from the pets and (worst of all) an absolute clobbering from the elements, and now it's seriously starting to show its age.
Resurface or Rebuild?
You might have some sympathy for the poor old thing if it was only an eyesore with greying wood, a flaking finish, or a bit of moss. Those are problems that might be fixable with a few dedicated weekends, a thorough washing, and a new paint job.
Not this deck, though. It's decaying. Over time it has warped, shifted, and split. You're dealing with splinters, loose boards, protruding nails, soft spots, or worse. A bad deck doesn't just bring your house's value down, it can actually collapse and bring you down with one stray step.
Something has to be done. Whether you decide to resurface or rebuild your deck, taking action is a smart move. Not only do you instantly make your house a more attractive and safer place to be, a new (or drastically improved) deck has one of the highest ROIs among common remodeling projects. Depending on the material used, the average deck addition in 2014 saw a 74.3% to 87.4% return in terms of cash spent to increase in house value.
So which solution is right for you? Do you scrap the whole thing and start again, rebuilding from scratch, or is there another option? There is nothing wrong with starting fresh, but resurfacing your deck can be a great way to rejuvenate the whole thing without shelling out a huge investment. If you're like most people, wrestling with a budget, your first instinct is probably going to be trying to work with what you've got. But that, of course, depends very much on what you've got.
A fresh start: Reasons to rebuild
By the time you decide to make a move, it's often tempting to tear the whole thing out. You're probably sick of the sight of it, and the idea of a fresh start is attractive. If you've got the money and the time, there is certainly something to be said for completely rebuilding your deck. If you're dealing with a dodgy deck substructure, it's the only way to go.
Total freedom
Once you break up and haul away the old, your options for the new are pretty much unlimited. You're not stuck with the old footprint, and it's much easier to make changes. Wider? Longer? Smaller? An interesting new angle? A curve? No problem. If you inherited a deck that never felt just right, this is your opportunity to create a custom outdoor space designed with your family in mind.
Better from the bottom up
Many people who decide to rebuild do so because the bones of the deck have become unsound. Organic materials like wood are prone to damage from mold, rotting, termites, carpenter ants, and more. There are a lot of reasons why a wooden deck degrades over time. Neglect is a big one: maintenance is time consuming, ongoing, and just one of those chores that's easy to push to the bottom of the list. Climate and weather play a big part, too. In some areas of the country, the lifespan of a wooden deck is limited, no matter what you do. By starting over, you can get it right from the beginning. Upgrading to a high-quality deck substructure (here's an example: Elevations steel deck framing from Trex) will help your new deck last a lifetime.
Waste not, want not: Reasons to resurface
The option to resurface a deck is great for those who want the total makeover experience without the stress and expense of a major renovation. It still gives you a whole new deck, but it builds on what you've already got. Once you've had a professional in to verify that your deck substructure and framing is solid, you can dive into a resurfacing project and potentially enjoy your beautiful new outdoor space in a matter of days.
Great flexibility
Granted, your new deck needs to follow the lines of your old one, but you'd be surprised at what a huge aesthetic change you can accomplish. Have a look at the before and after photos of this resurfacing project: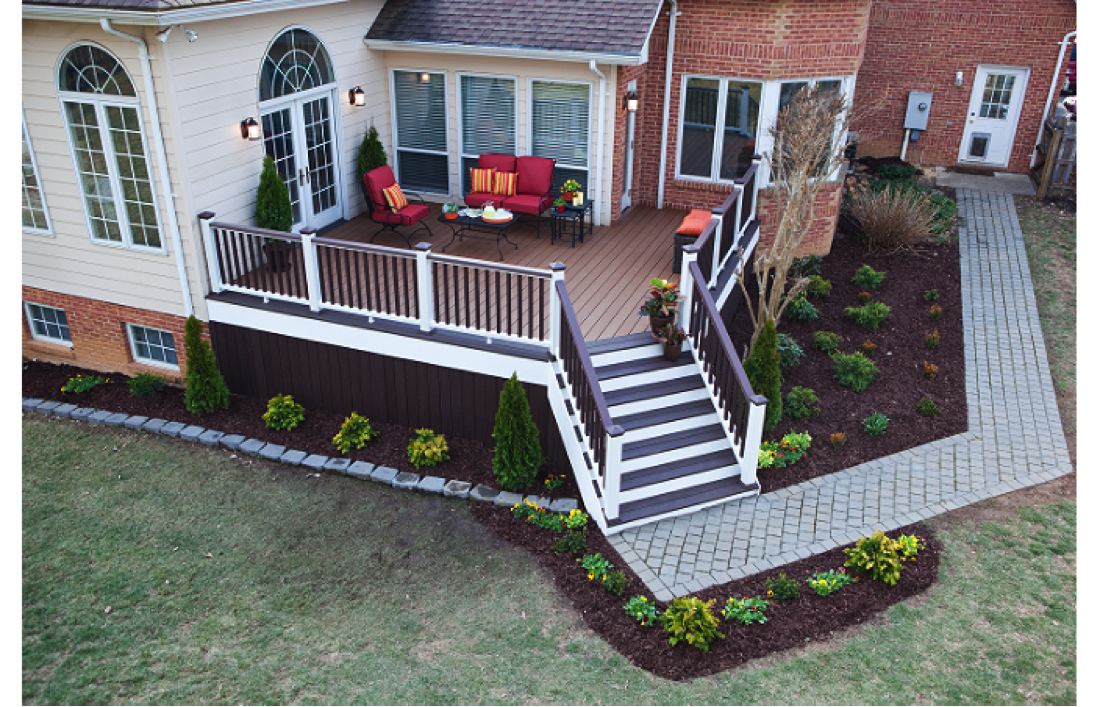 In this example, the homeowners have swapped out the materials of the deck (from wooden to low-maintenance/high-performance composite,) added a shot of contrast in the color, and introduced a much more contemporary style of railing. You can see more details for this specific project here.
Huge savings
Resurfacing your deck is a great way to breathe new life into your home, even if you don't have the budget for intensive renovations. Even with a massive upgrade in materials, a resurfacing project can save you thousands over a total rebuild, while still giving you the benefits of a fresh deck. The curb-appeal of a shiny new deck is hard to underestimate, especially if you're considering selling your home in the near future. And if you're planning to stick around, you can look forward to decades of bare feet and barbeques on your gorgeous deck.
Top Image Credit: Trex
Do you have a deck that needs some attention? Would you resurface your deck, or replace it completely?