We asked Angie from Postcards from the Ridge 16 quirky questions! Angie loves to share home decor tips and tutorials, as well as recipes, crafts, and talk about all things home. Head to Postcards from the Ridge to find some great home tutorials, and to read the rest of this interview!
What's your DIY weapon of choice? Definitely a paint brush. If it's standing still, there's a good possibility it will be painted.
What are 3 words to describe your blog?  Only 3 words? I'd like to think my blog is welcoming, inspiring, informative.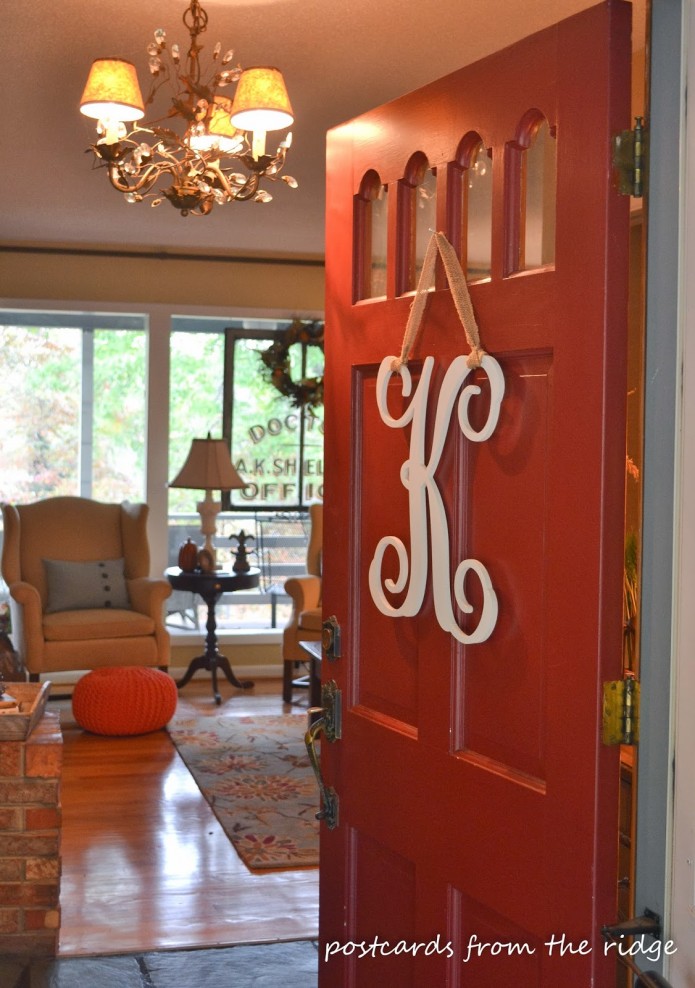 Tell us about a time when you had a DIY fail (we've all had them!)  In our last home which was built in the 1930's, we tried to change out the old, wall-mounted kitchen faucet ourselves. It didn't want to budge so my husband tried to force it. The pipes in the wall broke and we ended up having to hire a plumber to repair all of it for us.
Words of wisdom for someone remodeling on a budget? Don't be afraid to repurpose things or to learn new DIY skills to save money – there's a youtube video for everything. 
How did you become interested in blogging? Around 5 years ago I discovered Pinterest which led me to blogs that I adored. I felt like I had found my kind of people in the DIY/home decor niche and wanted to join in on the fun.
Strangest decoration in your house? This fall I used vintage amber beer bottles as stem vases. They're quirky, but I love them!
Hardest part about blogging? Time management. I had no idea how many hours it takes to do a good blog post.
Best part about blogging? The friends I've made through various groups and conferences. It's so nice to have friends who completely understand my frequent urges to change and rearrange things at our house. Here are a few of them with me last year at Haven conference. (I'm the one in the pink hat.)
Head on over to Postcards from the Ridge to read the rest of this interview!
Are you a blogger? Apply to the Porch Blogger Program, we can't wait to hear from you!