Do you have a tangled pile of holiday lights or strings of non-working lights? Thinking about buying a few new strands for this year's decorations? If you haven't purchased holiday lights in a few years you may be surprised at the sheer number of new designs, styles and bulb types on the market. Let's take a look at several types of string lights and compare and contrast.
Or, if you know what you want and just want to get your lights professionally installed, you're in luck: For a limited time, save up to 20% on Porch holiday lighting installation. Get a single-story house decked out for just $100, now through December 15.*
LED vs. Incandescent
Light Emitting Diodes (LED) lights use 90% less energy and are more durable. They last longer than traditional bulb lights and are cooler to the touch. They may have a higher initial cost however, the operating cost is significantly lower – perfect for homeowners aiming to compete with their neighbors for who has the most lights.
To give you a cost comparison between the two types of lights, the average monthly cost to operate 10 strings of mini-lights (100 lights per string) is about $12.96 per month for the old type of bulb, but only $1.36 for LED.
Types and styles of lights
When shopping for holiday lights you'll want to have an idea about where these lights will be hung. A Christmas tree or garland usually is decorated with stringed lights or mini-bulbs. Holiday lights hung outside can be icicle-style, rope-style or large bulbs. Most stores have in-store displays so you can see what they will look like when hung. You can further narrow you choice by deciding if you want colored lights, twinkling or chasing, battery-powered or novelty.
C7 and C9 bulbs are the large type of incandescent bulbs that can be screwed in and out of a strand of lights, much like a regular light bulb socket. These bulbs are usually offered in many colors and styles and look great on large objects, like the exterior of the home.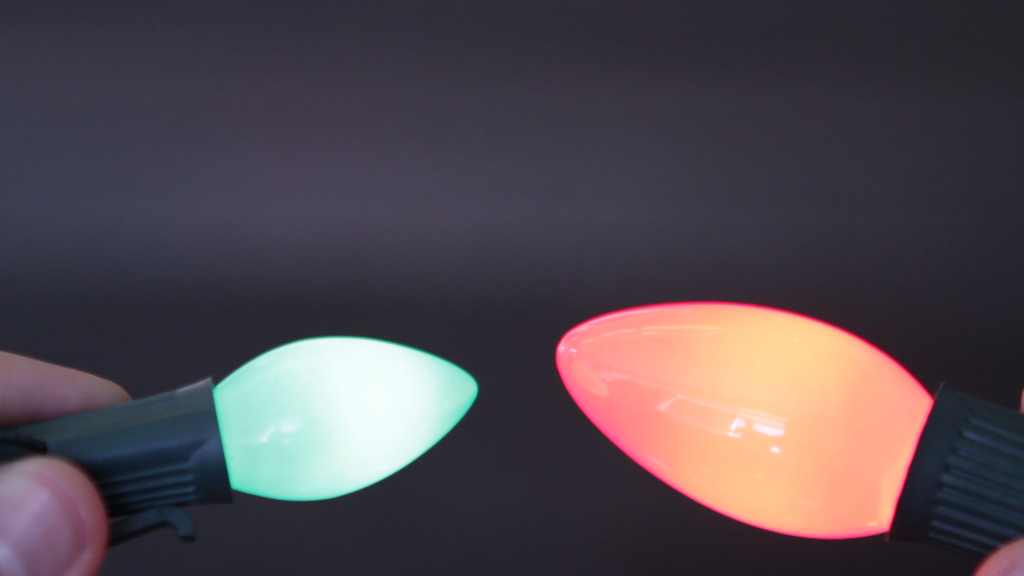 Here are some other tips when buying lights:
Always look for the UL-listed lights
Check whether the lights are approved for indoor or outdoor use
When decorating an object, like a Christmas tree, buy all the same type of light
Check the connectors and see how many lights can be connected

Before you decorate:
Never use lights that are broken, frayed or cracked
Don't place strands of lights under rugs or furniture
Always turn off or unplug lights when you go to bed or leave the house
Make sure your lights won't be a tripping hazard
Check the box to verify how many strands you can connect together
Ready to get those lights up? Make it easy on yourself and hire a pro to do it for you! Save up to 20% and get a single-story house decked out for just $100, now through December 15.*
*No promo code required. Offer ends December 15, 2018 (11:59pm PT). Offer is good for front of home, one-story home holiday lighting, mounted on gutters and peaks. Homeowner to provide preferred holiday lights, mounting clips, weather-safe extension cords and any preferred timers. Homeowner to provide access to outlets. (some exclusions apply). Limit one offer per customer. Taxes will apply. Cannot be redeemed for cash or combined with select offers or credits. Not valid for resale. We reserve the right to modify or replace any part of these terms and conditions without notice. Homeowner is responsible for all costs associated with running holiday lights, providing safe equipment and maintaining the holiday lighting installation. Porch is not responsible for any damage caused by the holiday lighting display.