Having a baby is an exciting time, but it also requires a whole lot of planning and preparation to make sure everything goes smoothly. Whether it's your first baby or you're bringing a new sibling into the family, a few crucial considerations can make your pregnancy as happy and healthy as possible. 
With the right must-haves and some serious self-care, your pregnancy may end up being one of the highlights of your life. Read on for a list of essentials that every pregnant woman needs, along with some ways you can develop healthy habits during pregnancy for a happier, healthier baby (and you).
Must-haves/essentials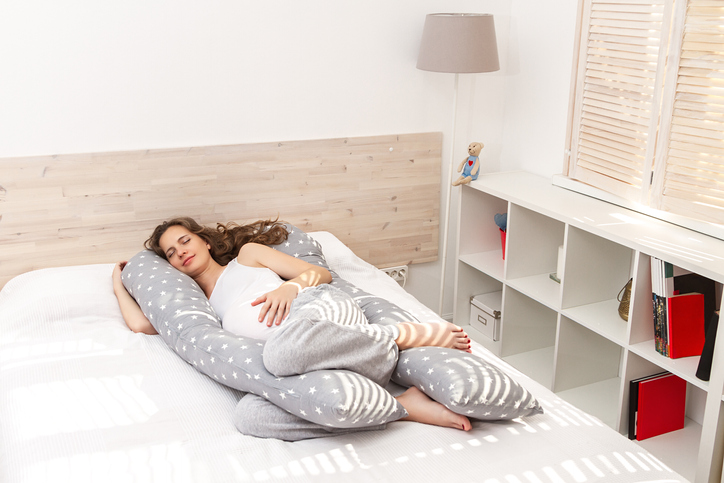 Every mom-to-be needs a few key essentials to make sure the pregnancy is as comfortable and happy as possible. Here are a few important pregnancy must-haves to gather while you wait for the baby's arrival.
Pregnancy Pillow. Similar to the size of a body pillow, a soft and supportive pregnancy pillow will help you sleep more soundly by cradling your body and supporting pressure points to reduce pain, increase your comfort, and help improve sleep. Look for a pillow with a removable, washable cover for easy care.
Loose clothes. As your body changes, you'll need clothing that's comfy and accommodating. You can buy new maternity clothes, find them second-hand, or borrow them from a recently pregnant friend. If you want to skip the maternity wear or put off buying it as long as possible, you'll be able to get by early on with your current looser clothes, plus some stretchier jeans and leggings. For lazing around at home, you can't beat a pair of loose sweatpants or boxers and an oversized t-shirt or sweatshirt. As you grow, pick out loose-fitting clothes, like flowy dresses and roomy overalls, which should get you pretty far into your pregnancy, if not all the way to the end. If you end up outgrowing these, you'll probably need to transition to maternity varieties of your favorite styles. 
Comfy shoes. Pregnancy can do a number on your legs and feet, so it's important to choose well-fitting, comfortable shoes. Look for shoes made with breathable materials, plenty of cushioning, and sturdy, flexible soles that support your body when you walk and stand. Consider sizing up a half or full size to accommodate swelling. If your feet are prone to swelling, spend as much time as possible in socks or flip-flops, and save the shoes for when you can't get away with anything else.
Pregnancy-approved skincare. One of the most important pregnancy essentials is a selection of quality skin care products you can use every day. Your skin may become itchy or dry during this time, and hormone changes can cause pimples, acne, and other skin conditions. It's vital to find safe and natural products like moisturizing creams and serums that will give your skin the hydration and care it needs. Look for skincare products that only contain natural, plant-based ingredients, ideally carrying a stamp showing that it's USDA Certified Organic. Avoid using skincare and body care products that contain artificial fragrances, dyes, and other harsh chemicals. You can even make your own skincare products.
Belly band. A belly band supports your lower back and abdomen as you grow, reducing back and body pain and the risk of injury. Choose a flexible belly band that adjusts to fit your changing tummy. The support of a belly band is especially important during the second and third trimester and will help keep your back aligned for less pain and better balance. Wear it after delivery for support until you get stronger.
Belly belt. Like a belly band, a belly belt also supports your back and abdomen, but it's usually narrower and is generally worn on the outside of your clothes. Belly belts feature rigid construction designed to support your pelvis and hips in addition to the back and tummy. A belly band is wider and a bit more flexible, but a belly belt is more supportive, can be adjusted, and is easy to take off.
Belly creams and oils. As your tummy expands, your skin stretches, too. Stretch marks are par for the course, but you can help prevent or reduce them with a natural, high-quality belly cream or oil that's formulated specifically to nourish and hydrate stretching skin. Apply it morning and night to keep your skin soft and flexible, reduce itching, and give yourself a little pampering.
Day Spa. Give your aching, swollen feet a break with a nice day spa. This handy home appliance is a great way to help improve circulation and give your tired feet and ankles a rejuvenating break. If you'd rather go to the spa, ask about any treatments that are available for pregnant women, including foot massages and other foot treatments to help you feel relaxed, pampered, and ready to tackle your day.
Hospital bag: First thing expecting moms should do is pack a hospital bag they can grab when the big day arrives. Stock your hospital bag with a couple of days' worth of clothes, toiletries, reading materials, and other essentials. Make a list in advance of things you'll need to toss in the day-of, like any medications you're on, your phone charger, insurance card, and extra glasses or contacts.
Tips for a healthy pregnancy
Track your cycles. If you're trying to get pregnant, track your cycles to get a better idea of which times of the month you're most fertile. You can use a cycle tracking app to help you keep up with which days your cycle arrives and when you're most likely to conceive. While you can't rely on trackers alone, it's a great way to give you more control over when you may get pregnant and you'll be more in tune with your body.
Take prenatal vitamins and supplements. When you're pregnant, your body requires a different mixture of vitamins and minerals to keep you and your baby healthy. Your doctor will recommend a quality prenatal vitamin that includes folic acid to promote the healthy development of your baby. It's also a good idea to take a prenatal vitamin if you're trying to conceive.
Exercise. With your doctor's blessing, you can — and should —  exercise when you're pregnant. Take it easier than your usual sweat sessions at the gym, though. Consider taking a pregnancy yoga class to help you stay limber and relaxed, or try some meditation every day that will set the tone for your pregnancy and keep your mind in a healthy space. Follow these tips for a safe weight gain during pregnancy. Avoid rigorous exercises or anything that could cause injury while you're pregnant.
Watch out for some house chores: Avoid doing household chores that are too strenuous while you're pregnant. You can still do light chores like tidying up, cooking, laundry, and washing dishes—as long as you're feeling up to it. Ask your partner to do the heavy lifting, like vacuuming or scrubbing the floors. If you don't have an able partner, consider hiring a housecleaner temporarily until the baby arrives. Avoid using toxic cleaning chemicals while you're pregnant. Use non-toxic, plant-based cleaners or ingredients you have around the house, like vinegar and baking soda. 
Drink water. Staying hydrated is important when you're pregnant, and it may help reduce swelling. Drink plenty of water every day, and stay away from sugary drinks like soda and fruit juices. If you have a craving for fruit juice or strong flavors like citrus or cherry, try fruit infused water which is sugar-free and free from artificial flavors. Ideally, you should drink between eight and 12 glasses per day while pregnant to help decrease the chances of a urinary tract infection, give you more energy, and help you stay cool and comfortable.
Trade coffee for tea. A small amount of caffeine might be fine if you're pregnant, as long as your doctor gives her approval, but overall, you should avoid heavily caffeinated drinks. Switch out your favorite cup of java for a cup of green or herbal tea. While herbal teas are caffeine-free, green tea does contain caffeine, although less than coffee. It's also packed with antioxidants. 
Educate yourself. Learn as much as you can about pregnancy and parenting. Look for books that feature new parent tips to help guide you as your baby develops and grows. Even if this isn't your first pregnancy, it's never a bad idea to catch up on some reading about being a parent and safety precautions to take while being pregnant, like tips for safe driving or learn some safe pregnancy workouts, so that you're ready to tackle the challenge.
Have a birth plan. Come up with a birth plan that lays out your preferences for labor and delivery. A birth plan is a written list that includes important information for the doctors and nurses. This plan should include things like any health conditions you have, medications you take, and all of your labor and delivery preferences, including your preferred method of pain management.
Pamper yourself. Spend plenty of time pampering yourself while you're pregnant, and let others pamper you too, even if it's not in your nature. Whether it's a special lunch with friends or a day at the spa, self-care is vital to a happy, healthy pregnancy. Take a little time for yourself each day, either writing in a journal, meditating, exercising, or slathering your face with a luxuriously hydrating mask. Do what makes you feel happy, peaceful, and grounded.
Sleep. Make sure you're getting adequate sleep every night. Proper sleep will help you feel stronger physically, mentally, and emotionally. It's not uncommon to experience issues with sleeping while pregnant, including heartburn, physical discomfort, or even an occasional bout of insomnia. Stick to a sleep plan that includes going to bed and waking up at the same time each day so you can keep your sleep-wake cycle on track.
Getting your home ready
Preparing your home for the arrival of a new baby can be an exciting and overwhelming task. Here are some tips to help you get started:
Create a baby-friendly space: You'll need to create a safe and comfortable space for your baby to sleep and play. Consider purchasing a crib, changing table, dresser, and rocker or glider for your baby's room. Make sure to anchor any furniture to the wall to prevent accidents.
Stock up on baby essentials: You'll want to have plenty of diapers, wipes, and other essential baby items on hand before your baby arrives. You may also want to purchase a breast pump, bottles, and formula if you plan to bottle-feed.
Baby-proof your home: Before your baby starts crawling, you'll want to make sure your home is safe for them. Install safety gates at the top and bottom of staircases, cover electrical outlets, and secure cabinets and drawers with baby-proof locks. Consider hiring a handyman to help out with these tasks.
Clean and declutter: A clean and organized home will help you feel more relaxed and prepared for your baby's arrival. Consider decluttering and donating items you no longer need or use.
Stock up on healthy foods: Eating a healthy diet is important during pregnancy and after your baby arrives. Stock up on healthy snacks and meal options to make meal prep easier.
Prepare for visitors: Family and friends will likely want to visit once your baby arrives. Prepare a guest room or space for visitors to stay, and stock up on extra linens and toiletries.
Consider hiring help: It's okay to ask for help, especially during the early days of parenthood. Consider hiring a house cleaner, nanny, or postpartum doula to help you adjust to life with a new baby.
Remember, every family is unique, and you should do what feels best for you and your baby. Don't hesitate to ask for help or advice from friends, family, or medical professionals.
If you're pregnant or getting ready to become pregnant, keep these must-haves and healthy tips in mind. With the right clothing, skincare, and plan in place, you'll be ready to enjoy a happy and healthy pregnancy. Remember to get plenty of sleep, drink lots of water, and practice frequent radical self-care so that you'll be ready to hit the ground running when your new baby arrives.