This time of year our days grow shorter and the darkness arrives sooner. It's the time of year we notice how well (or not well) our pathways, driveways and front porches are lit at night. Having proper outdoor lighting can make our homes safer and more welcoming. To get some expert advice regarding how to select the best outdoor lighting, and what to look for, we turned to Jill Torrey, a Lighting Consultant at Chown Hardware.
Here's what she had to say:
"I can't see.  Turn a light on, so you do not go blind!" This is one of my favorite expressions used by my mother, Gail, and I am reminded of it as I write about the importance of lighting. As fall and winter approach and the dark gloom settles in, exterior lighting becomes very important. Outdoor lighting should be given as much thought as interior lighting. Developing a plan to enhance the architecture and improve the safety of your home is an important step.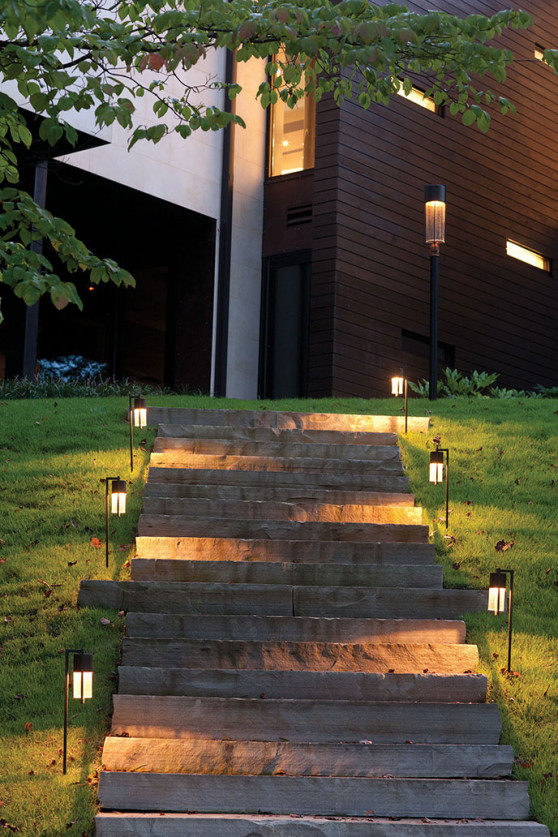 Security and Safety
The first and most important goal of outdoor lighting is for safety and security. This is achieved by illuminating your front entrance, pathways, and stairs, as well as the darkest corners of your property. All of these areas should be considered when designing an effective lighting plan, as well as making sure your plan can be built upon as time, budget, and exterior space allow.
Choosing Your Style
Once the dream plan is done, the usual starting point would be the outdoor lanterns and path lighting to greet your guests. Choosing a look which complements the style of your home's façade and your existing door hardware is the most creative part of choosing your outdoor fixtures. Personally, I like to mix it up and have fun with my styles and colors, and make my own rules. For example, a stainless steel finish with an ornate design is unusual, and definitely sets apart your style from your neighbor's.  It is easy to choose a style that suits you with the many outdoor lighting options and many combinations of colors and textures in stone and siding materials these days. If you like to keep it simple, many lights come in collections, where different types of fixtures all come with the same design and finish.
When selecting the lanterns for your exterior lighting there are many factors that need to be taken into consideration, to assure that the fixtures will meet your needs. Scale, mounting, and bulb types are all very important in the selection process. One of the biggest issues that gets overlooked is the placement of the junction box on the wall, which often interferes with the direction the fixture will hang. If hung incorrectly the fixture will not illuminate the surrounding area correctly and may even shine back into your windows.
Type Of Light
I am often asked which bulb is the correct type to use in exterior fixtures. I do not have the perfect answer for that question. The bulb type is usually dictated by the fixture itself, but my preferences are LED (light-emitting diode), CFL (compact fluorescent lamp) and incandescent bulbs. LED lamps seem to be the direction that all manufacturers are leaning, and that it exciting because of the sleek designs and the energy savings that they offer.
Thank you, Jill and Chown Hardware!
About the Author
Jill Carey Torrey has been active in the Design and Construction Industry since 1982 in the Portland metro area. The broad experience that she brings to Chown is used every day in helping her clients reach their dreams of the perfect room or project. In her spare time, Jill uses her creative talents to make one of a kind jewelry pieces using materials that she collects or are given to her by the team of treasure hunters in her life. Other favorite pastimes are working in her flower beds which she refers to as "dirt therapy" and cooking up pretty amazing meals for family and friends.
Chown is a 134 year old, 5th Generation, American Family Business located in Portland, Oregon and Bellevue, Washington.   Our services and products protect and secure your workplace and protect and beautify your home.
Top Image Credit: Witt Construction