If you've ever stood in the paint section of your home improvement store, overwhelmed by choices, or are confused by the pros and cons of a satin finish versus an eggshell, you're not alone. Narrowing down the paint color is difficult enough – selecting the paint finish should be easy, and we've compiled the list you need before starting any painting project. Even if you decide to hire a professional painter, you'll want to understand how the paint will function, and look, once it's dry.
Get the right paint for the job
Before you head to the paint supply store, understand what you will be painting. Primed and painted drywall may need a different paint than wood; your damp basement may need a different type of paint then the bedroom. If you have your paint chips already selected, go ahead and write on the back the type of room (bedroom, bathroom, etc.), the type of surface (primed drywall, ceiling, wood, etc.), and any other needs (exterior, low VOC, easy to clean, etc.). This will help you select your paint quickly.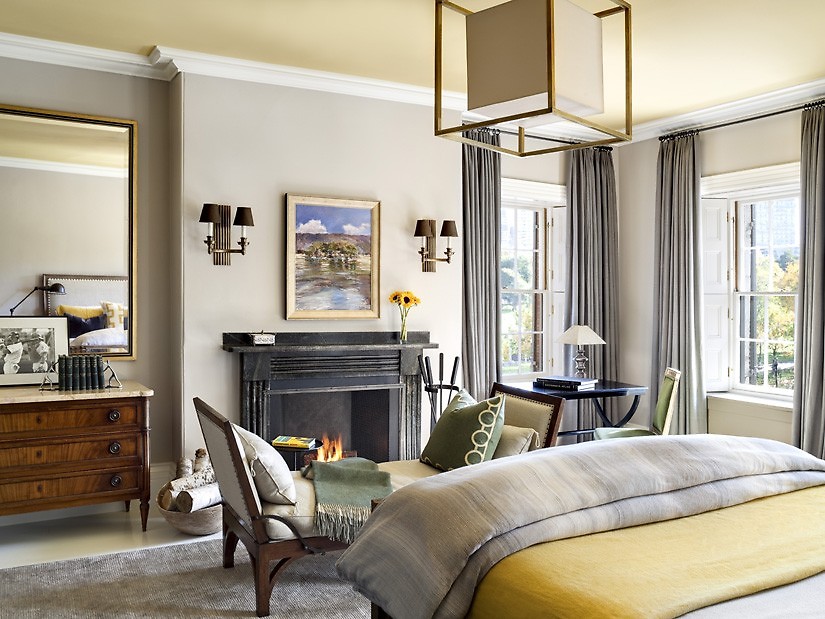 Interior and Exterior Paints
Primer: the first layer of paint before the color goes on. Why use it? It can cover up marks and color imperfections on the wall and creates the first bonding of paint to the surface, ensuring that your more expensive top coat of paint looks good and doesn't soak into the surface.  Most primers come in pure white, which is perfect for most top coat colors. If, however, you plan on painting a dark top coat, use a dark primer like gray – it'll make your top coat coverage go farther. Some primers are now offered as primer plus paint. Exterior primers usually come with a mold or mildew resistant coating.
Acrylic Latex: the most common, and versatile, type of top coat paint. Latex means that it is water soluble (wet paint will clean up with water). Most surfaces look best with two coats of paint – you'll get the best, most even coverage. Depending upon your color selection, your paint specialist may specify a particular brand or type of paint because some colors may work better with a particular paint formula. For example, Valspar's Hi-Def Advanced Color works well for intense, super-saturated colors. It is also fade resistant and works well in humid environments. Latex paint is usually offered in many finishes (flat, semi-gloss, satin, etc.). There is latex paint for ceilings, floors, walls, wood, concrete, interior and exterior.
Oil-Based: harder to find, oil-based paints are prized for their exceptional durability and high-gloss finish but has a reputation of being difficult for the layperson to use. It dries slowly, doesn't clean up easily, has strong fumes, and requires paint thinner to clean your brushes. If you insist upon using an oil-based paint, definitely hire a professional who regularly uses this product. Oil-based paint is more commonly used on outdoor porches or decks, as it's known for it's water-resistant properties. It also works well on wood doors, trim and cabinetry, and other heavily-used wood surfaces.
Specialty Paints: chalkboard, whiteboard, magnetic, glazes, crackling, and other decorative paints. Many of these paints can be purchased off the shelf and are easy to apply. Some home improvement centers and paint stores even offer classes to help you learn some decorative techniques.
Types of paint finishes
There are many varieties of paint finishes for every job you need painted, and thousands of colors to choose from. Here are the most common types of finishes:
Flat or Matte: like the name implies, a flat finish gives off little or no reflected light. It has a dull, chalky appearance. Because it reflects no light, it works well on textured surfaces, can hide blemishes well and if you need to touch up the paint you won't see a difference in shine between old and new. Disadvantages: not as easy to wipe off or clean so it's best for low-traffic areas like living rooms, bedrooms, dining rooms and ceilings.
Eggshell: like the shell on an egg, this finish is a touch shinier than Flat but still has a low-gloss appearance. Use in the same areas as you would a Flat finish – it's not very easy to wipe off or clean. This low-sheen finish is easier to touch up than Flat.
Satin: slightly shinier than the Eggshell, this finish is easy to wipe down and can be used in more trafficked rooms like playrooms, hallways, kitchens or laundry rooms.
Semi-Gloss: continuing up the reflective scale, Semi-Gloss has a higher sheen than satin and wipes clean easily. It's perfect for kitchens, hallways and other high traffic areas. Because of the shine level, it won't be as easy to touch up areas as you'll notice a difference between the old paint and the new. It's a great choice for trim and molding pieces as well and creates a smooth, fine surface.
Gloss: this finish is very reflective and will show any imperfections in a surface, so it's best for very smooth pieces like finished wood or very smooth walls. It takes a more experienced hand, and the correct tools, to apply. Gloss finish is extremely durable and will work well on trim, molding or doors.
Need to hire a painter?