I'm renting and I'd like to add style without damaging the walls. Are there some good peel and stick products that can easily be removed when I move? I'm also looking for products that don't need special tools or equipment to install.
Renting or not, most of us are interested in finding great products that allow us to be creative but won't permanently damage walls or surfaces. And who doesn't want a DIY project that's actually easy to do and doesn't require a lot of costly tools? Adding texture, color and pattern to walls or flooring doesn't have to be expensive or permanent. Consider some easy home improvements that simply peel and stick to surfaces like walls, doors, windows, flooring or even existing furniture. Let's take a look at some great peel and stick options that are actually easy to use.
Backsplash tile
If you've been wanting to add backsplash tile to your kitchen but aren't sure you can handle the labor or skill, consider a peel and stick option. Peel and stick mosaic tiles are actually large squares, about one-foot square, that can be easily cut with a box cutter and stuck onto the wall. These "tiles" can usually adhere to nearly any non-porous surface, meaning that this is the perfect solution for covering up old, outdated tile or can be placed around the fireplace or on top of furniture.
Installation: Easy. One brand, Smart Tiles, offers some great video tips for installation that make this project seem very easy for anyone to do. Most manufactures of this project recommend not installing a peel and stick tile to an area that may see a lot of direct water or direct heat.
Cost: Typical costs are usually a lot less than actual mosaic tile, mostly because there are little to no additional supplies needed like mastic, tile tools or grout.
Time Investment: This is a great project to complete in a day – no drying time needed.
Is it removable? Yes, according to Smart Tiles you simply need to use a hairdryer to warm up the adhesive and it should come right off.
Carpeting & Rugs
If you are in need of wall-to-wall carpeting or a rug and aren't finding exactly what you need, chances are you'll find a match using a product like Flor carpet tiles. These tiles are designed to work with nearly any design or color scheme and can easily be modified to work as area rugs, entry rugs, stairway runners or wall-to-wall rugs. There is a huge variety of colors and patterns and even pile heights. Mixing and matching, or even turning the pattern 90 degrees, can let you create just the right design for your room. For renters, adding soft furnishings like rugs can help reduce noise (especially in high traffic areas like hallways).
Installation: Easy. The rubber-backed tiles are about 24′ square and a simple, circular sticker helps hold four corners together. So you don't actually stick the whole tile to the floor, you merely stick only a corner and may only have to apply the sticker to the edge tiles. Tiles can easily be cut to fit any size or shape by using a box cutter. Cutting the tiles is another way to create a pattern too. Their online tool allows you to visualize your rug pattern design online before purchasing.
Cost: Medium. Carpeting and rugs can be found at a huge range of pricing. The Flor tiles may be more expensive than an Ikea throw rug, but a lot less expensive than broadloom or 100% wool carpeting. One thing you don't need to purchase with the Flor tiles is the rug underlayment or padding and you definitely don't need to hire someone to install it. Flor tiles aren't as squishy as a highly padded rug, but the non-skid backing means you don't have to purchase another non-slip piece underneath an area rug. Another cost consideration is that if you spill something you don't need to throw away the whole rug or hire a professional carpet cleaner. These individual tiles can be removed and washed in the sink.
Time Investment: Low. The most time consuming part about the Flor tiles is the shopping – there is a huge variety to choose from and you may get caught up in the design process. But the installation couldn't be easier or faster. If you don't like what you've laid down on the floor, simply pick them up and rearrange.
Is it removable? Yes. The Flor tiles are heavy enough to stay in place so if you're creating an area rug you may only need to place the stickers on the edge pieces. The stickers are designed to not be permanent so it is easy to remove them when you are done.
Wood Veneer
Not everyone desires wood for their walls but you may change your mind when you see the line offered at Stickwood. Stickwood offers a line of very thin pieces of 100% real wood with a sticker on the back. It's easy to get the look of a vintage barn house simply by sticking this wood veneer product on the walls. Better yet, you can easily transform a boring sideboard, dresser, desk, ceiling, cabinet, backsplash or headboard with these unique and textured pieces. They recently launched a line wherein you can submit your own design and have it printed on wood veneer "stickers."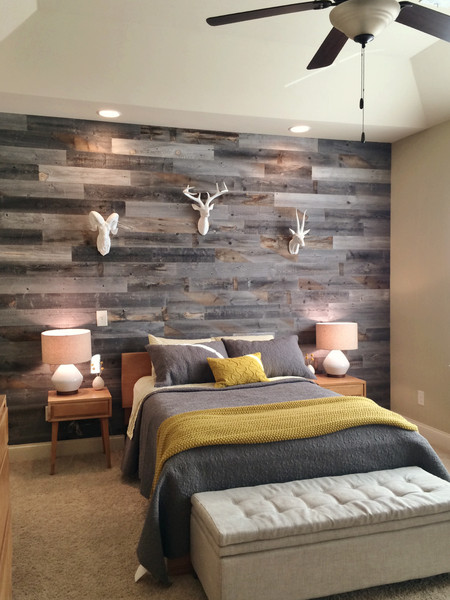 Installation: Medium. When you need to cut one of the pieces to fit your wall or furniture you will need to use a miter saw and you'll want a spirit level and measuring tape, just like installing tile. But if you have these tools handy, and you are patient with laying down tile, your installation can be done by one person fairly easily. Stickwood can be used as a backsplash and the company can add a sealant during the manufacturing process (they do not recommend sealing it after installation). They have a great instructional video on their website regarding how to successfully install this product.
Cost: Medium. The only thing to really compare this product to would be real wood, which is much thicker and may be too heavy to install on furniture or on your wall, or tile that looks like wood (which would be more expensive). So for the ease and weight, as well as the low skill level needed, this project won't break your bank. Their minimum order is 10 square feet and keep in mind you'll want to purchase some overage in the event of mis-measuring or breakage.
Time Investment: Medium. Your time involved in installing this piece may depend greatly on where you are placing it, how many cuts you need to make, and how good you are at making the tile level. This is a project you'll want to plan out and make sure you have things lined up before starting. But simply covering a headboard or a desk surface wouldn't take more than an afternoon.
Is it removable? No, however they are working on a removable adhesive. The adhesive stickers are pretty strong, and if you could lift it off you may accidentally snap the wood tile. So consider this to be a semi-permanent installation or consider installing a sheet of plywood first then applying Stickwood to it if you don't want to damage the drywall. The adhesive is tested to last for 10 years.
Wallpaper & Wall Decor
There are tons of companies that have entered the temporary wall covering industry. This is great news for homeowners as there are plenty of designs you can create with wall stickers, temporary wall paper, border designs or even chalkboard and dry erase stickers. It's a good idea to shop around not only for the best price but for the best design for your home. Some of these wall coverings are nearly as expensive as traditional wallpaper however the ease of removal makes the case that you can add style, color and pattern without too much commitment. It's also great for those who like a bit of DIY element to their wall treatments but don't want to paint or stencil. Blik is a company that offers a huge range of stickers and temporary wall decor. They've been offering wall stickers for over 13 years which makes them an original in this marketplace.
Installation: Depends. The level of difficulty will depend a lot on what you purchase. Several wall stickers aren't too difficult to install however a large wall-to-wall installation where patterns need to be matched up may be more challenging. What many homeowners love is the fact that you don't need any supplies or tools beyond a step ladder, a box cutter and a tool to smooth it flat. Blik recommends starting with a relatively smooth painted wall (if a wall is newly painted wait at least 2-3 weeks before applying). Their site offers help for the installation process however most of their products are designed to be an easy DIY project for one person to complete.
Cost: Again, your cost will depend greatly on what you purchase. Some temporary wallpapers (or glue-less papers) are just as expensive as traditional papers. But a few small wall decals can be as little as $20.00. Some wall stickers may not last more than a few years so when shopping for designs, think about how long you'll be living with it. Compared with painting, stenciling or hanging traditional wallpaper, the cost of tools and supplies is very low.
Time Investment: Applying wall stickers, decals or temporary wallpaper usually doesn't take too long but a more complicated installation will take longer. Generally these are considered fairly easy but when shopping for designs, carefully read the installation information to understand your time commitment.
Is it removable? Yes. Wall stickers and temporary wall coverings are designed to be easily removable but check with your manufacturer to understand how it should be removed. Also, some stickers shouldn't be applied to certain surfaces so double check before applying. Some decals can actually be removed and replaced a few times.
Windows & Glass Doors
Neighbors just a bit too close to your home? Have a bad view you'd like to hide? Need more privacy? A window or door peel and stick film can be the perfect solution to help add privacy as well as color and pattern to a room. There are tons of designs on the market to add style to your windows or glass doors. Companies like Wall Pops offer both window films and window decals in neutral styles as well as more pronounced designs like faux stained glass or colorful designs. Just like your other peel and stick products, be sure you fully understand how to order the right style for your piece of glass.
Installation: According to Wall Pops, installing window clings is incredibly easy. The window coverings can be cut to size to ensure the best fit. You simply need to spray the window with water, peel off the protective backing, apply the window cling (the water will help it slide into place better), squeegee the design to remove air bubbles, and you're done!
Cost: Not very expensive. Compared to installing frosted glass or installing window treatments, a window film is downright cheap.
Time Investment: Fast. Installing the films shouldn't take a long time and is considered an easy DIY project for one person.
Is it removable? Yes. According to Wall Pops these glass films are easy to remove and place on a different window.
Have a question? Write me at editor@porch.com