When it comes to adding color and texture into your home décor, Morocco is where it's at.
Moroccan-inspired designs are popping up in interiors everywhere. Delicate lattice motifs, ornate geometric patterns, and lush details such as pom poms, sequins, and fringe lend themselves well to every kind of theme, from traditional to coastal. For style that's elegant without being boring, and bohemian without being scruffy, the theme of the moment is Moroccan.
Luckily, Moroccan-inspired elements are easy to incorporate into your home. These nine easy and beautiful Moroccan-inspired DIY projects will help you give your home an Eastern accent with just a trip to the hardware store. Take a look, and let us know your favorites in the comments!
1. Metallic Moroccan-Print Wall Art
Photo courtesy of Hometalk
2. Moroccan Lattice Faux-Wallpaper
Photo courtesy of A Pumpkin and a Princess
3. Lush Moroccan Wedding Throw
Photo courtesy of The White Buffalo Styling Co. via East Coast Creative
4. Moroccan Arched Side Table
Photo courtesy of The Rogue Engineer
5. Gold Leather Moroccan Pouf
Photo courtesy of You Are My Happy
6. Moroccan Wedding Blanket Throw Pillow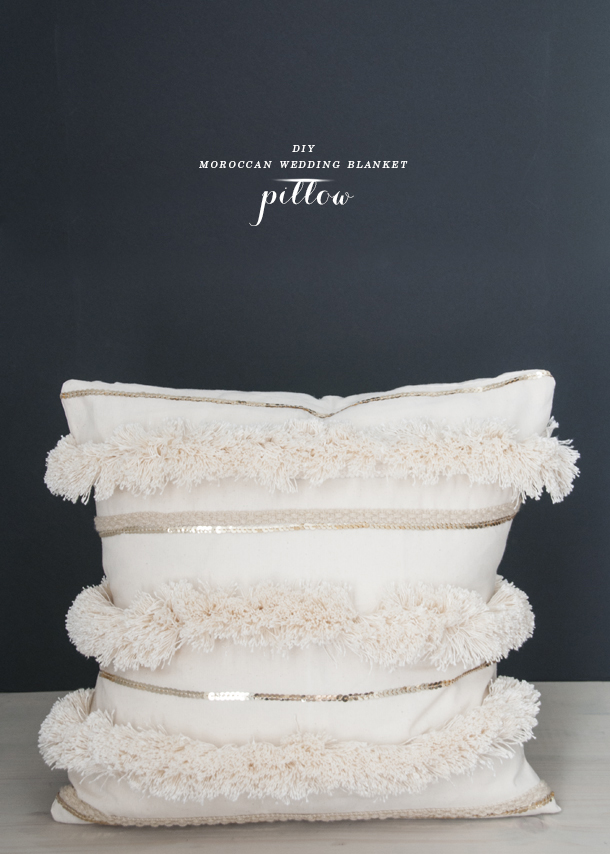 Photo courtesy of House of Earnest
7. Moroccan Lattice Headboard
Photo courtesy of Kara Paslay Designs
8. Moroccan Lattice Rug
Photo courtesy of Pudel Design
9. Moroccan-Patterned Canvases
Photo courtesy of Little Life of Mine
Top Image Credit: Little Life of Mine
Are you loving the colors and textures of Moroccan-inspired design? Tell us what you think in the comments!