Whether you're a Hawks, 49ers, Chiefs or Patriots fan, you've been closely following the end of the road to the big game. With kickoff on Sunday, February 2nd at 3:30 pm PT on FOX, prepare your home for a viewing party worth a touchdown celebration! From tons of snacks and drinks, to football themed decorations, and the best seat in the house to watch the game, here are 8 tips on how to host a winning party on game day!
1. Arrange the room
Before the guests come over and the game begins, you'll want to make sure your living room is arranged in the best possible way. This means optimizing space and number of seats – all with a view of the TV of course. If you have multiple sofas, place them in an "L" formation facing the TV, leaving space in the center for a small table, and spots on the end for extra chairs.
Try layering seating behind each other (similar to theater seating) for more space and seats. You can even throw a few larger pillows on the floor! Having extra coasters and TV trays will help with placement of drinks and snacks to prevent spilling.
An occasion like Sunday's game (depending on how many guests you plan on having over) may require you to temporarily rearrange your entire living room. Some hosts actually remove all the unnecessary furniture and move in folding tables or chairs.
Project completed by Advantage Contracting, LLC
2. Set up a projector/TV
If you already have a plasma screen TV or one that's "big enough" for your viewing needs, then feel free to skip this step. But, imagine a close-up view of the players on the field from the seat of your couch. Doesn't sound too bad does it?
Setting up a home projector to play the big game can easily make your home the best place to be. Check out this home projector screen DIY you can create for only $20 (not including the video projector), or look into purchasing your own for long term use.
Photo courtesy of Boxy Colonial
3. Have all sorts of snacks
Aside from the killer commercials, friendly competition, and the game itself, the food is by far one of the most important details of a championship-level party. While standard snacks are a must – from potato chips, to onion dip and chicken wings, try stepping up your game with a few fun foods. Pull out your Crock-Pot and try out some new recipes like the following:
DIY Nacho Bar
Setting up a nacho bar is a great way to feed your friends in a self-serve manner. Just cook the meat and beans beforehand in your Crock-Pot and set up each accompaniment that you wish to include.
Photo courtesy of The Magical Slow Cooker
No-Cook Appetizers
If you don't want to mess with the oven or huge food preparation, try this quick and easy no-cook appetizer recipe called football bites (with summer sausage, cheddar, and ranch).
Photo courtesy of Gimme Some Oven
Football Potato Skins
A classic game day party appetizer is potato skins or twice baked potatoes. Get this buffalo chicken wing dip potato skins recipe, along with over 40 other game day recipes to try out for your football party!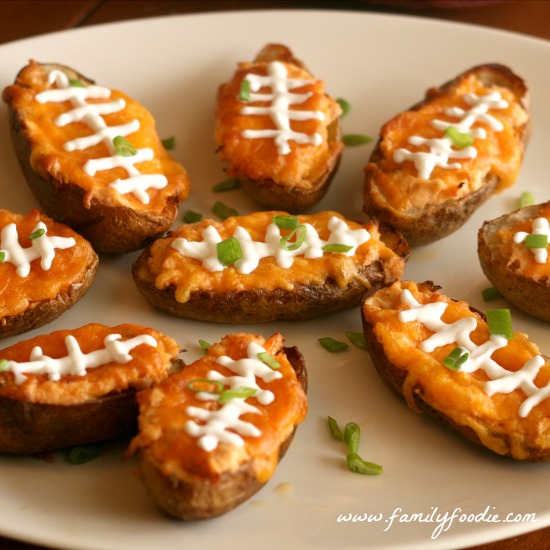 Photo courtesy of Family Foodie
4. Never run out of drinks
With all of that delicious unhealthy food, you'll need to balance it out with a variety of refreshments. Always have your standard sodas from Sprite to Coca-Cola, but don't be afraid to get festive with your refreshments.
Set up a beer tasting bar or combine Sprite and beer to make a beer punch. With an assortment of drinks and a big group of guests, it can be easy to lose track of your own cup. If you're feeling crafty, check out this duct tape mason jar idea. Or you can keep it simple and disposable with peel and scratch plastic cups.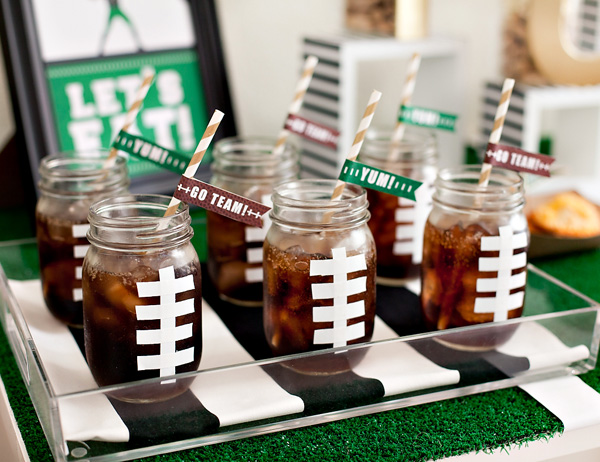 Photo courtesy of Hostess With The Mostess
5. Don't forget dessert
From finger foods to fun drinks, a party is not complete without the menu's finishing touch…dessert! Keep it competitive with Oreo ice cream sandwiches that you can color code or these easy to make football cake pops.
Photo courtesy of Baked With Love And Butter
6. Games and bets on the side
Commercial break festivities can help fill awkward spaces of time throughout the game. Having some extra games for your guests to play is fun for everyone, like commercial bingo. Download the free printable, here. If you want to take it up a notch, open up bets for the score and winner predictions of the big game. Just be prepared for some heavy and intense competition!
Photo courtesy of Hello Love Photography via Style Me Pretty
7. Fun props for your guests
All guests love to be able to take something away from a party, whether it be a gift bag, prize, or little trinkets. Having props around your home that represent each team or are football related is an easy way to impress your guests. Try adding the following ideas to your party on Sunday:
Photo courtesy of Pen and Paper Flowers Blog
Photo courtesy of Three Little Monkeys Studio
Championship Ring Pop Favors
Photo courtesy of Michelle Paige
8. Decorations, decorations, decorations
Decorations are the core of any themed party. Deck out your home in football gear, garlands, and team colors to make your space a football frenzy. From your tables to your walls, having a football rich environment will make for a better ambiance and up your game as a host. Try dressing up your walls with a printable football banner or create an easy football field party table.
Photo courtesy of Bite Me More
Once you have your food, drinks,and decorations all settled, make sure you have all the supplies ready for a big clean up after the game is over. So you don't forget any important details, take a look at this game day party checklist that will make sure you score big with your guests!
Top Image Credit: Studio DIY
When you make a purchase using affiliate links on our site, we may earn a commission.