Updating your kitchen is a thrill. But it's a risky one. You know what you love right now. But how do you know what you'll love ten years from now?
In order to make your update a good investment, you've got to somehow magically figure out which kitchen features are right, and which are just right now. But don't panic: we've made this impossible-seeming task a little bit easier by figuring out seven kitchen features that are truly timeless.
Step away from the tile samples and look over this list. As long as you have these features in your kitchen, your space will have classic appeal, no matter what paint color you choose.
1. Great light
Photo courtesy of Darren Patt Construction
We've all been there: after months of gloomy, grey weather, the sun comes out and–gasp!–reveals an entire winter's worth of dust that we didn't even notice. Such is the power of great light, and it's absolutely essential in the kitchen, where cleanliness is more important than anywhere else.
The best light in the kitchen is sunlight, provided by as many windows as possible. If you're not so lucky to have a kitchen full of windows, and you're not planning a remodel any time soon, make sure to light your kitchen sufficiently. The space should have at least three light sources covering task, ambient, and accent lighting.
2. A place to sit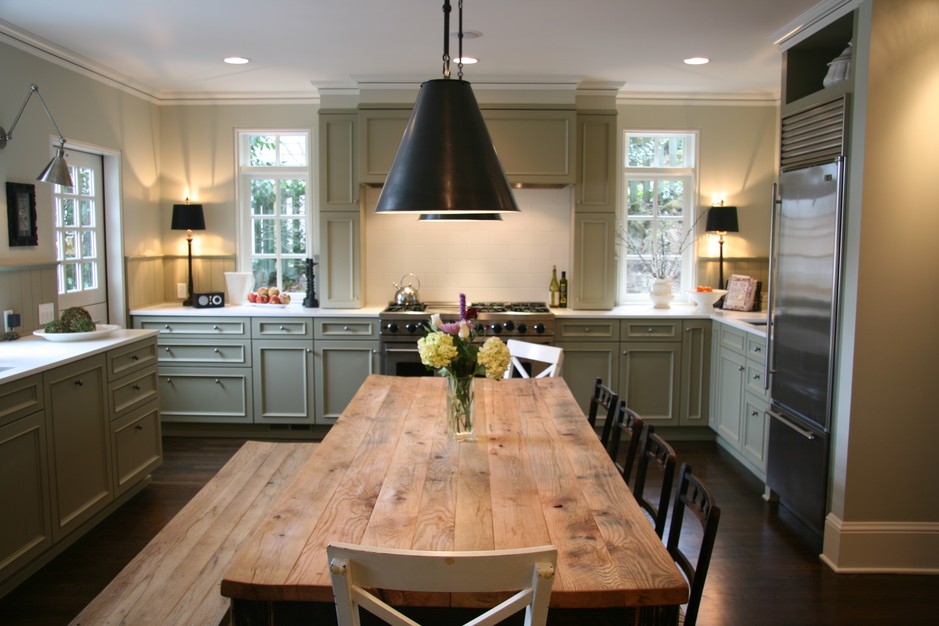 Photo courtesy of Neil Kelly
You can't fight it: guests always end up in the kitchen. This time-honored truth is probably the reason why eat-in nooks, counters, and islands have been perennial kitchen features since the early 1900s, when Americans fired their servants and started cooking their meals themselves.
If your kitchen is tiny, you can still get crafty with creating places to sit. Go the luxe route and push a couch against a wall for guests to sit and drink a cocktail while you cook, use a shelf as a table, or install a folding tabletop to save even more space.
3. A big, deep sink
Photo courtesy of Neil Kelly
You can never have too much sink. That might not be a famous saying, but we'll say it like it is one. Spread the word; it's the gospel truth. If you've ever had to cook and clean in a kitchen with a small sink, you know the pain of not having enough sink. Whether you're doing the dishes, cutting flowers, or filling the coffee pot, an oversized sink is a true luxury that makes kitchen tasks a breeze–including cleanup.
If you want a sink in your kitchen that will never go out of style, choose one that's deep and wide, and can be undermounted for quick counter cleanup. A faucet with high clearance and a flexible neck makes your generous sink even easier to use for cooking and cleaning.
4. Plenty of storage
Photo courtesy of Foley & Cox Interiors
The trend of replacing upper kitchen cabinets with open shelving (or doing away with upper cabinets entirely) is enjoying a kitchen makeover moment. But if we had to pick a timeless trend to bet on, we'd choose keeping those cabinets where they are.
When kitchen cabinets were first introduced in the early 1900s, they were called "kitchen pianos" because their convenience put everything the modern homemaker needed at her fingertips. The same is true now as was true then: kitchens have stuff, and stuff needs storage. Whatever look you choose, if you want a space that keeps working through the decades, don't skimp on storage in your kitchen.
5. Checkered floors
Photo courtesy of Charles Vincent George Architects
In a list of kitchen features that never go out of style, checkered floors might seem like an unlikely pick.But take a second look: this feature has been in and out of style in American kitchens for more than a hundred years, and in European interiors since the 1500s. Checkered floors may go out of style. But if they do, they'll probably be back in vogue before you can even consider a kitchen remodel.
Checkered floors don't have to be black and white, and they don't have to be linoleum. Try them in shades of grey or with painted tiles to get a neutral, high-end look and take advantage of the pattern's timelessly graphic appeal.
6. Space to work
Photo courtesy of JMKA | architects
Blenders, juicers, and coffeepots of all stripes come and go (or, judging by the cluttered state of most of our cabinets, come and stay). But the most functional tool in your kitchen is counterspace. A kitchen with cramped counters isn't just annoying, it can be dangerous. If you're putting your cutting board on the stovetop, your hot pans on the table, or your your water bottles where they'll melt, you could benefit from a little more elbow room.
If you can, add an island or a chopping table to your kitchen's layout to keep workspaces ergonomic and easy to use. If you already have one of those things, congratulations! Your choice is definitely a timeless one.
7. Tiled backsplashes
Photo courtesy of Coastal Home Design Studio
Beautiful backsplashes in solid glass, marble, and even wallpaper have been appearing in style-conscious kitchens everywhere. But the long term winner is regular old tile.
Whether it's ceramic, glass, or cement, tile is a practical backsplash material that adapts itself to any space, any style, and any kind of cooking and cleaning habits. Its glossy surface beats stone for both clean-up and appearance, and its resilience lends itself to decades, even centuries of wear. In fact, tiled backsplashes, when properly installed, last for so long that it's wise to choose a neutral color that will look great with whatever décor surrounds them.
Top Image Credit: JMKA | architects
Did we miss anything? What kitchen features do you think stand the test of time?