Modern interiors can be pretty controversial–and for good reason. When done well, they're clean and simple. When done poorly, they can be cold, sterile, and impersonal.
You might have a conception of modernism as chilly and dull. But there are ways to have a modern interior that's anything but. Here are six ways to make a modern interior warm, stylish, and inviting. Take a look, and tell us what you think!
1. Freshen it up with plants
This dining room is essentially all-white, with very simple wooden furniture, but the fiddle-leaf fig tree and the succulent vignette bring instant color, freshness, and personality.
Photo courtesy of Elle
2. Add pops of color
In this kitchen shelving vignette the bowls of fruit pop against the white shelves, walls, and marble.
Photo courtesy of Jeffrey Alan Marks, Inc.
3. Keep tones warm
This kitchen is gray, but not chilly, because of the wooden stools and warm wood cabinets. The red and copper pans add an extra dose of warm color.
Photo courtesy of DeForest Architects
4. Use organic textures
The stack of wood in this open and airy room becomes a focal point, and the organic texture is echoed in the wooden beams. It has the effect of grounding the room and making it rustic, casual and inviting.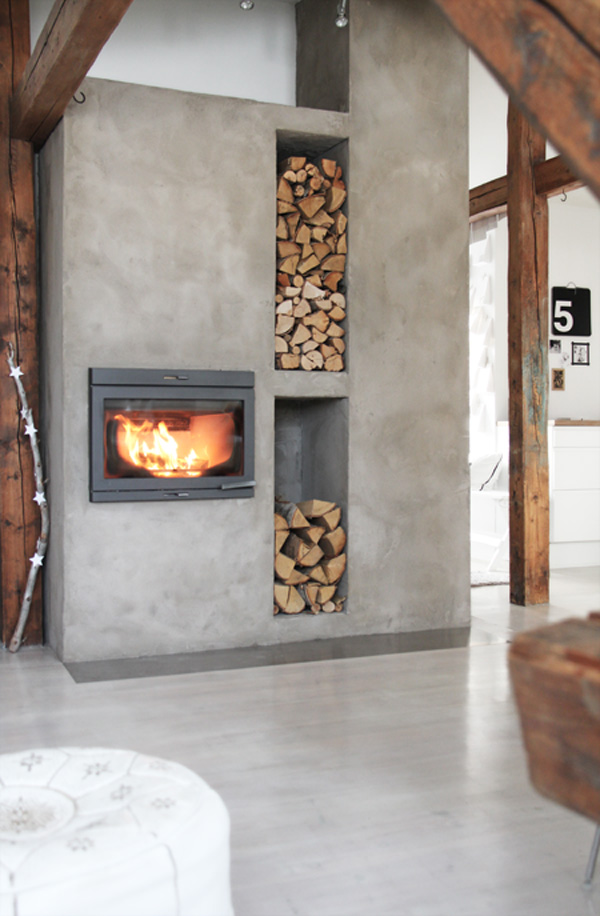 Photo courtesy of Homedit
5. Pile on the accent pieces
The glossy black floors and clean lines of this room would be a bit boring without the bright rug, wooden stools and fresh white and green flowers.
Photo courtesy of Baobab Interiors
6. Do tone-on-tone texture
This whimsical weathered wood peace sign, corrugated metal ceiling, and coiled metal elements bring life and intrigue to a kitchen with an otherwise spare and simple palette.
Photo courtesy of Renovation Design Group, Inc.
Tom Image Credit: DeForest Architects
What do you think about these warmed-up modern interiors?