As basic of a tool as a wrench may seem, there are many types that are meant to be used for specific projects. A wrench applies torque to turn objects by either loosening or fastening items, like nuts and bolts. This hand tool is built to provide grip for turning, but with the different designs of fasteners, success can depend on having the right wrench type. The following are five types of wrenches that will be handy to have in your toolbox:
1. Open-end wrench
This one-piece wrench is made double-ended with differing size openings for opposite faces of bolts or nuts. The U-shaped opening on each end provides grip for objects by flipping the wrench over to use the opposite side. For quick and easy use, this wrench is flat and can fit over nuts and bolts in small spaces for tightening or loosening. You may use an open-ended wrench for narrow project areas where a larger or thicker wrench won't fit.
zfbzcuyqsybrvyararsyawfcfawwursr
Kobalt 1/2-inch Open End Standard (SAE) Wrench $7.47 at Lowe's
2. Combination wrench
Another double-ended tool, the combination wrench is made up of an open-end on one side and a box-end on the other. The box-end side consists of a closed ring with varying diameters on the inside that depend on the size of wrench. The combination wrench is a multi-purpose tool with the open-end for tightening and loosening in small spaces and the box-end for leverage and a firm grip around nuts and bolts.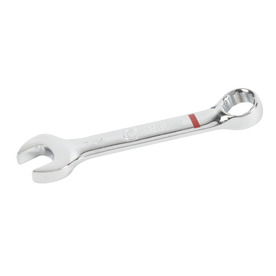 Kobalt 7/16-inch Combination Standard (SAE) Wrench $4.47 at Lowe's
3. Allen wrench
This type of wrench may sound familiar to you if you've ever built any furniture that needed piecing together. These wrenches have L or T-shaped handles with hexagonal shaped ends matching openings to bolts or screws. Though they are small, they are typically used for pairing and holding objects together.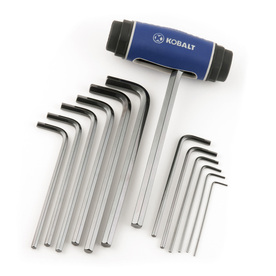 Kobalt 14-Piece Flat End Hex-Torx Key Set $12.97 at Lowe's
4. Socket wrench
Used to turn a fastener, a socket wrench has a socket (hollow cylinder) attached to the end of the handle that is fitted over nuts and bolts to tighten and loosen. Sockets are detachable enabling the wrench to be used for various sizes of objects. Also referred to as a ratchet wrench, socket wrenches have speed and efficiency on their side and can be used at many angles.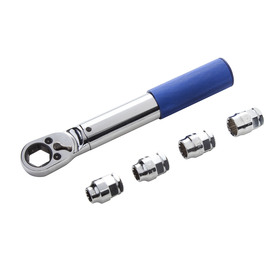 Kobalt Xtreme Access Ratchet with On Board Socket Storage $13.97 at Lowe's
5. Adjustable wrench
If you don't have the right size of wrench for a project or repair, an adjustable wrench can save the day. Also known as a crescent wrench, this tool can adjust according to size allowing you to use it on an assortment of bolts and nuts. While having an adjustable wrench can get the job done, it should only be used when necessary. Due to their versatility, they can tend to slip and slide along bolts when too much force is used.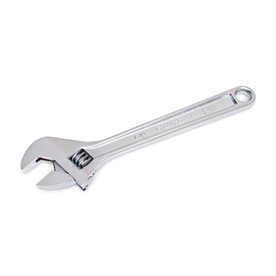 Crescent 12-inch Chrome Plated Alloy Steel Adjustable Wrench $16.97 at Lowe's
Buying and using wrenches
While these 5 wrenches will help you out in multiple home improvement projects, there are many other types of wrenches that you can use. For instance, a pipe wrench can turn soft iron pipes when you're in need of a plumbing repair. Or there is a torque wrench that has internal mechanisms to prevent over-tightening bolts. Depending on your project, you will need a specific tool that will safely and efficiently complete the task at hand. If you're unsure what type of wrench you need, look to Lowe's Wrench Buying Guide. When working with hand tools, it's important to know how to handle them and when you should leave the work to a hired professional.
Here are a few safety tips when using wrenches:
Use the correct type of wrench for the job
Apply a small amount of pressure before using full force
When turning an adjustable wrench, turn toward you for greater leverage and stability
Use two hands for extra support
Do not bend, pull, or push on a wrench
Keep tools clean and in good condition
Throw away any old, broken, or damaged wrenches
Wear safety glasses or gloves in harsh work conditions