It's time to set the Thanksgiving table, and organic elements are inspiring us everywhere we look!
For this year's Thanksgiving tablescape, skip the knick-knacks. Instead, use organic elements that celebrate food, nature, and the beauty of a bountiful harvest. You'll end up with a gorgeous table that you can put together in a snap!
Take a look at these fourteen breathtaking ideas, and create a beautiful table that will inspire you to give thanks!
1. Glam it up with gold
Elevate ordinary pumpkins, pinecones, and berries with a coat of glitter and gold.
Photo courtesy of A Pumpkin and a Princess
2. Play up natural jewel tones
Set off an emerald green garland with plum and tangerine accents such as napkins, table runners, and flower arrangements.
Photo courtesy of Apartment 34
3. Make tiny potted place settings
To warm up a glam or monochrome table, add tiny touches of green with baby succulent place settings.
Photo courtesy of Bungalow M via POPSUGAR
4. Use a sparkling branch centerpiece
Add graceful drama to your table with an arrangement of sparkling bare branches.
Photo courtesy of CatchMyParty
5. Think outside the pumpkin
Feathers, antlers, wood, even fall vegetables such as artichokes and ornamental lettuce are all fair game for a beautiful organic tablescape.

Photo courtesy of Smitten Studio
6. Scatter late blooms
Take advantage of autumn-blooming flowers to add fragrant, beautiful dimension to your table decoration.
Photo courtesy of Celebrating Love by Marcie via POPSUGAR
7. Give old gourds new life
Find a new use for October's pumpkins and gourds by placing tiny pumpkin tea lights among an artful arrangement.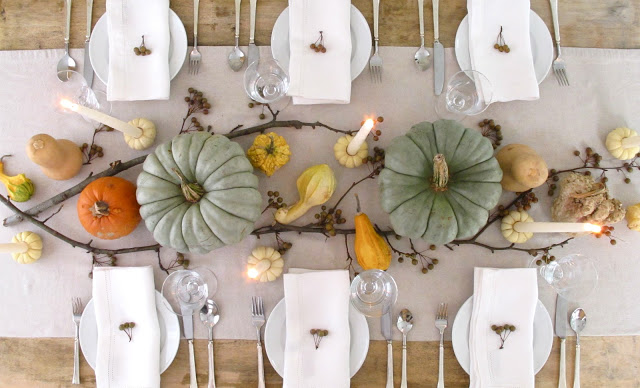 Photo courtesy of Everyday Occasions by Jenny Steffens Hobick
8. Give guests an edible centerpiece
Add groupings of ripe grapes to an arrangement of gourds, glowing candles, and golden wheat for a centerpiece that celebrates plenty.
Photo courtesy of Green Door Hospitality
9. Mix graphic and organic
Ground graphic patterns such as black and white stripes with gorgeous gourds in shades of orange, yellow, and green.
Photo courtesy of Holly Mathis Interiors
10. Create a Thanksgiving tree
Add fall-colored leaves to curly willow branches for a gorgeous way for guests to give thanks.
Photo courtesy of Lia Griffith
11. Celebrate fall fruit
Take a fall-color cue from the rich reddish purple of ripe winter pears.
Photo courtesy of Style Unveiled
12. Do pumpkins in pastels
Sophisticate your pumpkin centerpiece by coloring it in unexpected shades, such as citron and icy blue.
Photo courtesy of The 36th Avenue
13. Use tiny blooms
Wrap tiny flower buds in warm-colored ribbon for an unexpected table setting.
Photo courtesy of The Polished Petal via POPSUGAR
14. Make lush layers
Combine leafy garlands, fresh blossoms, fall foliage, and graceful feathers for a tablescape fit for a fabulous feast.
Photo courtesy of Waiting on Martha
Top Image Credit: CatchMyParty
What's your favorite way to decorate your Thanksgiving table?