Buying your first house should be an exciting experience. Picking the perfect property, imagining how you'll decorate, and finally getting the keys are all milestone moments. But shopping around for the best mortgage rate and factoring in your closing costs aren't the only figures you should be thinking about. Buying a house is one thing, but the cost to maintain it is something else.
Experts suggest you should start budgeting for home maintenance before deciding which house is the one for you, and common wisdom says homeowners should expect to spend 1% of their overall home cost in maintenance every year.
But is that really all you'll need? To find out, we broke down average home maintenance costs in every state. We examined the ZIP codes in each state with the highest home maintenance costs, lowest costs, and where you can expect that money will go every year. If you haven't thought about how often you should be aerating your lawn (or what that will cost), we've got you covered. Read on to learn more.
Building your maintenance budget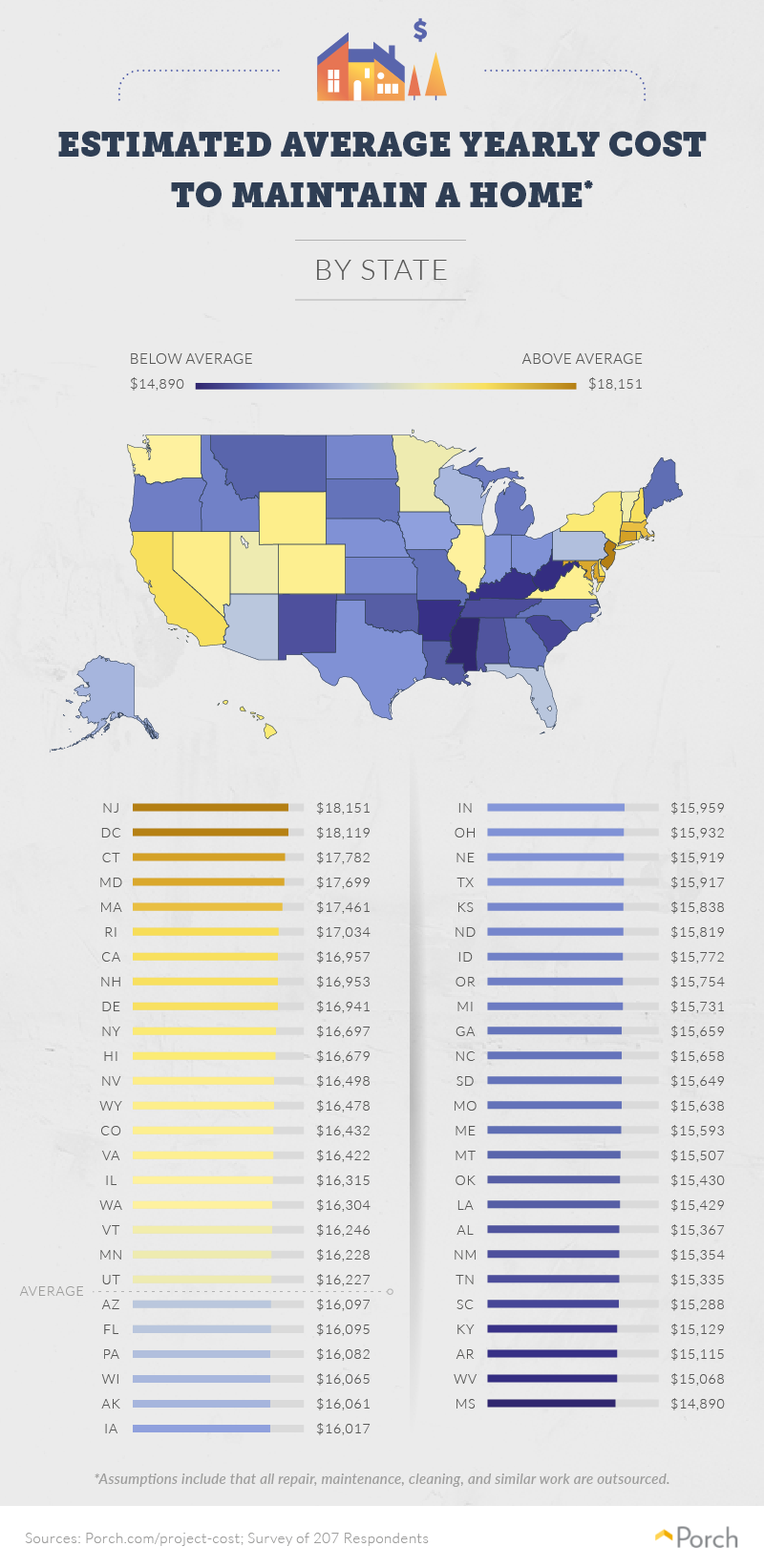 The cost of buying a house obviously fluctuates based on where in the U.S. you live—but so do the styles, ages, and types of homes you might find in each state. From craftsman homes in Alabama to ranch-style abodes in Alaska, the type of house (and how old it is) could factor into how much you'll have to pay on a yearly basis to maintain it.
Across the country, the average cost of maintaining a home each year is just over $16,000. In at least 19 states, plus Washington, D.C., you might want to factor in a little extra dough to cover the upkeep.
Our study revealed the cost of maintaining a home in New Jersey ($18,151) was higher than any other state in the U.S. Following the Garden State, the cost of routine home maintenance was highest in Washington, D.C. ($18,119), Connecticut ($17,782), and Maryland ($17,699). On the other side of the white picket fence, home maintenance was lowest in Mississippi ($14,890), West Virginia ($15,068), and Arkansas ($15,115).
What to expect from home ownership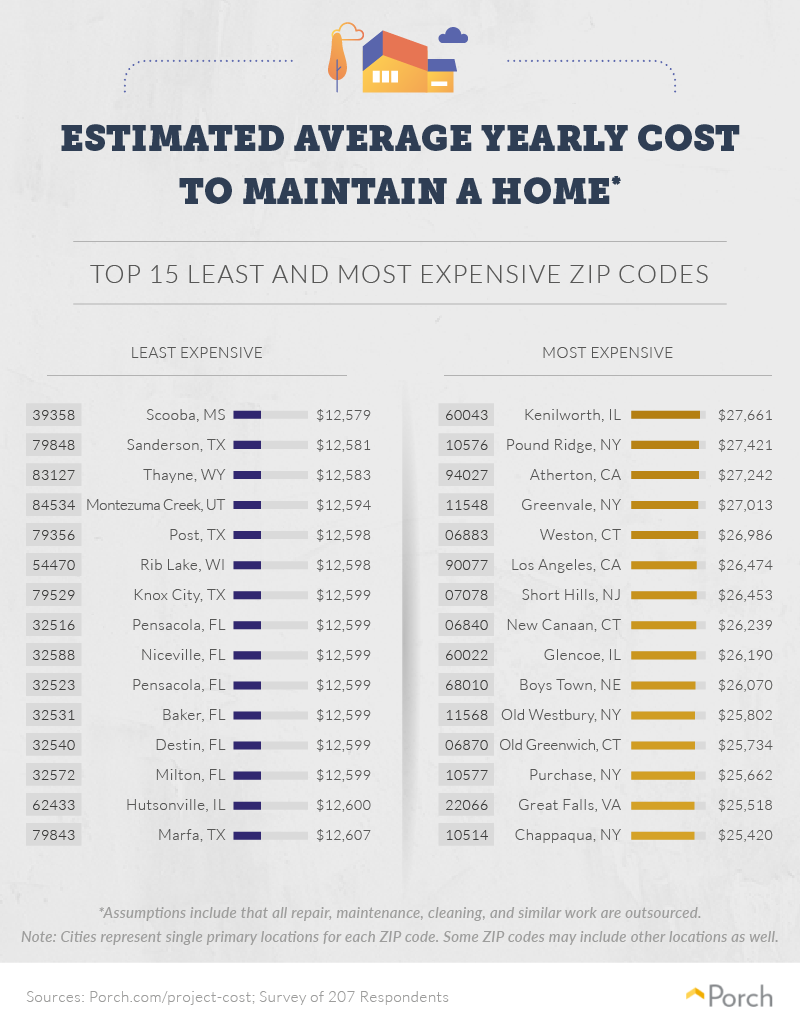 If your state ranked among the most expensive for the average cost of maintaining a home, don't worry just yet. In some cases, the cost of upkeep in certain neighborhoods or ZIP codes could be so high that they could be throwing off the state's average.
For example, in Kenilworth, Illinois, around 20 miles north of downtown Chicago, the median cost to buy a home is nearly $1.5 million. As a result of this exorbitant cost, the cost of maintenance is also quite high: $27,661every year. That probably makes the cost of changing out your pool filters now and then not so bad.
Other cities with similarly over-the-top costs of home maintenance include Pound Ridge, New York; Atherton, California; Greenvale, New York; and Weston, Connecticut—each in excess of $26,000 a year in maintenance costs. In stark contrast, cities like Marfa, Texas; Hutsonville, Illinois; Niceville, Florida; and Milton, Florida, averaged roughly $12,600 in annual maintenance fees.
Routine upkeep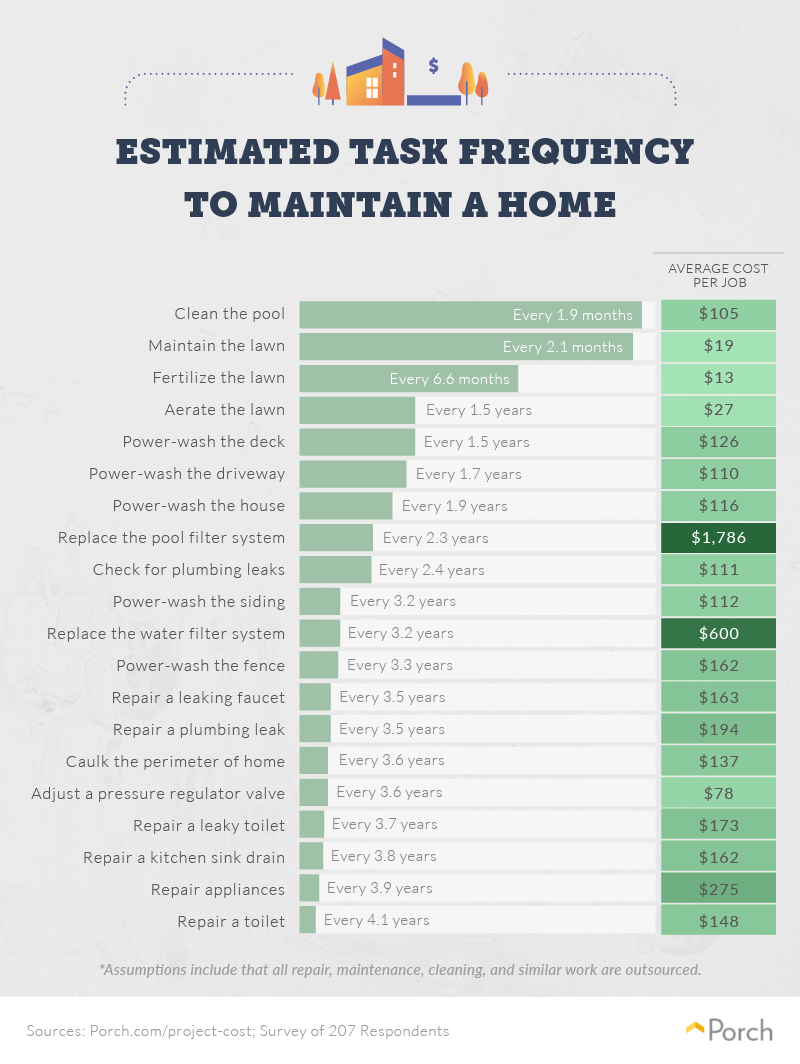 So where exactly does all of that money go? Every year, upkeep and maintenance work changes, but this average rotational chart (and associated costs) might help you plan accordingly.
If you decide to buy a house with a pool, expect to pay for cleanings roughly every two months. At an average of $105 per job, that's no small commitment. Depending on how much rain your area gets, you can anticipate needing to mow your lawn or trim the hedges at least every two months as well, adding up to just under $20 a session. If you decide to outsource your lawn maintenance, those costs could be higher. Almost twice a year, you'll also need to have your yard fertilized ($13 per job), and every year and a half you'll need to have it aerated ($27 per job).
Thankfully, some of the more expensive maintenance costs don't have the same frequency. Replacing your pool's filter will cost an average of $1,786 per job, but you will only need to do it once every 2.3 years. Replacing your home's water filter system will likely cost $600, but that only happens every 3.2 years.
Repairs and replacements on appliances can also be costly, but those one-off maintenance problems only need to be taken care of once every four years.
Pricey preservation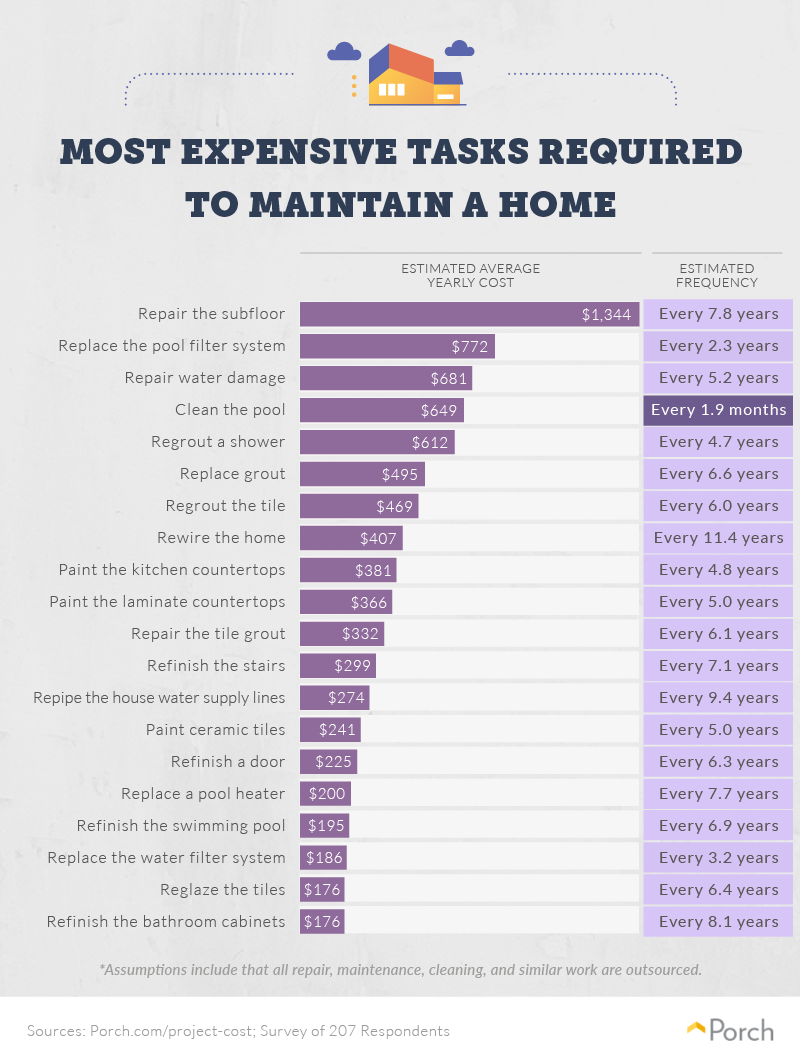 If you're not expecting it, some of the less frequent jobs you'll need to do to maintain your home could come with some rather unsettling sticker shock.
One of the most expensive forms of upkeep on a home, repairing a subfloor, typically only occurs every 7.8 years on average. It might put a drain on your rainy-day savings, though. Repairing a subfloor is so expensive you'd need to budget an average of $1,344 per year to cover the cost.
Like fully replacing a pool filter ($772), repairing water damage ($681), cleaning the pool ($649), and regrouting the shower ($612) could also be costly annual budget items but—except for cleaning the pool—will likely only occur every five years on average.
Over-the-top maintenance requests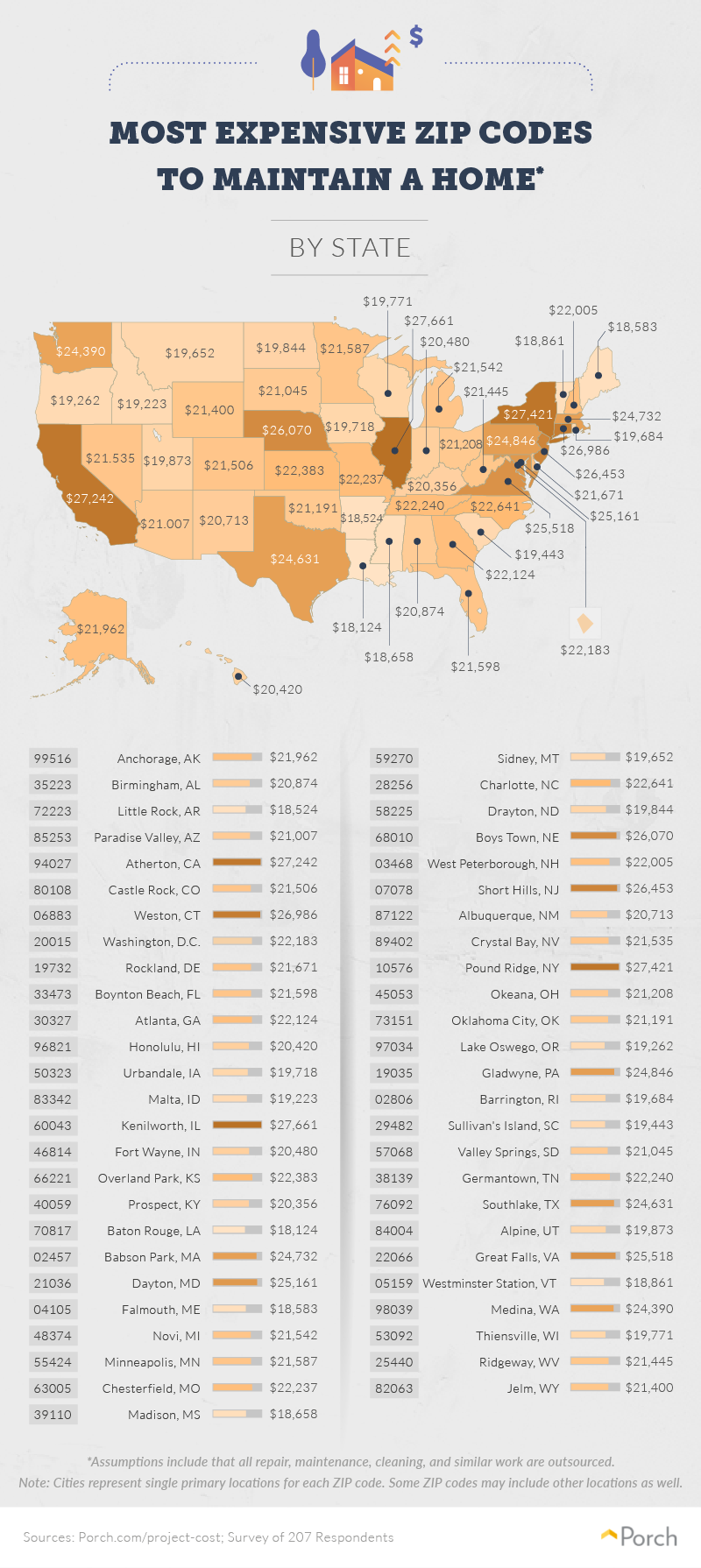 Want to know which areas in your state have the highest average costs of home maintenance? This guide will help you determine which ZIP codes are shelling out serious cash on an annual basis to cover regular upkeep.
California is notoriously one of the most expensive states to reside anywhere in the U.S., but Atherton, California, takes the proverbial cake when it comes to the cost of covering routine home repairs. With a median housing price valued over $6.8 million, maintenance could cost over $27,000 on average. In New Jersey, where we found the highest average maintenance costs statewide, the upkeep in Short Hills ran over $26,000.
Even in Little Rock, Arkansas, and Baton Rouge, Louisiana, where the most expensive ZIP codes ranked at the bottom of our list, the average costs were still in excess of $18,000.
Reasonable requests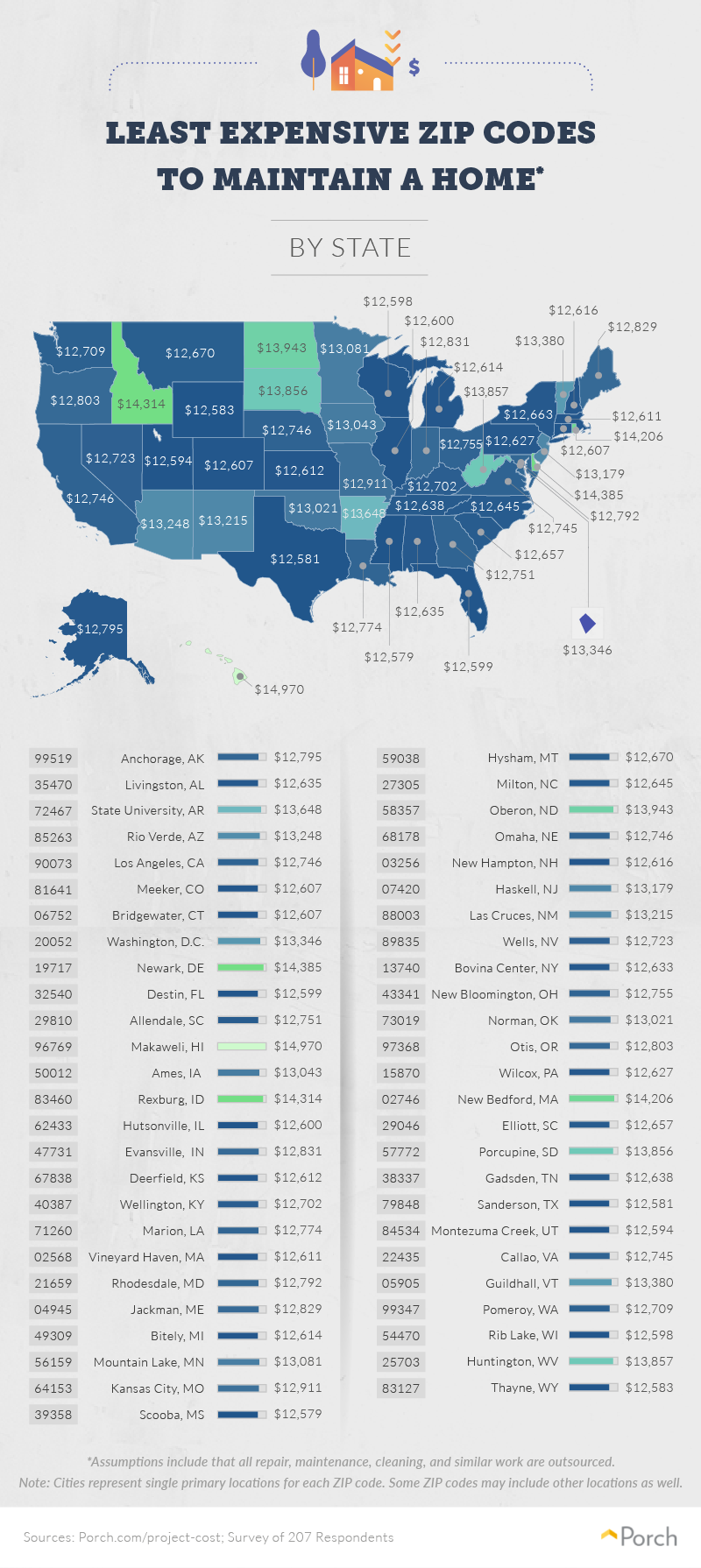 In the same way that certain ZIP codes have above-average costs associated with home maintenance, other ZIP codes will likely cost you below the national average in routine maintenance projects and repairs. Use this chart to explore the least expensive ZIP codes in every state where maintenance costs are concerned.
As a stark contrast to overly expensive areas like Kenilworth, Illinois, the average annual expenses associated with upkeep around the house in Hutsonville, Illinois, are just $12,600. And while some parts of Los Angeles (particularly the 90077 area) ranked among the most expensive ZIP codes in America for home maintenance; just a few miles away, the 90073 area has the least expensive maintenance costs statewide.
Scooba, Mississippi; Sanderson, Texas; Thayne, Wyoming, also earned the top spots as the least expensive ZIP codes nationwide for home maintenance costs.
Calculating the difference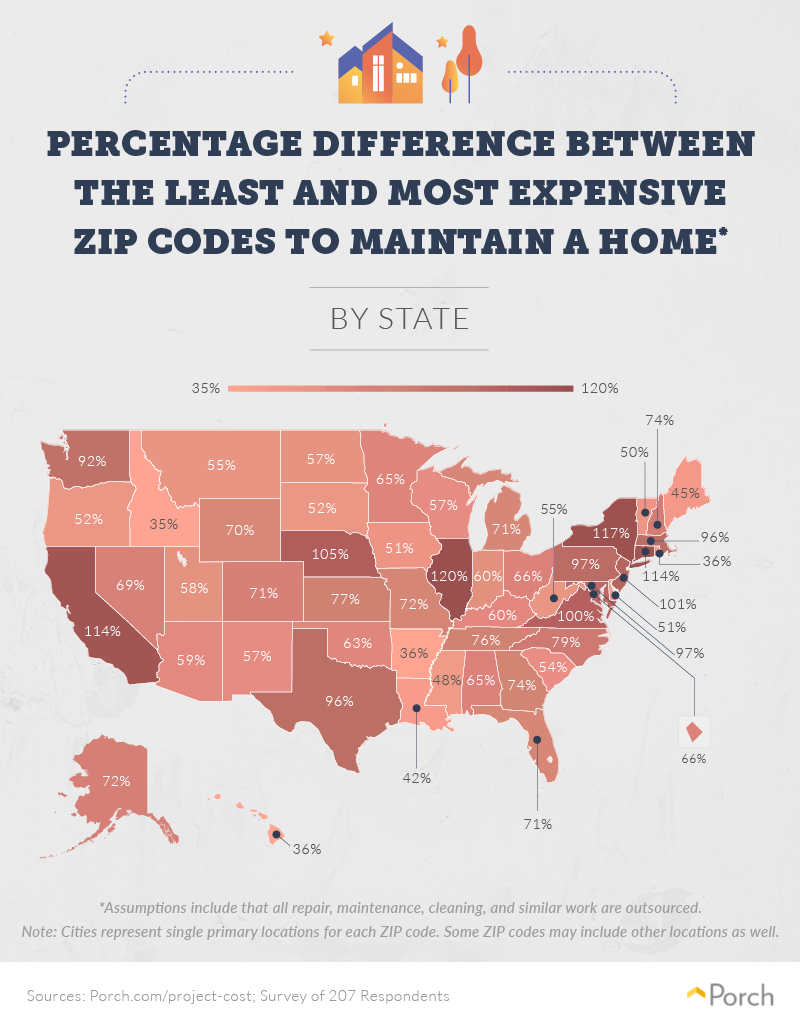 In some states, an exorbitantly inflated cost of living makes certain cities far more expensive for maintaining a home than others, which means prospective homebuyers need to be even more cognizant of where they're thinking about living.
California and New York go back and forth as the most expensive states anywhere in America, but the biggest difference between the most expensive cost for maintaining a home, and the least expensive was in another region completely: Illinois. Chicago certainly ranks toward the top of the list when it comes to pricey metropolitan locales, but it's lavishly high-priced cities like Kenilworth, Illinois, that helped push the cost of home maintenance differential to 120 percent.
Unlike states with extreme cost differences between the more and less expensive cities, states including Idaho, Rhode Island, Hawaii, and Louisiana had the smallest percentages between cities with the most expensive cost of housing upkeep and the least expensive.
Simplifying home improvement
Buying a new home is an exciting experience, but there are more costs to consider than the list price alone. Experts say you should set aside 1 percent of the total home price every year for routine maintenance and home improvement costs. This estimation is helpful, but having a clear picture of what might need your attention is even more helpful. While there's no way to predict the future, this guide gives you a better understanding of how often home improvement needs pop up and what they might cost you.
At Porch, our mission is to simplify home improvement even further. Whether you're looking for someone to help with your landscaping needs, installing a new appliance, or repairing your outside deck, our Home Assistant will match you with our Porch Services pros to get the job done whenever and wherever you need it. Tackle your to-do list in the most hassle-free way with the right pros for every project. Visit us at Porch to learn more.
Methodology
We used the Porch project cost guides to analyze the average cost to do a task in every ZIP code across the country. We went through and narrowed down the tasks to include more maintenance and upkeep jobs. We removed all jobs that included terms like "renovate," "build," and "install" to focus solely on upkeep jobs. This left us with about 170 jobs related to repairing or maintaining a house.
We then took all the remaining tasks and surveyed over 200 homeowners to see how often they did various jobs or believed they should perform each job. We applied these frequencies to the average cost to do the job and calculated the average cost per year. We excluded any values in the top and bottom 10 percent. We explicitly excluded cleaning surfaces from our results due to the extreme frequency of the job, cost, and not being able to differentiate between surfaces.
Sources
Fair Use Statement
Think this study will help you build a better budget for keeping up with the cost of home ownership? Feel free to share these findings with your readers for any noncommercial use. Be a good neighbor and include a link back to this page so our contributors earn credit for their work too.