In the U.S., there are nearly 129 million households and counting. After growing up in one of those homes, it then becomes time to find and possibly buy your own. But how?
Starting the home search can be intimidating, and obtaining a mortgage and finding insurance even more so. Many people, however, have been through the process and can now serve as guides. Fortunately, we were able to ask 998 of them to share their homebuying wisdom (or mistakes). If you've purchased a home or are thinking of doing so one day, you'll want to read what these people had to say.
Looking for a place to live
First-time homebuyers and experienced purchasers shared some very different tactics and emotions. For starters, first-time homebuyers were more than three times as likely to feel unprepared buying a home. They were less likely to consult online home listings and real estate agents—instead, finding their home through "for sale" signs, word of mouth, newspaper home listings, and through friends and family.
When homebuyers did work with a real estate agent, word of mouth and online research were the primary methods of finding the right fit. Only 7.7 percent stuck with a real estate agent they had used before, which can indicate an additional need for research and time to find the right one. Read online reviews about the person (as 65.5 percent of homeowners did) and consider your options before making a decision.
Looking for lenders
The changing of real estate agents from one home to the next did not translate the same for mortgages. In other words, people wanted to stick with what they knew when it came to borrowing money. Over 48 percent of respondents stayed with the bank they already used to obtain a mortgage, while only 21.7 percent chose to find a place with better financing options. This assumes that 48 percent didn't look to find better options in the first place. This is not advisable: According to some experts, there are plenty of other choices than large-scale lenders. Again, it's worth considering what's available before choosing a path, as money and flexibility can be accidentally sacrificed if you're not careful.
More often than not, homebuyers didn't even seek out mortgage advice from a financial adviser. In fact, only 19.9 percent of respondents chose to do this. Instead, 57.4 percent looked to their families for input on how to approach a mortgage. Considering that 3 in 4 homeowners reported not understanding the terms of their mortgage, you might want to be part of the 19.9 percent who consults an expert.
Getting insured
Once again, convenience reigned supreme when it came to homeowners insurance. Respondents most often reported that their primary way to find homeowners insurance was to group it with existing coverage. Less than 20 percent went with insurance recommended by their bank, and fewer than 10 percent read online reviews. That said, 71.8 percent took the time to at least compare rates before making a decision.
Going with convenience created some major knowledge gaps among respondents. 36.6 percent of respondents said they didn't completely understand their home insurance policy. More than a third admitted this stemmed from not having read the paperwork entirely, and unfortunately, just about a third regretted this behavior.
Careful number crunching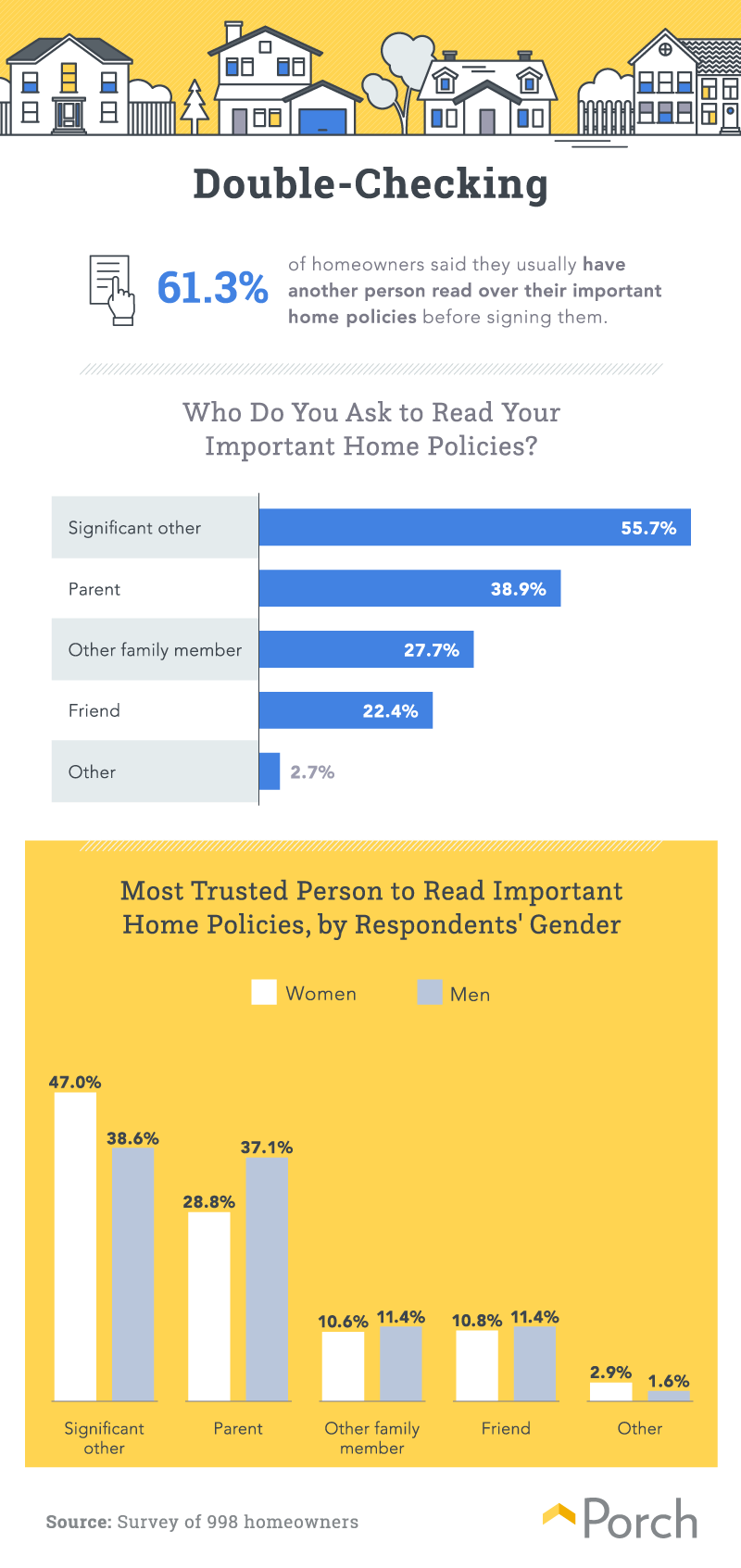 Before signing the final documents, respondents did show more caution. Most—61.3 percent—asked another person to read over their important home policies before signing them. However, financial advisers and experts were once again disregarded for the convenience of family and friends. Nearly 56 percent asked their significant other to take a look.
Men and women did show some different tendencies when it came to signing the final paperwork. Women more often asked their romantic partner to look over documents, while men were nearly as likely to turn to their parents to double-check everything. Both genders were about equally likely to consult friends and other family members, however.
Homeowning knowledge
Whether you've bought 10 homes or zero, the data reveals great news: Research, not experience, is crucial for homebuying, and of course, always make sure your realtor has a real estate license. Regrets and expensive financial mistakes were not often due to inexperience, but instead, not taking the time to consult experts or research better options. If you're willing to read the paperwork and take time with your decisions, you can purchase a home with just as much ease as someone who has purchased a home before.
Once you've found the perfect home, though, maintain this mindset. Consider available options and pricing as you look to make repairs, do improvements, or even move out one day. The contractors and helpers you let into your home should be vetted, experienced, and compared. At Porch, any and all help has been dutifully verified and is easy to compare with a host of other options. It's research and help for your home finally made easy.
Methodology and limitations
To collect the data shown above, we conducted a survey in January 2020 of 998 homeowners in the United States. To qualify for this survey, respondents were required to have purchased their home in the past year. Of the 998 respondents, 654 were first-time homebuyers, and 344 were experienced homebuyers. The respondent pool was 50.2 percent female, 49.6 percent male, and less than 1 percent who chose a different option.
Because the survey relied on self-reporting, issues such as telescoping and exaggeration could have influenced responses. An attention-check question was included in the survey to help make sure respondents were not randomly answering.
Fair use statement
Homeownership is nothing short of a huge deal. So, double-check everything, compare rates, and share these types of helpful articles. The content on this page may be shared online, as long as it is for noncommercial purposes, and you link back to us.