With the housing market facing new levels of constraint, the demand for new residential construction is starting to heat up seriously.
New home starts may have been slightly down by the end of 2017, but homebuilding permits hit their highest level since 2007, pointing to what could become the future of homebuying for millions of Americans. There are plenty of perks when it comes to buying new builds over existing homes, including personalization, efficiency, and a generally lower maintenance. But what about the technology and advancements in the way homes are constructed today compared to even a decade ago?
Lennar, the largest builder of homes in America, recently became the first company to prewire its new constructions for Wi-Fi compatibility. And in May 2018, they also took smart tech to the next level by announcing Alexa, Amazon's smart digital assistant, would be built into every new home moving forward.
So what else can we expect from the houses of the future? While nothing is certain, we may be able to glean a little insight by looking at the trends of the past. Using census data from 1999 through 2016, we predicted what houses might look like as far away as 2036. How big will they be? What will they be made of? And where can we expect to see the largest number of constructions moving forward? Read on as we break down the future of single-family homes in America.
A look at current trends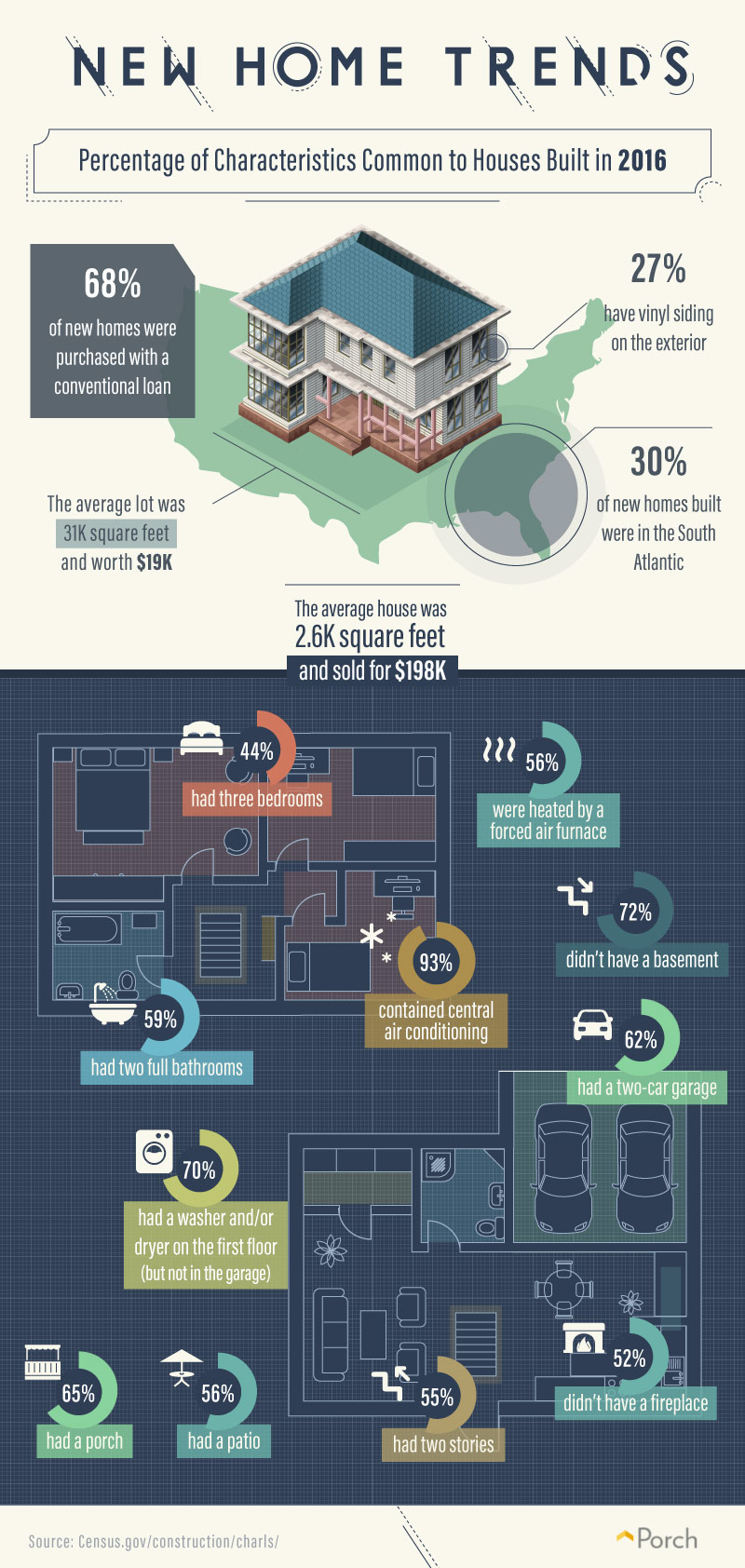 Before we can look ahead to the future, it's important to recognize the housing trends that have shaped the last decade of growth.
In 2016, new construction starts rose for the eighth consecutive year. While still a far cry from the excessive homebuilding happening before the Great Recession in 2008, both starts for new builds and spending on private residential construction continue to rise.
So what did the average new home look like in 2016? With an average house size of 2,600 square feet, new homebuilds sold for an average $198,000 across the country. Compared to the average sale prices of all homes that same year, buying a newly built construction was actually cheaper in 2016 than purchasing a pre-existing home.
Perhaps as a result of the growing workforce in the Southeast, 30 percent of new homes were built in South Atlantic states including Florida, Georgia, and Virginia. More than half of new constructions were two stories, didn't have a fireplace, and were heated by a forced air furnace. Further, basements may be becoming a thing of the past, as nearly 3 in 4 homes built in 2016 omitted these areas.
A glimpse of the future

Considering how things have changed in single-family home construction since 1999, there are a few trends we expect to see popularized between now and 2036.
When it comes to curb appeal, you can expect to see some changes in entryways and exterior appearances in the not-so-distant future. While nearly 1 in 3 homes in 1999 had decks and half had porches extending from some region of the dwelling, we predicted less than 17 percent of new homebuilds in 2036 would continue to feature decks compared to the over 82 percent that will include porches instead. The American front porch debuted as far back as the early 1700s, and this iconic piece of American architecture could be coming back in a big way over the next 20 years.
When it comes to purchasing new homes, conventional home loans may start to give way to other forms of financing. More than 3 in 4 new builds in 1999 were purchased using conventional home loans, but those numbers may continue to shrink into the future. While the use of cash is expected to rise slightly, the use of FHA home loans could more than double by 2036 from the number of Americans having utilized them in 1999.
Fireplaces may have a certain romantic quality during the winter months, but their high maintenance could be leading homeowners to more modern forms of heating. More than half of new homes constructed in 1999 had one fireplace, although we predicted less than 28 percent of homes in 2036 will still include them. Instead, look for heat pumps to take over as the future of heating, outpacing forced air furnaces and hot water systems completely.
Your next home?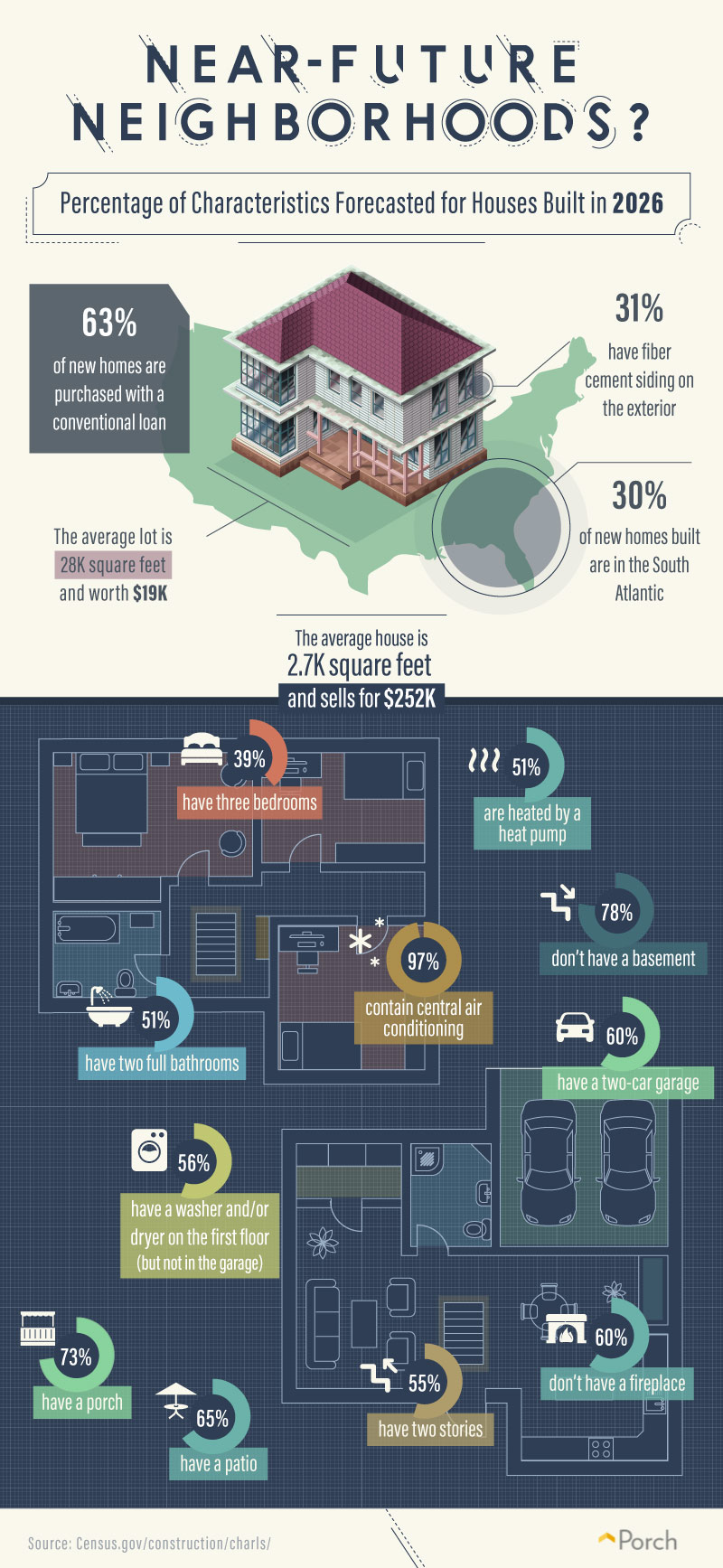 Thinking about homebuying in 2026 may feel too far into the future, but these trends in homebuilding could just be around the corner.
Despite selling for less than $200,000 in 2016, the average new home construction in 2026 should be just slightly larger at 2,700 square feet but will cost buyers an average of $252,000. For 63 percent of buyers, a conventional home loan will still be the purchasing method of choice. Although, as interest rates continue to rise, it's hard to tell exactly how much these loans might cost.
Thirty-nine percent may still only have three bedrooms, but 97 percent will contain central air conditioning, up from 93 percent a decade prior. You can expect even more houses to include porches or patios, and more than half will still have a washer, dryer, or both on the first floor.
Looking ahead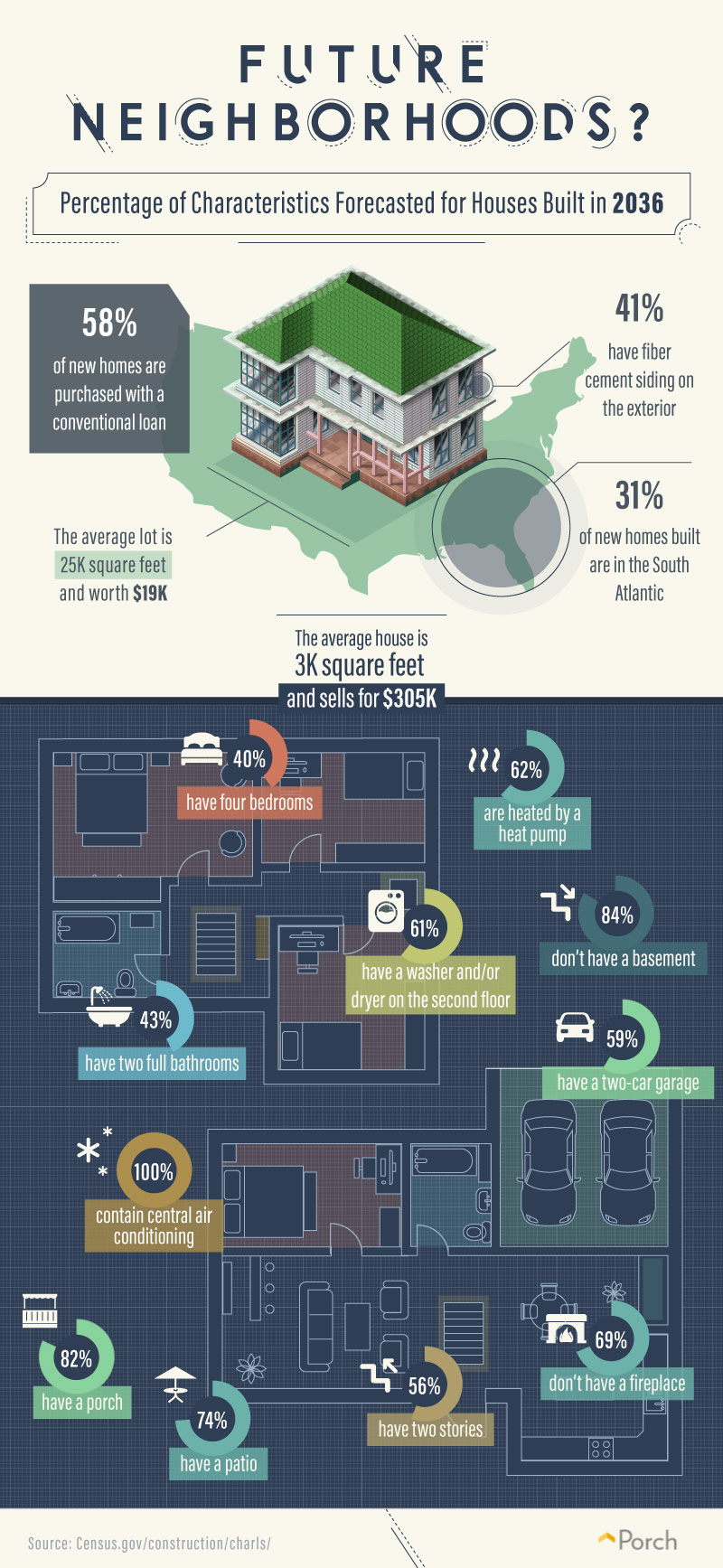 Looking even further ahead into the future, houses in 2036 won't just be bigger—they'll be more expensive too. With an average of 3,000 square feet, new home constructions could cost as much as $305,000 on average—an increase of more than $100,000 over 2016.
Fewer homes in the future may be purchased with conventional home loans, giving way to a rising popularity of FHA home loans. With lower overall down payments and easier approval ratings, FHA home loans provide access to more lenders with different criteria, making owning a home more accessible for millions of potential buyers.
Unlike in years past, 2 in 5 new home constructions will have four bedrooms instead of the popularized three-bedroom homes of the past. More than 2 in 3 will be built without a fireplace, and 100 percent of new homes will contain central air conditioning. Beyond these interior upgrades to future homes, expect 84 percent to be built without basements and more than half to have two-car garages.
A closer look
The below graphs show data from 1999 until 2016. Estimations were made up until 2036. The dotted line represents the most likely trajectory of the data; however, there are varying degrees of certainty, so we included a confidence interval for each line. There is a 95 percent chance that the trend line will fall into the shaded region based on our analysis.
Graph 1

Graph 2

Graph 3

Graph 4

Graph 5

Graph 6

Graph 7

Graph 8

Graph 9

Graph 10

Graph 11

Graph 12

Graph 13

Graph 14
Here, you can see more details on what comprises the single-family homes of the future. Scroll through each slide to learn more about how these trends have evolved since 1999 and where we might expect to see them go by 2036.
More than what homes 20 years from now may look like or how much they'll cost, you might be wondering what they'll be made out of. In 1999, more than 1 in 3 homes primarily used vinyl siding. By 2036, fiber cement siding (which was used in less than 1 in 10 homes in 2006) will account for more than 41 percent of new constructions. Typically more expensive than the vinyl alternative, fiber cement siding is also significantly thicker and much more durable than alternatives.
The inclusion of fireplaces in future home designs may be limited, but the good news is heat pumps can be an extremely energy-efficient form of heating. Think of them like air conditioners that run backward, and you'll basically have the right idea. While they might not have been an entirely reliable option in the past, nearly 62 percent of homes could use heat pumps instead of forced air furnaces by 2036.
When it comes to the number of bedrooms and bathrooms in your home, why have less when you could have more? As the average square footage of new home constructions continues to rise, the number of bathrooms and bedrooms will increase too. Having three full bathrooms may become just as common as having two, and four-bedroom homes may become more popular than smaller three-bedroom options. At the same time, nearly 18 percent of new construction homes in 2036 could also feature five bedrooms.
In 1990, nearly 80 percent of laundry hookups were on the first floor of newly built homes. By 2036, you might find more than 60 percent of laundry hookups on the second floor instead. As a majority of homes will also be two stories, having the laundry room upstairs could prevent homeowners from having to lug their washables up and down the stairs and could help reduce clutter from hampers in bedrooms and closets.
And just like bedrooms and bathrooms, the average garage size could be getting bigger as well. Two-car garages may actually become less common in the future as the number of three-car garages continues to increase. By 2036, more than 28 percent of homes might be built to include a three-car garage in addition to their average 3,000 square foot space.
Loving the home you have
As the number of new homebuilds continues to grow, the cost, size, and construction could change significantly over the next 20 years. By 2036, the extra 400 square feet (on average) of new homes could cost buyers more than $100,000 over their average 2016 prices. But there's more to what goes into a home than the space. The houses of the future could be more energy efficient, durable, and incorporate exciting advancements in automated technology. Recent reports suggest California could soon become the first state to mandate solar panels on every new home construction, which could revolutionize the way Americans consume (and pay for) energy.
Whatever the future holds, there's no reason not to love the home you have now. Let Porch be the trusted partner you need for simplified home improvement. If your to-do list is starting to get out of hand, we've got you covered. Our Home Assistant is available 24/7 to connect you with the home experts in our extensive network of in-house providers and Porch Pros to help get the jobs done quickly and efficiently—no matter how big or small. From appliance installation to landscaping, Porch has the support you need for every project. Get the right pro now by visiting us at Porch.com.
Methodology
We pulled data from 1999 to 2016 from the U.S. Census Bureau's Survey of Construction microdata. We excluded null and non-reported values from all analyses. Percentages, square footage, and financial values over the years were run through Tableau's forecasting models. We forecasted from 2017 to 2036 using an additive trend and multiplicative season. All models are shown with a 95 percent prediction interval. An exception to this methodology was exterior wall material, which used an additive trend and additive season. For more information on forecasting with Tableau, their methodology can be found here.
Sources
Fair Use Statement
Thinking about what the future holds? We've got you covered. Feel free to share the results of our study with your readers for any noncommercial use. We only ask that you include a link back to this page so that they can see our findings in their entirety and our contributors earn credit for their work.