There's a lot of pressure for millennials to buy a home. From reports of a millennial housing crisis to their rates of marriage, overwhelming student loan debt, and slow-to-start careers, financial analysts have struggled to put a finger on
the exact reason
young people are so unwilling to give up renting for the joys of homeownership. While millennials have been accused of "killing" the housing market, a majority who do commit to owning a house end up regretting the decision to buy. But are they alone? Buying a house is one of the biggest financial decisions most people will ever make—no matter their age—and it could leave them feeling the worst buyer's remorse of their life.
To learn the biggest homebuying regrets, we surveyed over 990 people about the expectations and reality of ascending to the status of homeowner.
Read on as we break down what you might want to prepare yourself for before signing on the dotted line.
Disappointing decisions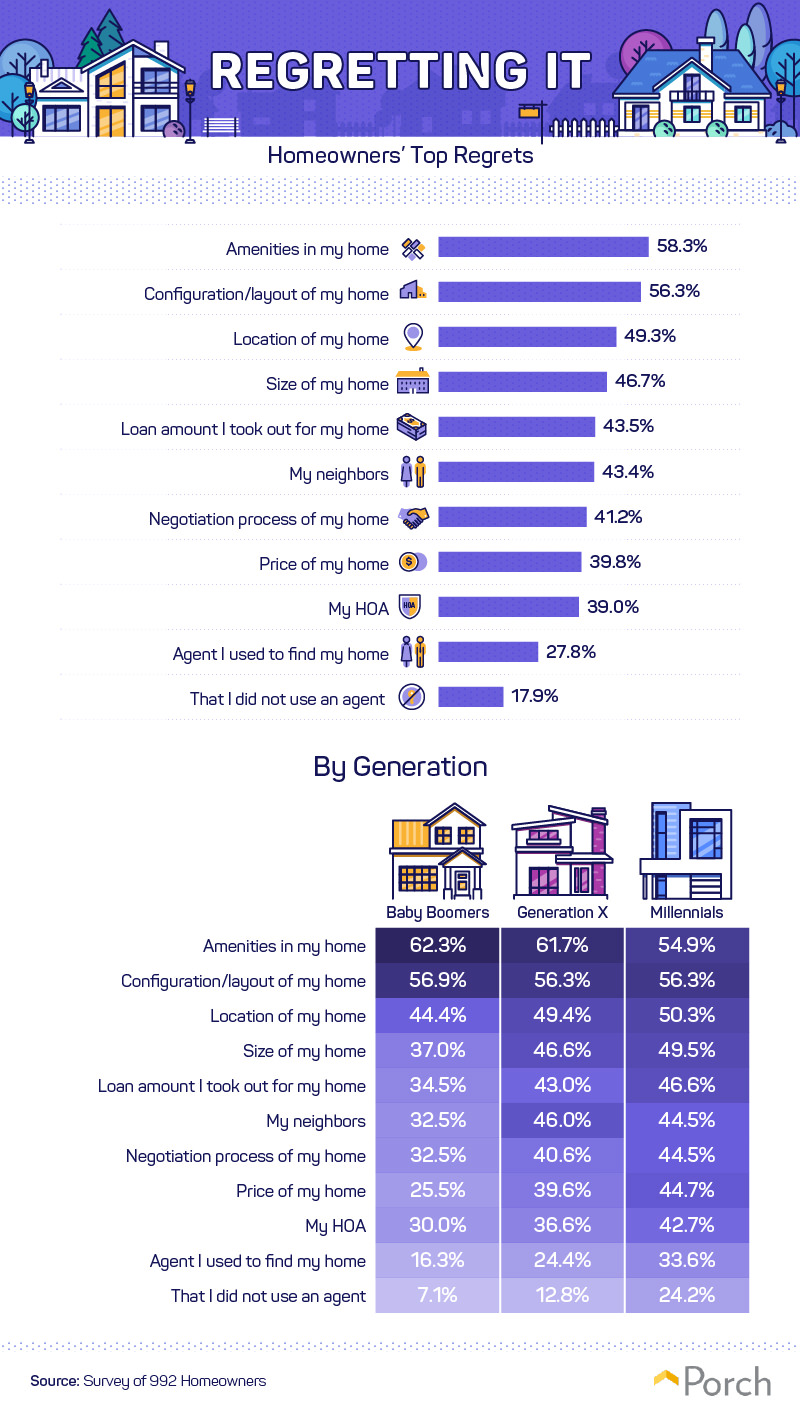 The number of decisions that go into the homebuying process may seem endless at first glance. Deciding what features matter most to you, how much money you can afford to spend, the best neighborhood for your family and your budget, and when you should take on a project versus buying something that's move-in ready are all concerns homebuyers face. And all of that is before putting down an offer on a home and closing on the property! We asked homeowners their biggest disappointments after moving in. The amenities (over 58 percent) and layout (more than 56 percent) ranked as homeowners' top regrets. Other frequent letdowns included the location of the home (over 49 percent), the size (nearly 47 percent), the loan amount needed to pay it off (almost 44 percent), and the neighbors (over 43 percent). While amenities were often the most common regret for baby boomers and Gen Xers, millennials were more likely to point to the configuration or layout of their home. Millennials were also more likely than the other generations to be bothered by the location of their home, the size, the amount of the loan, the negotiation process, and the price.
Needs vs. wants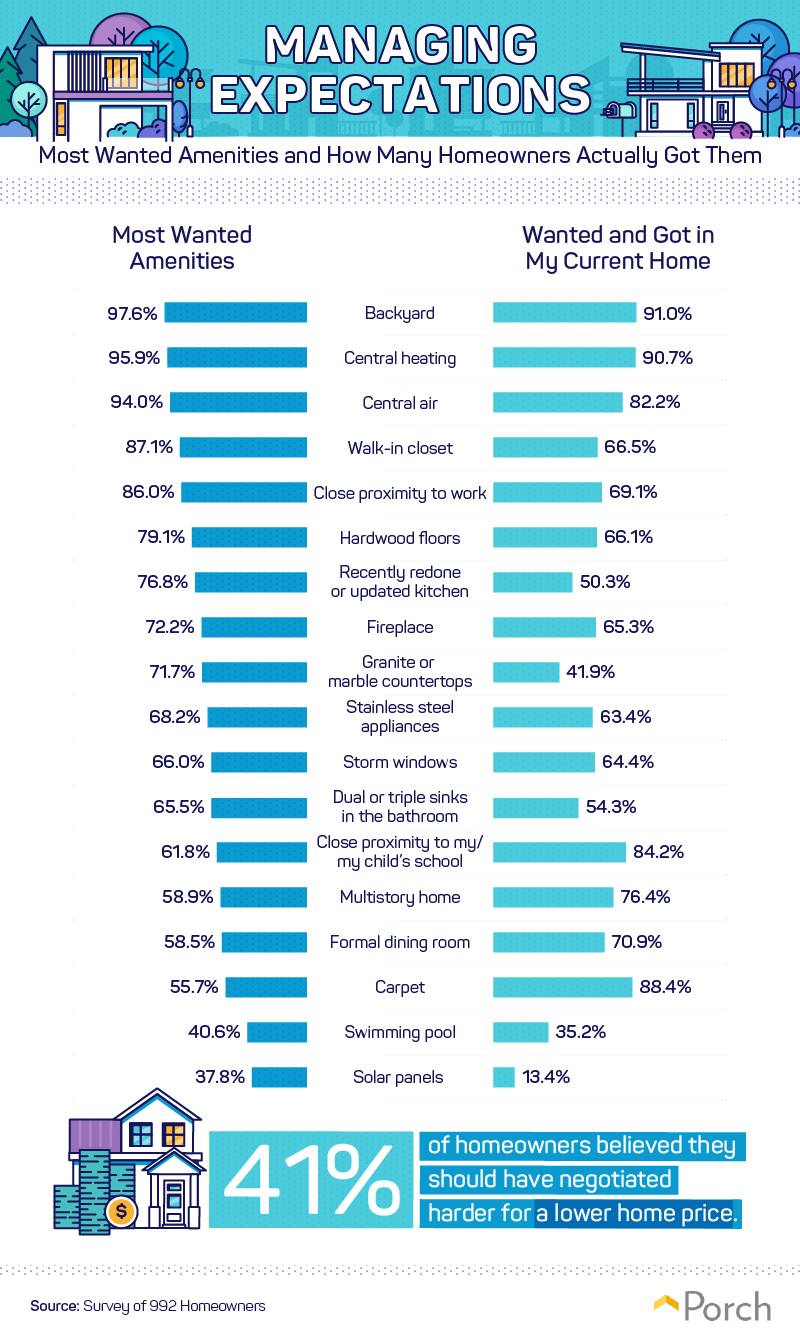 Experts recommend potential homebuyers first start with their "dream" home and narrow down their priorities. What you want and what you need in a house won't always be the same, and unless you've got an unlimited budget, it's important to know the difference between what you'd like to have and what you can't live without. Still, if you want certain amenities in a new home and end up writing them off as unnecessary, you could regret buying your house in the first place. A majority of current homeowners ranked having a backyard, central heating, and central air as the most wanted home amenities, but not everyone got to enjoy those comforts by default. Among the most sacrificed amenities were walk-in closets, renovated kitchens, granite or marble countertops, and solar panels. In comparison, some people lucked into amenities they didn't expect. While less than 56 percent of homeowners wanted carpet, more than 88 percent who wanted it had carpet in their current homes. Similarly, having a formal dining room, a multistory home, and close proximity to school were also more likely to be realities of homeownership.
Paying on the principle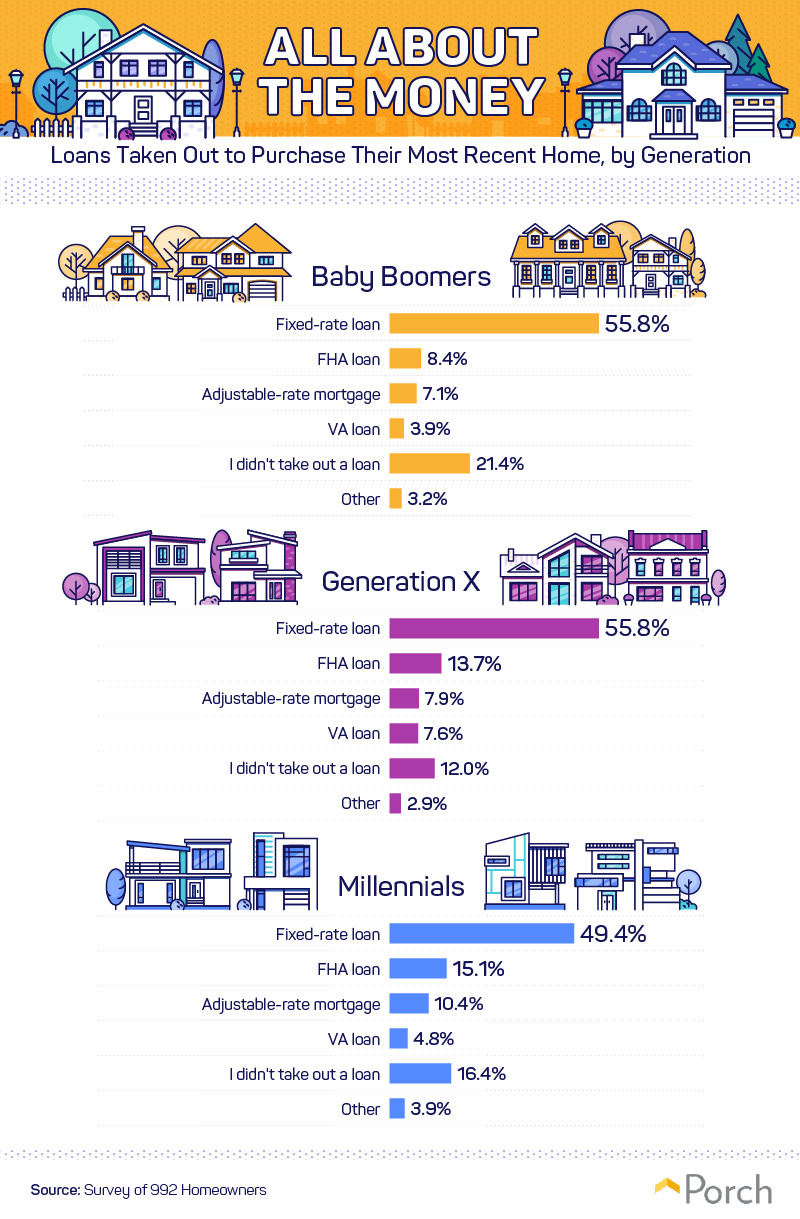 Buying a house usually means applying for a loan to cover the cost. Still, financing your home isn't always as straightforward as applying for a mortgage and making payments on the loan. With so many options (not to mention lenders) ranging from conventional mortgage loans to FHA loans, VA loans, and jumbo loans, most homeowners need to decide on the best solutions for paying off their homes' massive price tags. Which loans buyers pick can have a tremendous impact on how much they pay back every month and how good they feel about the "deal" they walked away with. Across all generations, the fixed-rate loan was the most popular finance solution for buying a home. In addition to almost 56 percent each of baby boomers and Gen Xers, over 49 percent of millennials opted for a fixed-rate loan. FHA home loans and adjustable-rate mortgages were also more popular among millennials than any other generation—in fact, more than 1 in 5 baby boomers didn't take out a loan at all for their homes. FHA loans are geared toward first-time homebuyers and tend to have less rigid requirements for down payments and lower credit expectations.
Dollars and square footage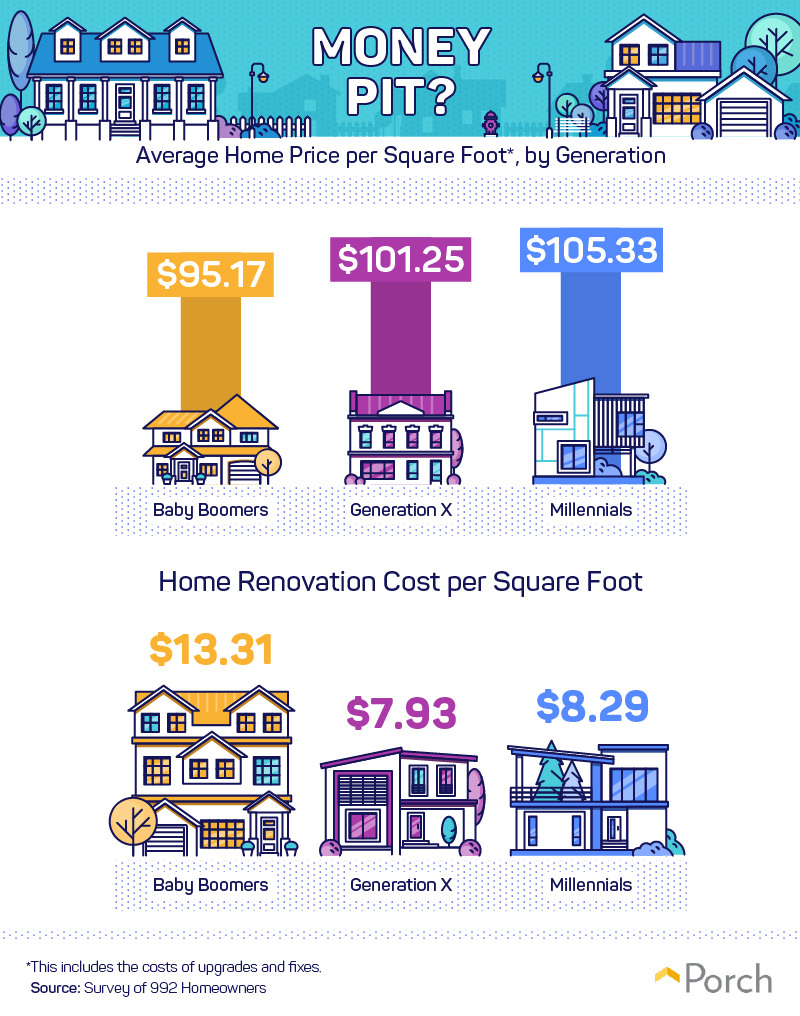 Studies show a majority of millennials regret buying their homes, and it could be the unexpected cost triggering their disappointment. Instead of investing in starter homes with modest budgets, millennials are jumping into buying their dream homes and getting everything they want in a house the first time around. Those expectations don't come cheap, though. Compared to baby boomers who spent around $95, on average, per square foot and Gen Xers who spent $101, millennials spent the most at $105 per square foot on average. Younger homeowners may also look for a home that's turnkey. While baby boomers were willing to spend over $13 per square foot in renovations, Gen Xers and millennials had a much lower budget—between $7.83 and $8.29, respectively.
Acquiring an Agent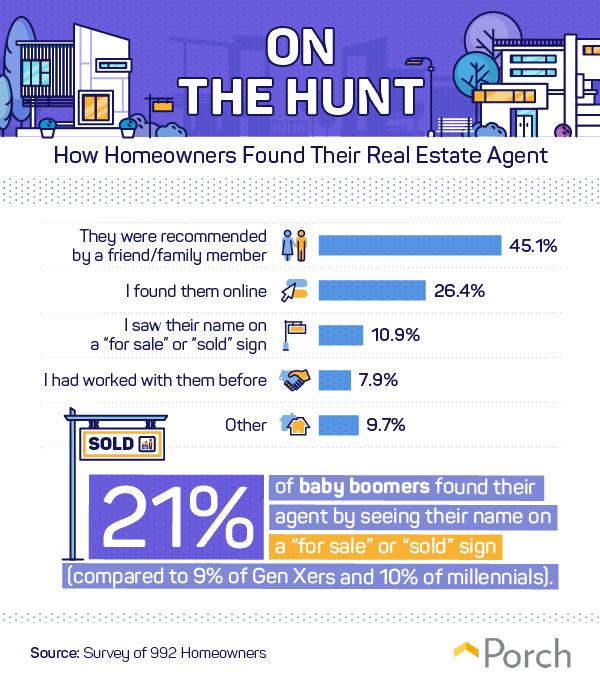 Another important consideration in the homebuying process is whether to work with a licensed real estate agent. As a potential homebuyer, it's important to be aware of the value a good agent can add to your buying (and selling) experience. Forty-five percent of current homeowners found their real estate agent through a personal recommendation, compared to over 26 percent who found them online, nearly 11 percent who saw their name on a "for sale" sign, and almost 8 percent who worked with them in the past.
Love the home you're in
For most people, there's no bigger purchase than buying a home. No matter how prepared you think you might be to own, you can't really know how happy you'll be until you've lived in it. As we found, the size and amenities of a property aren't the only aspects you might feel disappointed with over time. Homeowners also felt regret at how much they paid for their property and the real estate agent they used to finalize the purchase. At Porch, we're committed to helping you love your home from the inside out. With our Porch Home Assistant and trusted network of licensed and accredited Porch Services pros, we'll help you transform any space into the home of your dreams. Whether you need help with painting, picking the best security system, appliance repair, or general property maintenance, we'll help you find the very best team to check every lingering home improvement project off your to-do list. Ready to transform your home into the space you've always imagined? Visit us at Porch to get started.
Methodology and limitations
To gather the data presented in the above study, a survey was run using Amazon's Mechanical Turk service. The data are comprised of the answers from 992 respondents, 460 of which identified as male, 531 who identified as female, and one who chose to identify as neither. Of these respondents, 154 were baby boomers, 342 were from Generation X, 482 were millennials, and 14 were from a generation outside those. To qualify for this survey, respondents had to be current homeowners. The data presented in this study rely on self-reporting, and many issues can arise with self-reported data. Some examples include telescoping and exaggeration; in the survey, attention checks were used to ensure the responses we got were as accurate as possible. Dollar amounts regarding spending on the home and average loan amounts have not been adjusted for inflation.
Sources
Fair use statement
Are your readers thinking about buying a home? Help them make the right decisions by sharing this story for any noncommercial use. Be a good neighbor, though, and ensure a link back to this page in your copy so that our creators are credited for their contributions.