The beginning of a relationship is often referred to as the "
honeymoon phase
." When things are fresh, feelings may be more intense, the excitement of seeing each other may increase, and fighting may be all but nonexistent. Of course, the honeymoon phase may also persuade you to show the best (and slightly unrealistic) side of yourself. You might take extra care to make yourself look good before each date, try to avoid any embarrassing behaviors, and not bring up any uncomfortable conversations. But here's the truth: The honeymoon phase
always
ends. Once you've been together for a few months or even a few years, you become more comfortable doing things you would never have done right after your first date. So when is it finally OK to go to the bathroom with the door open? Or skip a shaving session (or four)? To find out,
we surveyed over 1,000 people about their relationship timelines and when these potentially embarrassing behaviors became a regular occurrence
. Want to know when most men and women stop dieting or don't worry as much about dressing to impress? Read on to see what we uncovered.
The love effect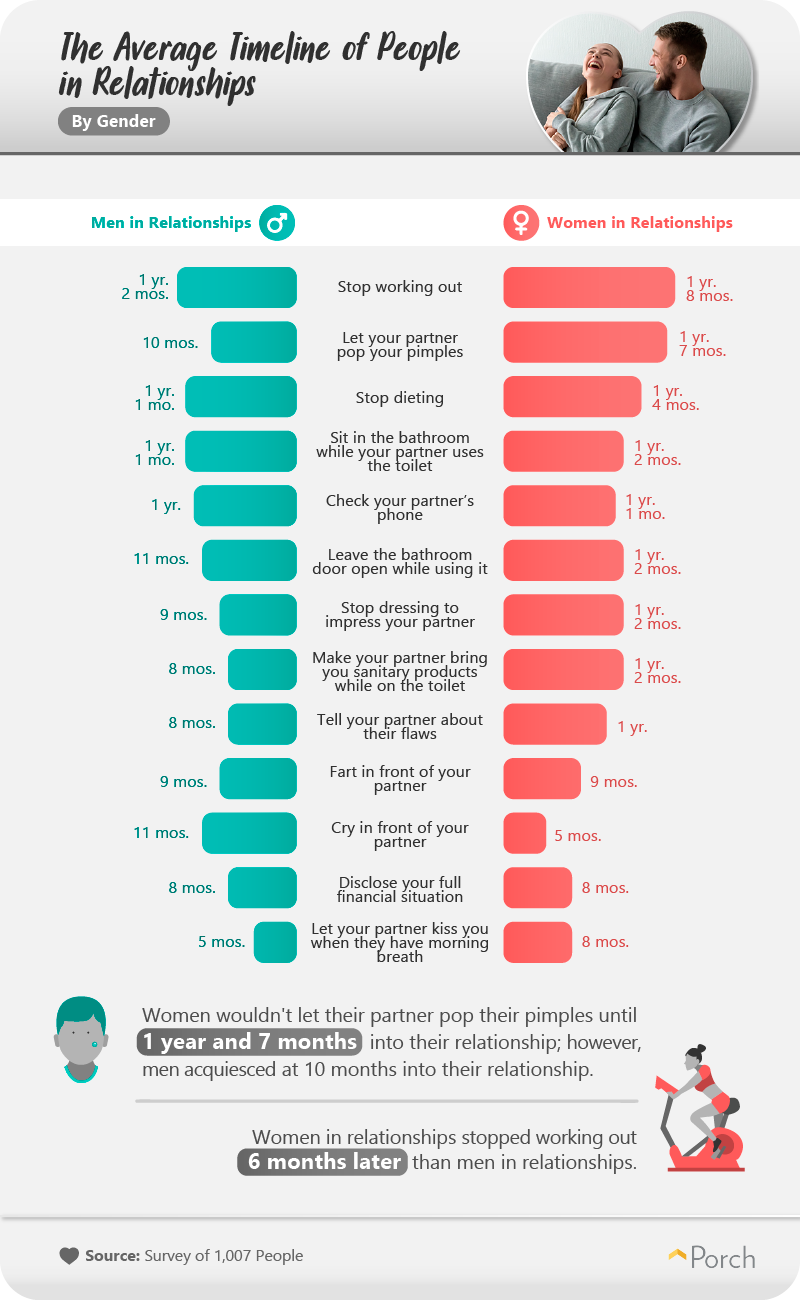 Men and women currently in relationships had a somewhat different take on how long it took to feel comfortable around their significant others. As it turns out, men might have an easier time than women with certain aspects of their relationship. No matter who you are or how religiously you brush your teeth before bed, almost everyone experiences morning breath. For men in relationships, it only took five months to feel comfortable kissing with morning breath and eight months to open up about their flaws. Women needed just a few more weeks before they were willing to cross those lines, taking 8 to 12 months, respectively, before considering either behavior. Men also seemed more comfortable with their bodies and passing gas earlier in their relationship. On average, men stopped working out one year and two months into a relationship, compared to one year and eight months for women. In either case, though, it's quite normal to put on a few pounds once in a committed relationship—most likely due to no longer finding it as important to keep off the weight. Still, women might have an easier time than men showing their emotions in relationships. Women only needed to be in a relationship for five months before it was OK to cry in front of their partner, compared to 11 months for men.
Singularly minded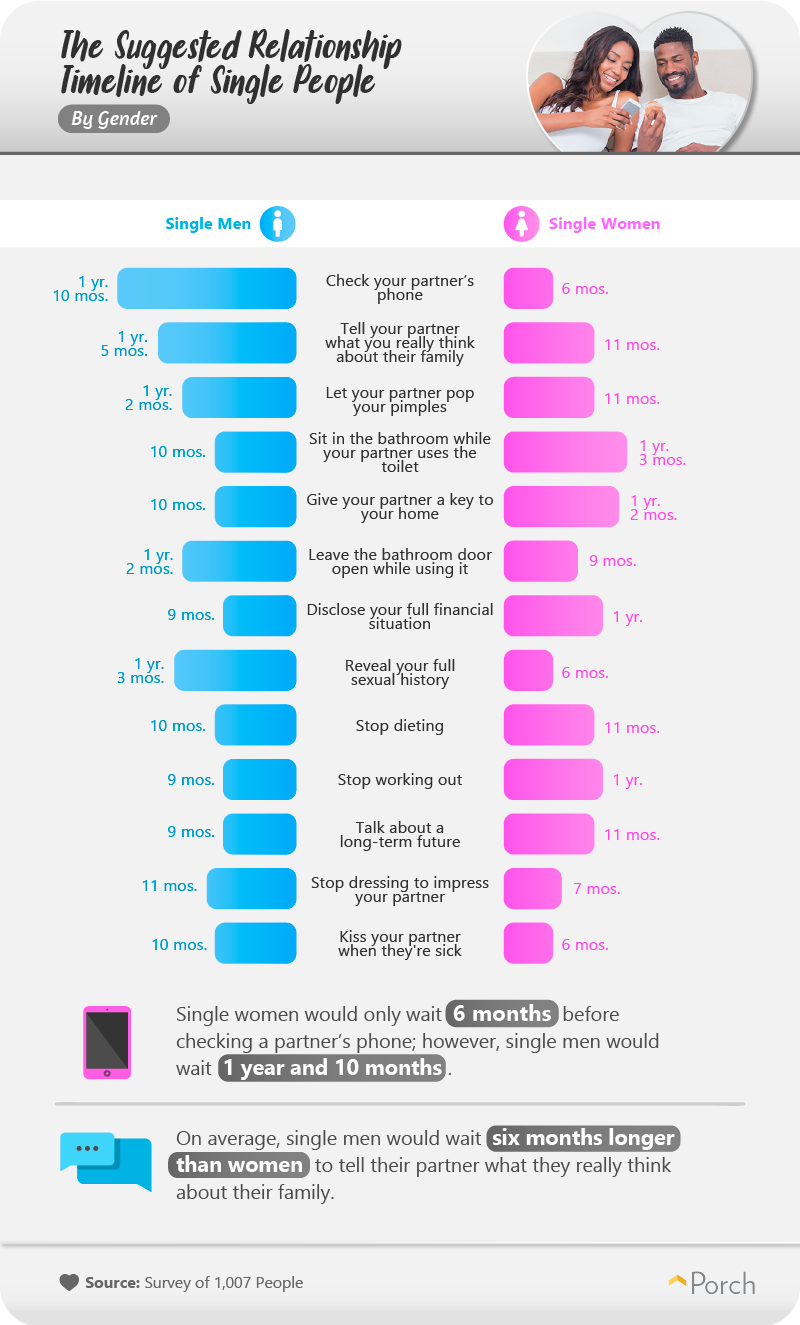 Single men and women had a relatively similar perspective when it came to things like giving up on their diets or talking about their long-term futures. Single men, though, had a different viewpoint when it came to certain aspects of their privacy. A lot of people believe it's a sign of trust to give their partners the passwords to their personal devices, including cellphones and email accounts. But social media may be creating new hurdles for couples to jump over when sharing the finer details of their digital lives. While single women said they would only wait six months to check their partner's phone, single men said they would wait one year and 10 months to do the same. When it comes to divulging full sexual histories, women said they would only need to be six months into a relationship to do so, while single men required more than twice that amount of time: one year and three months.
In the best interest of love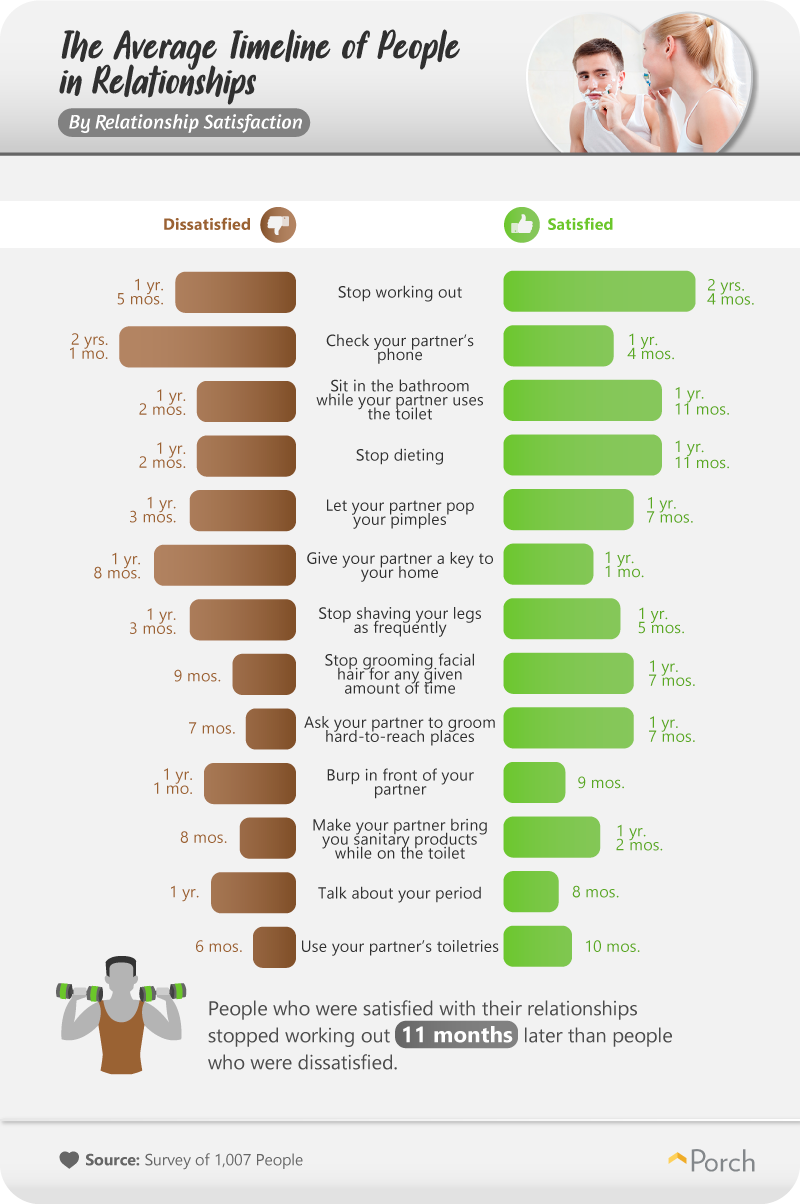 Comparing your relationship to others could be one of the surest ways to make it fail, because the approach to building trust and new experiences may not be the same for all couples. People who were satisfied with their relationship typically waited somewhat longer than unsatisfied respondents to stop working out (almost a full year) or dieting but were more likely to check each other's phones (one year and four months) than people who were dissatisfied in their relationship (two years and one month). Still, people who were dissatisfied in their relationships were more likely than satisfied couples to wait to burp in front of their partners but stop grooming their facial hair sooner.
Too close for comfort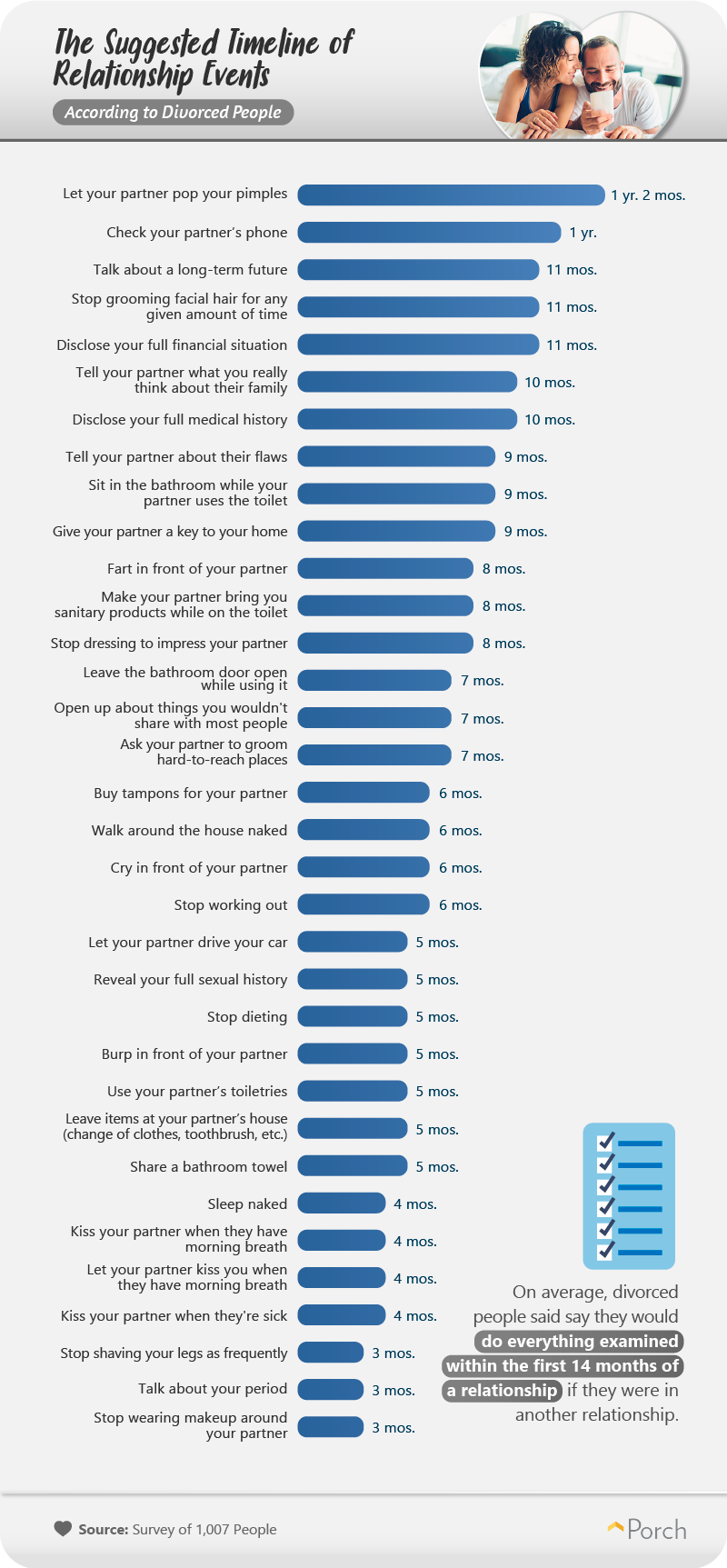 It's hard to tell exactly how many marriages end in divorce, or what your odds will be if you ever get hitched, but unfortunately, not all relationships make it to the end. If they had a chance to do it all over, divorced people said they would do everything we examined within the first 14 months of a relationship. With a few exceptions, couples whose relationships ended in divorce had a different perspective on how long it would take them to get comfortable with a new partner's more embarrassing interactions. Divorced respondents said they would wait a year before they were comfortable checking their partner's phones, 11 months before talking about their long-term futures or disclosing their personal finances, and 10 months before they said what they really thought about their partner's family.
Crossing the line?

In fact, nearly 74 percent of single people said they would never stop working out, and over 70 percent said they would never stop dieting. Feeling comfortable with your sexuality is something that takes time for most people, and physical acceptance is usually a part of the journey. Snooping through your partner's digital life may be bad for your relationship, and the majority of single people seemed to agree. While nearly 61 percent said they would never check their partner's phone, roughly 48 percent of people in relationships admitted they'd snooped through their partner's personal devices in the past. Although not as meaningful today as it once was, giving your partner a key to your home is an important relationship step. Relationship experts recommend waiting to give your partner a key to your place until you're ready to make a long-term commitment. It seems most single people have that on their mind, as nearly 5 percent of them claim they would never give their partner a key to their home.
Relationships — Your Way
Whether it takes a few weeks or a few years, most couples will eventually get comfortable enough to do things they might never have considered doing early on in their relationship. Burping, farting, and leaving the bathroom door open are probably terrifying prospects in a new relationship, but couples who have a few years under their belts know that, eventually, nothing is off limits. Still, the amount of time it takes to get there can be different for everyone. Moving too fast might sometimes be a bad move, but waiting to open up about important factors like finances and sexual histories could do more harm than good. No matter where you're at in your relationship, there's one thing you should never have to worry about: who's going to mow the lawn, or mulch the backyard. Whether your to–do list is packed full of yard work, deck repair, or simply mounting a new TV, Porch has the help you need to get the job done as fast (and professionally) as possible. The Porch Home Assistant will match you with the service pros in your area and handle any task. Hassle–free, reliable, and available when you need it–let Porch help you with your next home improvement task today.
Methodology
We surveyed 1,007 people using Amazon's Mechanical Turk. Forty-six percent of respondents were men, and 54 percent were women. The ages of respondents ranged from 19 to 76, with an average age of 36 and a standard deviation of 11.4. Additionally, 11 percent of respondents were baby boomers, 26 percent of respondents were Gen Xers, and 63 percent of respondents were millennials.
Sources
Fair Use Statement
Feel comfortable enough with our study to share this information with your readers? We'd love to see this piece on your site for any noncommercial use. Just include a link back to this page so that our contributors get credit for their work too.