When searching for a place to live, there are many factors to consider. Does it have central air and heating? Is it near top-rated schools? Are there grocery stores within walking distance? On a greater level, do the qualities of the property make you feel at home? These considerations and priorities dictate which properties become the most attractive options to satisfy our desires in a home, as both a renter and a homeowner.
Depending on if you rent or own your home, your costs, the relative difficulty of maintenance, and even the overall satisfaction about your living situation can be impacted in varying ways.
To determine the differences in resident outlook and experiences from renters to homeowners, we analyzed the Federal Reserve Board's most recent Survey of Household Economics and Decisionmaking (SHED).
Which options do property-seekers prioritize the most? Why do most people decide to rent and not own? Curious about how hard it is for the average renter to actually get their landlord to complete repairs? Read on to uncover our full findings.
Homeownership and renting: By the numbers
When it comes to possessing property, most residents still consider owning a home as a part of the American dream: 64 percent of respondents owned their homes, compared to 27 percent who rented, but we are witnessing a rise in prominence among renters. The U.S. recently hit a milestone regarding the future of renting in the U.S. as more people are choosing to rent, not own, their homes today than during any other point since 1965.
Renters and owners alike have nearly the same desires in terms of closeness to certain landmarks, such as a library, park, or grocery store. One outlier to that rule is public transportation: 49 percent of renters kept proximity to public transit in mind when searching for a new address, compared to only 31 percent of homeowners.
Many sacrifice low rent for happier living situations
With more control over home changes and a more drawn-out process for ownership, people who own their homes tend to be more satisfied in their housing situation. Compared to renters, homeowners scored higher levels of satisfaction in every category we measured, including area safety and school, housing, and neighborhood quality.
We also observed a link between the perceived or observed safety of a neighborhood and housing costs: The more people spent on housing, the higher the likelihood of them being satisfied with the quality of their housing, neighborhood, schools, and safety.
Main motivations for renters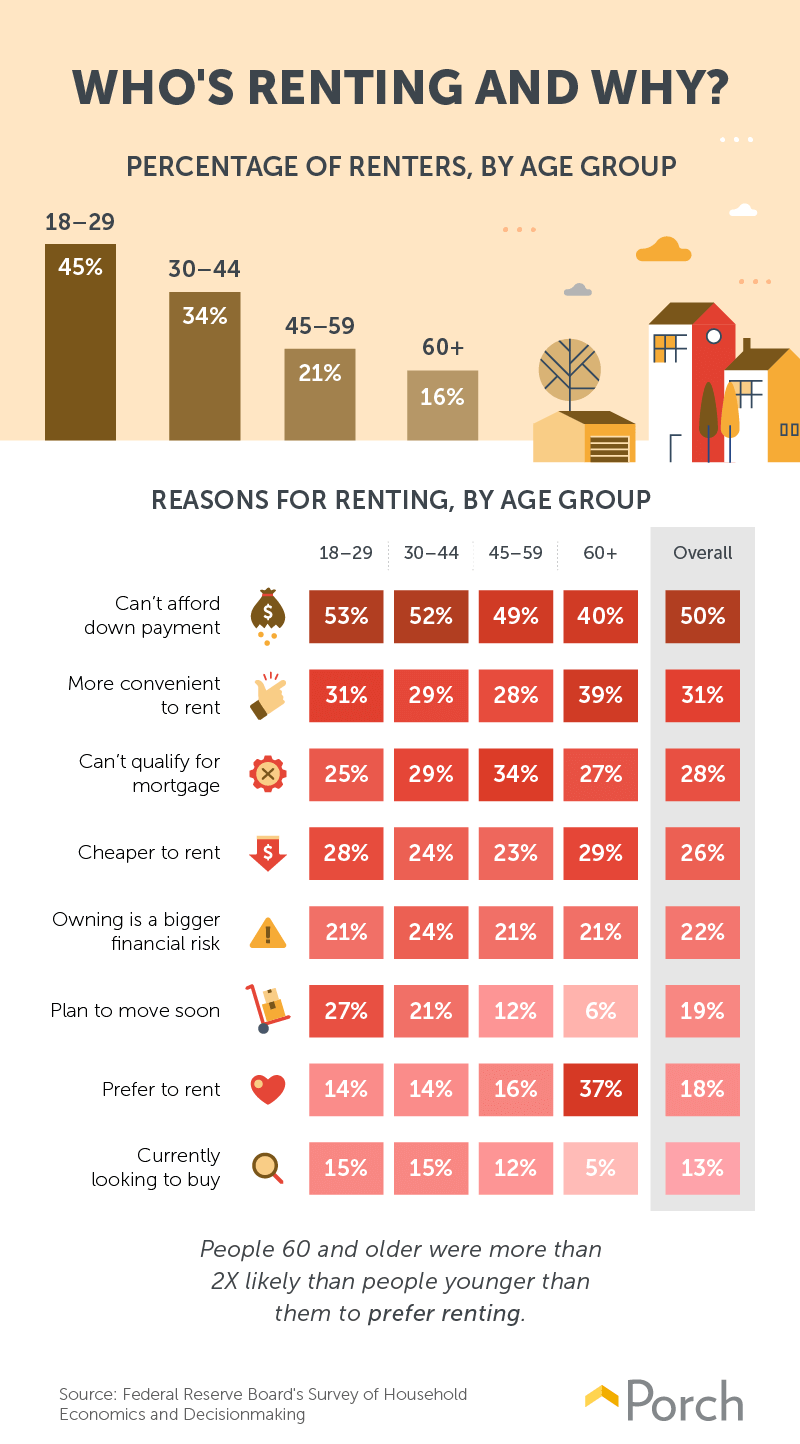 Younger generations were the most likely to be renters. Around 45 percent of people between 18 and 29 years old reported renting, compared to only 16 percent of people 60 and older. Despite the smaller percentage of older Americans renting their residences, older Americans preferred to rent rather than own: 37 percent of those 60 or older would prefer to rent—more than any other age group. These days, baby boomers are trading in large homes with time-consuming upkeep in favor of downsizing to a smaller rental property with less maintenance.
Across all age groups, most people expressed concerns about not being able to afford a sizable enough down payment to justify homeownership. Around half of all respondents admitted to not being financially stable enough to commit to a down payment on a home, which can be a long process spanning several years.
How do renters handle home repairs?

Home maintenance costs can become overwhelming, leading many to forgo homeownership and leave the housework and upkeep to a property owner. More than half of renters (52 percent) needed something fixed in the last year, and getting repairs handled can become a huge burden when it's hard to get in touch with the landlord: 54 percent of respondents who made attempts to contact a landlord about a repair had at least some difficulty during the process.
Unresponsive landlords may not be blindly turning the other cheek to all their tenants. They may actually have an inherent bias when it comes to responding to calls for repair assistance: Renters under the age of 29 were 25 percent more likely to face difficulty than older renters when making attempts to contact their landlord. If you are experiencing these issues, it may be easier to handle small repairs on your own or reach out to a trusted professional, especially if you are a younger tenant with the odds stacked against you. At the end of the day, homeowners have an easier process as they are in charge of making final approvals and leading the direction of home changes or repairs.
To rent or own: That is the question
Whether you rent your current residence or you outright own the home you live in, it's important to consider how much money that living situation will cost. Beyond basic cost of living expenses, regular and unexpected maintenance costs can suddenly hike up the relative price of your property.
While renting is an effective option if you don't plan to stay in one place very long or are still saving for that dream home, homeownership allows someone to have more control over the changes and upkeep of their property. If you find yourself bogged down with some of these projects and tasks, turn to Porch for all your home improvement needs. Our trusted network of career professionals includes contractors, experts, cleaners, and designers who are ready to tackle any project you may come across.
Methodology and limitations
Using the Federal Reserve Board's Survey of Household Economics and Decisionmaking (SHED), we were able to explore the housing priorities and satisfaction among renters and owners in the United States. All of the data is weighted to be representative of the U.S. adult population and is from the 2018 survey year. For importance on being close to various amenities, we combined "moderately" and "very important" to become "important" within this project. For housing satisfaction, we combined "very" and "somewhat satisfied" to simply "satisfied."
You can read more on how the survey is done, as well as any limitations to the data here.
Fair use statement
Trying to save up for a home requires hard work and diligent budgeting, but if it's a goal of yours, we support you. Homeownership is a beautiful and rewarding experience. Discuss these findings with your peers who may be dreaming of owning a home or are still renting and looking for guidance. Be sure to cite us when sharing our research, but only for noncommercial purposes, please.