Buying a home is a major undertaking, involving multiple layers of decision-making. And when a spouse or partner is added to the mix, their desires and needs must also be considered. The adorable home on the corner lot may contain a large, updated kitchen, but the closet in the master bedroom will barely hold your partner's shoes, much less both of your wardrobes. Did you make it to your psychology class on the day your professor discussed the subtler points of Maslow's hierarchy of needs? If so, you'll recall the explanation of these needs, ranging from basic to self-fulfillment. You probably didn't consider how Maslow's theory could impact your relationship status when it comes to making home renovation/improvement decisions until you discovered your partner's basic needs included not only food and shelter, but also a new stainless steel refrigerator with a large bottom-drawer freezer compartment. To test the theory,
we surveyed 910 people who are currently in a relationship or married and living together to determine which home factors matter the most (or least) for couples' overall satisfaction
. Relax in your favorite room while we unfold which home factors play a role in relationship status.
My room, your room, or our room
Pick up some recent copies of home decorating magazines, and there's a good chance you'll find a photo spread of rooms dedicated to the hobbies and interests of homeowners.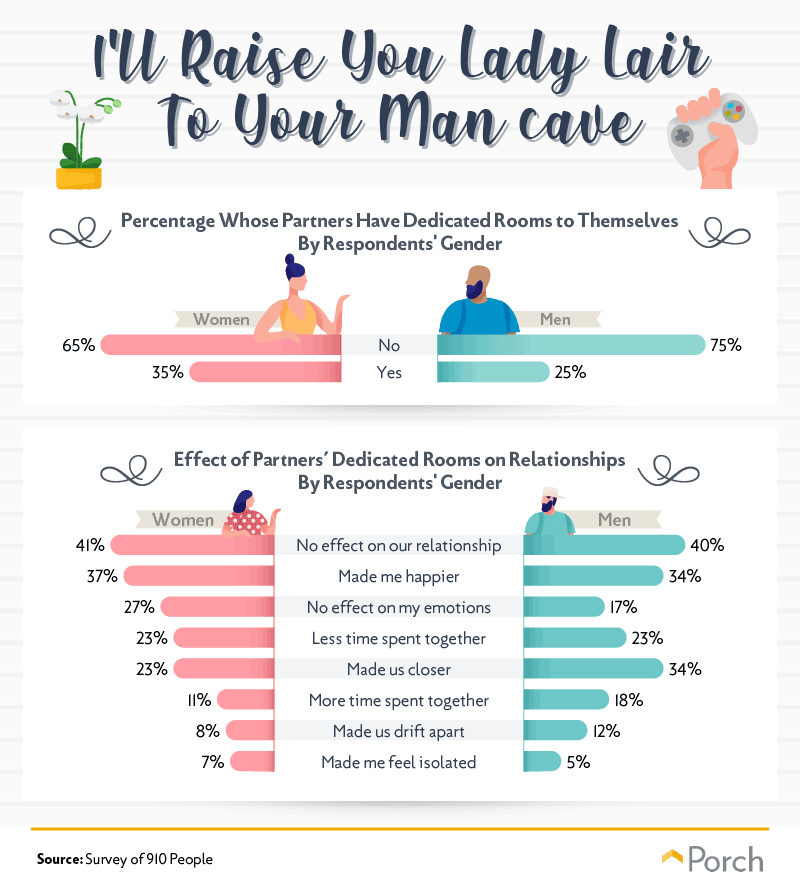 While men may think a detached garage would make an ideal man cave during football season, women might envision the space as the perfect spot for their pottery wheel. How happy you are with your new home can play a role in your relationship. Of the two, men were the least likely to report that their partners had a room in their home dedicated to their interests, with only 25 percent indicating their partners had some type of "lady lair" or man cave. However, 35 percent of women claimed their partners had some sort of dedicated room for themselves. So how does having a dedicated room impact the relationship? For approximately 40 percent each of men and women, having a dedicated room didn't impact their relationship. Yet, for 34 percent of men and 37 percent of women, having a partner with a dedicated room made them happier. Being happy is great, but can gender-oriented spaces bring you closer to your partner or increase time spent together as a couple? According to 34 percent of men and 23 percent of women, these rooms did make them feel closer to their partners. Some women even make the case that allowing their male partners to have their own nook within the house can improve or spice up their relationship. Recent studies also claim that man caves can improve men's health with space to de-stress and exercise. However, only 18 percent of men and 11 percent of women surveyed said the rooms increased time spent together as a couple, and 8 percent of women even said it made them drift further apart.
Calling the shots at home
Post-WWII advertisements assumed men made the majority of household decisions, only relinquishing the grocery purchases to the women of the house. Fortunately, times have changed.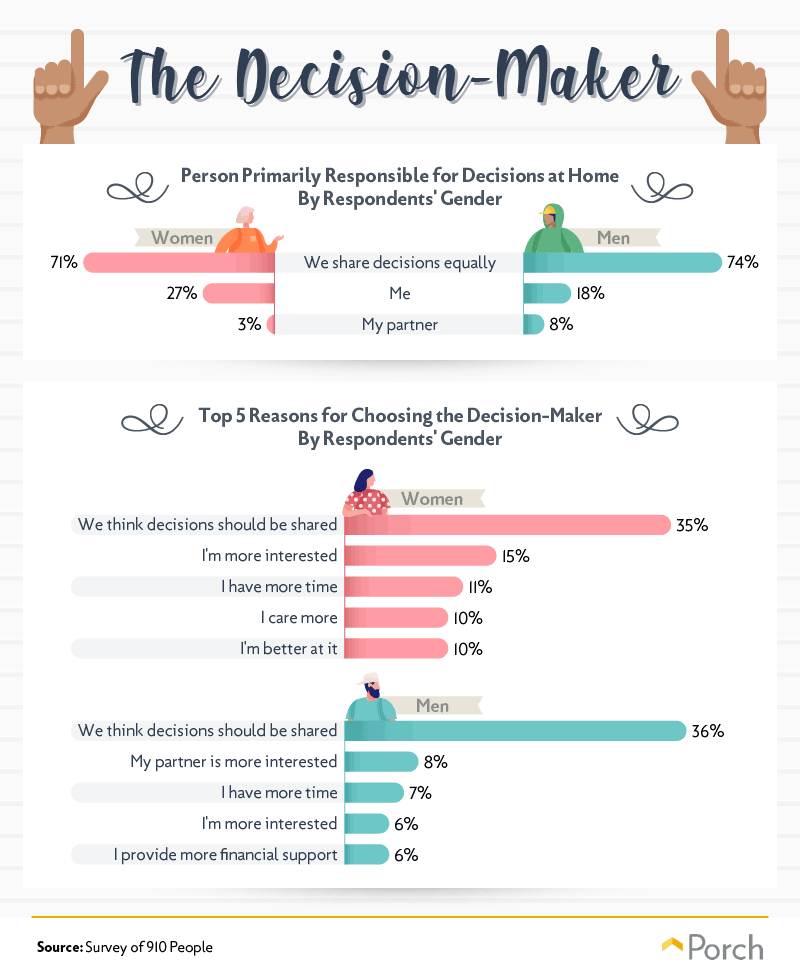 Today's household decisions are typically shared by both partners, as 74 percent of the men and 71 percent of the women surveyed agreed. Still, when one needed to assume a dominant household role, it was often the woman doing so, especially when it came to managing the finances. At 36 and 35 percent respectively, both men and women felt household decisions should be equally shared. And when it came to deciding who should make many of these joint decisions, issues such as interest, time and competence also played a role. Women indicated they had more time (11 percent), compared to 7 percent of men. Around 15 percent of women also said they had more interest in taking on this role, compared to 6 percent of men. There's little doubt that deciding how household decisions should be made is essential in any relationship and, fortunately, experts are handy to give us advice.
You want how much space?
Most everyone needs their own "space" to be alone, relax, or refresh their creative juices. Using extra bedrooms for an office or TV room or creating a mini spa in the upstairs bathroom are favorite home renovation projects for guys. But how much space does one family really need?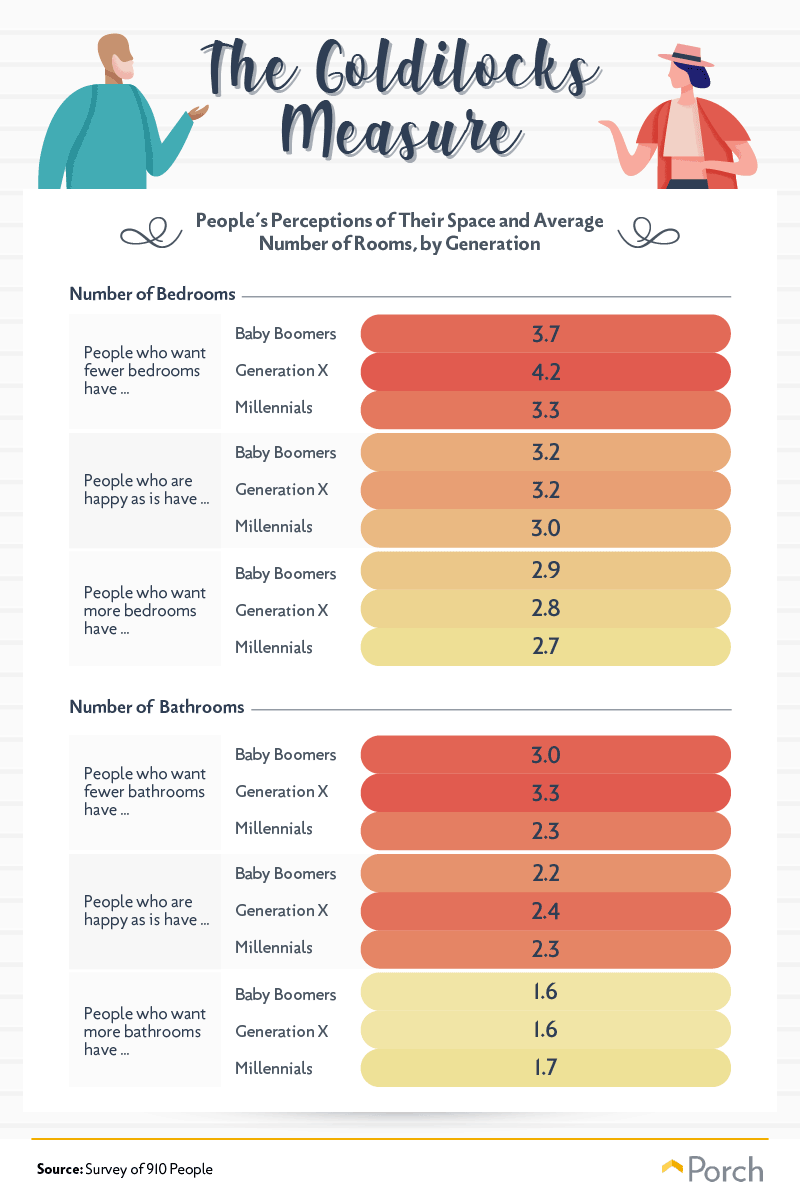 To measure this concept, we relied on what is known as the "Goldilocks principle," or how much space is ideal. Finding the ideal amount of space for you and your family depends on many factors, with two of the major ones being the number and condition of bedrooms and bathrooms in a home. According to 2017 numbers released by the U.S. Census, of the approximately 795,000 single-family homes completed in 2017 and included in the survey, 362,000 (around 45.5 percent) had four or more bedrooms, and 296,000 (roughly 37 percent) had three or more bathrooms. That's a lot of future remodeling potential! Gen Xers with an average of slightly over four bedrooms indicated they wanted fewer bedrooms, as did baby boomers with 3.7 bedrooms and millennials with 3.3 bedrooms. All three generations averaging just under three bedrooms said they would like more sleeping space. Baby boomers and Gen Xers said the ideal number of bedrooms was 3.2, whereas millennials felt three bedrooms were just right. Bathrooms were a different matter, however. Gen Xers and baby boomers with three or more bathrooms indicated they wanted fewer; however, if both generations had fewer than two bathrooms, they wanted more. You may be asking what our respondents thought was the right number of bathrooms. Gen Xers said 2.4 baths were enough, followed by millennials and baby boomers at 2.3 and 2.2 bathrooms, respectively. Regardless of the number of bedrooms and bathrooms in your home, finding qualified professionals to update, add, or even reduce the number of rooms can transform your existing space into the home of your dreams.
Spending quality time on home projects
The couple that remodels together stays together. We can't attribute that statement to anyone or provide data to prove it's accurate, although it sounds terrific until your partner accidentally knocks over a full can of paint or hammers your thumb instead of the large nail you're holding. But hey, it's the thought that counts, right?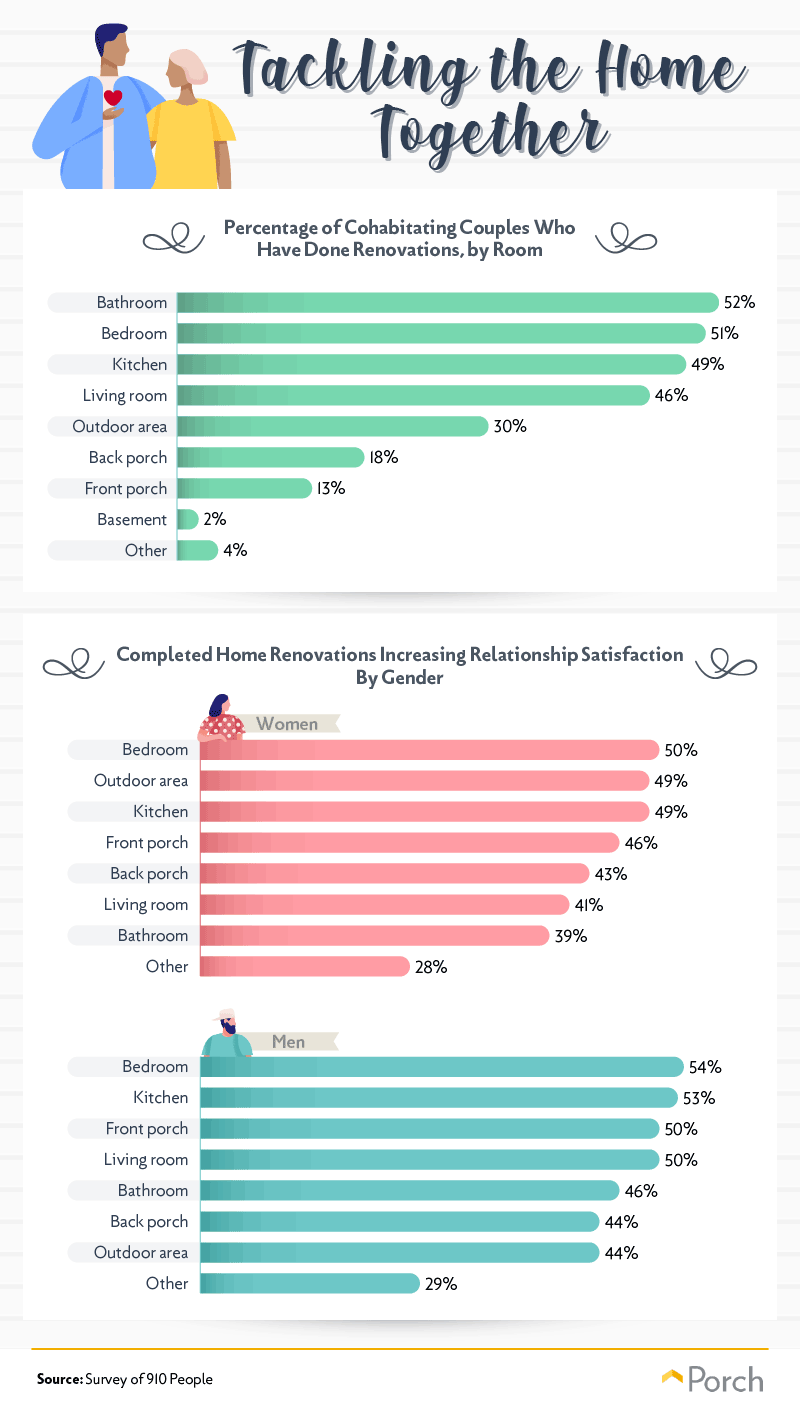 Slightly over half of those surveyed said they tackled bathroom and bedroom renovations with their live-in partner, and just under half said kitchen renovations were another popular home project. Working side by side sounds like a fantastic way to spend quality time with your partner, but it's the satisfaction level that counts. When it came to changing the bedroom, 54 percent of men and 50 percent of women said their relationship improved. At least half of men also mentioned kitchen, front porch, and living room projects as relationship satisfaction boosters. However, women were not quite as generous with their responses. Less than half saw any increased satisfaction in remodeling other rooms, and only 39 percent who worked on bathroom renovations with their partners said working together increased their happiness.
Want to join me in the hot tub, honey?
Today's lifestyles are hectic, and working on home improvement projects as a couple is an excellent way to spend quality time together. When looking to increase your relationship satisfaction, our respondents shed some light on the home improvement projects that were best for them.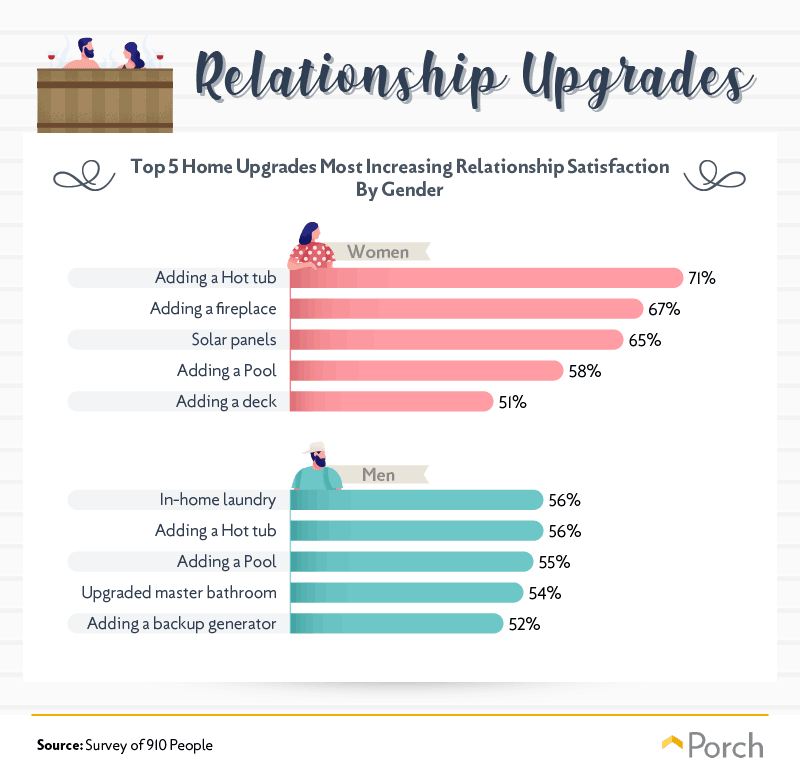 For women, 71 percent said adding a hot tub was a relationship booster, followed by adding a fireplace at 67 percent and solar panels at 65 percent. Sounds like more heat, or the creation of it, is vital for our female respondents. For men, 56 percent said adding an in-home laundry or hot tub were top relationship boosters. Right behind those two were a pool, master bedroom, and a backup generator. Water seems to be the common denominator for both men and women in our survey, whether it's relaxing tired and aching muscles or cleaning clothes from the comfort of home. Maybe starting a load of laundry while relaxing in your recently installed hot tub makes spending a Friday evening at home more enjoyable.
Enjoying the finished product
Most of us agree that comfortable and updated homes tend to produce happy homeowners, especially when it comes to helping your partner or spouse create their special space. And when you spend time together picking out decor or completing the project, that's all the better. At Porch, we believe creating the ideal environment can improve the happiness of both you and your partner. That's why we are here to make any home renovation project more exciting and less stressful. From locating the right contractor or handyman to providing advice on the cost of interior painting to electrical projects, our online associates are available and ready to help any time. Look around your home and find a renovation or restoration project, and in just a few clicks, we'll have you on your way to creating the right space for you or your partner.
Methodology and Limitations
To compile responses to our survey, we gathered opinions from 910 people through Amazon's Mechanical Turk. Respondents had to be either in a relationship or married and be in a home where they were able to make significant changes to their homes to qualify. 57.1 percent of our participants were women, 42.7 percent were men, and 0.1 percent was non-binary. Our respondents ranged in age from 20 to 74 with a mean of 38 and a standard deviation of 11. We excluded the Greatest Generation, the Silent Generation, and Generation Z from the generational analysis due to a low sample size. The non-binary respondent could not be included in the gendered views due to a low sample size but was included in the generational asset. As a caveat of this information, please be aware that the information we are putting forward relies on self-reporting. Issues exist with this type of data collection and may include factors such as: exaggeration, selective memory, telescoping, and attribution among other things. We did not perform any statistical testing, and as such, present the data on means alone. The information is exploratory, and a deeper and more rigorous approach is recommended for future research on the topic.
Sources
Fair Use Statement
Home improvement projects can be fun and, hopefully, less stressful than you think. We don't want you to stress out over wanting to share this information with your readers as long as it's for noncommercial uses. We simply ask you to link back to this page so that readers can enjoy all the data our staff worked so hard to provide.