Short-term rental properties are popping up all over the U.S., in large part because companies like Airbnb, Vrbo, and HomeAway are connecting would-be renters to property owners looking to lease out their spaces. Whether you're looking for a quaint home in the Georgia suburbs or a luxurious apartment in downtown New York City, you can search for a location and find numerous matches that fit your style and budget. Sounds perfect, right?
For the neighbors of these rental properties, however, maybe not. The idea of short-term neighbors can seem reckless if not downright annoying, so we surveyed 990 people who rented or owned their home regarding their opinions on this booming industry. Continue reading to see their insights.
Dream or disruptive?
Approval of short-term rentals was over two times higher among people who'd utilized them before. After all, people may choose to stay in a rental for one night or three, often instead of a hotel or commercial lodging facility. This can provide a more homey atmosphere for vacation or connect visitors with the heart of town without the hustle of bustling lobbies. Of those who disapproved, though, concerns included a disruption of peace, safety issues, and dealing with strangers.

Home rentals can also come with other fears, such as decreasing property values or acquiring less friendly neighbors—but that isn't always the case. Rhode Island, Arizona, Massachusetts, and Washington, among other states, have passed laws and regulations for homeowners who choose to rent their spaces, typically for 25 to 30 days or less at a time.
These laws require small fees and taxes to register short-term rental properties and keep them up to standards. These regulations guide homeowners in managing tenant issues but also ensure the operations of these spaces are up to par.
Trust issues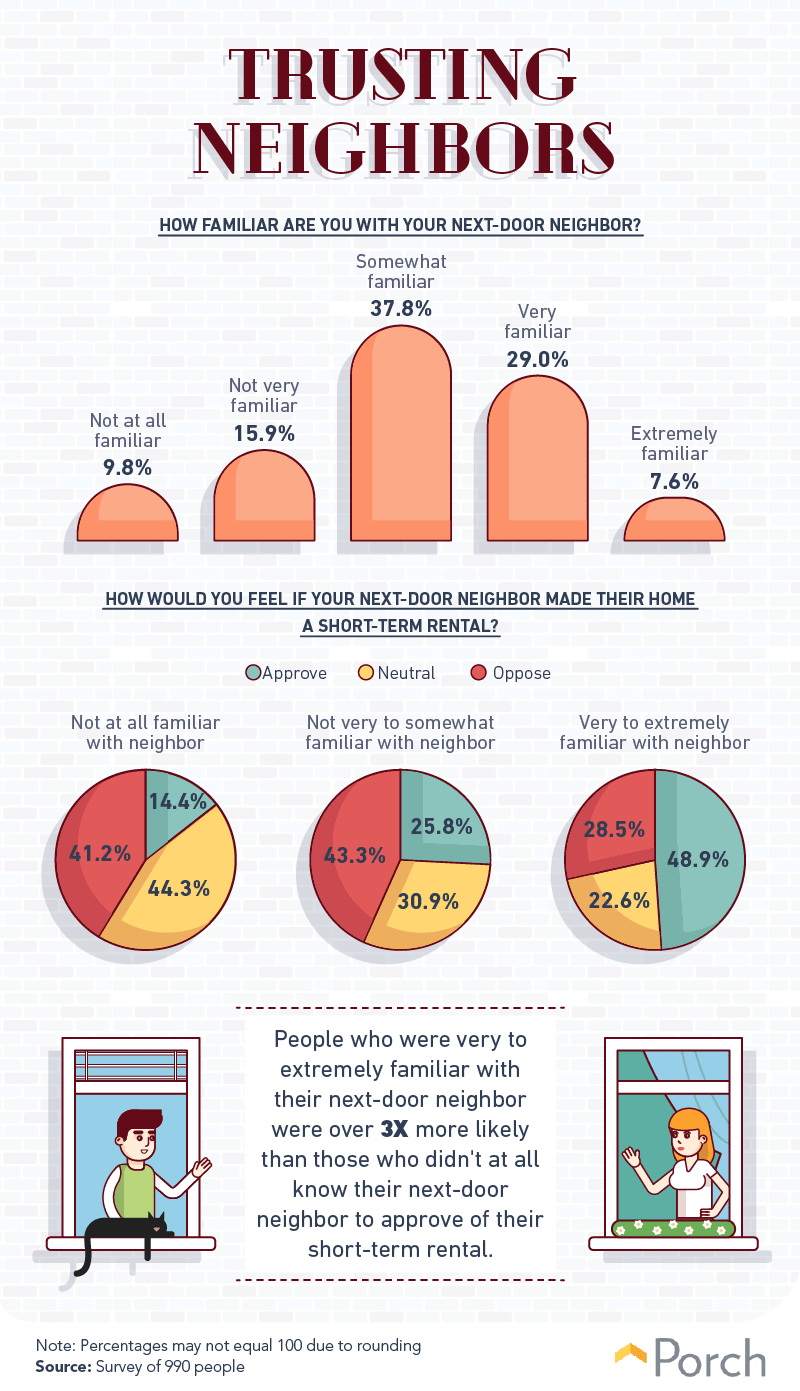 Respondents said they would be much more comfortable with their neighbor renting out his or her home if they knew and trusted them. Those who reported being very or extremely familiar with their neighbors were more than three times as likely than those who didn't know their neighbors at all to approve of a short-term rental property adjacent to their home.

Those who disapproved at higher rates said they were either not at all or only somewhat familiar with their neighbors. This could point to a lack of trust between strangers or acquaintances and not knowing if there would be agreement on important issues such as home maintenance.
One study concluded there were higher levels of trust among white respondents and those in rural and suburban areas. These populations were also more likely to know their neighbors well. Their measure of trust was based on giving neighbors keys to their home in case of emergencies, but it's a similar idea. Homes carry financial and personal value, and there is a peace of mind knowing you can trust those who may affect these values.
Personal connection

In terms of safety and fluctuating property values, the majority of respondents said they would feel just as safe and their homes would be worth just as much with a short-term rental next door if they previously utilized a short-term rental themselves.
In fact, some even said they would feel safer or their home value would increase if there were a short-term rental in the neighborhood. Overall, respondents expressed more concern for their safety than their property value.
Validating concerns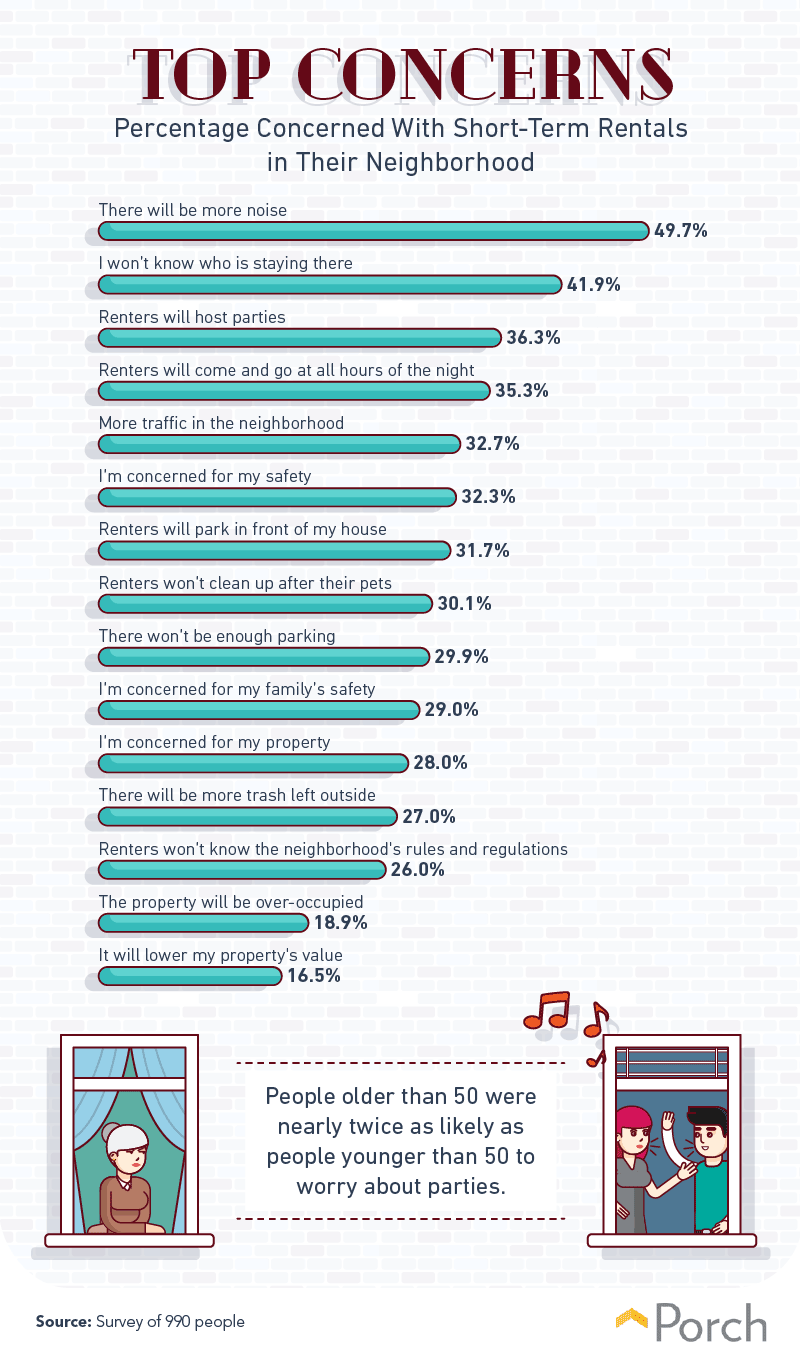 Age may play a hand in concerns about short-term rentals. Increased noise topped the list, with unfamiliar neighbors and parties following close behind. Of the 990 people surveyed, people older than 50 were nearly twice as likely as people younger than 50 to worry about issues like parties. Not knowing your neighbors can be daunting and increase stress. However, upwards of 15 percent of respondents said they didn't have any concerns.
Many states still ban short-term rentals in suburban neighborhoods because they can cause high levels of disruption. In Fort Worth, Texas, for example, issues with "party houses" and dissatisfied neighbors are frequent. In response to issues such as these, conduct rules are enforced by rental platforms like Airbnb, Vrbo, and HomeAway. These companies threaten suspension or removal from their websites should issues arise.
Awareness is key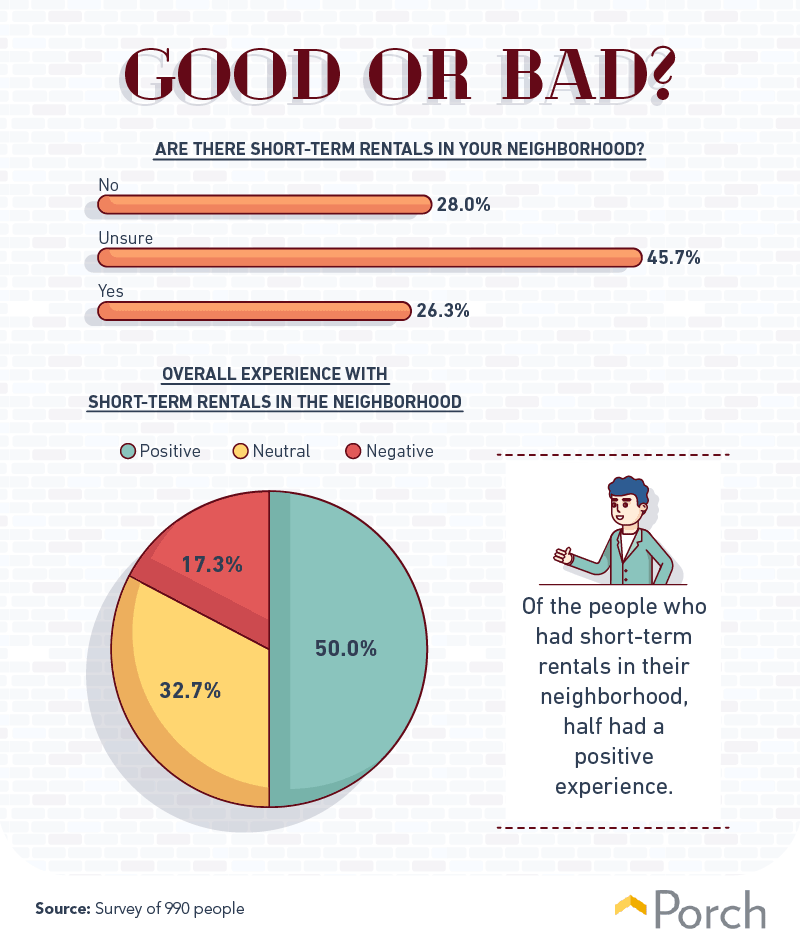 Even though nearly 46 percent of respondents said they were unsure whether there were short-term rentals in their neighborhood, half who did said their experience was a positive one. Negative associations with neighborhood rentals dropped when respondents reported personal experiences with them in their own neighborhood.
There are many benefits of short-term rentals—especially because they offer flexibility for both parties. They offer convenience for renters, and for owners, they can provide additional income.

For travelers, these rentals appeal for many reasons. An increase in short-term rentals gives travelers better deals per night, authentic experiences catered to the home's location, and even preferences such as luxurious amenities.
Jump right in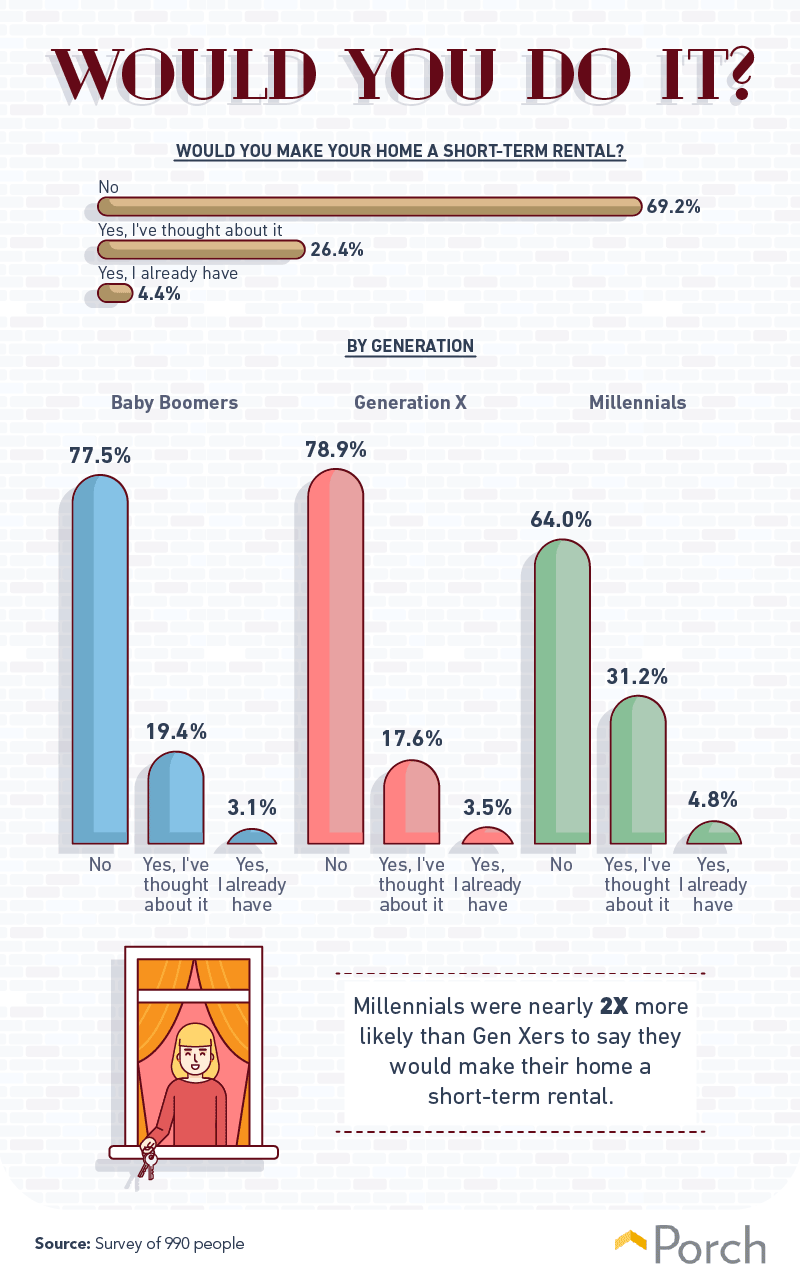 How willing would you be to make your home into a short-term rental property? While almost 70 percent of respondents said they would not, it depended largely on their generation. Millennials were the most likely to have already thought about it or taken the plunge.
This may have to do with Gen Xers and baby boomers already settling down and having families. They're likely looking to maintain the stability of their homes. Millennials, on the other hand, may not yet have families and the responsibilities that go along with it. They also tend to be more cash-strapped than their older counterparts and could see renting their home as supplemental income. Either way, renting your home to guests is a huge undertaking. If you're considering it, make sure you're aware of the rules and regulations, as well as any possible bans in your area before handing over the keys.
Rental ready
The short-term rental industry has ballooned over the last five years, and companies like Airbnb and HomeAway have completely transformed the hospitality industry. As of October of 2018, Airbnb reported over 5 million hosts and $2.7 billion in profit. It has increasingly become a lucrative business for both private and commercial entities, as well as investors.
While concerns such as noisy neighbors, unkempt properties, and neighborhood disturbances do happen, they are overshadowed by the plethora of positive reviews by both rental owners and tenants. With new rules and regulations cropping up and stricter enforcement of hospitality codes, these properties are bridging the gap between hotels and private residences, offering competitive pricing and unique experiences.
If you're thinking about making your home a short-term rental, Porch can connect you with top-rated local professionals to make sure your home is ready for renters. From plumbing and painting to security system installation and electrical, our network of Porch Services pros is here to help. Visit us at Porch to learn more.
Methodology
To collect the data shown above, we conducted a survey of 990 respondents. To qualify for this survey, respondents were required to own or rent their home. Of the 990 respondents, 486 people owned their home and 504 people rented their home. We asked respondents questions concerning how they felt about short-term rentals in their neighborhood, as well as their experiences with them. Out of all respondents, 260 people had short-term rentals in their neighborhood. We also asked respondents if they had stayed in short-term rentals, resulting in 531 people who had. The respondent pool was 54 percent female, 46 percent male, and less than 1 percent who chose a different option. Because the survey relies on self-reporting, issues such as telescoping and exaggeration can influence responses. An attention-check question was included in the survey to make sure respondents were not randomly answering.
Fair use statement
We want you to enjoy your short-term rental experience as much as the next person, but please don't forget to share our link when you're using this information for noncommercial purposes.
Sources