Guest Blogger Margaret Cobb: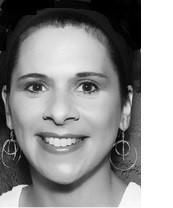 After writing my first blog, I've learned a few things. Last week's photography was all courtesy of my husband and son, Stuart and Max. I think they had good intentions when they posted the pictures of our aging house and me. Sadly, in last week's picture I also looked aged and ready for a remodel. I like this photo better.
Now that that's settled – let's move on to the truly exciting part of this week's remodel – deck designs! Yes, as promised we got our deck designs last Friday from Kristina. When we first met I babbled on and on about how the deck was falling apart, didn't really have any livable space, the pillars were rotting and Stu wanted to BBQ undercover in the winter. I could take or leave the trellis – she had creative domain over it.  Here's what she came up with:
You can see from her designs, she listens well. She met all my needs. I love looking at these drawings, I feel like I'm a kid again, playing house and moving around toy furniture to fit in all my nooks and crannies. I was so excited, I shared the drawings with anyone who came to the house. Nate – my daughter Sam's boyfriend seemed genuinely interested – although I think he's still in the stage of their relationship where he's trying to keep me happy. But I'll count him as an interested party. Everyone else – not so much. My BFF and my sister seemed lost in the sketches. Couldn't they appreciate the subtle differences in trellis design? Didn't they understand the advantage of wider stairs? And how could they possibly miss the intrusion of pillars in living space in Concept #2? I quickly learned that not everyone is as passionate about my deck as I am.
Since Kristina was hired by the contractor for 8 hours of design work, he came with her. I loved the designs and was eager, albeit a bit scared to hear the costs associated with each design. Well, I feared for no reason. The contractor didn't bring me any pricing with the designs. Let's just say – I was really disappointed that I had no pricing. In my earlier babblings I had made it pretty clear that I had no idea how much it would cost and they needed to give me "good", "better", and "best" options. Well I got the options – just no prices. I don't think it would be overly dramatic to say I was crestfallen, because I was…I'm not the most patient person on the earth and after waiting for what seemed like at least a  month (really it was only two weeks) I was ready to make a decision and begin work.  Just like a kid on Christmas eve -and if you know me, you know I start counting down to Christmas on June 25, I could barely sleep the night before.  So yea, I was pretty disappointed and I think the contractor knew I was disappointed when he left. As a matter of fact, I think everyone on my block knew I was disappointed when he left. Suffice it to say that was a deal breaker for me. Good thing I'd interviewed 4 other contractors.
In an effort to regain balance in our house (and block), Stu thought quickly and remembered a contractor we'd used in the past. Dan Eckert had built an 800 square foot addition on our last house so we knew his work, integrity, and I was pretty sure he could price out the design. Wasting no time, Stu called Dan and he stopped by the same night to measure the job based on the drawings. I had a quote the next day. Needless to say – Dan's the man for the deck.
Here's the designs – let me know which one you like the best and next week I'll let you in on the one we chose.
The cliff hanger for next week – the kitchen contractor selection has ended. Preliminary pricing is in – and I'll have the design drawings from Kristina.