When it comes to loving your home, sometimes all it takes is one small change to improve the look and feel of a room.  How often do we let a project sit on the back burner or neglect to complete a task? How many times do we feel overwhelmed with the thought (not to mention the cost) of re-doing an entire room? This week I decided to make one change to one room in my home and the results were fantastic.
Living room rug before
My living room rug is great (perfect color and design) however I always felt that it was too small for the room – my furniture sat outside the carpet area. Tape measure in hand I measured the size of my space that included my furniture. I headed to my local flooring store where they sell carpet remnants. For less investment than a typical area rug, I found a neutral remnant and had the store cut it to the exact size needed and professional edge it. The result was more successful than I had anticipated. Not only does my room look larger, the additional carpeting means more softer material underfoot – perfect for casual sitting on the floor.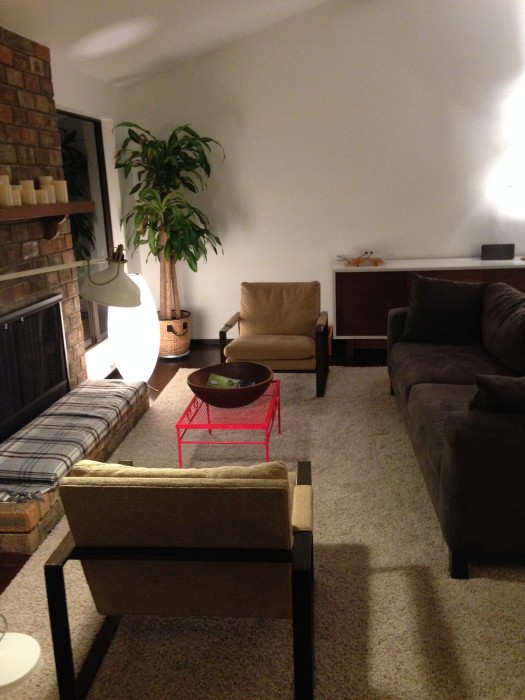 Living room rug after
A few small home projects you can do to improve your home without spending lots of money. Painting your room can dramatically brighten the home and refresh your living space. An average painting cost of an entire house is about $2,000 however a small 8′ x 8′ wall, requiring a gallon of paint, can cost about $30 plus any supplies you may need. Really tight on cash? Some paint stores give away leftover paint or "wrong" colors – just ask your local painting store what freebies they may have on hand. Installing a new front door can change your home's signature look and improve security. It's also the home improvement project that has the largest return on investment for the eventual resale of your home. Average cost is around $1000.  

Sometimes just a small change to a room can make a large difference. Hanging that picture that's been leaning against the wall, buying a new duvet cover for your bed, painting a wall, adding a lamp…these changes sound minor but can make a great impact and don't necessarily cost that much. So search out that one thing that's bothering you in one room and vow to improve your home, one room at a time.